Review: Tecnica Cochise AT ski boots
(Last Updated On: February 12, 2012)
I've never considered my dream AT boot to be that difficult to find. More than anything, I just want an AT boot to perform on the way down in the same manner as an alpine boot. If I can't tell that I'm in an AT boot, then my dreams have been fulfilled. Just add a good walk mechanism and a rubber sole with tech fittings, and I'm in heaven. Did Tecnica fulfill my dreams… read on.
L-R: Dynafit Zzeus, Tecnica Cochise, Tecnica Diablo Magma (alpine):

In 1985, as a J3 racer at the Winter Park Comp Center, I started skiing in my first pair of Tecnica boots- the neon Grand Prix racers. Since that time, I have skied Tecnica boots almost exclusively. Yes, I'm a Tecnica fan. They fit my foot and the flex is natural for me. So to say I was excited about the Cochise AT boot is a bit of an understatement. As I slid my foot into this boot, it indeed felt like coming home to an old friend. Still, like other reviewers of this boot, I noticed that they have a lot of room- but that's easily remedied with some shims under the liner. That's about all I had to do to get them dialed with my feet.
The ski/walk mechanism on this boot is a thing of beauty- simple, easy to use with gloves, with a solid, positive click between modes. What was more impressive, however, was the smoothness of the boot in walk mode. After dealing with the clunky, herky-jerky motion of my old Dynafit Zzeus boots, the Cochise felt amazing in comparison.

In fact, the smoothness of the Cochise walk mode made me assume that the range of motion was far greater than that of the Zzeus. Turns out it's about the same in a rearward motion, but less than the Zzeus in the forward motion. Still, in practice I would say that the Cochise is a far more capable touring boot than the Zzeus. Comparison shots:

So, the question remained… would the Cochise ski as well as my Magma alpine boots? The answer, I'm pleased to report, is yes. I've skied the Cochise boots inbounds quite a bit this season, something I wouldn't even consider with my Zzeus boots. They handle it well. Still, I will always have alpine boots for inbounds days- for someone who skis as much as me, it makes no sense to ski an AT boot inbounds except when traveling. In my view, any time you add moving parts (the ski/walk mode), you've got a part that can wear out or break, so why stress it pounding out more vert in a day than one might get in a month of touring. The same goes for touring bindings, in my opinion. And then there's the folks who insist on skiing rubber soled boots in standard alpine bindings- might as well just put a bullet in the chamber and play Russian roulette with your knees. But I digress…
The liner is mediocre. I'll use them for the rest of this season, but then I'll upgrade to an Intuition or Palau liner next year. One problem has been a fold in the tongue which is meant to help the touring motion. While it sounds good on paper, in practice it ends up being a part of the tongue which always wants to fold over and produce a sharp pain. The tongue needs to be positioned perfectly for me to avoid this. The oval area in this photo by my finger is the area I'm talking about:

The other issue with the liner is the plastic liner covering clashes with the plastic cuff of the boot in tour mode. This produces an annoying click from time to time when the boot is getting the maximum range of motion, as on a flat section of skintrack or while walking. Look at the red spot on the liner and I think you'll see what I mean.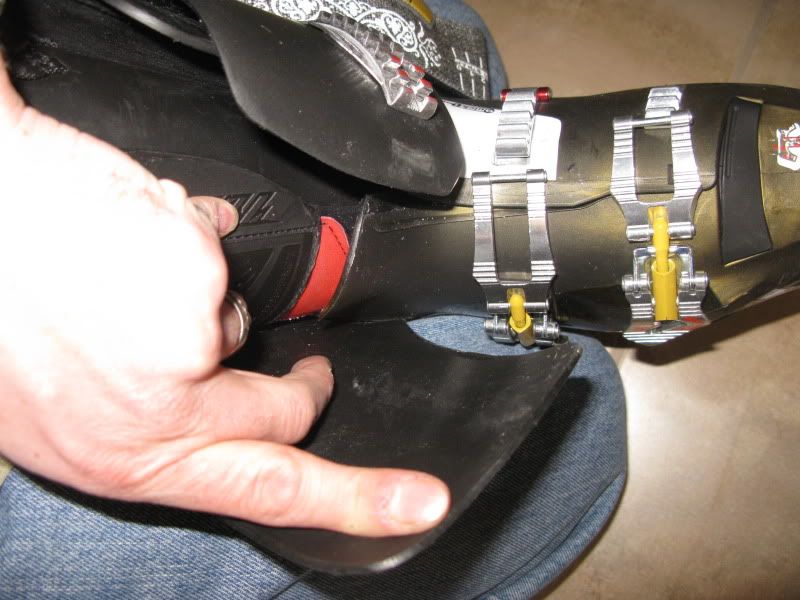 Still, these are minor quibbles thanks to the downhill performance of the boot. Last season, I found myself using my alpine boots for short tours, not willing to sacrifice performance for the sake of touring comfort. Thankfully, that will not be a type of torture I will endure any longer. Surprisingly, with all this performance they're still lighter than many other boots in the same class, including the Zzeus and Titan boots from Dynafit, and Black Diamond's Factor boots.
In summary, I am extremely pleased with these boots. The downhill performance was somewhat expected- the touring capabilities of this boot are much better than I could have even hoped for. They're the boots I've been waiting for. It's been a long wait.
For a "first-look" at next year's Cochise line, including the Cochise Pro and Cochise Light, click this LINK.
Frank
loves snow more than anything... except his wife.  He ensures his food is digested properly by chewing it 32 times before swallowing.He is a full-time real estate agent serving
Crested Butte and Gunnison
and would be honored to send you his
monthly newsletter.
Latest posts by Frank Konsella (see all)