TR: Timberline Trail from Mirror Lake to Texas Ridge 6.19.18
(Last Updated On: October 17, 2018)
Sometimes you just have to go big. Brittany and I have talked about our Trailquest goals quite a few times and one of the things that the game forces us to do is ride a little farther than we might otherwise. Our original plan was to ride the Timberline trail from the Tincup/ Mirror Lake area, and also add a couple of spur trails- Hillerton (632) and Sanford Creek (584). More on our change of plans in a minute…
We started off on the smooth road to Tincup and onward towards Mirror Lake on a fairly steep grade filled with baseball sized rocks- not particularly enjoyable. We were pleasantly surprised by the start of the Timberline trail, however. Most of the Timberline trail is steep, loose, and moto-ed out, but on this end it was actually fairly rideable.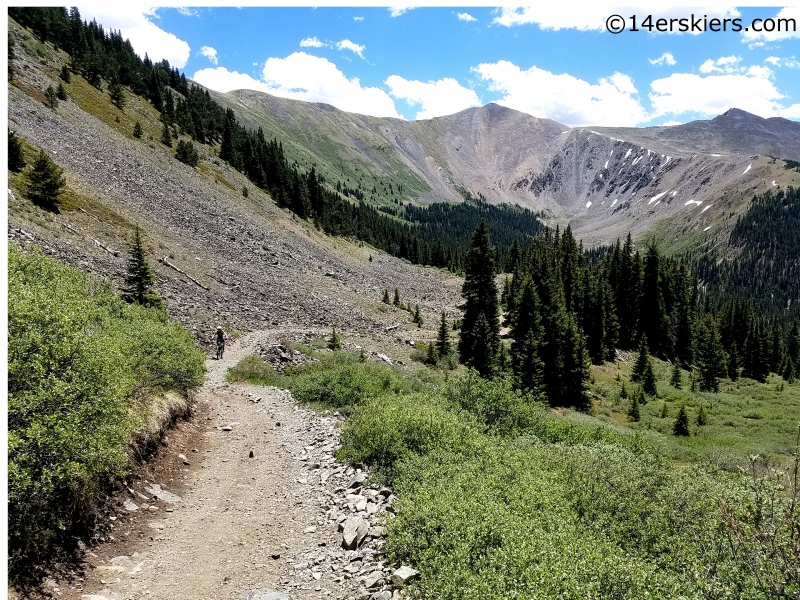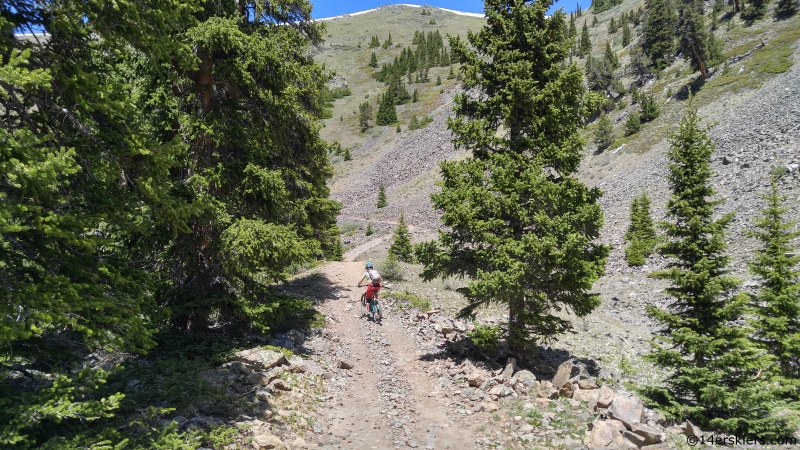 The best part was that we weren't seeing many ATV's or dirtbikes, which as it turned out was thanks to a snowdrift that was blocking the trail higher but was easy for us to walk through. (You can see Mirror lake in the background)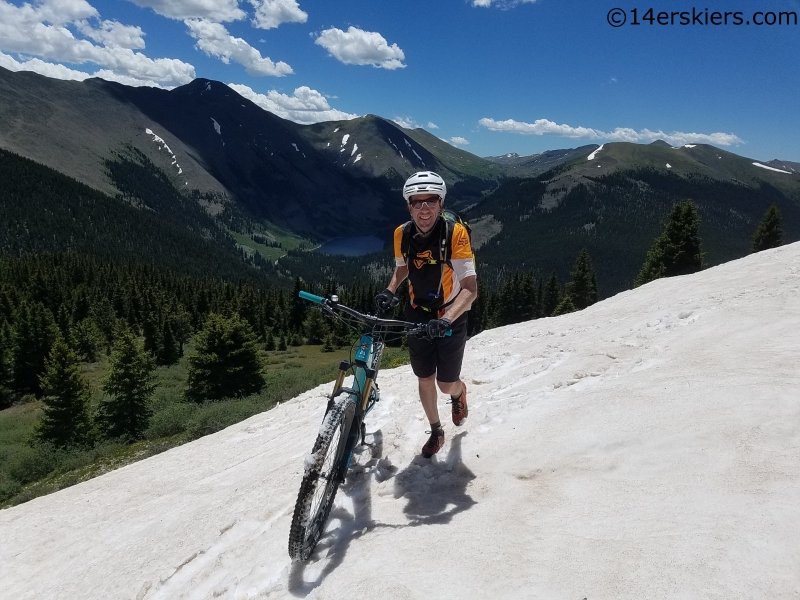 The trail traversed for a while before beginning to descend towards Taylor Park.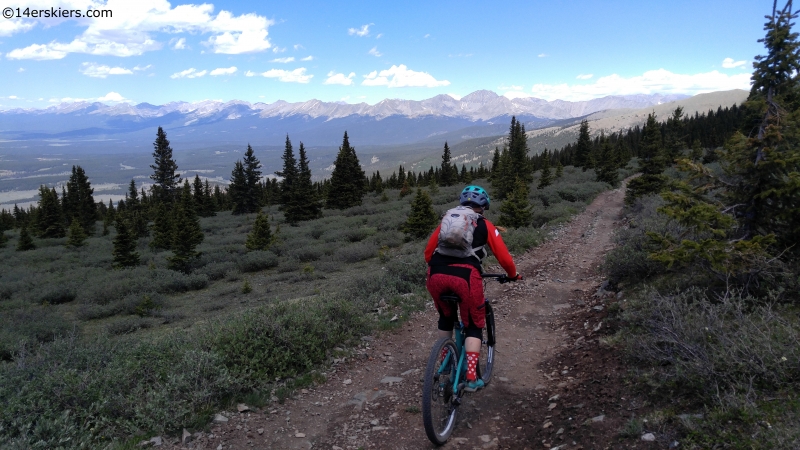 Once we reached Hillerton, we were wondering if perhaps a different plan was in order rather than riding Hillerton as an out and back. Things were going good, so maybe we should just skip the spur trails and make it all the way to Texas ridge, which we rode last year from the northern end of the Timberline trail. Onward we went, on the frequently fun and frequently rocky Timberline trail, for hours and hours…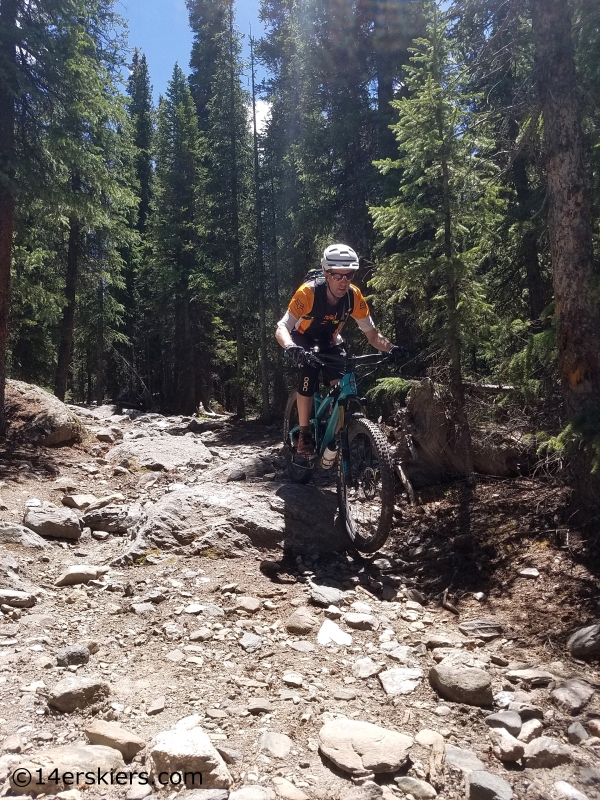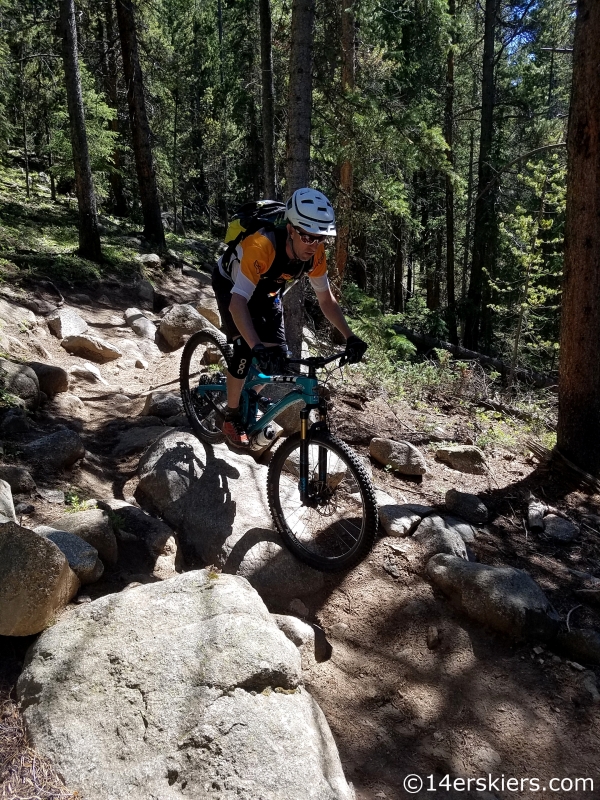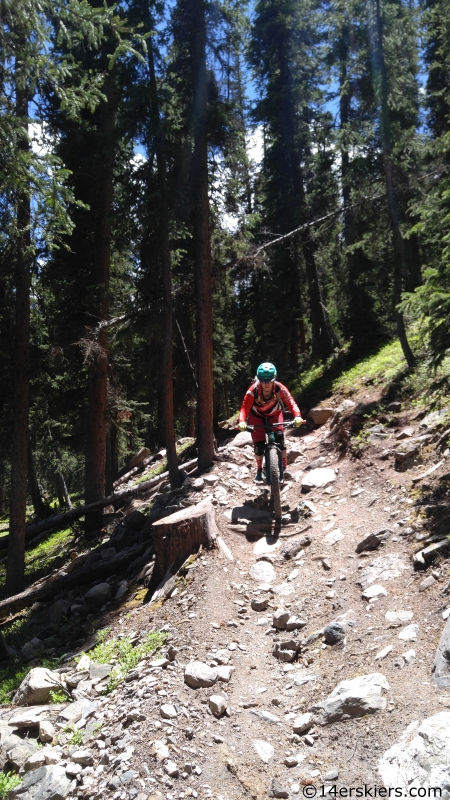 Eventually we hit Cottonwood pass, which was closed all summer last year, and will be closed all summer this year. It was obvious why it was closed. Every two minutes, a giant dump truck would fly by, sounding like some sort of alien spaceship. It was wild. Thankfully there are stop signs all over the trail crossing and you could tell that the drivers knew darn well to stop, because one did for us. The Cottonwood to Texas Creek section of the Timberline trail is one of the best.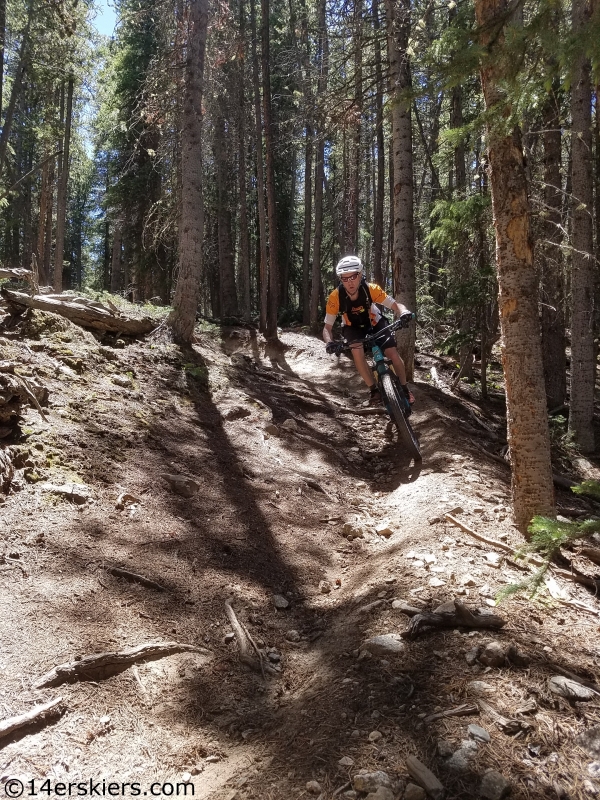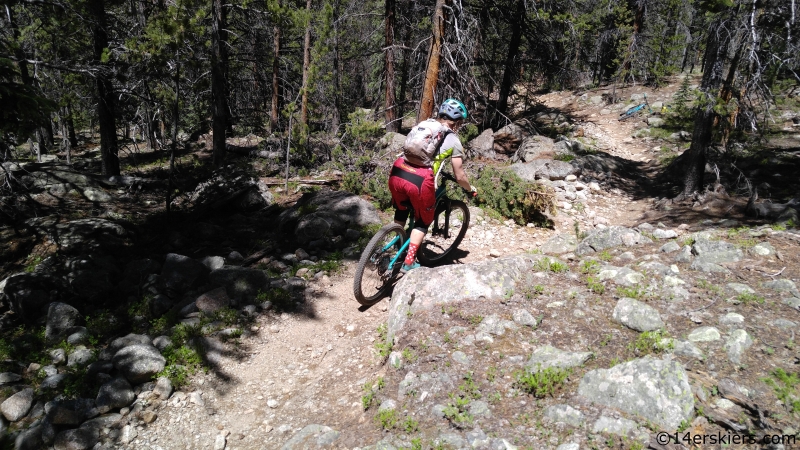 That was about it for our photos, once we hit Texas Creek. The climb up to Texas Ridge is brutal from there, which is probably why Texas Ridge doesn't get much traffic even though I would consider it a top 10 ride in the Crested Butte/ Gunnison area. Brittany disagrees, but I'm not at all alone in my love of that trail.
In the end, our day was right around 45 miles, 6500′ of climbing, and 10 hours in the saddle. Both of us went back to ride Hillerton-Timberline-Sanford, and I would say that Hillerton is a viable route to get to Timberline as well, for a shorter version of this ride. Once Cottonwood is open, I'd still suggest Cottonwood-Timberline- Texas Ridge…
Here's the map (it was actually a complete loop):
Frank
loves snow more than anything... except his wife.  He ensures his food is digested properly by chewing it 32 times before swallowing.He is a full-time real estate agent serving
Crested Butte and Gunnison
and would be honored to send you his
monthly newsletter.
Latest posts by Frank Konsella (see all)
Summary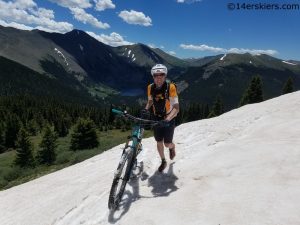 Article Name
TR: Timberline Trail from Mirror Lake to Texas Ridge 6.19.18
Description
Trip report of a 45 mile ride on the Timberline trail, starting above the old mining town of Tincup, climbing to Mirror Lake, and finishing on the incredible Texas Ridge downhill.
Author