Best Apps for Navigation while Mountain Biking
(Last Updated On: November 14, 2018)
I have a library of guidebooks. Some of them are for hiking and climbing, some are for backcountry skiing. But, I also have a collection dedicated to mountain biking. However, with the advent of the smart phone and the GPS capabilities that come along with it, mountain biking guidebooks seem to have gone by the wayside. My books are collecting a lot of dust.
Various apps and mapping programs that can be integrated into our phones have changed how we ride and what we ride. More and more people are adventuring into lesser known terrain. Here's a look at what we think are the best apps for navigation while mountain biking.
1) Mountain Bike Project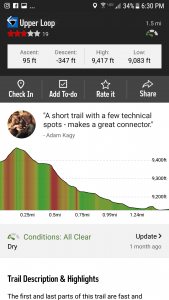 If you're a mountain biker and you haven't heard of Mountain Bike Project, then you must be living in some sort of alternate reality. I believe this app, above all else, has changed mountain biking as we know it and has made mountain bike guidebooks nearly obsolete.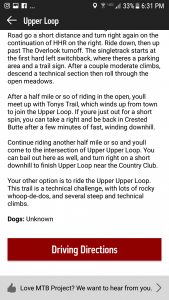 The information in this app is crowd-sourced. That means that mountain bikers themselves upload GPX tracks and write up all the information about a trail or a particular ride. You can search for rides by area or by trail name. You can also simply open up the app on your phone and it will automatically bring you a map that shows all the rides near your current location. Rides include individual trails and/or particular loops that link trails together. It is not uncommon for trails to be included multiple times – once as the trail itself and another as part of a loop or longer ride.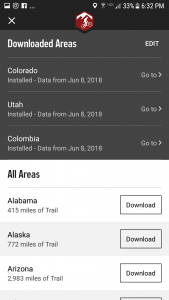 Descriptions and elevation profiles of all rides are included. Trails are rated based on enjoyment and difficulty. The difficulty uses the same rating as ski slopes, and trails are color coded accordingly. The status of trails is also included, with the help of user feedback. A green arrow pointing to the left side of the dial means the trail is good to go! At the bottom of each trail description is a button that says "Driving Directions". This will open up to a Google Map that will help you navigate to the trailhead.
Offline capabilities: Mountain Bike Project does have offline capabilities. You can download areas – for the US, the areas are typically categorized by state. But, some are categorized by country. Downloading an area allows you to see the trails, trail description (including distance) and ratings, and elevation profile offline. However, the basemap (which is Google Earth or Google Maps) may not appear. You may just see a line that is the trail with no other reference.
GPS capabilities: This app has GPS capabilities while both online and offline.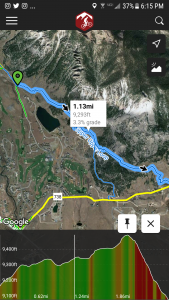 What I love about this app: My favorite thing about this app is being able to show up to some random location and be able to achieve a fun and successful ride. I also love that I can see the elevation profile as I am riding a trail. So, when you're on some big climb, wondering how much longer it's going to be, you can look at the profile. The app will actually show you where you are on the profile, so you can see distance and what climbing/descending remains, helping you to be mentally prepared for what lies ahead!
What this app is missing: This app might be a true stand-alone if a topo-map was included. Using a USGS map or something similar for a basemap would allow other trails to be shown that may not be listed on the Mountain Bike Project database. It would also allow for peak names and elevations to be shown. Last, a using a different basemap would allow for land designations to be shown – what is private, USFS, BLM, Wilderness, etc.
Cost: FREE
2) CBG Trails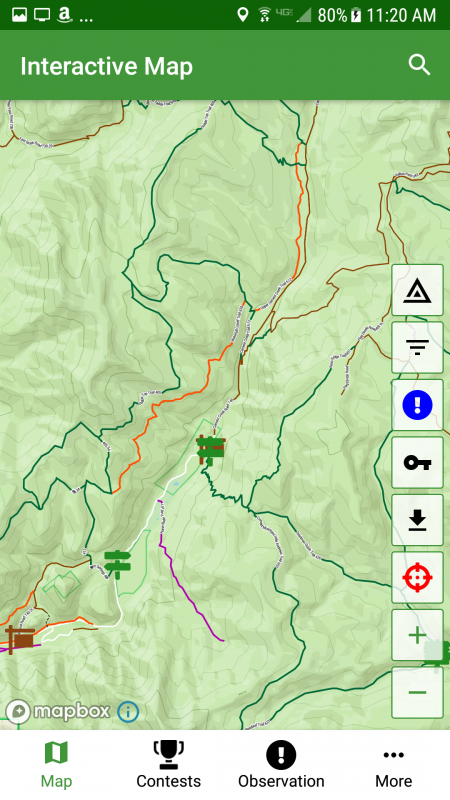 CBG Trails has become my new favorite app for mountain biking. It was created by the Gunnison – Crested Butte Tourism Association, as part of their MTB Home campaign. But, the scope of this app is so much more. Not only does it show trails around Crested Butte and Gunnison, but this app works for the entire state of Colorado as well.
The strength of this app is that it defines the trails based on use. Color codes show whether the trail is allowed for mountain bikers or not. Any trail that is purple or pink is not allowed for mountain bikes. Red, orange, green, brown or blue are all game for mountain bikers. If you want to avoid motorized companions, then avoid green or brown colored trails.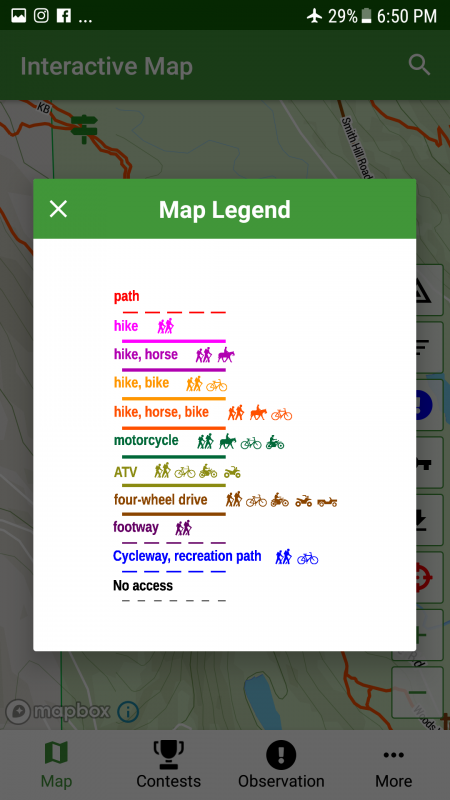 These trails are placed onto a topographic map that has contour lines, roads, and names of some geographic features like lakes. Land use boundaries are defined – especially what is categorized as National Forest vs. Wilderness.
Trailhead locations are marked on the topo map. And, if you click on the brown icon, it will tell you name of the trailhead with a green arrow next to it. If you click the green arrow, it will lead you to a Google Map that will help you navigate to this trailhead.
Last but not least, users can input trail observations – so if a tree is down or there is particularly muddy spot, you can find out about this ahead of time!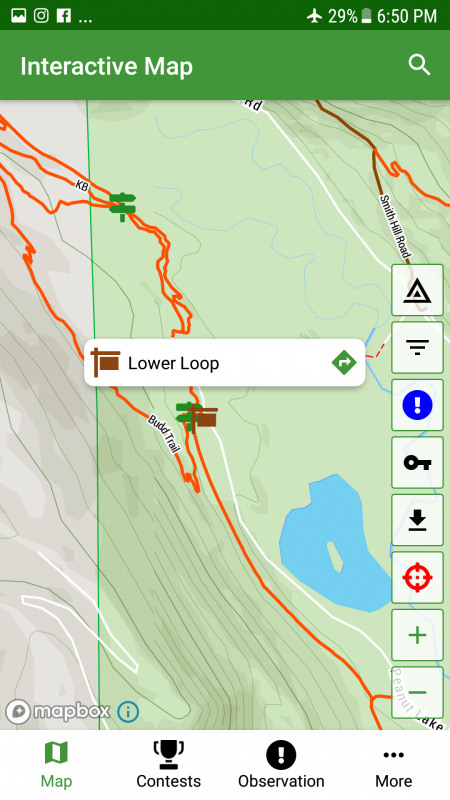 Offline capabilities: You can download offline versions of regions of the map to use throughout the state of Colorado.
GPS capabilities: This app has GPS capabilities while both online and offline.
What I love about this app: This app has something that most other trail apps are missing – trail use. If I am a rider and want to avoid motorized trails or ensure that I am on trails open to bikes, then this is the perfect app. Not only is CBG Trails great for mountain bikers, but it is also great for hikers, moto riders, and ATVers. Motorized recreationists know which trails are open/closed to them. Hikers wanting to avoid other recreationists that are not on foot can easily choose the trail color accordingly.
What this app is missing: Aside from expanding beyond Colorado, this app would be better improved by including more information about the trails – such as distance, difficulty, and an elevation profile. I would also like to see more geographic features labelled such as peaks and rivers.
Cost: FREE
3) Gaia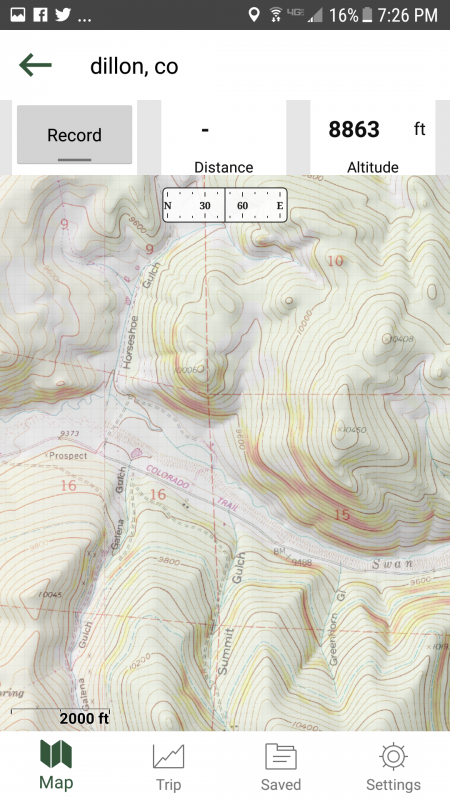 Gaia is a pure GPS-style app that can be used for nearly any form of travel, not just mountain biking. This means that, similar to a traditional GPS, you're basically looking at your location on a USGS topographic map, or some other similar map. These maps show contour lines, geographic features like lakes, rivers, peaks, and more, as well as land use boundaries like Wilderness, USFS, and private. Roads and trails are also shown on these maps.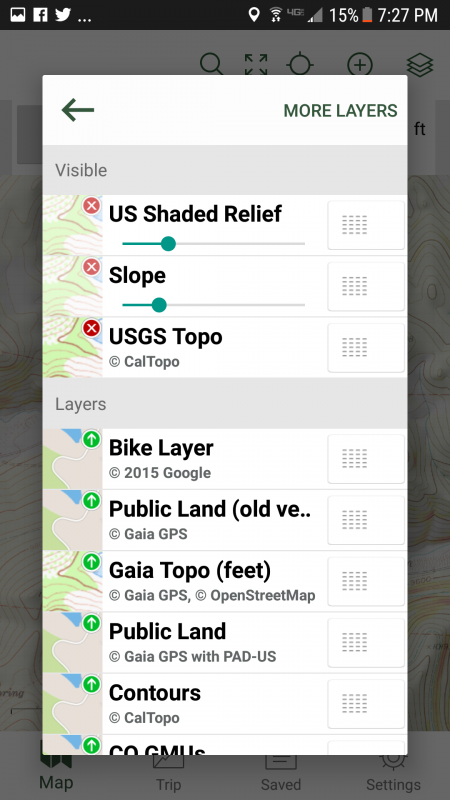 Unlike traditional GPS units, Gaia allows for different layering of maps. You have to start off with a basemap of some sort – usually a USGS Topo or Gaia Topo, but some may choose satellite imagery. Then, you can stack layers on top, and a toggle allows you to decide how strong you want this layer to be. Toggling to the left makes the layer more transparent. Some of my favorite layers are include "Public Land", which helps to more clearly define what is public vs. private, and "Slope", which color codes based on steepness of a slope.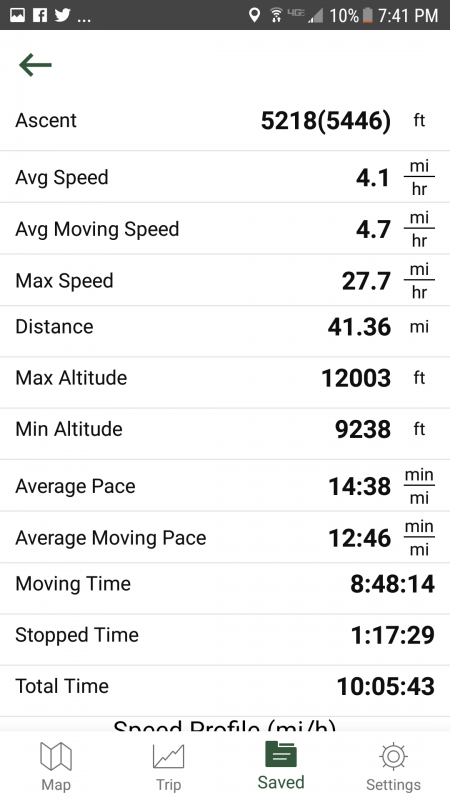 As you would expect in a GPS program, but unlike all of the other apps described in this post, Gaia also has tracking capabilities. You can record a track and view your real time location, elevation, and more. At the end of your ride, your track will give you all kinds of statistics including distance, max speed, vertical gained/lost, moving time and stopped time, total time, speed profiles, elevation profile and more. You can export and share these GPX tracks in a number of different ways.
Gaia not only works in the US, but throughout the world. The only downfall is that you are at the mercy of your basemap. Some basemaps are not always up to date. Newer bike trails are likely to be missing and any recent re-routes may not be shown.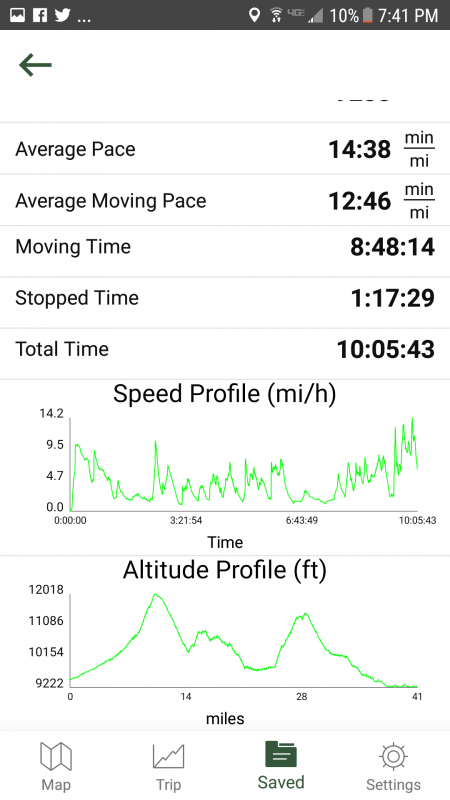 Offline capabilities: You can download offline versions of regions of the map to use throughout the world.
GPS capabilities: This app has GPS capabilities while both online and offline.
What I love about this app: I love the recording capabilities and GPS navigation functionalities. Using this app makes it difficult to get lost for more than a few minutes. I use Gaia for all kinds of recreation activities. Not only do I use it for mountain biking, but I use it for hiking, and it has become a staple for backcountry skiing.
What this app is missing: Aside from the fact that the maps are not always up to date, Gaia is missing the user functionalities present in the two previously described apps. There are no directions to trailheads, trail descriptions, or trail use descriptions, let alone distances.
Cost: $19.99 per year for a regular membership or $39.99 per year for a premium membership. Discounts apply if 5-year subscriptions are purchased. But, if you purchase through our Gaia GP affiliate link, you can buy your subscriptions at a discount.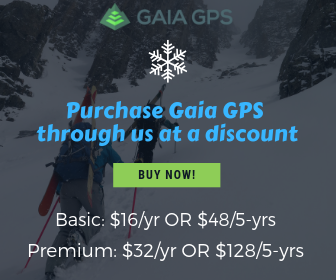 Which is the best app for navigation while mountain biking?
Determining which application is best often depends on the goal of your ride. If you're looking for a more standard, pre-set ride, then Mountain Bike Project may be the best navigation tool, seconded with Gaia for recording purposes. If you're looking to venture a little more off the beaten path, then you will likely find more value in using Gaia GPS, combined with CBG Trails.
For most of our adventure rides, we use a combination of all three applications. Even if you think you know the route, the unexpected could happen. Say, for example, you're on a trail/route described on MTB Project. But, then half way through, you encounter a mechanical or an injury, and finishing the ride as intended is really not possible. It's essential to have some tools to help you plan a better exit (dirt roads or other intersecting trails). In this case, that's where CBG Trails and Gaia GPS come in. You can use those tools to help you see what roads and trails are available for your exit. While CBG Trails will help you determine whether bikes are allowed on these trails, Gaia GPS will help you take a closer look at the actual geographic and topographic features necessary for route finding. In addition, I've seen trails that exist on CBG Trails but are not shown in Gaia, and vice versa. Having all tools in your hand will help your ride go more smoothly, especially in cases where you encounter the unexpected!
Up soon – tips for how to plan for a ride to lesser-traveled places!
Aside from skiing, biking, and all outdoorsy things,
Brittany Walker Konsella
also loves smiles and chocolate 🙂 Even though she excels at higher level math and chemistry, she still confuses left from right. Find out more about
Brittany
!
Latest posts by Brittany Walker Konsella (see all)
Summary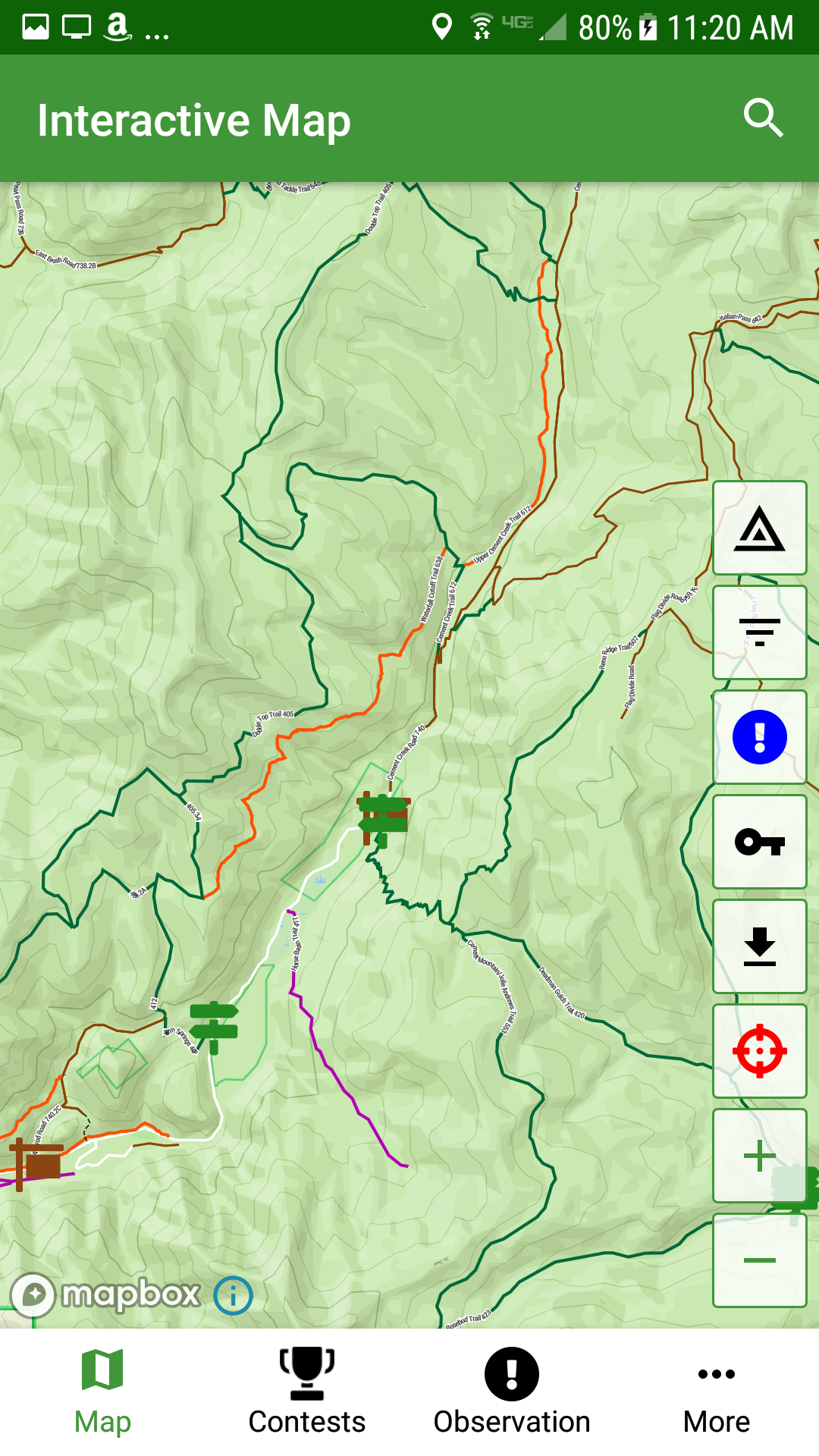 Article Name
Best Apps for Navigation while Mountain Biking
Description
Various mobile apps have changed how we ride and what we ride. Here's a look at what we think are the best apps for navigation while mountain biking.
Author