1st Look Review: Salomon Shift Binding
(Last Updated On: February 11, 2018)
If there was one product at SIA/OR that nearly everyone wanted to take a look at, it was almost certainly the Salomon Shift binding, which I'll just call Shift from here on out (aka Salomon S/Lab MNC Shift binding). Salomon's sibling, Atomic, will also be offering the same binding, just in a different color. Both bindings will be available in fall, 2018, but we got a chance to play with them both at the convention center and again on snow last week. So, what do we think about the Shift binding?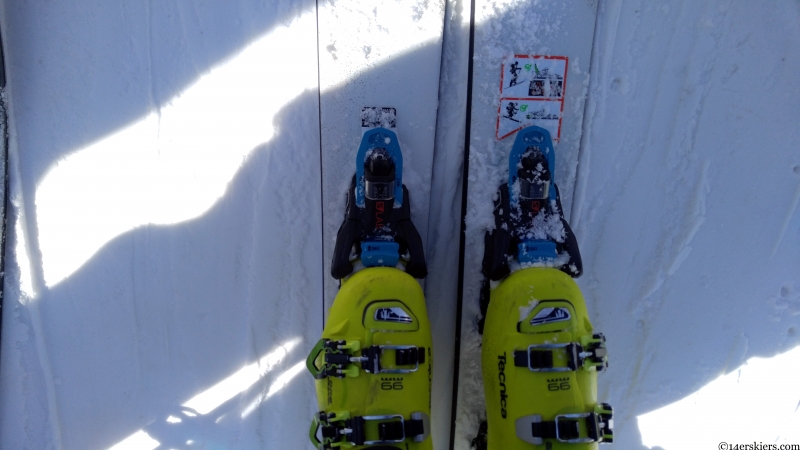 Since expert skiers began adopting tech bindings en masse around 10 years ago, those same skiers have been clamoring for improvements in the downhill performance of tech bindings. While a standard Dynafit binding can meadowskip through powder with no discernible drop in performance, the difference between a standard alpine binding and a Dynafit grows exponentially with firmer conditions. The ultra-rigid connection between a tech binding and a tech boot is a bone-jarring experience that is best avoided. Not only that, but the release characteristics of Dynafits leave a lot to be desired, which is why so many Dynafit skiers just end up locking the toepiece for their descents.

Several manufacturers have tried to address the shortcomings of Dynafits. One system, CAST, simply eliminates the tech part for the descent by swapping out the toepiece at the top of a run and using alpine bindings for the descent. While the CAST system makes no compromises on the downhill, there is plenty of fiddle factor and you're carrying around pieces in your pack- almost like the old days of alpine trekkers.
Dynafit tried to address the downhill oriented market with the Beast binding, a heavy, expensive, and clunky binding that required some minor boot modifications that is now discontinued.
Fritschi entered the tech binding world by making several significant improvements, such as an independently releasable toe and some binding elasticity with the Vipec. The new Fritschi Tecton takes it a step further, by no longer utilizing the pins in the heel and having a more traditional heel binding. Unlike a lot of other designs that target downhill performance, the Tecton isn't even all that heavy.
Marker is probably considered the reigning king of the downhill oriented tech binding world, thanks to the Kingpin binding, though the Tecton mentioned above may very well be eating away at the notion the the Kingpin is the king. The Kingpin utilizes a fairly standard toe, but a very alpine-like heelpiece complete with elasticity that nice "snap" when clicking in that we all know and love from alpine bindings.
Salomon S/Lab MNC Shift
Salomon is the first to put a lot more effort into developing a much more alpine binding-like toe, rather than just the heel, as in the case of the Tecton and Kingpin.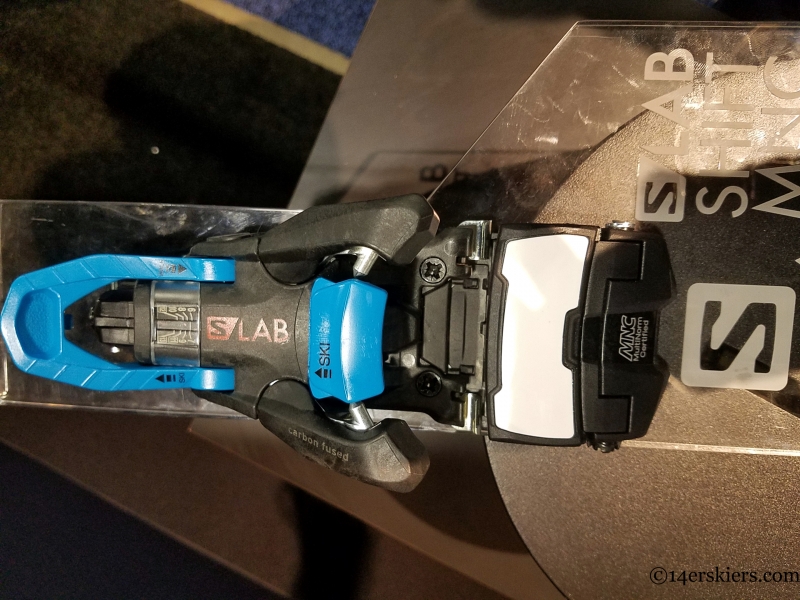 The Salomon Shift binding, as you can see above, takes those toepins and disregards them completely when in ski mode. The pins fold in, traditional alpine toe wings spread out, and you're left looking at a touring binding that looks a whole lot like an alpine binding. It's quite the engineering marvel when you look at it up close. For touring, you flip the center blue bar and the pins come out, ready to engage. One annoying characteristic is that you then have to hold the pins open while clicking in to your boot. Thankfully, this won't be necessary while standing at the top of a precarious peak, since you don't use the pins on descent.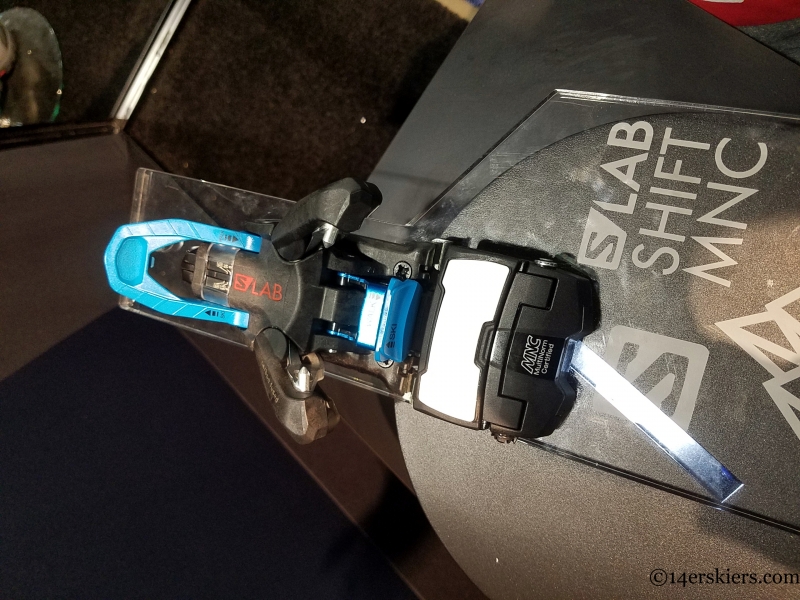 Also unlike other designs like the Kingpin and Tecton, the heelpiece doesn't have to slide on a track to switch ski and tour modes. The toepiece pin location in ski mode moves the boot just far enough forward to prevent interference with the heel. Flipping a bar in the heel keeps the brakes up, and that's it. If the heelpice looks remarkable like a standard alpine heel, it should.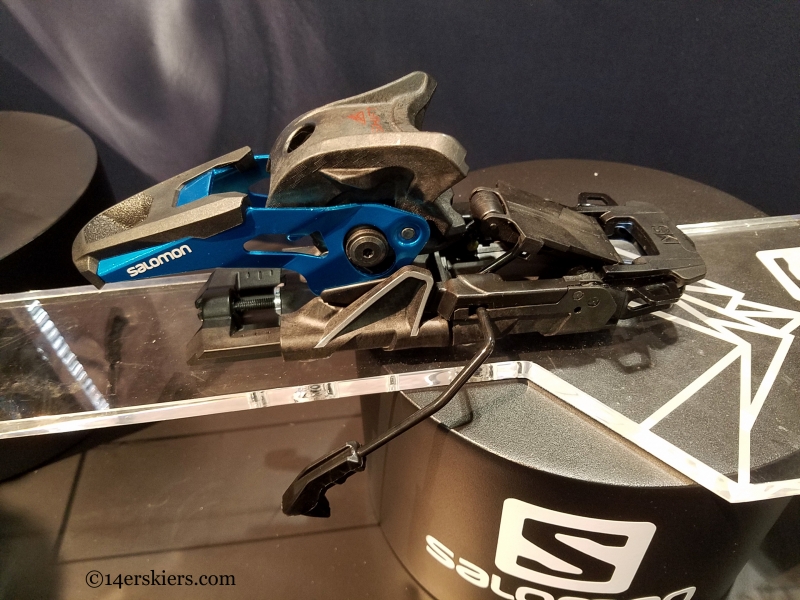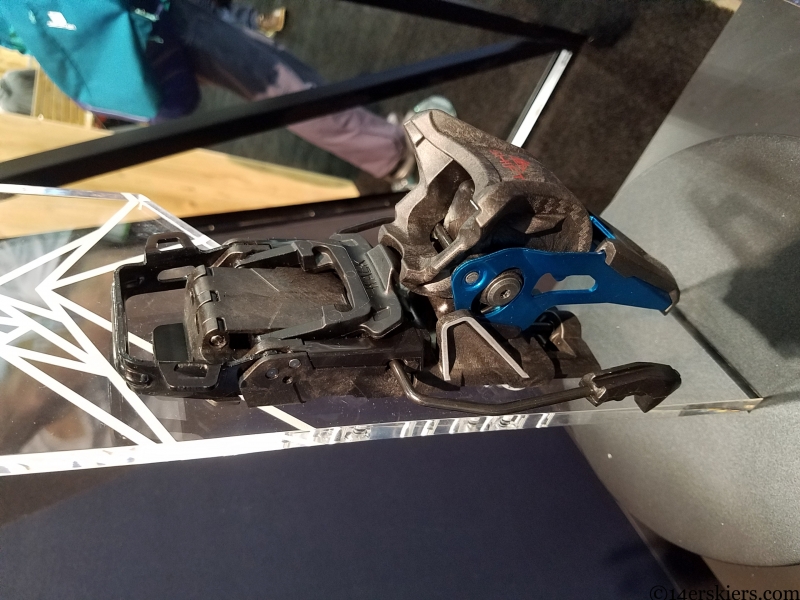 Switching modes isn't the easiest process- certainly not like the Tecton which allows you to switch modes without taking your skis off, unlike Dynafit offerings. Still, that isn't exactly the point of this binding. I didn't get a chance at OR to actually tour in the binding- all I did was switch modes a couple of times and shuffle along on the flats, sans skins. The Shift only has a one position heel riser- not a big deal for me, since I almost only use a flat position or the high rise. At the end of the day, I would suspect that it will tour far better than any frame binding, with the biggest downside being added weight compared to a lighter tech binding.
While I didn't get to tour with the Shift, I was able to take several runs with multiple skis at Copper Mountain, in conditions that tech bindings generally leave a lot to be desired- hardpack moguls and groomers (for reference, I was skiing in my Tecnica Zero G boots). The verdict? You won't notice these bindings when you're skiing like you will with a rigid tech binding. They ski like an alpine binding. If you're looking for an AT binding with the most alpine like feel, these win, hands down. Time will only tell, but despite the moving parts, these bindings look burly, perhaps even burly enough to use on a daily inbounds basis. I will always prefer an alpine setup while riding lifts (you know, the right tool for the right job), but this setup can blur that line a bit.
One thing the Shift should do is put an end to frame bindings like the Salomon Guardian and Marker Duke. It skis better and it tours better. I suspect that since you don't have to use the pins for skiing, you could even put in pins in your favorite alpine boot, just like the CAST system. So there really aren't many downsides.
Keep in mind that the Shift will only work with boots that have a traditional toe and heel. So, as one example, 2018's worst piece of AT ski gear, the Dynafit Hoji boot with the ridiculous speed nose, won't work.
Will I be buying the Shift binding? No, but that's only because of where I live and how I ski. Crested Butte has closed boundaries, so if I'm skiing the lifts I have no need of a touring binding, while I would prefer a lighter, and more touring oriented binding like my Vipecs for backcountry skiing. Now, if I still lived in Whistler, where I could charge inbounds all morning, then do a lap on the Decker fingers in the afternoon? The Shift binding would be ideal for that scenario. The Shift is a specialized piece of gear- and I think it's perfect for what it sets out to do.
Frank
loves snow more than anything... except his wife.  He ensures his food is digested properly by chewing it 32 times before swallowing.He is a full-time real estate agent serving
Crested Butte and Gunnison
and would be honored to send you his
monthly newsletter.
Latest posts by Frank Konsella (see all)