(Last Updated On: June 29, 2010)
On Friday I had the opportunity to instruct another one of Alison Gannett's Rippin' Chix bike camps. What a fun day it was!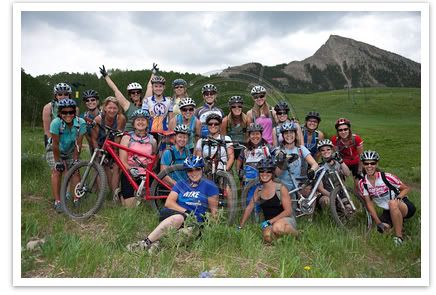 Photo by Sherri Harkin at Ridgeline Images
For more pictures of Friday's camp click here.
Instructing Alison's camps is always a blast. I enjoy helping other women learn bike skills that they never thought they would be able to do. A few simple tips, like looking ahead, shifting your weight, and just believing that you can do it can go a long way. In just a few hours I watched a group of women grasp skills they knew barely anything about before the clinic and watched each and every one of them smile. Afterall, mountain biking is fun, especially when you're with a group of girls who loves it too.
Too many women learn mountain biking from their significant other- usually a boyfriend or a husband. All too often, these men go out there and 'charge it'- getting over things by brute force with little technique. Most women simply lack the ability or desire for 'brute force', but still want to mountain bike. I admit, I was a victim of this once. But, I eventually realized that I didn't have to 'ride like a guy'. I could still be aggressive, but ride controlled and smooth. I learned to ride those crazy lines using my own riding techniques. I learned to ride like a girl. That's where Rippin Chix comes in. We want to teach women the techniques that allow them to ride both aggressively and easily over those burly obstacles, with both style and finesse.
Though Alison has not posted the dates on her website as of yet, she is planning on having other clinics this summer. If you're a woman just starting out mountain biking or looking to improve your riding skills, I highly encourage you to attend one of her clinics. You will learn a lot and come back with a nice sized goody bag, a big smile, some new girlfriends, great memories, and a whole lot of great tips and tricks.
For more about Rippin Chix, please check out Alison Gannett's website:
http://www.alisongannett.com/Alison_Gannett/Rippin_Chix_Bike.html
Aside from skiing, biking, and all outdoorsy things,
Brittany Walker Konsella
also loves smiles and chocolate 🙂 Even though she excels at higher level math and chemistry, she still confuses left from right. Find out more about
Brittany
!
Latest posts by Brittany Walker Konsella (see all)