My 3 Favorite Women's Skis at SIA/OR 2018
(Last Updated On: February 8, 2018)
Anyone who knows me as a skier knows I've had very few good things to say about women's skis in the past. Typically, I have found that women's dedicated ski models are too soft, not torsionally rigid enough, and inhibit rather than help my skiing. But, I'm not the only one who has felt that way and the ski manufacturers are listening. Finally, I can honestly say I have found some women's skis that I don't want to just throw in the trash. In fact, I actually love them. These three skis will allow women to charge hard.
My Background
I am a former freestyle competitor who has turned more toward big mountain and backcountry skiing over the last 13 years. I enjoy steep terrain, don't mind ice, but balk at breakable crust (anyone who tore ACL's 3 times would). I tend to graitate toward rocker-camber-rocker construction and love almost anything with a paulownia wood core. For the sake of comparison, am a 5'3″ skier, weighing 125 lbs. I typically enjoy skis in the 168 to 178 cm length that are 105mm to 115mm underfoot for everyday skiing, either at the resort or the backcountry.
Testing Conditions
I tested these skis at Copper Mountain during the SIA on-snow in late January, 2018. Due to the nature of the testing venue, I really was not able to test them in powder. But, I was able to test how they performed on groomers, ice, bumps, and chop.
Blizzard Sheeva 11 – 172 cm / 112 underfoot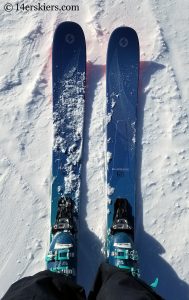 This ski was designed by women, as part of the Woman-to-Woman Initiative – and it shows. This ski is playful and light, can hold a decent carve, and holds stable at high speeds. The Sheeva 11 also doesn't deflect a lot in choppy conditions. It also allowed me to ski like a natural in the bumps. Frankly, the Sheeva 11 is very responsive and snappy making it an easy ski to ski on.
The Sheeva 11 boasts a thoughtful ISO-Paulownia-Balso-Poplar-Beech wood core that is combined with Carbon Flipcore. The carbon allows for more longitudinal stability and stability underfoot, but keeps the ski lightweight. The Sheeva 11 comes in three lengths – 164 cm, 172 cm, and 180 cm – all of which share the rocker-camber-rocker design. To keep the 129-112-139 dimensions, the radius of the ski changes, with each respective length having a 16m, 17.5m, and 19 m radius.
Blizzard also has other models in their line. The Sheeva 10 is 102 mm underfoot and is in stores this year. For 2018-19, Blizzard will add the Sheeva 9 to their line and it will be 92 mm underfoot.
Liberty Genesis 106 – 171 cm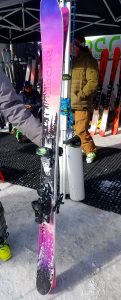 Liberty Genesis 106[/caption]I tried this ski by accident. No joke. Frank went it to try to find another pair of boots to test and I had a lap to myself. The Liberty tent was close by and, being a Colorado company, I wanted to check them out. After talking to the reps/techs there, I left with a pair of Liberty Genesis 106 skis on my feet. And I was pleasantly surprised.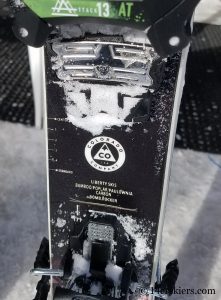 The Liberty Genesis 106 was full of energy. Admittedly, I was tired by the time I tried this ski, but the ski didn't care. It had energy to give me and made me ski better because of it. With it's quick response and ease of turns, the Liberty Genesis 106 was fun in the bumps and wanted to carve on the groomed. It felt even better at high speeds and railed through the chop.
The Liberty Genesis 106 has a fun bamboo-poplar-paulownia wood core reinforced with carbon. The wood keeps it responsive while the carbon improves its energy without adding a lot of weight. A dedicated women's ski, The Liberty Genesis 106 comes in three lengths: 157 cm (138-106-127, 13m radius, 1675 g), 164 cm (138-106-128, 15m radius, 1725 g), and 171 cm (138-106-128, 17m, 1785 g). I enjoyed the 171 cm length but I am on the shorter side of the spectrum. My only complaint – I'd like to see a longer ski in this model, perhaps a 178 or so, that will allow women who are taller than me to charge!
Salomon QST Stella 106 – 172 cm


Admittedly, the Salomon QST Stella 106 is marketed as a women's ski, but in reality, only topsheet color, size, and mounting position truly differentiate this from the unisex QST 106. But, the QST Stella 106 is a great all-round ski. Easy to turn, quick to respond, the QST Stella 106 also holds its own through a carve and chop, while also not shying away from high speeds.
The 2018-19 model has improved performance with an additional basalt layer which helps to dampen the ski without adding much weight. The core is made from "3D Woodcore" – which who knows exactly what that means – I'll have to find out. But it also had a prepred fiber layer of carbon and flax woven together. The carbon helps to improve the strength and stability, while the flax helps to absorb vibrations to keep the ski damp.
Similar to the models above, the QST Stella 106 is based on rocker-camber-rocker construction. But, unlike the models above, stays a consistent 20m among all the lengths, while the dimensions change. The QST is offered in three lengths: 159 cm (133-106-122), 167 cm (136-106-124), and 174 cm (138-106-125). The weight of the 167 cm ski is 1740 grams per ski.
The Wrap – Women's Ski Stoke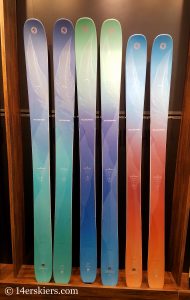 The skis above have so many things in common. First, there's the obvious: rocker-camber-rocker construction, similar widths, and all women's skis. But, the less obvious is that they all have blended wood cores reinforced with carbon. When carbon skis first hit the market, they were so "deflecty" and not solid – and pretty much intended for the backcountry only. But, all of that is changing. Backcountry skis continue to utilize more technology from resort skis, and resort skis are blending backcountry technologies into their construction.
My ski of choice for in-bounds skiing for the last several years has been the Rossignol S7. But, now I'm seriously considering using one of these three as my next resort ski. Yet, I would use any of these skis in the backcountry too. Yes, I think it is finally happening. I'd use any of these – Sheeva 11, Genesis 106, or the QST Stella 106 – as a one-quiver ski. Top these off with a Fritschi Tecton or Salomon Shift, and you really have a set up than can do it all.
Perhaps even more exciting is the fact that the ski industry is listening to women. Skis are being designed for women that allow them to ski harder and faster. I've never actually owned a dedicated women's ski. But, you may just see me on one of these next year!
Aside from skiing, biking, and all outdoorsy things,
Brittany Walker Konsella
also loves smiles and chocolate 🙂 Even though she excels at higher level math and chemistry, she still confuses left from right. Find out more about
Brittany
!
Latest posts by Brittany Walker Konsella (see all)
Summary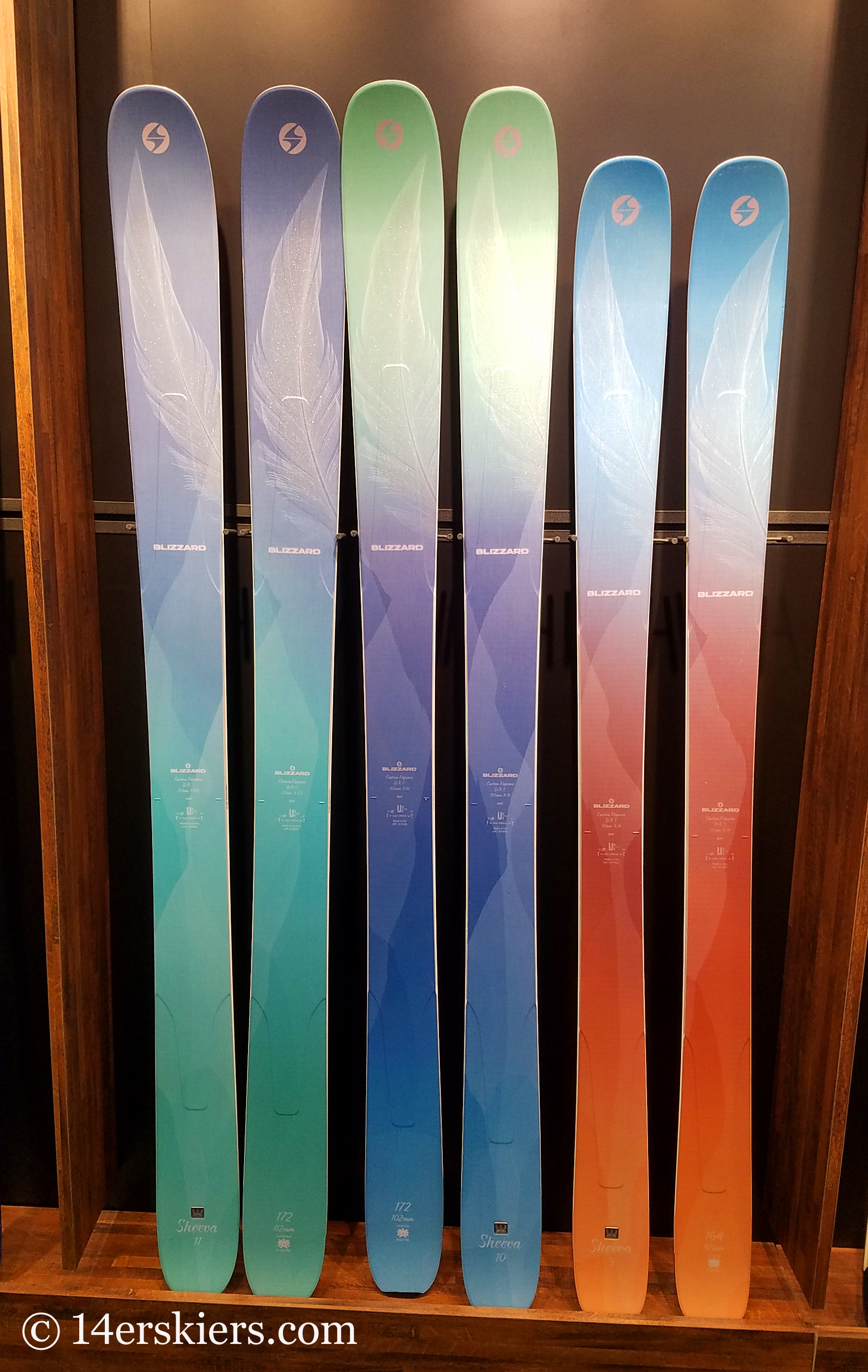 Article Name
My 3 Favorite Women's Skis at SIA/OR 2018
Description
A review of 3 women's skis that allow women to charge hard both in and out of bounds: Blizzard Sheeva 11, Liberty Genesis 106, and Salomon QST Stella 106.
Author