Book Review: The Snowy Torrents 1996-2004
(Last Updated On: October 29, 2017)
Published by the American Avalanche Association, The Snowy Torrents 1996-2004 is the third volume in the Snowy Torrents series. Written in the same style as Accidents in North American Mountaineering, the book details avalanche accidents across the United States from 1996-2004. The book was compiled by Colorado Avalanche Information Center forecasters Knox Williams and Spencer Logan.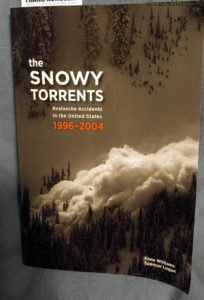 I began reading this book after the first major snowstorm this fall, in an effort to "get my head in the game", which is something I always try to do at this time of year. In this manner, I think I've read through the previous version covering 1980- 1986 on at least a couple of occasions. Reading The Snowy Torrents isn't just morbid fascination with avalanches, it's a series of reminders not to make the same mistakes that others have made.

I moved to Crested Butte in 1996, so interestingly this volume covers the beginning of my full time ski "career", for lack of a better term. The seasons roll by, and I can remember the relatively good and stable years, along with the bad. What I also found interesting was remembering some of those early seasons, skiing bottomless facets on 205 GS skis, which is a different experience today on fatter skis…
Ultimately, however, I found this volume to be less educational than the previous one. Perhaps it's just that I have so many more miles under my belt. But I think the main reason was that far too many of the accidents in this volume are so sadly similar. The typical scenario: a group of snowmobilers are highmarking in questionable conditions, one gets stuck, another goes to help, the avalanche occurs, and no one has any gear. It happens over and over. The good news, I think, is that snowmobilers as a rule are more prepared today than they were at the turn of the century.
Which isn't to say that you shouldn't buy this book. It's just that the best examples for an experienced skier to learn from are harder to find. And the scenarios that make you think are well worth spending the time thinking about, and maybe even discussing with your partners (i.e. how you would have handled the same situation). Perhaps the next volume will include more "teachable moments", and most importantly, delve deeper into the heuristic traps that I feel are largely to blame for avalanche accidents. You can find the book at the American Avalanche Association website. What do you think? Have you read any of the volumes of The Snowy Torrents?
Frank
loves snow more than anything... except his wife.  He ensures his food is digested properly by chewing it 32 times before swallowing.He is a full-time real estate agent serving
Crested Butte and Gunnison
and would be honored to send you his
monthly newsletter.
Latest posts by Frank Konsella (see all)
Summary
Reviewer
Review Date
Reviewed Item
Author Rating