TBT: 1st Big Snow – Nature's Vengeance (Nov 2012)
(Last Updated On: October 25, 2017)
This post is part of a Throwback Thursday series featuring trip reports that we haven't had a chance to write about until now! Look for them at least every other Thursday!
We are revisiting this post to remind backcountry enthusiasts that dangerous conditions can lurk in the backcountry, even early season. This year's storms have dropped bits of snow that have stuck around on north-facing aspects that will likely create similar problems in the snowpack as we encountered in this report below. Be aware, be safe, and have fun in your backcountry travels this winter!
---
Snotel was reporting 19 inches, 17 of those new, on Schofield Pass. Knowing that local geography can cause wind-loading, we knew that some areas potentially could have 2 feet, maybe even 3 feet, of fresh. So, Frank and I headed out with our friend Adam to ski on Baldy, intending to ski Halloween Bowl. But, we also were leery. We knew that this new snow could potentially be a heavy load on top of old October facets. So, we had a back-up plan in mind.
Skinning up Gothic Road toward Schofield Pass.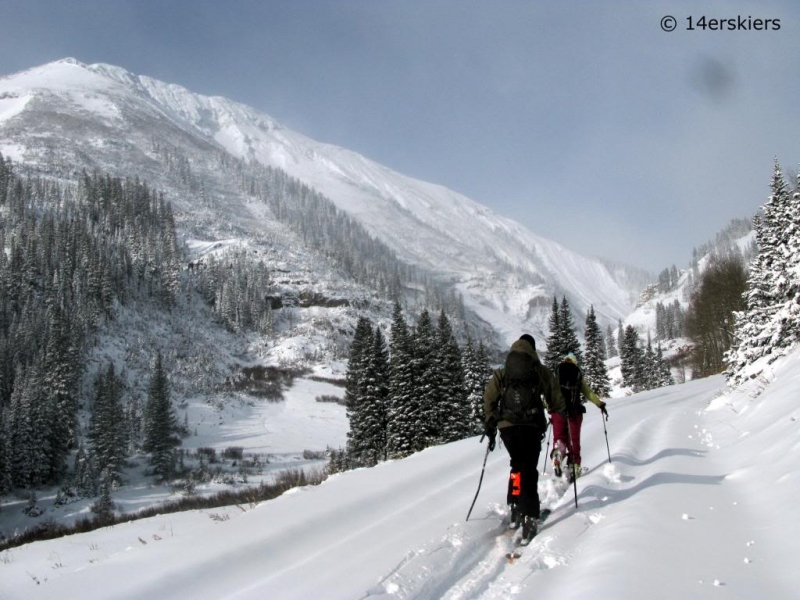 From the top of Schofield Pass, we entered into the forest, where early-season skinning is always a full body work-out.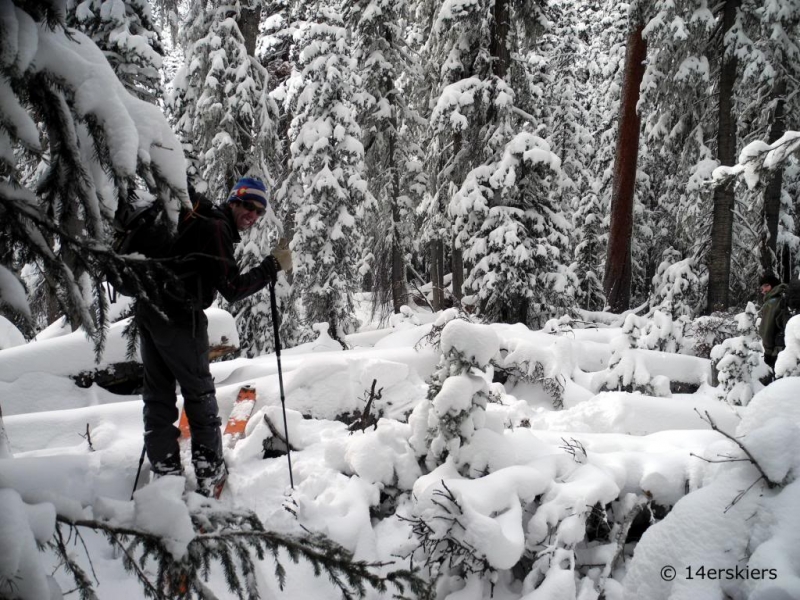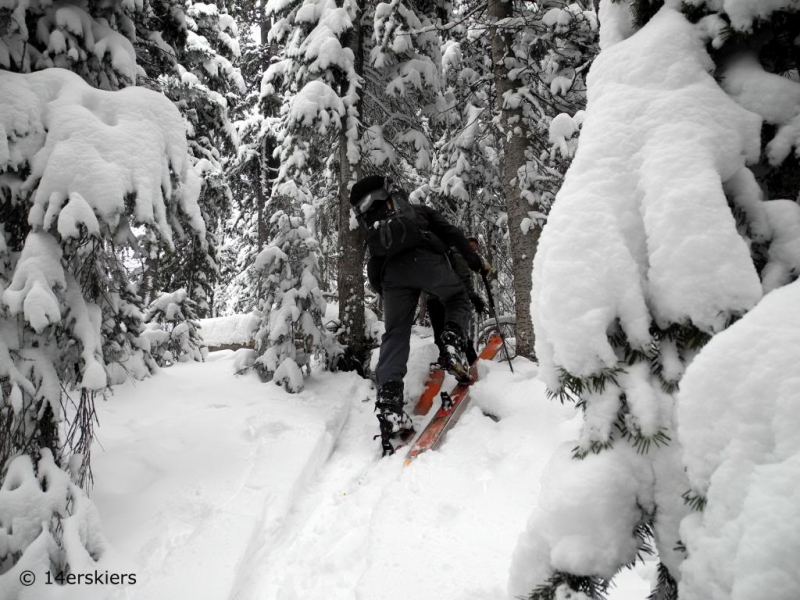 Even in the forest, occasional signs of instability were there. Whoompfs and shooting cracks left room for little debate. Halloween Bowl was out of the plan. Note the cracks in this photo.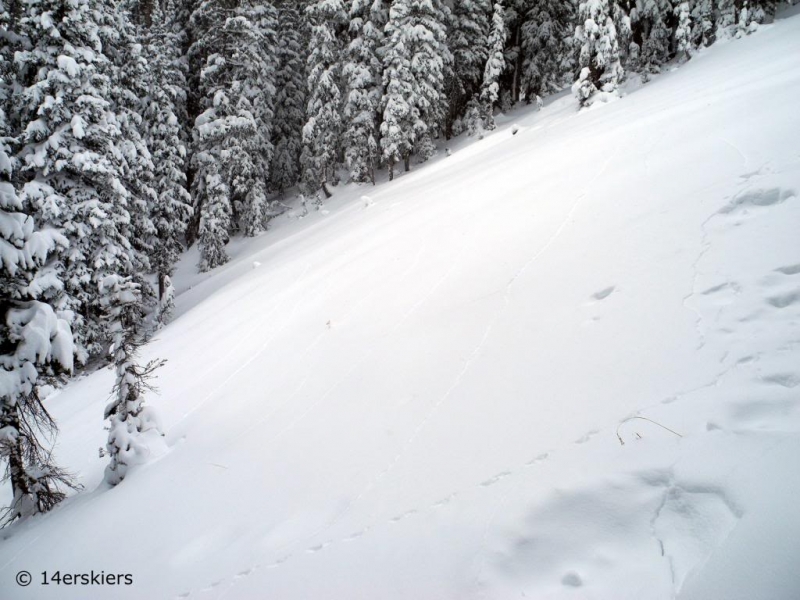 We arrived to our back up plan and found a natural slide had already happened, most likely earlier that morning.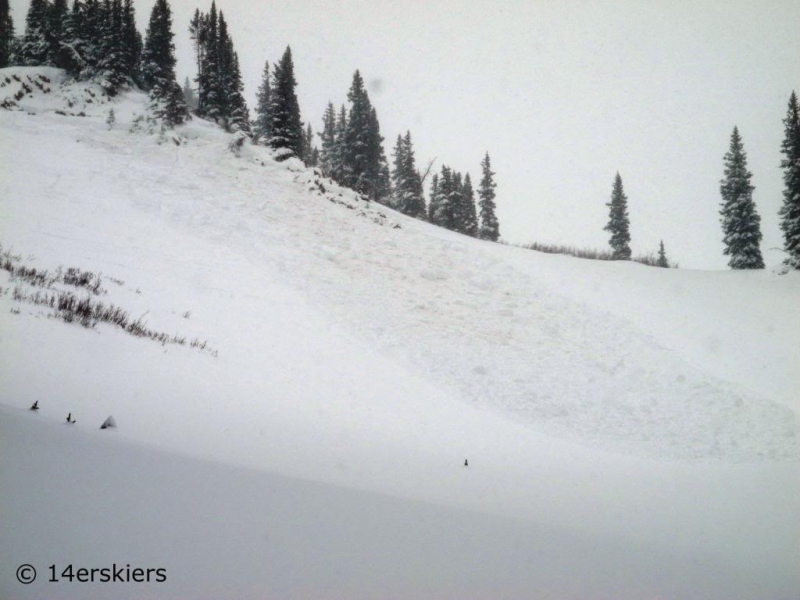 Cracks from the natural slide made us leery also. Our back up plan was no longer a feasible option.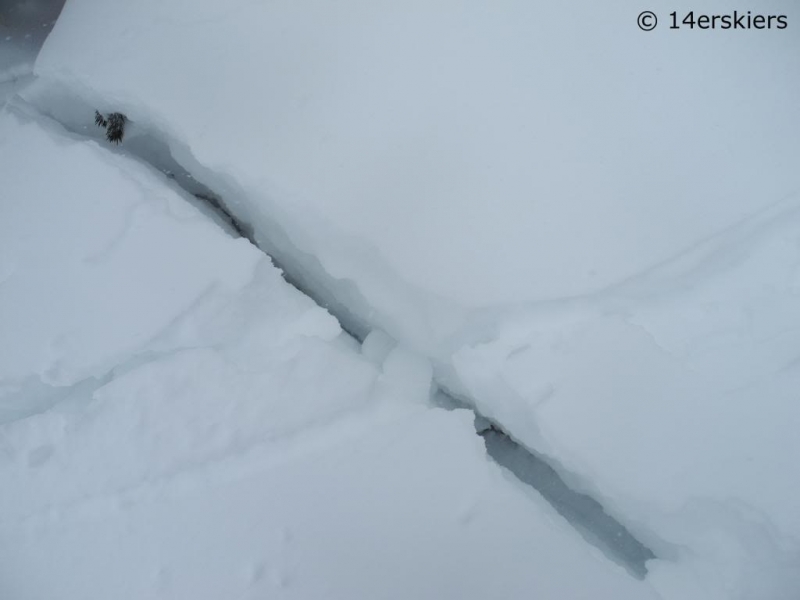 What do you do when your back-up plan no longer is an option? You turn around, or you come up with a plan C. Descending our heinous ascent route through the forest really wasn't realistic. So came up with a plan C. We chose one of the most conservative ski lines we could find. Frank.

To be honest, we spent more time picking our way through what we thought was manageable terrain. So, pictures were scant. But, we did find a few good turns here and there. This would have been a money shot had my camera actually decided to focus – Frank.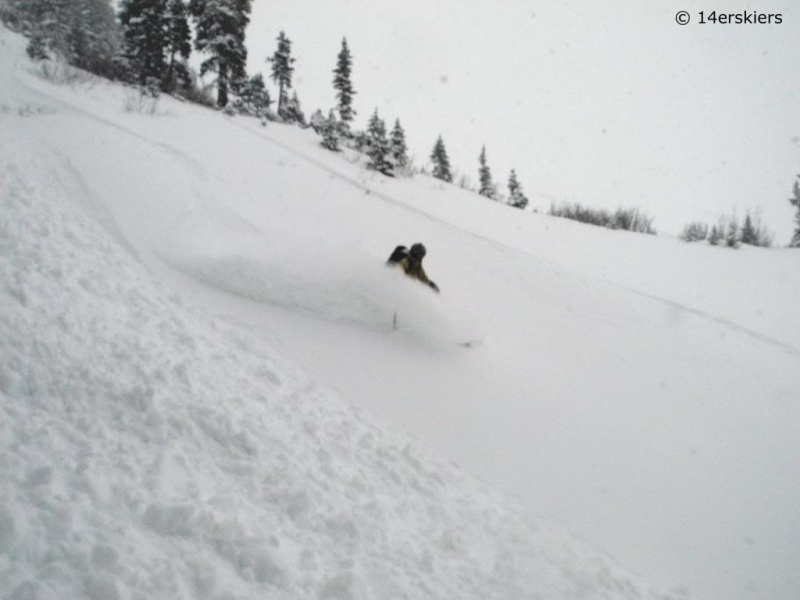 Me.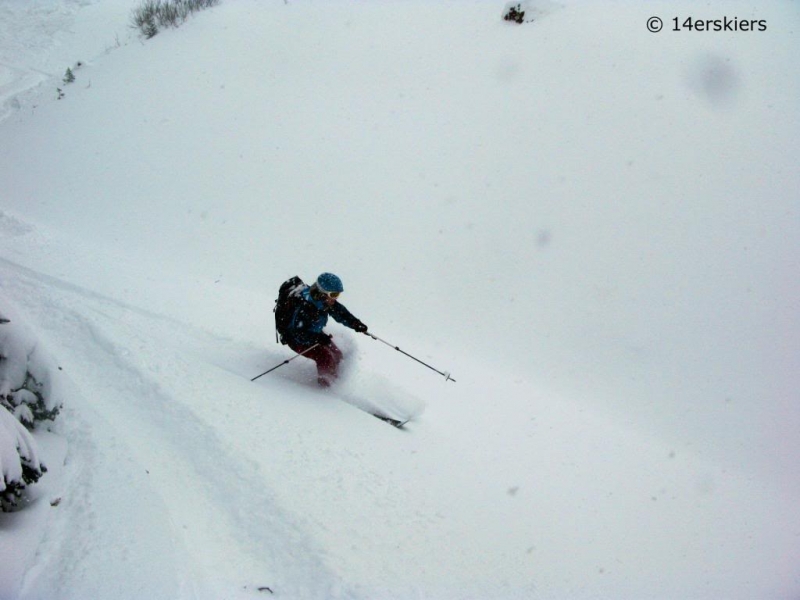 Adam.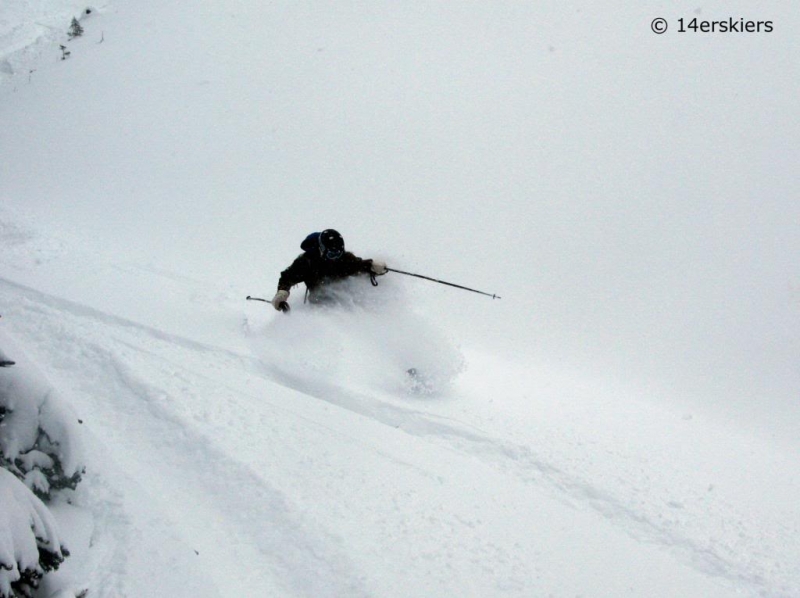 As we skinned up through the forest that day I heard I distant sound. I couldn't quite place it, and wondered if the faint "thunder" was an avalanche further away. My suspicions were confirmed after we returned home and reports came in. A remote skier triggered avalanche had happened on the other side of Baldy around the time that I had heard that noise….
New snow was sliding over old October facets. Though only a few inches deep, those facets are wreaking havoc on northern aspects. Alas, Mother Nature has sent us another reminder – always listen and look for signs of reactivity while traveling in the backcountry. It's Nature's warning. She's trying to save your life.
Aside from skiing, biking, and all outdoorsy things,
Brittany Walker Konsella
also loves smiles and chocolate 🙂 Even though she excels at higher level math and chemistry, she still confuses left from right. Find out more about
Brittany
!
Latest posts by Brittany Walker Konsella (see all)
Summary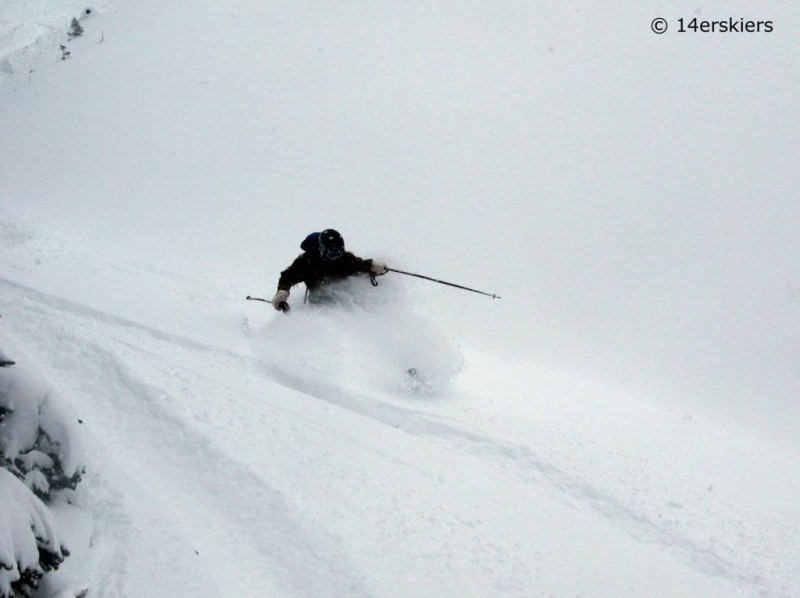 Article Name
1st Big Snow - Nature's Vengeance (Nov 2012)
Description
A reminder that dangerous conditions can exist while traveling in the backcountry during late fall and early winter. Be aware and stay safe!
Author