Review: Off-Piste Ski Atlas Silverton, CO
(Last Updated On: January 8, 2017)
Updated January 2017:
Local skier and Fort Lewis alum Andy Sovick released his second edition of his Silverton backcountry skiing book: Off-Piste Ski Atlas Silverton, CO. Like the Crested Butte version, this guidebook is a Cliff Notes version for backcountry skiing in the area. Each section contains the basics: the trailhead, elevations, aspects, an amazing aerial photo, and a brief description. The rest is up to you.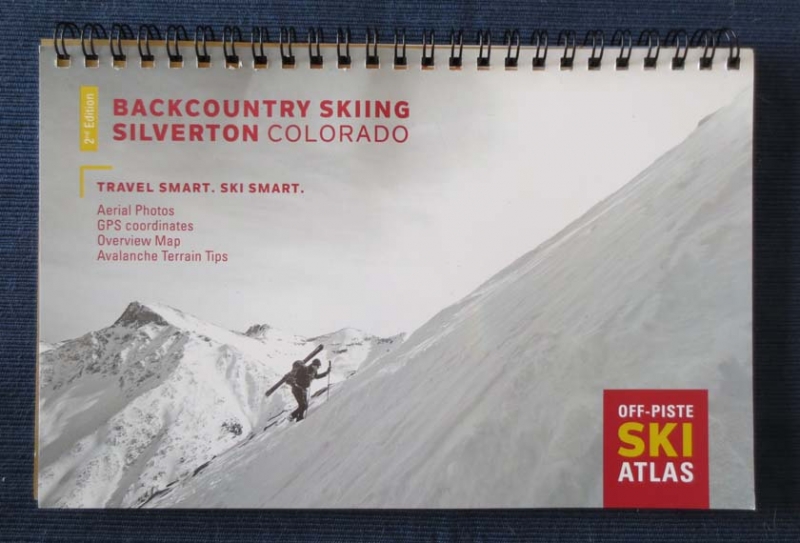 The San Juans are one of my favorite ranges for backcountry skiing anywhere. Lots of vertical, plentiful snowfall most seasons, and terrific access thanks to the miners of the late 1800's. Silverton lies in the heart of the range, and if you haven't been, you should go. Most of the Silverton backcountry that we've done has been centered on the alpine peaks away from the highway 550 corridor. The Silverton Off-Piste Ski Atlas, however, concentrates on the popular routes with easy highway access, though there are a couple of new ones off of county road 2. Many of these routes are suitable for mid winter powder skiing, rather than limited to springtime descents.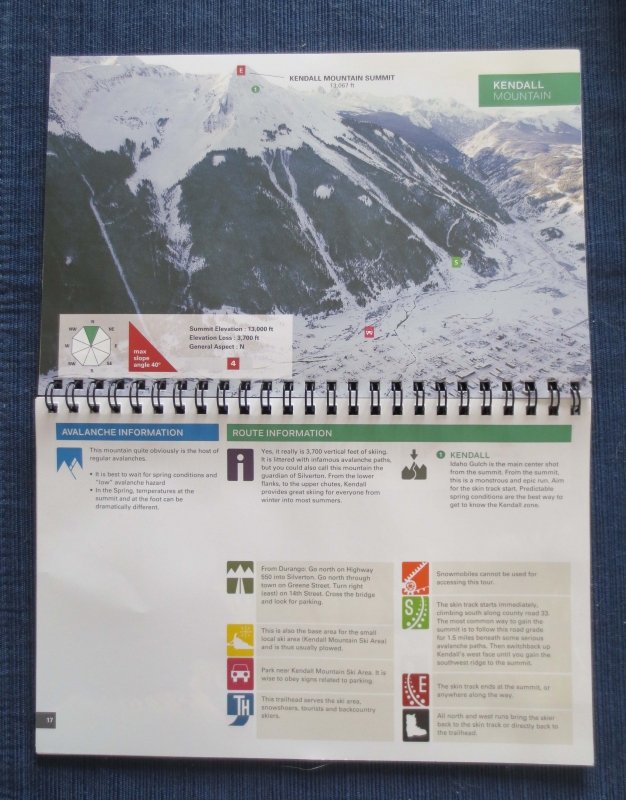 I like the style of this book. The routes in this book are for somewhat experienced backcountry skiers- and for those users the basic information that the book provides should be enough. Like the Crested Butte book, the Silverton Off Piste Ski Atlas also codifies the run names- an important consideration in the event of an accident and a call to Search and Rescue.
The book is small and lightweight and is meant to go with you in your pack. Like the Crested Butte version, the second edition is made of weather resistant paper, so you should be able to leave it in your pack without it getting ruined from the elements. One of my complaints in the last version was that the action photos didn't always match the route. In the updated version, that isn't a problem anymore. Way to fix those issues, Andy!
The first edition was published in 2014, but the 2016 version adds a few new routes, as well as pertinent avalanche information – like what avalanche rating is acceptable to ski each route and and important hazards to be aware of. So if you have the old one, it might be worth upgrading.
The Off-Piste Ski Atlas can be found in our store:

Frank
loves snow more than anything... except his wife.  He ensures his food is digested properly by chewing it 32 times before swallowing.He is a full-time real estate agent serving
Crested Butte and Gunnison
and would be honored to send you his
monthly newsletter.
Latest posts by Frank Konsella (see all)
Summary
Reviewer
Review Date
Reviewed Item
Silverton Off-Piste Ski Atlas
Author Rating