Review: Off-Piste Ski Atlas Crested Butte, CO
(Last Updated On: January 8, 2017)
Updated January 2017:
Local skier Andy Sovick and friends put together a lightweight, bare bones Crested Butte backcountry skiing guidebook. The atlas contains only the most relevant information, such as aspect and location, along with aerial photos of the zone.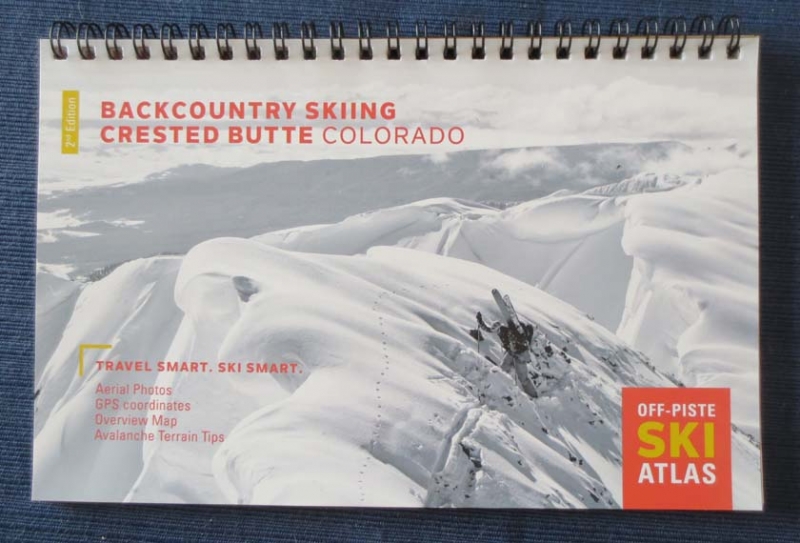 If you are looking for an in-depth guidebook, this isn't it. While there are directions to the trailhead, and a general discussion of skintrack locations, that's it. No hand-holding here. Likewise, if you're looking for some history and background, this isn't the place for that either. Why is a run on Schuykill called Yogi's? I'm not exactly sure of that myself, although I am fairly certain it was named by the old heli-op that operated in the 70's and 80's. Raise your hand if you knew that there was a heli op in Crested Butte. Because the atlas was meant to be small and portable, the Crested Butte off-piste ski atlas cuts to the chase.

The reason for the guidebook, as stated by Andy, is for safety. After all, if a member of your party is injured or in an avalanche, which will help search and rescue more- "We're on Schuykill, by that opening in the trees a little ways down", or "We're about a third of the way down Thanksgiving bowl on the skier's left hand side." For areas with runs that look similar but are decidedly not, the atlas should also help skiers avoid dropping in in places where they didn't mean to.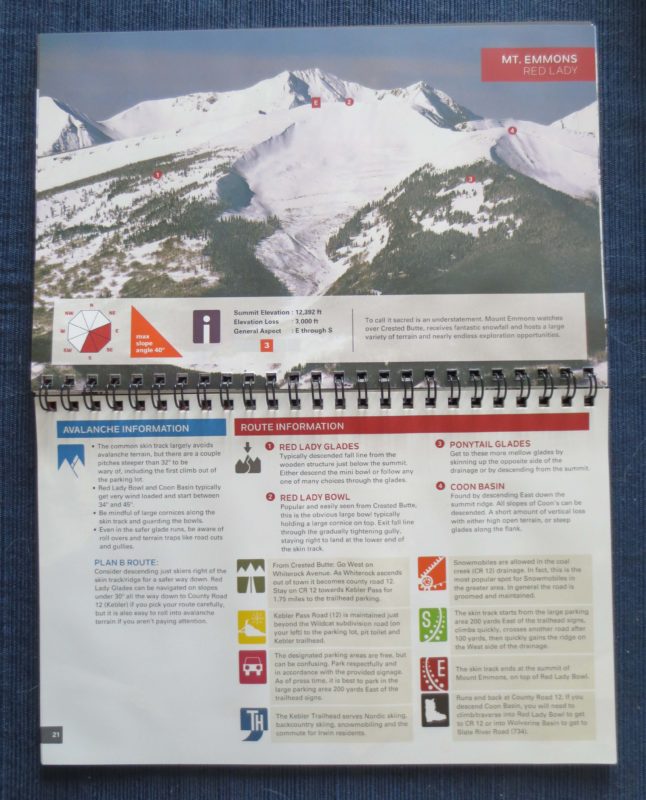 I've heard some grumblings around town about this book. To that, I have to ask just how many days it takes for a Crested Butte transplant to find out about Coney's or Snodgrass? The areas in this book are largely the "low hanging fruit" that almost every backcountry skier knows about anyway. As someone I know and respect once said, "If you're worried about a few photos ruining your stash, you're doing it wrong". If you think there are too many people in the backcountry these days, I agree with you. But it's the gear, not a guidebook, that's causing it.
The first edition was published in 2013, but the 2016 version adds a few new routes, as well as pertinent avalanche information – like what avalanche rating is acceptable to ski each route and and important hazards to be aware of. So, if you have the 2013 edition, it might be worth the upgrade. Also, the materials seem to have gotten an upgrade as well, and should withstand the elements better if you're carrying it with you (and that's the whole idea!).
In short, whether you're an old vet like me or a Crested Butte Newbie, the Off-Piste Ski Atlas deserves a look and a place on your bookshelf, or better yet, your pack. This is THE Crested Butte backcountry skiing guidebook!
The Off-Piste Ski Atlas can be found in our store:

Frank
loves snow more than anything... except his wife.  He ensures his food is digested properly by chewing it 32 times before swallowing.He is a full-time real estate agent serving
Crested Butte and Gunnison
and would be honored to send you his
monthly newsletter.
Latest posts by Frank Konsella (see all)
Summary
Reviewer
Review Date
Reviewed Item
Crested Butte Off-Piste Ski Atlas
Author Rating