SIA 2014: Salomon Q105, La Sportiva Hang 5 Review
(Last Updated On: March 17, 2014)
In addition to the "fat white skis," I also tried a couple of other skis while we were at the SIA On-snow demo days at Copper Mountain. First up was the Q105 from Salomon. It looked fun but not particularly earth-shattering and 105 is just a bit narrow for me as an every day ski. But I decided to take it out on a whim and I'm glad I did. By far, this was my favorite ski of the day. Not only that, Brittany took out the women's version, the Q103, which is the same other than being pink, and declared it her favorite of the day as well. For the record, we never like the same skis, so that should say something.
Salomon Q105 181cm 133/104/125 23m sidecut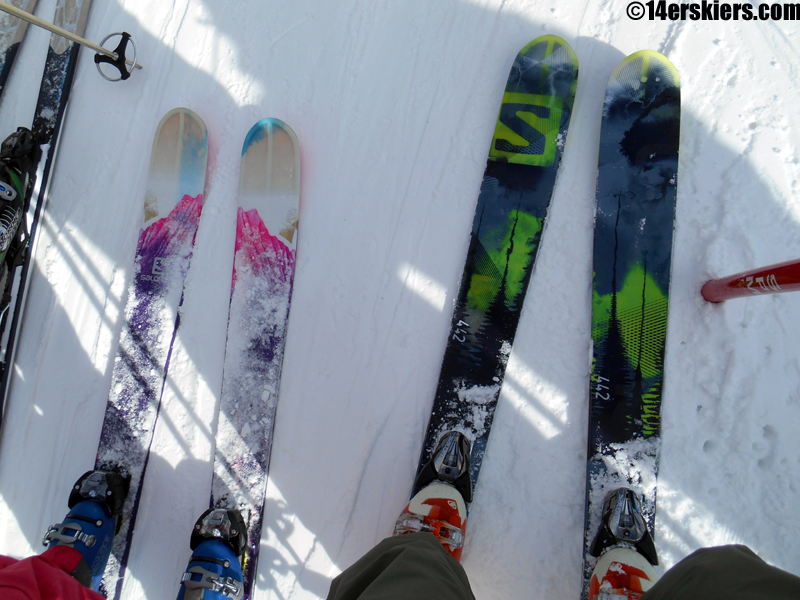 This is one of the best carving skis I've been on in a while. It absolutely rails when you put it on edge. But unlike some skis which carve well, if you flatten the ski out and put a little pressure on your heel, the tail will let loose and let you "slarve" a turn just as easily. Which is really what I want all skis to do. Though not particularly light, it's light enough for me and the 105 size would be a nice spring ski. This would also be a great in-bounds ski, especially at steep technically difficult mountains like Crested Butte, Taos, or Red Mountain.
La Sportiva Hang 5 178cm 145/117/135 23-30m sidecut on website; I'd call it 22ish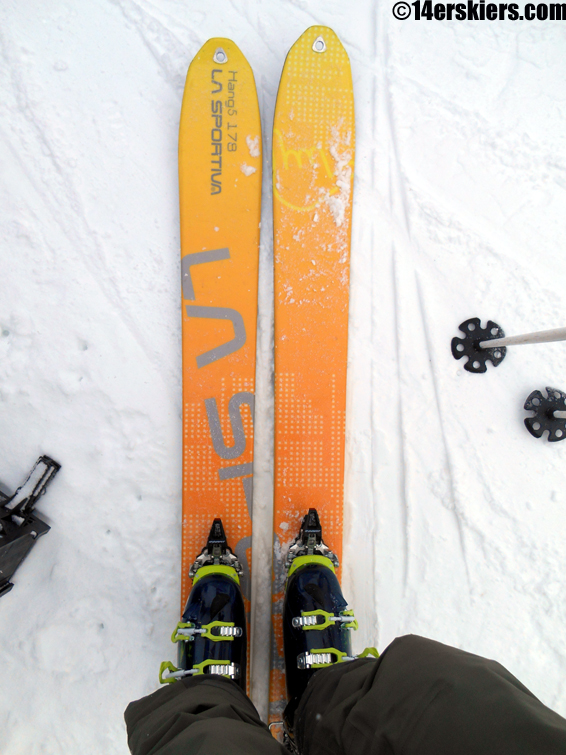 Since Brittany and I had been in agreement with the Q105, Brittany talked me into skiing the Hang 5, since she has liked the La Sportiva skis she's been on. I was a bit skeptical, but decided to give it a try.
The light weight carbon, combined with what I consider quite a bit of sidecut, combined with an overall stiff ski, created the perfect storm of characteristics of a ski I just don't like. Some would call this ski lively, whereas I would just call it twitchy, hooky, and scary. And the sidecut in the stiff tail meant that this ski really didn't want to come out of a carve, quite the opposite of the Q105 above (no slarving). To each their own, but the Hang 5 definitely wasn't for me.
Frank
loves snow more than anything... except his wife.  He ensures his food is digested properly by chewing it 32 times before swallowing.He is a full-time real estate agent serving
Crested Butte and Gunnison
and would be honored to send you his
monthly newsletter.
Latest posts by Frank Konsella (see all)