SIA 2014: Blizzard Spur, Salomon Q BC Lab, BD Carbon Megawatt
(Last Updated On: March 1, 2014)
When I look back at the 2014 SIA trade show, I will surely remember it as the year of the fat white ski. Every year there seems to be a bandwagon that everyone jumped on, and this year it was the fat white ski.
The SIA on-snow show moved from Winter Park to Copper Mountain this year. This was a little unfortunate, because the Zephyr lift took us to a variety of terrain to test gear on, while at Copper it was a bit tougher to do unless you took at least 2 lifts. The moral of the story is this: we weren't skiing at an area that would let skis like these excel, nor were the conditions at Copper ideal for them. But hey, everything skis well in powder, right? On to my ski reviews of the Blizzard Spur, Salomon Q BC Lab, and Black Diamond's Carbon Megawatt.
Blizzard Spur 189cm 144/125/134 28m sidecut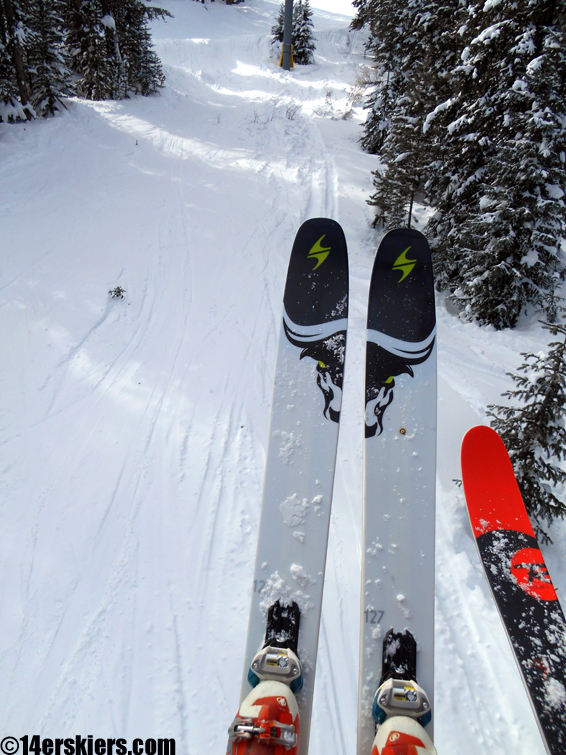 The Spur is Bizzard's entry into the lightweight but fat ski category. Blizzard isn't generally known for their lightweight skis, but the Spur drops the metal and adds carbon, so it counts as lightweight although it won't set any lightweight records. I don't know exactly what they weigh- and I should add that I don't care. Counting grams is fine for roadbikes, but to see it become so pervasive in skis has been a sad development in my eyes- I only want a skis that skis well, let the weight weenies stay in Rando racing.
Like all my favorite skis, the Spur needs some momentum before it comes alive, and this is when I wish I hadn't been trying them at Copper Mountain. They need some speed and a steep slope, and that is in short supply at Copper. That said, they were a fun ski and I could get them to do what I wanted even at speeds I could tell weren't ideal. They were more easily deflectable than I like and required quite a lot of foot-steering, and yet the feedback from the ski was surprisingly damp and quiet. What all that said to me was that I need more time on this ski, in an environment and conditions better suited to the ski.
Salomon Q BC Lab 184cm 141/115/129 24m sidecut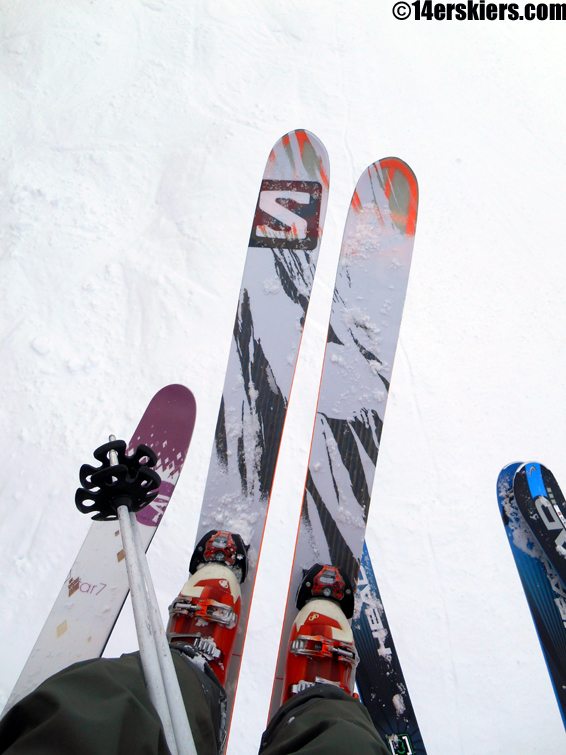 Slightly skinnier than the Spur, the BC Lab was noticeably light. Before I left the base area, the rep let me know that the skis needed a tune and he was right. It surprises me how many skis at events like this are in desperate need of a tune- what can you say about a ski that is base high or railed, other than that it skis poorly. Don't get me wrong, my skis are always in need of a tune, but at least they're flat and de-tuned at the tip and tail so they aren't hooky. Point being, I need more time on these to say a whole lot. I did notice that they are easily deflectable and not damp at all- two problems inherent to light skis and the reason why I will happily lug an extra pound or two up a mountain in order to have fun on the way down.
Stay tuned for another post on other skis at SIA: The Q105 was my favorite ski of the test so all is not lost for Salomon.
Black Diamond Carbon Megawatt 188cm 147/120/127 28m sidecut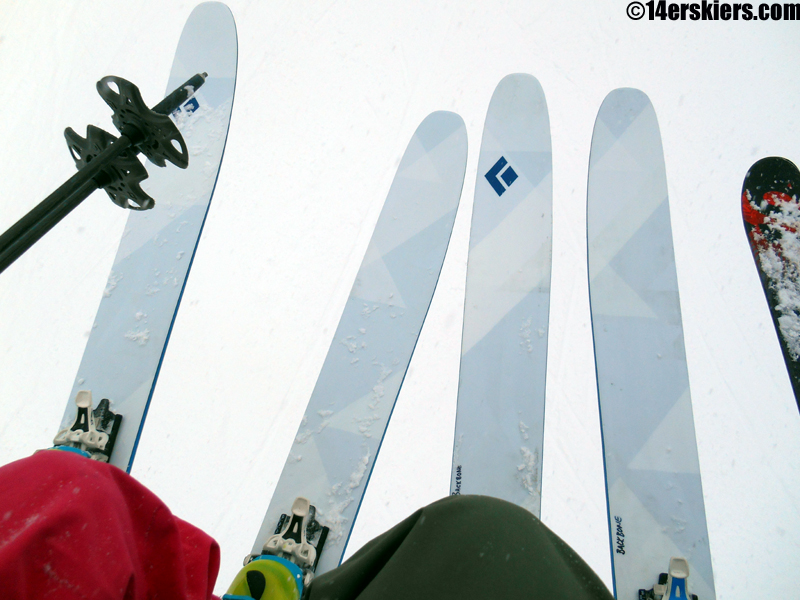 Last year, one of my favorite skis at SIA was the "regular" Megawatt ski. The ski really surprised me with it's hardpack capabilities, so I wanted to compare it to the Carbon version. I had been operating under the assumption that the two versions were identical other than construction and weight, but actually the Megawatt is a bit wider (5 underfoot) and has a bit longer sidecut.
The Carbon versions were all mounted with the Vipec tech binding (more on that later) which meant I had to ditch my alpine boots for something with tech fittings. So I had one run with the LaSportiva Spectre and another with the Scarpa Freedom, something to take into account as I do this review. (And again, more on the boots in another post).
I've often said that for every lightweight ski, you could make it better by simply adding weight. I wish the Megawatt versions were exactly the same so I could truly test that theory, but they're close. And guess what? I like the Megawatt better- a lot better. I sound like a broken record with these reviews but it's the same with all these light skis- they're too easily deflectable and require too much foot steering and aren't damp enough for my taste. Some people like 19 pound hardtail mountain bikes that get bounced around in rock gardens- I prefer a few more pounds and some suspension to smooth things out. It's just preference.
The BC Lab and Spur will be available next year. For the Megawatts, click below:

Frank
loves snow more than anything... except his wife.  He ensures his food is digested properly by chewing it 32 times before swallowing.He is a full-time real estate agent serving
Crested Butte and Gunnison
and would be honored to send you his
monthly newsletter.
Latest posts by Frank Konsella (see all)