Gear Review: ADS Sports Eyewear Goggle Inserts
(Last Updated On: January 22, 2015)
ADS Sports Eyewear has come up with a new solution for skiers and snowboarders needing corrective lenses. This solution is in the form of prescription "goggle inserts" that can easily be placed inside nearly every goggle. In this post, I will be reviewing the ADS Sports Eyewear goggle inserts.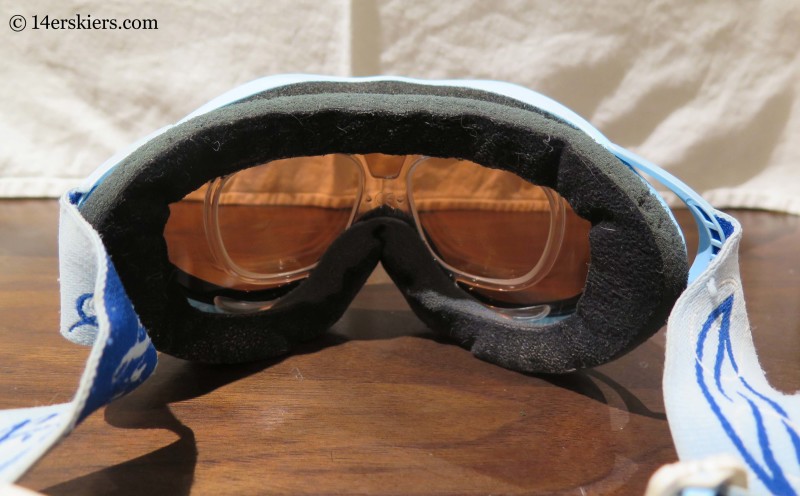 The Problem
I have needed corrective lenses since I was about 12 years old. I have been wearing contact lenses for the majority of my life. But, in Colorado, the air is dry, and wearing contacts can be difficult on the eyes under these conditions. My eyes have been acting up, swelling at times, and sometimes refusing to accept the contact lens. I have tried all kinds of eye drops and switching lenses, but the fact is, these solutions are only temporary. Because of the irritation caused by my contact lenses, I have been finding myself wearing my contacts less and less, and my glasses more and more.
But, anyone who has worn glasses knows that they come with their own set of problems. The primary problem about wearing glasses in the winter is their propensity to fog.
The Solution
Many skiers and snowboarders who wear glasses choose to wear their glasses under their goggles. But, this can be uncomfortable, and the glasses can tend to fog.
Another solution is to get prescription lenses for the goggles themselves. However, this can be ridiculously expensive. And, many goggle-wearers have multiple lens colors to adjust to the lighting conditions. This would mean getting these prescription lenses for two or more sets of goggles – even more expensive.
The ADS Sports Eyewear prescription goggles provide a great solution by creating an insert that can be easily placed into many different goggles. Furthermore, the insert is easy to remove, and changing the insert from one goggle to another is simple. To see just how easy it is, watch this video:

The Test
I was given a goggle insert by ADS Sports Eyewear to test. It was created based on my prescription and made for a small goggle, like the Smith Anthem, which is the goggle with which I tested the insert.
The Performance
The ADS Sports Eyewear goggle insert had some great features as promised. The goggle insert was easy to change between goggles. It did correct my vision as needed. In addition, I used it in a lot of conditions, and I never had it fog. I also never had the insert come loose or fall out.
There are a few performance downfalls to mention. First, the periphery of the insert is noticeable. While I don't notice the periphery on the top or bottom, I do notice it on the sides – the far left and far right. I wish that the lens was just a little wider. Perhaps this is because I was testing a fairly small insert for a small goggle because I have a small face. It might not be so noticeable in larger models. Also, the actual center of the lens seemed to be a tad "off". To actually see best through the lens, I had to push my goggles down a bit further on my nose. Again, this could also be due to the fact that my prescription is pretty drastic so any small changes make a big difference. Last, the addition of the insert into my goggles creates more glare on the lens when the sun is at the right (or wrong) angle.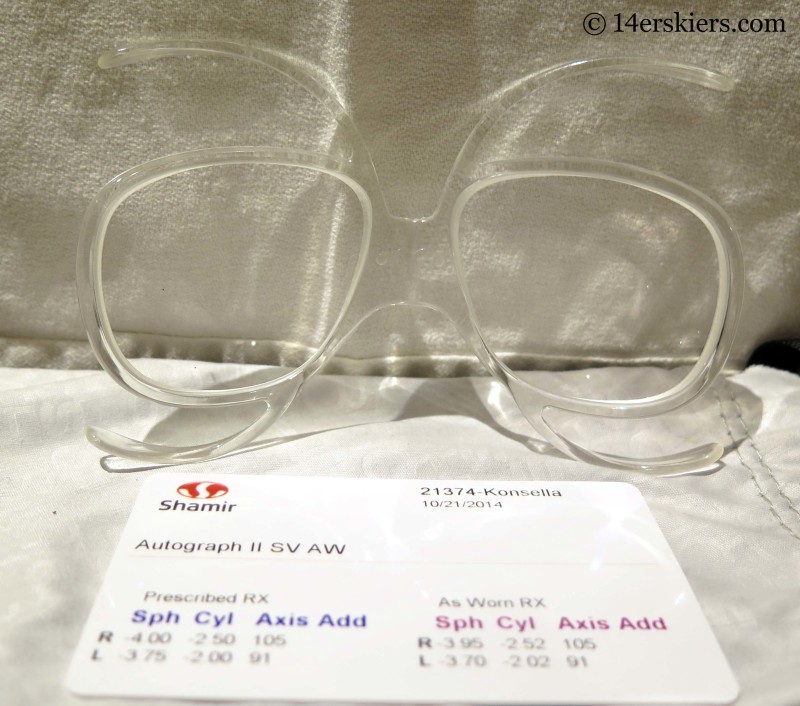 The One Remaining Problem
The ADS Sports Eyewear goggle inserts provide a solution to many prescription-needing goggle-wearers. However, there is still one remaining problem. What do you do when you take the goggles off?
For example, I walk into the ski lodge, I take my goggles off because it's no longer daylight, and I try to read the menu on the wall to order food. Well, I can't read it without corrective lenses. This situation would require me to carry my glasses with me in my pocket so I could use them while inside.
Or, another example could be while backcountry skiing. While skinning or climbing uphill, I generally don't wear my goggles. I wear sunglasses. In this situation, I would be required to wear prescription sunglasses while also bringing the goggles with the inserts.
Pricing
There are 4 components to pricing a prescription insert: 1) the cost of the actual insert, 2) the lens design that will be used on the lenses, 3) the lens material, and 4) whether or not you want a permanent AR coating.
Here's more about the cost.
1) The actual cost of the Universal Ski Goggle Insert Frame is $59
2) Then you can select a lens design….
Free-Form Single Vision Lens Design: +$109 (distance correction only)
Or
Free-Form Progressive Lens Design: +$289 (this is for those that require a reading section)
Note: Non-Digital designs are offered, but ADS Sports Eyewear highly recommends Free-Form digital for the best experience. Free-Form digital provides a much bigger optical center or sweet spot so you can see a lot more without turning you head.
3) Then select a lens material.
CR-39 Plastic: +$0 – Breakable material, but great optics. Same thing used in most eyeglasses.
Polycarbonate: +$15 – Unbreakable material. The optics are not as good as CR-39.
Trivex: +$40 – 3 times more durable than polycarbonate but still lighter. Trivex provides excellent optics like CR-39.
4) The last option is whether or not you want a permanent anti-fog coating (+$59). The coating makes the lens less porous, making the accumulation of fog much more difficult. If you choose not to have the permanent anti-fog coating, ADS Sports Eyewear recommends an anti-fog paste that you apply like car wax as needed. They do have paste available on their site and it is $10.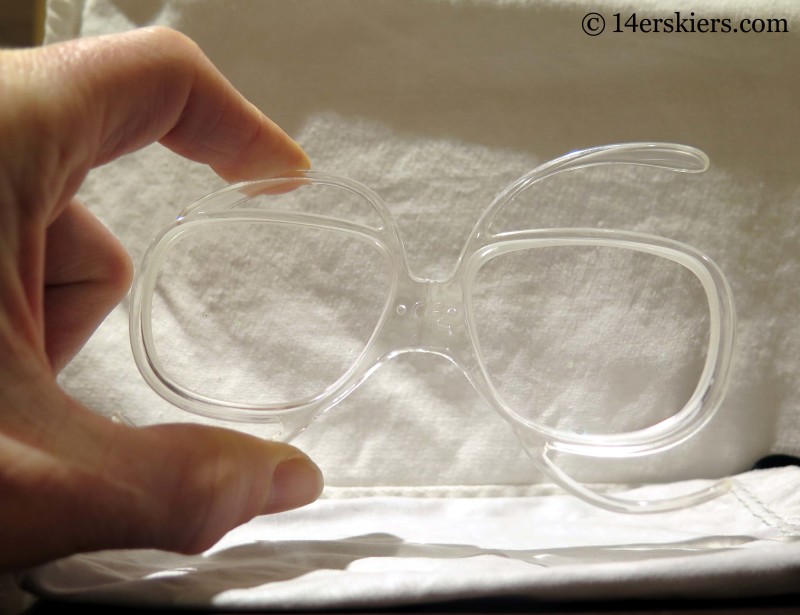 Conclusion
Overall, I think that the ADS Sports Eyewear goggle inserts provide a wonderful solution to prescription goggle-wearers. The few downfalls of these inserts are easily outweighed by their high performance, ease of use, and versatility. I look forward to seeing more athletes putting the ADS Sports Eyewear goggle inserts to the test!
How Do I Get Them?
The ADS Sports Eyewear goggle insert can be purchased through their website. The lenses can be purchased separately, or with a goggle. You do need a valid prescription from an eye doctor. If you want to know which goggles are best for these inserts or have more questions, you may find your answer on this FAQ page.
Ordering the inserts is simple. All you need is a valid prescription for your eyes and the brand and model of goggle that you use!
From now until January 25th, you can get discounts on your order!
For $15 off your order of $100 to $250, enter code NEWYEAR15
For $35 off your order of $251 to $350, enter code NEWYEAR35
For $55 off your order of $351 to $450, enter code NEWYEAR55
For $80 off your order over $450, enter code NEWYEAR80
Aside from skiing, biking, and all outdoorsy things,
Brittany Walker Konsella
also loves smiles and chocolate 🙂 Even though she excels at higher level math and chemistry, she still confuses left from right. Find out more about
Brittany
!
Latest posts by Brittany Walker Konsella (see all)