SIA 2014: Black Diamond Jetforce Airbag Packs
(Last Updated On: February 17, 2014)
If there was one item that every backcountry skier attending SIA really wanted to see, it was probably Black Diamond's new Jetforce series of airbags, slated for retail sale next fall. While rumors of a new airbag based off of a battery and fan system (rather than an air canister) have been around for a couple of years, only recently has anyone actually been able to put their hands on a model.
When it comes to airbag packs, I think that there are a few things that keep backcountry skiers from purchasing one. Those include the following: weight, cost, travel hassles, and efficacy. Let's take a look at how the Jetforce bags do with those items.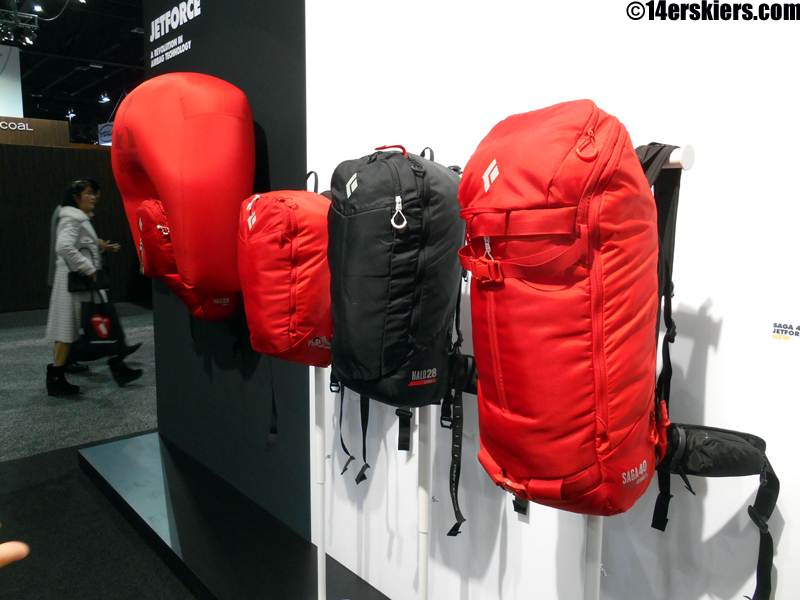 Weight: Unfortunately, the Jetforce packs do not make any improvements in this area. For instance, the 34 liter model reportedly weighs 7.8 pounds, which puts it in the middle, weight-wise, for packs of similar size. Still, most systems shed some weight after a couple of model years, so hopefully this will also be true for the Jetforce line. Most of that weight comes from the battery pack which is needed to inflate the airbag. The Lithium-ion batteries have been sourced from a company which makes batteries for satellites, and BD has a freezer in which they have been testing the batteries in extreme cold conditions. By all accounts, the batteries should do well even in cold temperatures. The battery is expected to last about 6 years and should maintain a charge for 6-8 weeks at a time.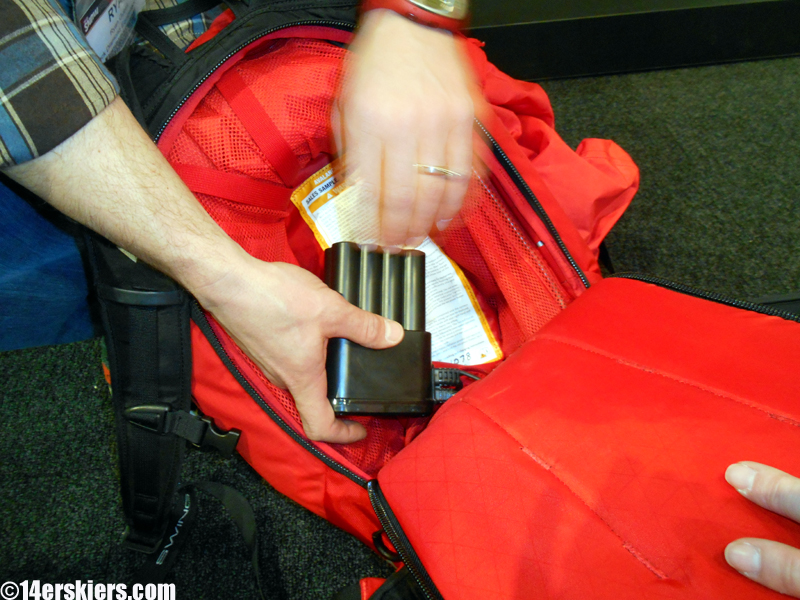 Cost: The Jetforce packs won't come cheap. The suggested retail will be $1,100, or almost the cost of two BCA packs. The price is, however, comparable to many ABS models. With any new technology the price often starts high- I would certainly hope that the price will drop over time, but that's just my hope, not anything that BD said might happen.
Travel: This is one of the biggest draws of the new BD technology in the Jetforce pack. Traveling with canister-based packs can be a pain. Some destinations don't have anywhere to fill the canister, or you may arrive during non-business hours, and of course it adds another cost- probably in the range of $5-$20 on both ends of the trip. On a short trip, it can be tempting to skip the whole hassle and not bring the airbag pack at all. With the Jetforce bag, travel should be easy.
Does it work?: As interesting as the pack may sound, it's another thing to see it in person. It has the "ooh and ahh" factor of other new technologies like our smartphones and iPads. With lights in the trigger telling you it's charged up, and a quick test cycle on top of that, and a closed system (you cannot "unhook" anything, like the battery) the Black Diamond Jetforce backpack is fairly foolproof and unlike a canister system, you could deploy more than one in the same trip (a bonus if you had to deploy on day one of a long hut trip). Canister systems can fail to deploy easier than you realize for a host of reasons- I've even seen a pack fail to deploy at a demo. The other nice benefit of the battery system is the ability to practice often, since you won't need to go through the hassle of refilling a canister- just plug the battery back in when you get home.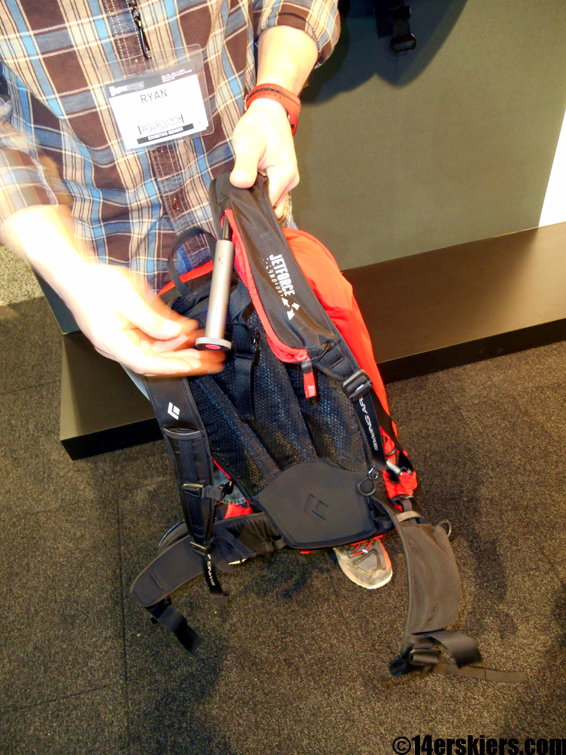 The 200 liter bag (for reference, BCA bags are 150 liter) inflates quickly when you pull the trigger, after an initial 9 second burst. After that, the pack inflates every few seconds with the hope that it remains full even if the bag is punctured in a slide. Then it deflates after 3 minutes, which hopefully means you are re-packing it after surviving a slide, but the other hope is that if a secondary slide or terrain trap buried you despite the pack, there will be an air pocket where the airbag had been prior to deflation.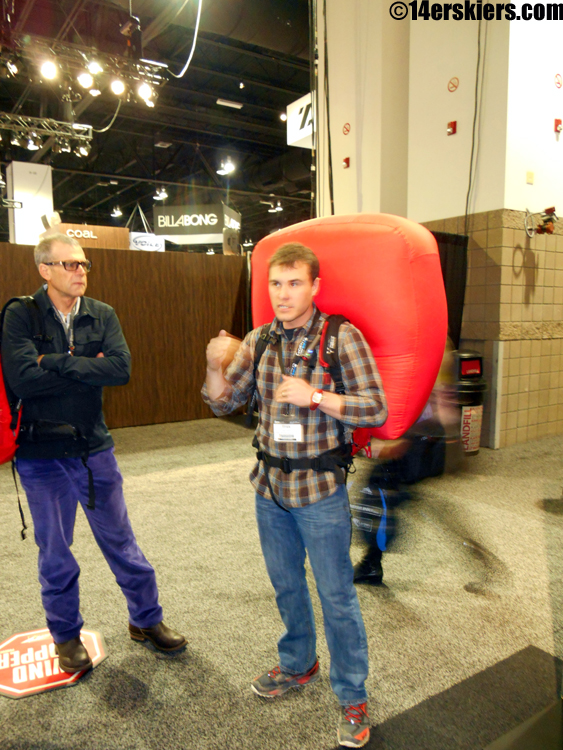 Here's a photo of the fan housing apparently capable of handling 800 pound of force before breaking: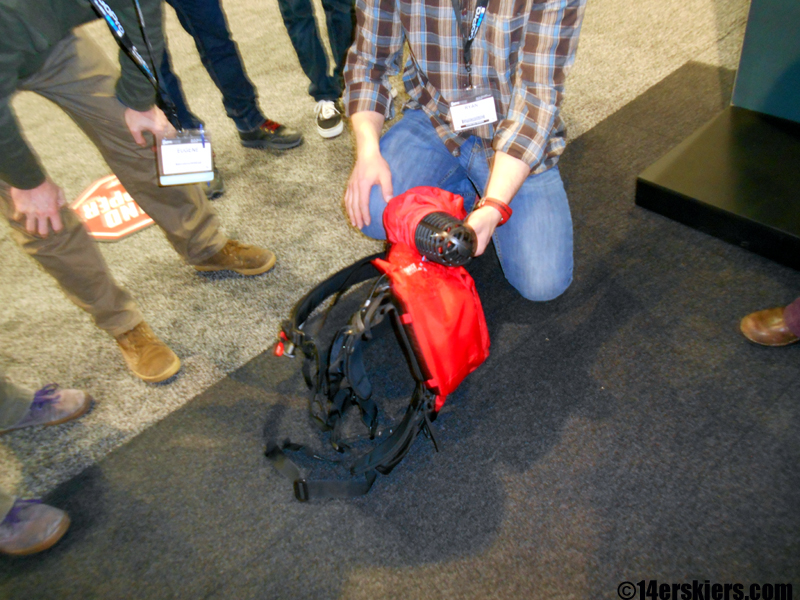 The pack will be available in 11, 28, and 40 liter sizes from Black Diamond this fall, as well as an 11 liter version from POC (which is owned by BD), and 24 and 34 liter sizes from Pieps (which is also owned by BD and played a big role in developing the electronics of the system). All will have back panel access and will be diagonal carry only.
If you were hoping for an integrated airbag/ avalung combo, keep hoping. Black Diamond has decided to keep costs and weight down, while also keeping the pack as simple as possible. In the split second that you realize you're in an avalanche, you need to decide where you should point yourself (hopefully out of the slide or at least away from trees, cliffs, and terrain traps), and also deploy the bag. This doesn't leave a lot of extra time for also getting the avalung mouthpiece in your mouth. You can always get the stand-alone avalang if you want to cover all the bases.
Assuming the fit and features of the pack work for you, the Black Diamond Jetforce may prove to be a great option, especially if you travel to places where it is difficult or impossible to refill a canister system. If the cost and the weight drop on subsequent pack versions, and the system proves to be reliable, the days of canister-based airbag systems are almost certainly numbered.
Frank
loves snow more than anything... except his wife.  He ensures his food is digested properly by chewing it 32 times before swallowing.He is a full-time real estate agent serving
Crested Butte and Gunnison
and would be honored to send you his
monthly newsletter.
Latest posts by Frank Konsella (see all)