More Snowless Exploration: Mill-Castle to Storm Pass
(Last Updated On: October 7, 2017)
We want snow. As I type this, it is just over 60 degrees, even above 9,000′, in many parts of Colorado. Hopefully this season is on a similar track to 2007-08 when things were bone dry throughout November but once December kicked in the storms came in big and they came in often. Thankfully the warm days mean that we still have some great opportunities to explore and possibly find some new objectives for the upcoming winter. Without a doubt, one of the Gunnison Country's most beautiful areas- or Colorado for that matter- is the Mill Castle trail. We decided to follow it all the way to the top at Storm Pass.
The Mill-Castle area is quite unique and features, as the name implies, a series of rock castles and other formations- the only similar area I can think of is the Cimmaron area of the Northern San Juans seen between Montrose and Ridgway.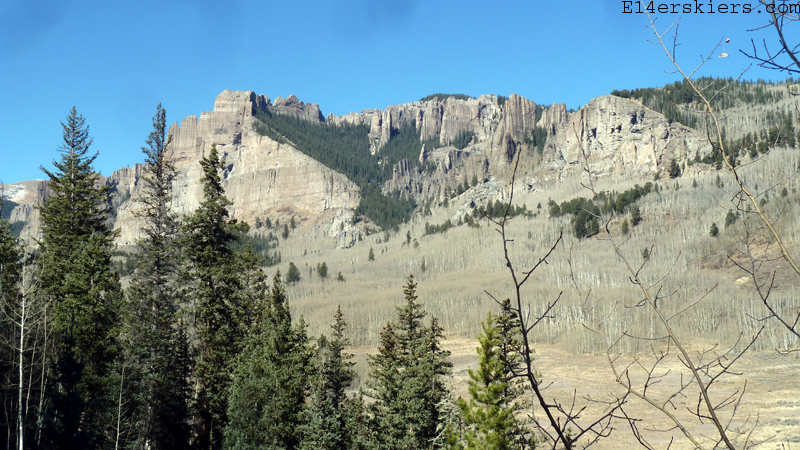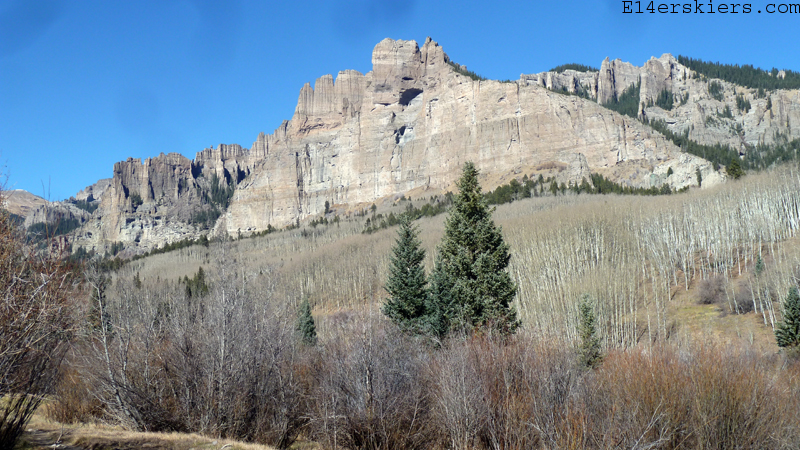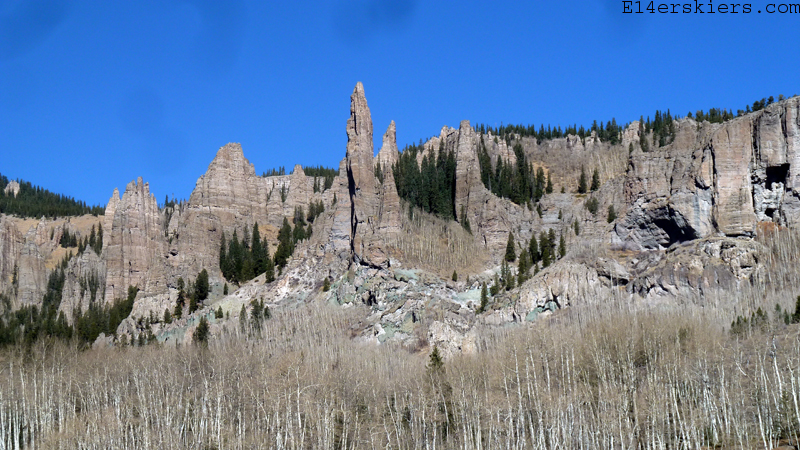 The trail winds its way up the Mill Creek valley, which is popular among Gunnison residents and is often groomed for Nordic skiing, at least up to the Wilderness boundary. It continues 8 miles to the top of Storm Pass.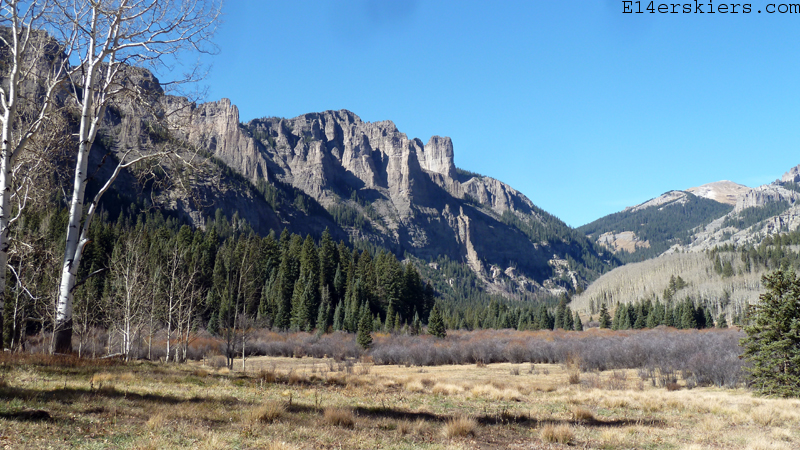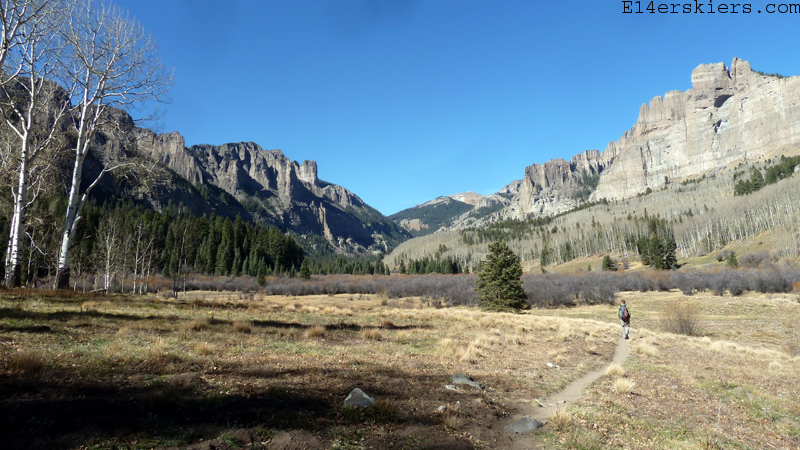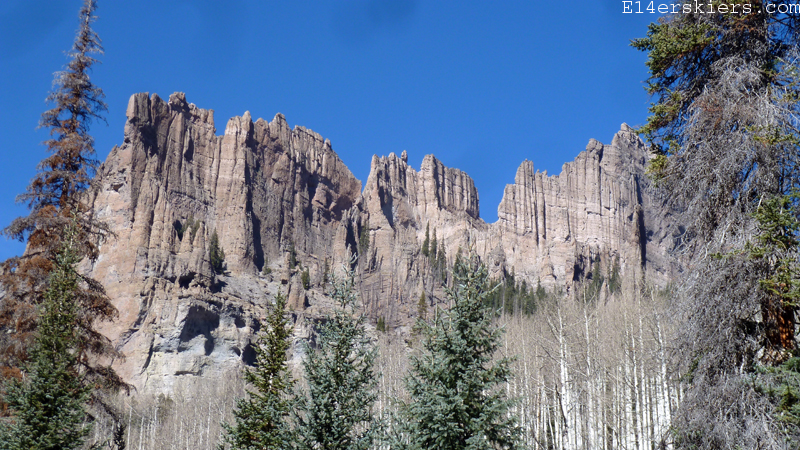 With their exceptional ruggedness and poor rock quality, I had to wonder how much of this area has yet to see human footprints. Still, I couldn't help but picture someone like Shane McConkey potentially skiing this grass patch between spires before throwing a chute.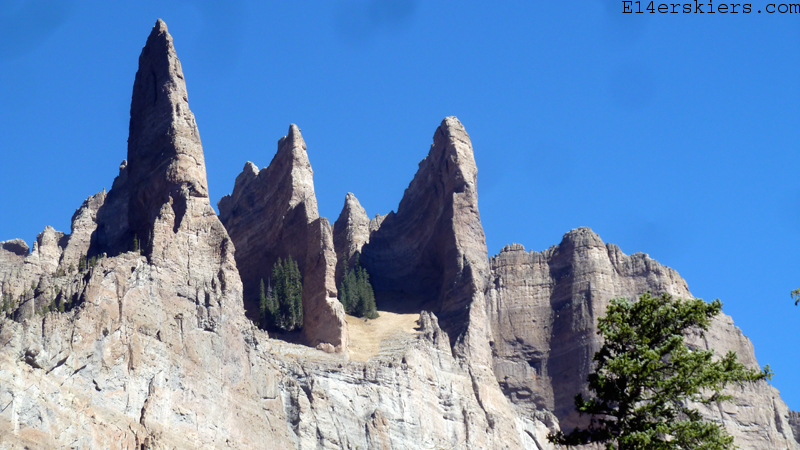 It looked like there was some potential for ice climbing in this valley, though it is a bit of a walk.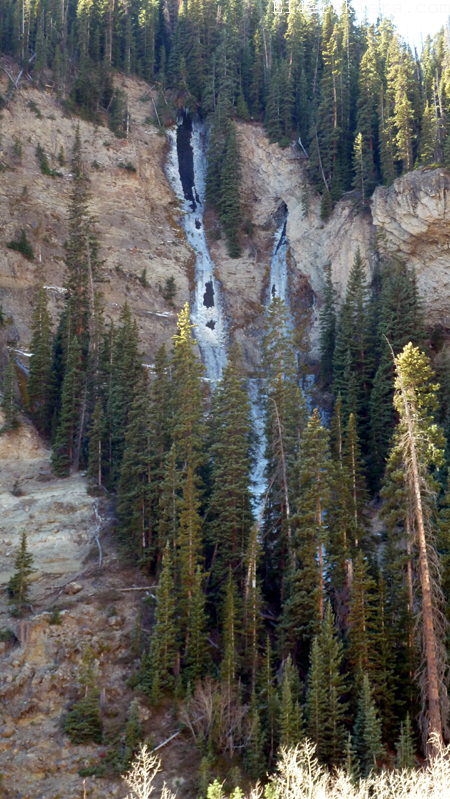 Similarly, a number of fun looking tree lines showed themselves in the upper valley- though they'd be a bit of a slog to reach.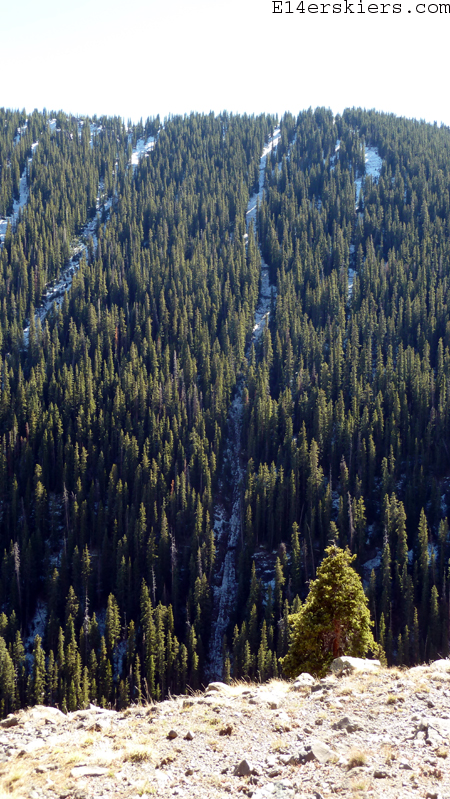 Eventually, we reached our destination for the day- Storm Pass: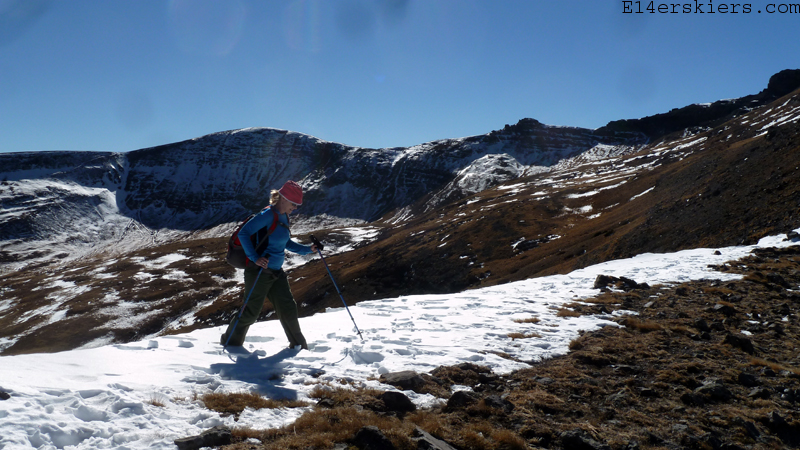 The views of the Castles themselves from there were amazing, and well worth the hike.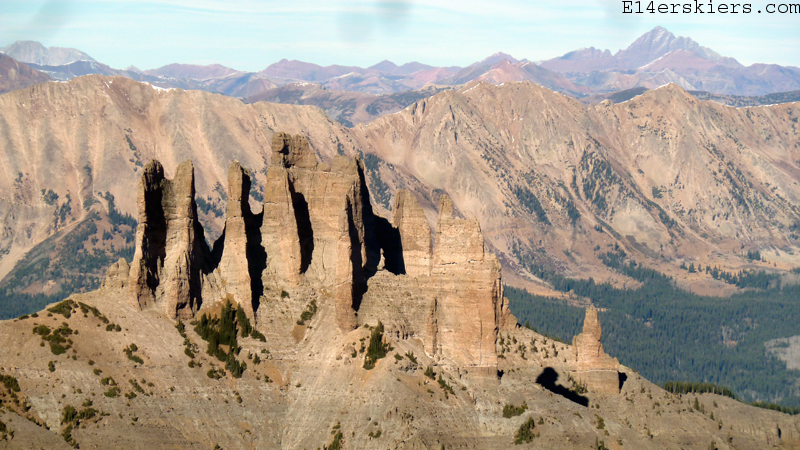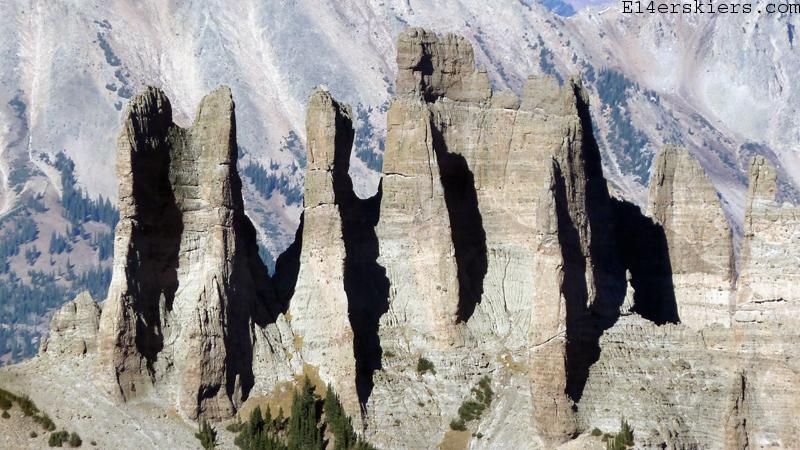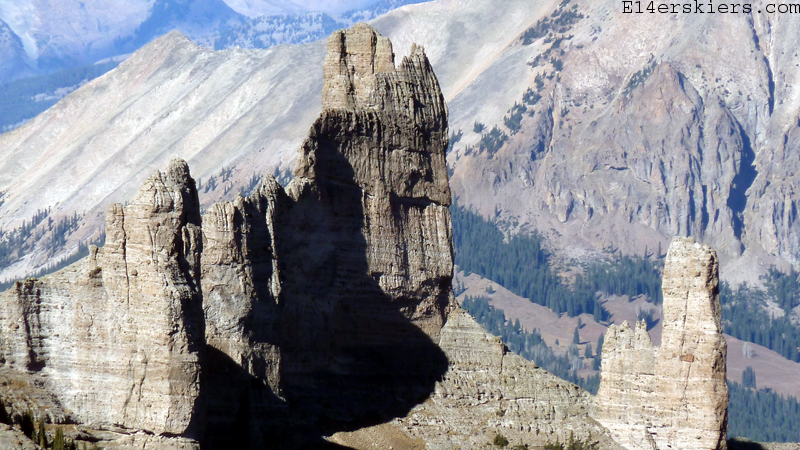 I tried to ascertain who did the first ascents of these features, and when (or, for that matter, which features have been climbed) but the story was only what I already knew- Yes, they've been climbed, but not often due to the poor nature of the rock.
We turned around and Mill Creek continued to inspire in the fading evening light: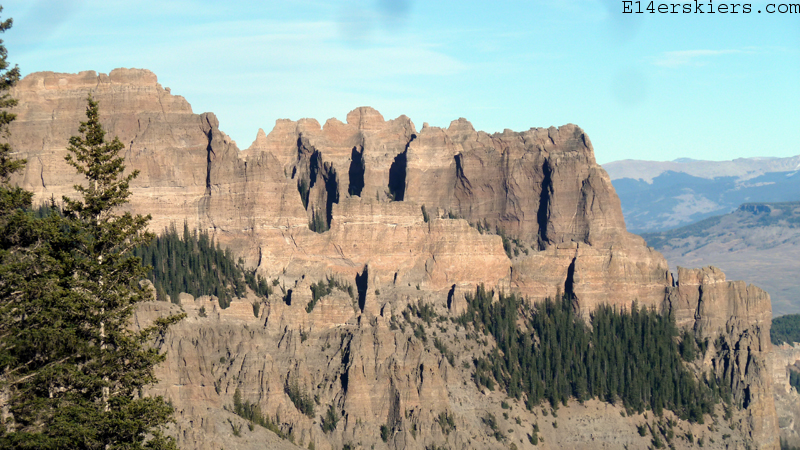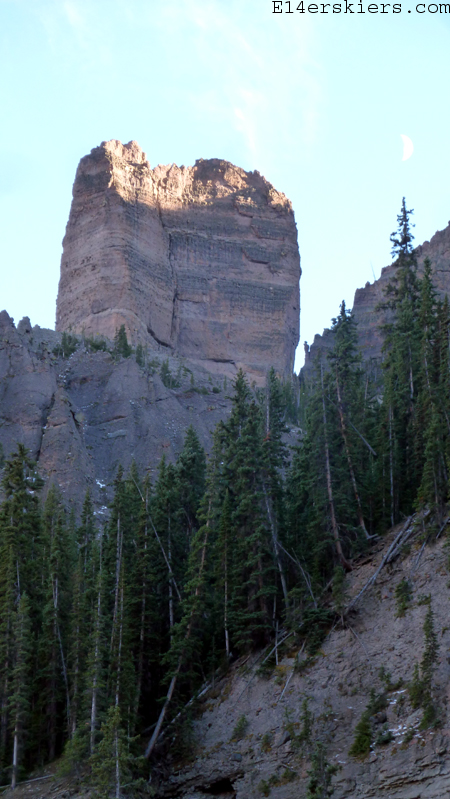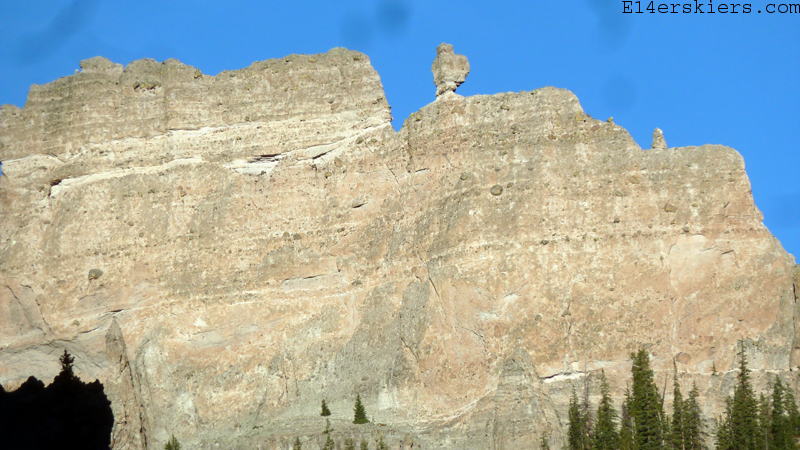 One more.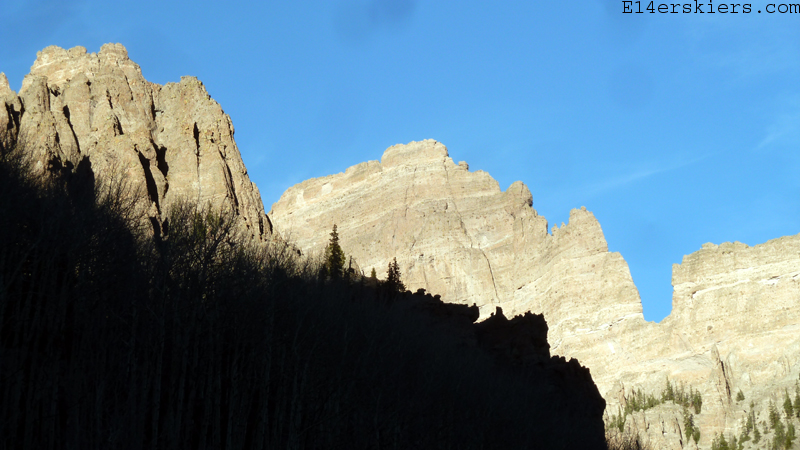 The Mill Creek valley is one of Colorado's finest and it should be on everyone's short list as a place to visit. While we didn't see anything particularly noteworthy from a skiing standpoint, we're still hoping to do some exploration in the West Elks this winter (roughly the mountains South of Swampy Pass) given the fact that neither of us have actually done any skiing in the subrange. Of course, that's assuming we eventually have a winter. It's still only November 1st, we'll start freaking out if it still looks like this in December. Until then, we'll keep exploring!
Frank
loves snow more than anything... except his wife.  He ensures his food is digested properly by chewing it 32 times before swallowing.He is a full-time real estate agent serving
Crested Butte and Gunnison
and would be honored to send you his
monthly newsletter.
Latest posts by Frank Konsella (see all)
Summary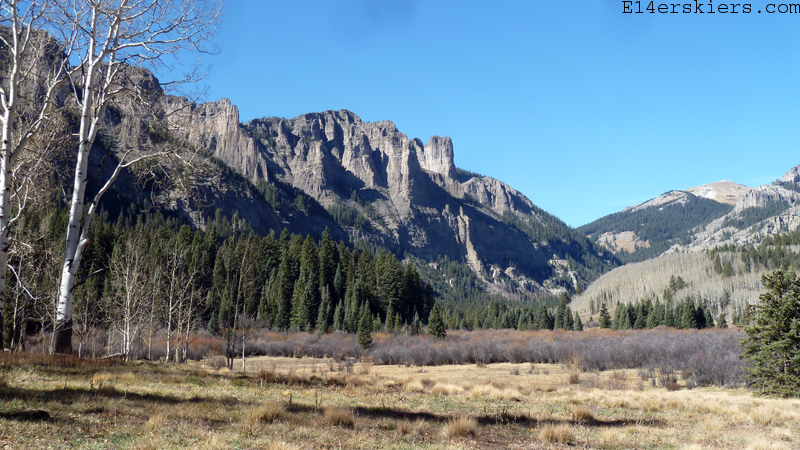 Article Name
More Snowless Exploration: Mill-Castle to Storm Pass
Description
The Mill Castle Trail is a beautiful hike between Crested Butte and Gunnison, especially in fall. This trail eventually leads to the scenic Storm Pass!
Author