CO Trail Segments 6 and 7: Georgia Pass to Copper Mountain.
(Last Updated On: August 12, 2013)
These sections of the Colorado Trail could best be given the alliterative Dickens-esque title: A Tale of Two Trails. From the top of Georgia Pass through the Swan River and West Ridge all the way to Highway 9 is simply tremendous riding. From there, segment 7 starts off OK on Gold Hill, but quickly becomes a nightmarish hike-a-bike up and over the ten-mile range to Copper Mountain.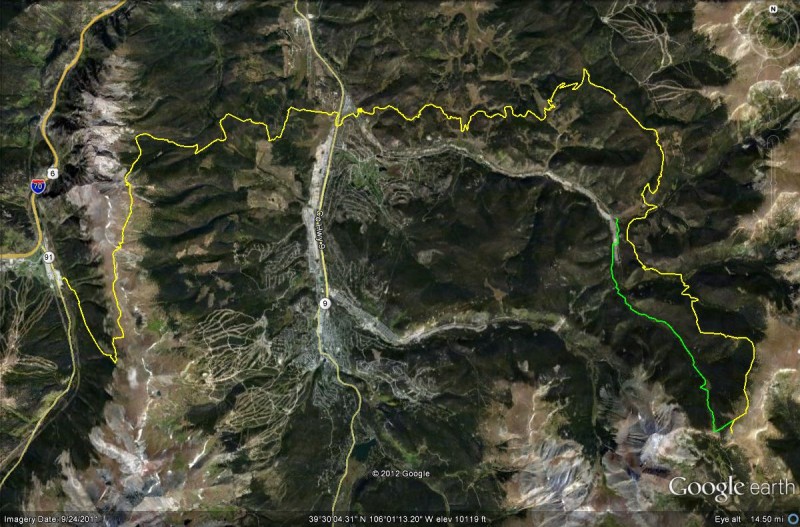 Georgia Pass Section:

View seg 6 from Georgia Pass.kml in a larger map
We began our ride up the South Fork of the Swan River. This road is also called the Georgia Pass road, which should not be confused with the Georgia Pass on the Colorado Trail which is actually in a slightly different location. It's a fairly easy cruise up until the end where there is some hike-a-bike, but we were still able to get to this point in about an hour.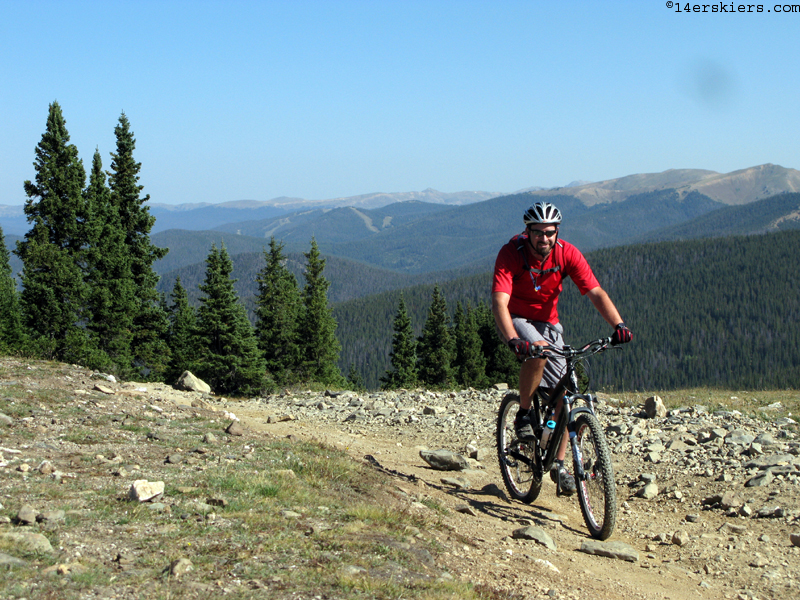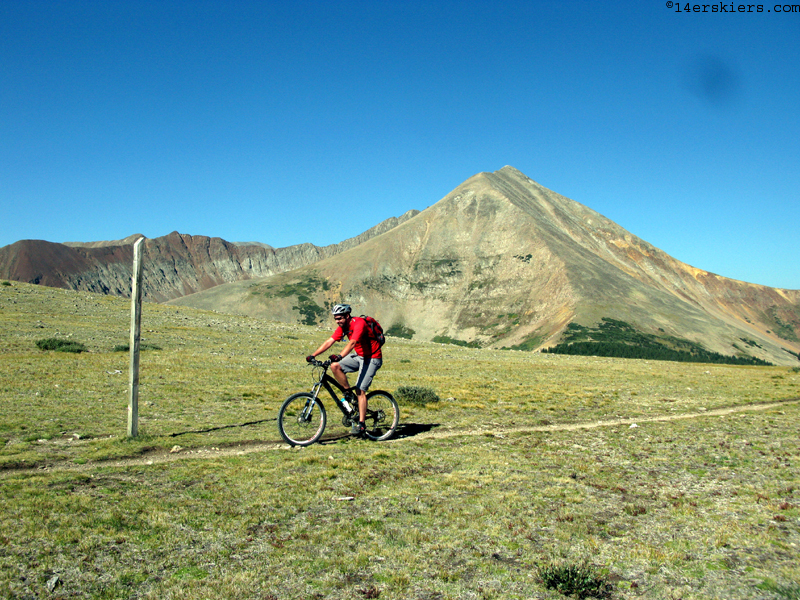 After a quick jaunt over to the trail on the marked Glacier road, and an even quicker jaunt over to the point where I had turned around on a "Georgia Pass out and back" from Kenosha Pass, we were on the downhill. Quality smooth riding off the top- Mark: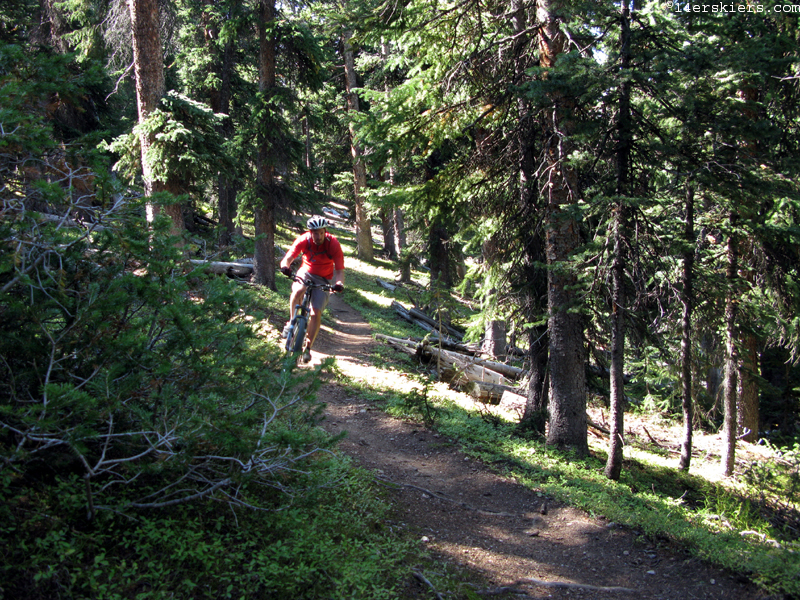 The trail starts to get technical as you descend, but it was great solid rock garden stuff. Mark insisted he get at least a few shots of me and grabbed my camera: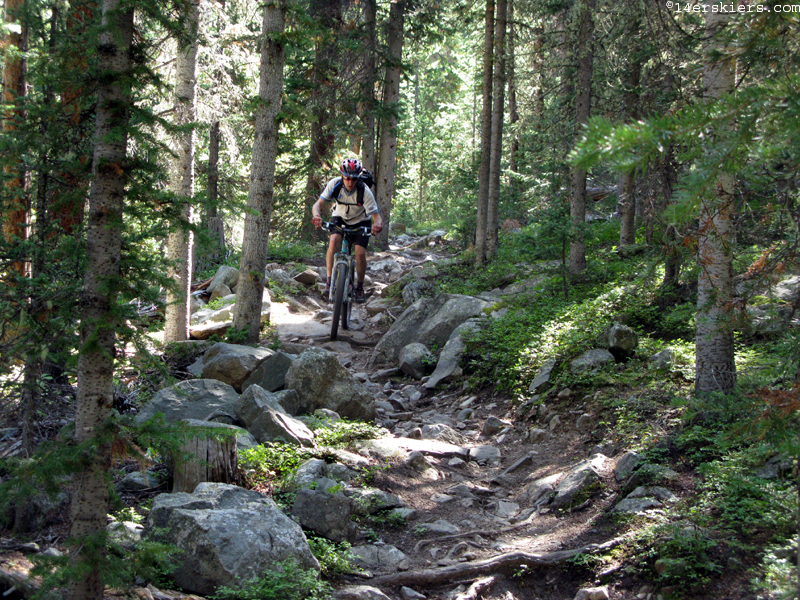 We made it to the North Fork of the Swan in good time and from there we had a choice. Since I had already ridden this section last fall, I didn't really need to ride it this time around. But it's a great piece of trail, the weather was perfect, and I still had a lot of daylight left so we made our way up the West Ridge. Here's a couple shots of Mark: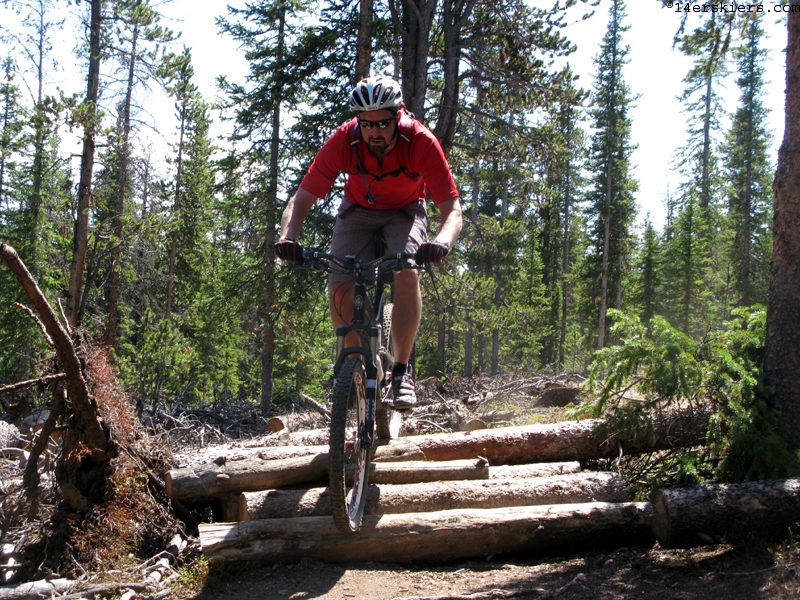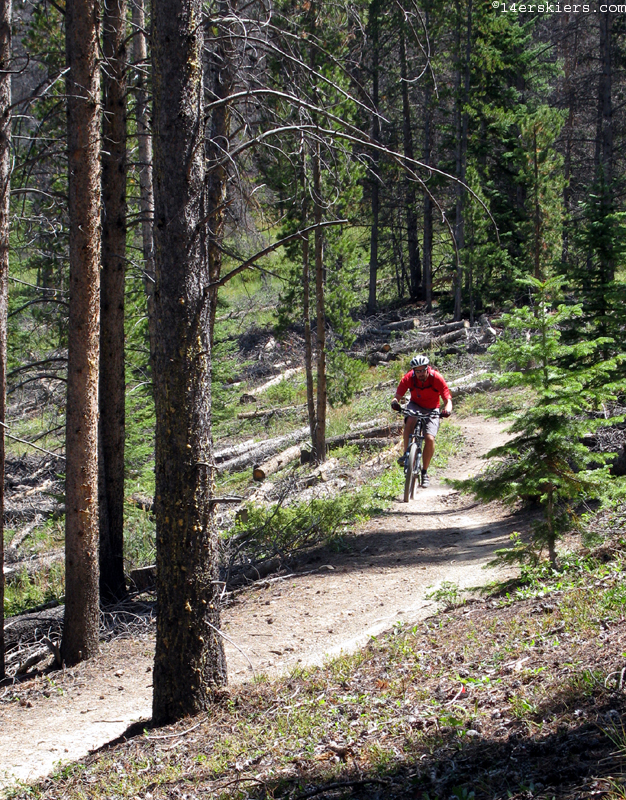 Mark called it a day at Horseshoe gulch and headed back up the road to retrieve his car. I finished off the last bit of CT before the highway feeling pretty good about things. The last time I was on Gold Hill, I was either still in high school or at most a college freshman. It seemed as though the trail had widened considerably, and gotten much rockier, but maybe my memory is deceiving me. I do remember logging operations in this area way back in the 80's, and given the pine beetle epidemic, that isn't a bad thing around here.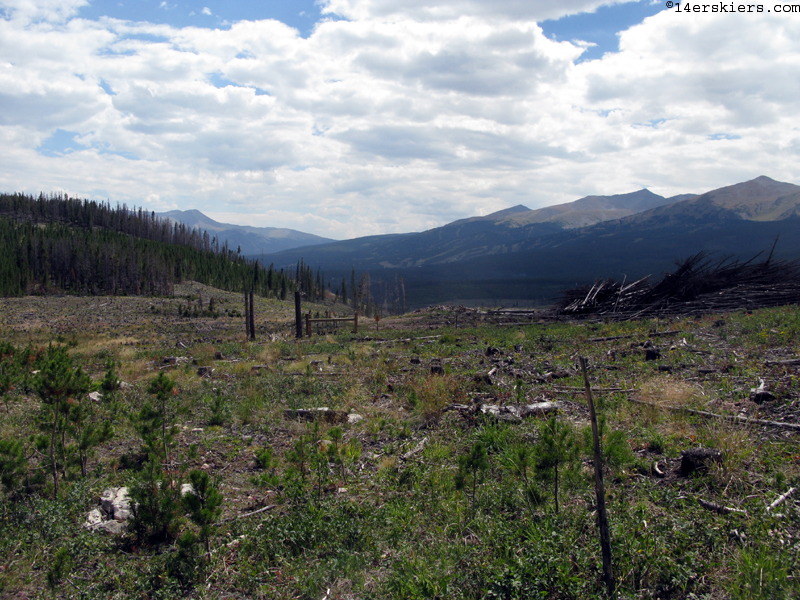 After another trip down memory lane on a quarter mile of the peaks trail (probably my favorite trail back in '87 or so), I made the turn onto the Miner's Creek trail.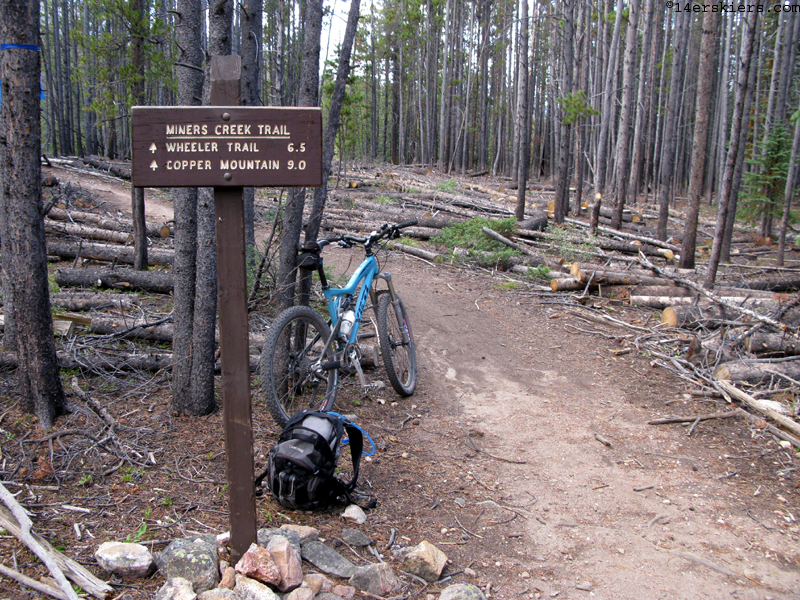 Nine miles to Copper. Piece of cake, right? Wrong. It's about 4 and a quarter miles to reach the highpoint of the CT along the 10-mile range, and about 4 of those miles involve hike-a-biking. I'll put it on record that there is more hike-a-biking, percentage wise, than any other segment of the CT.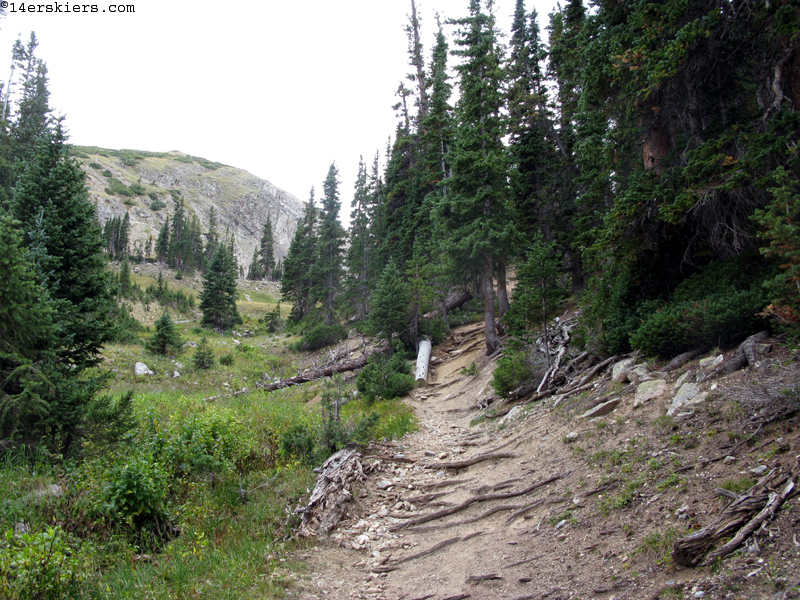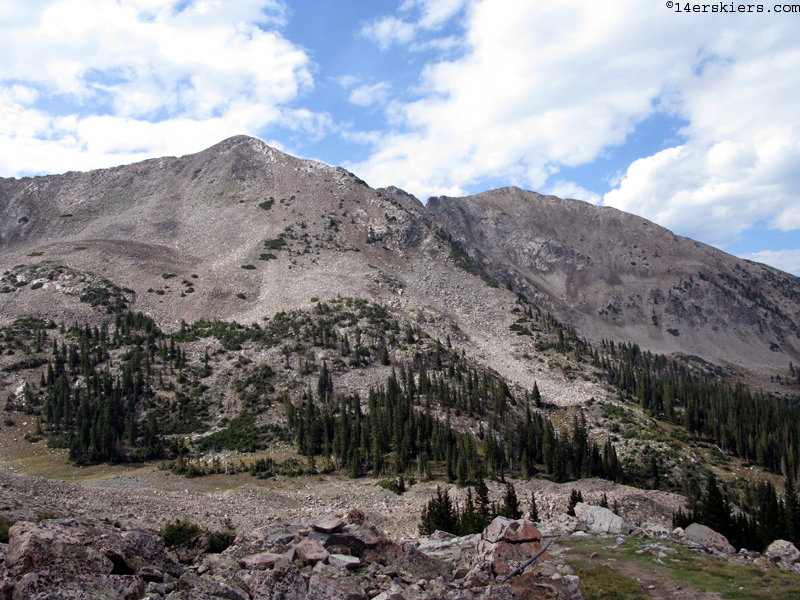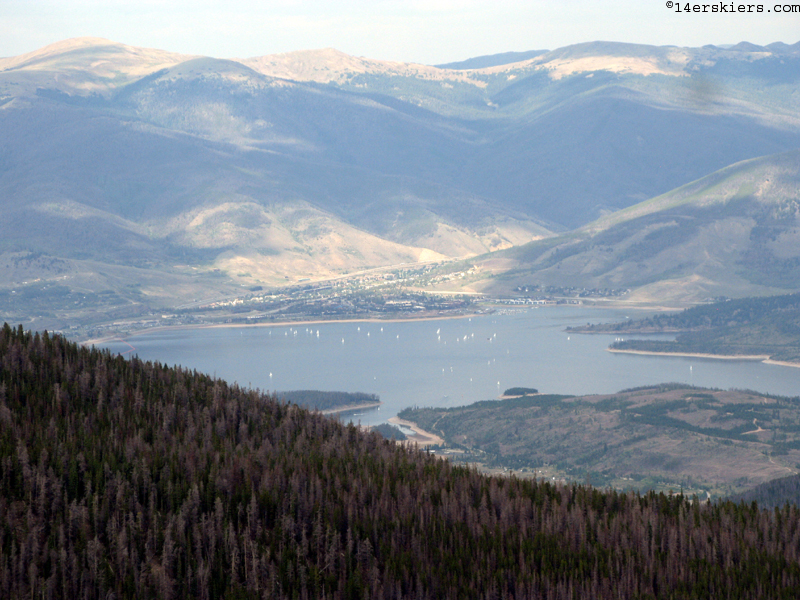 Even here, where the trail looks fairly rideable, it was a struggle.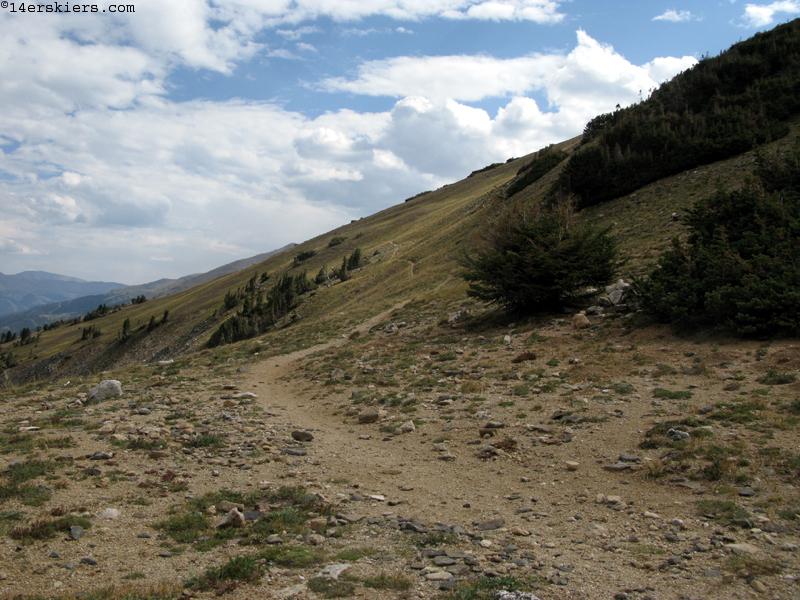 Finally, I made the top and was rewarded with some great views for my efforts.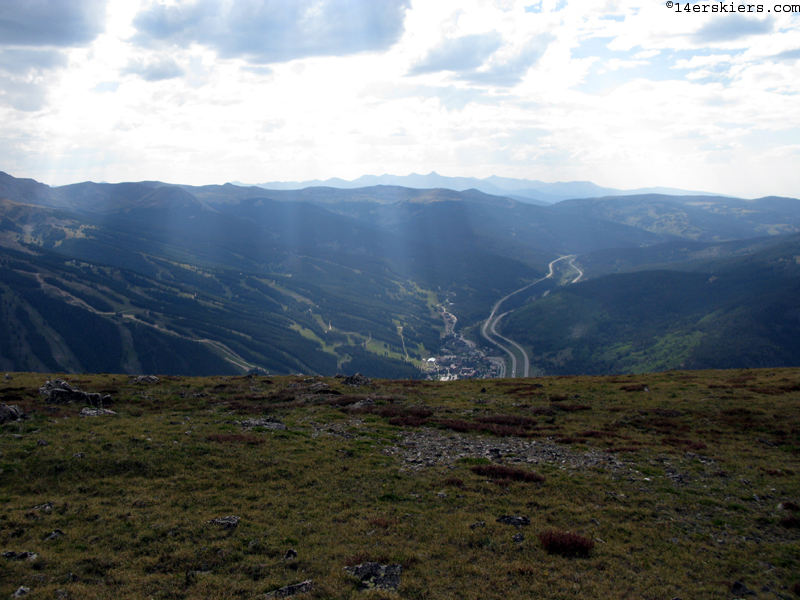 The trail begins the descent with a long southbound traverse before intersecting the Wheeler trail. I mention this because the Wheeler trail is the best way to access the CT in this area. You can reach the start of the Wheeler trail by going up the Breckenridge ski area, and then head towards the CT. This is still difficult, but much better than riding up Miner's creek. From this intersection, you can go up to the CT highpoint and down Miner's creek, or just keep bombing down the CT to Copper Mountain. I didn't have this option since I was trying to ride this section in one ride rather than two.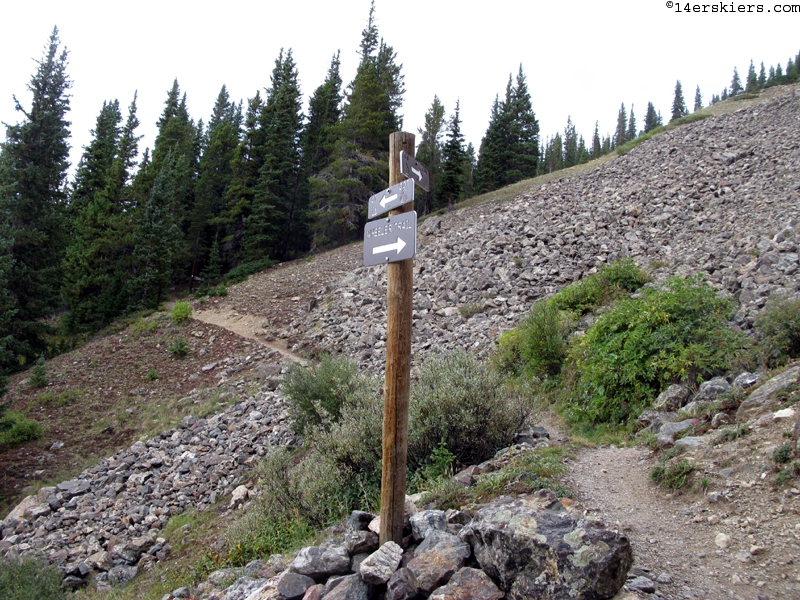 The final descent to Copper Mountain is steep and your brakes will be on most of the time. Good fun, though.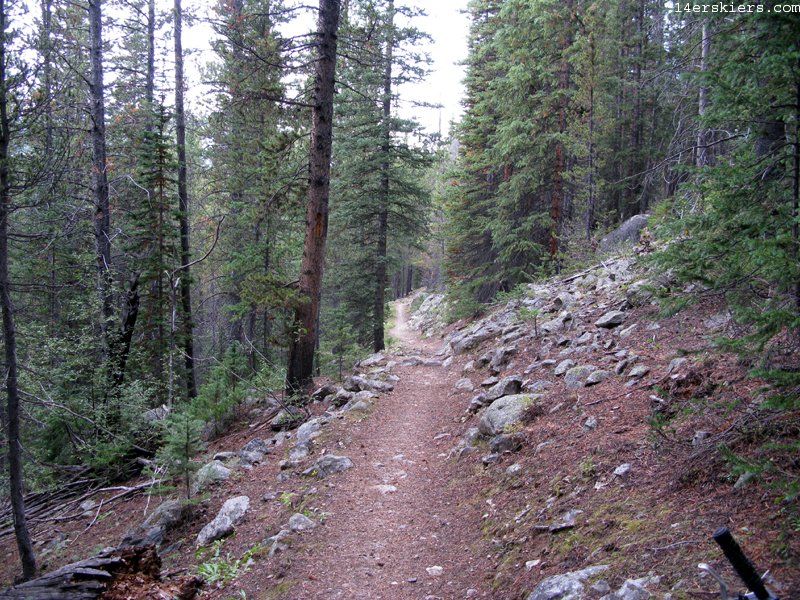 I'm sure the bike computer missed a fair bit of the hike-a-biking, but the final stats were 42 miles and 6 hours, 15 minutes. Thirty of those miles were on the first part, while most of the time was on the second, which really tells the story.
Thru-bikers may want to at least consider skipping segment 7 by riding the bike path from the end of segment 6 down to Frisco and over to Copper Mountain. In fact, the first editions of the Colorado Trail Race did exactly that, skipping 7 simply due to its difficulty since it has always been an open trail. A fully loaded thru-biker may need 6 hours or more to do this 12.8 mile section.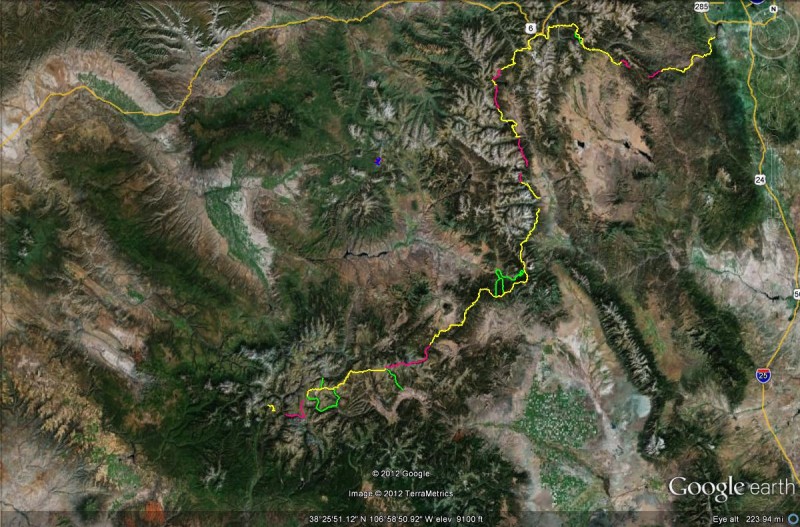 I'm making good progress on my Colorado Trail quest. I have a short section sandwiched in between two parts of the Lost Creek Wilderness near South Park, a couple of tiny sections to clean up in the Arkansas valley, a couple of small parts near Silverton, and then the big one- most of Molas Pass to Junction Creek (Durango). Happily, a buddy is having his bachelor party on the Molas to Durango section in less than 2 weeks, so as long as everything goes well, I should have the vast majority of the CT done by then. Thanks for following along!
Frank
loves snow more than anything... except his wife.  He ensures his food is digested properly by chewing it 32 times before swallowing.He is a full-time real estate agent serving
Crested Butte and Gunnison
and would be honored to send you his
monthly newsletter.
Latest posts by Frank Konsella (see all)