SIA: Airbags From BCA, Mammut, Dakine, and TNF
(Last Updated On: April 18, 2012)
When it comes to airbags, the only logical reason I had to hold off on a purchase was to wait and let some other manufacturers enter the airbag market. After all, more competition leads to lower prices and more innovation, or so I'm told to believe as any good American consumer. That's why our health insurance premiums in the USA are so low, thanks to competition between health insurance companies. Ouch, bad example.
A year ago, several big-time pack manufacturers weren't in the airbag game- names like Osprey, Black Diamond (BD), Dakine, The North Face (TNF), and more. While BD sorts out what they want to do with their avalung technology, and who knows what Osprey is doing, Dakine and TNF unveiled their airbag packs this year. First, Dakine:
Altitude 40l: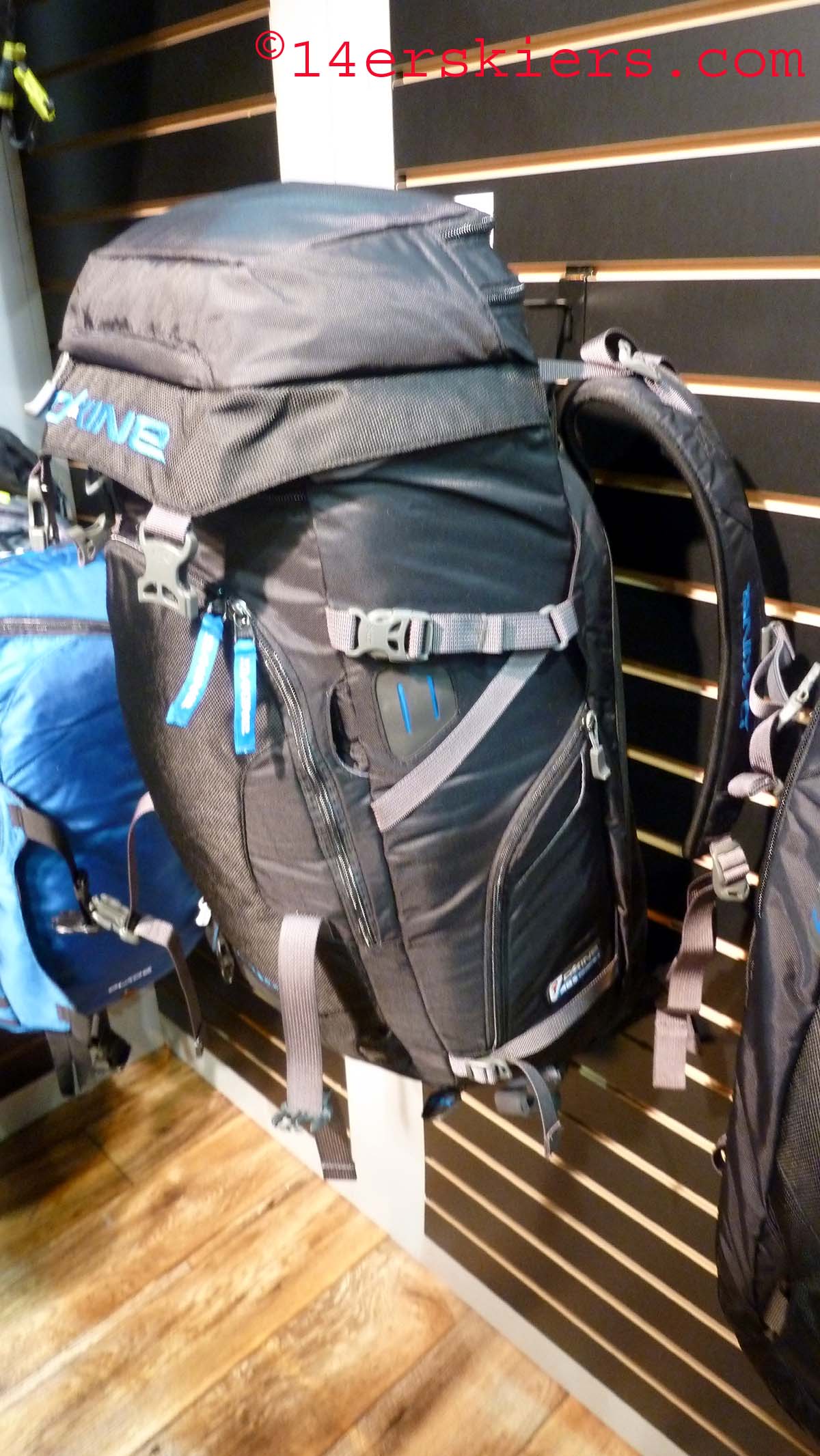 Altitude 25l: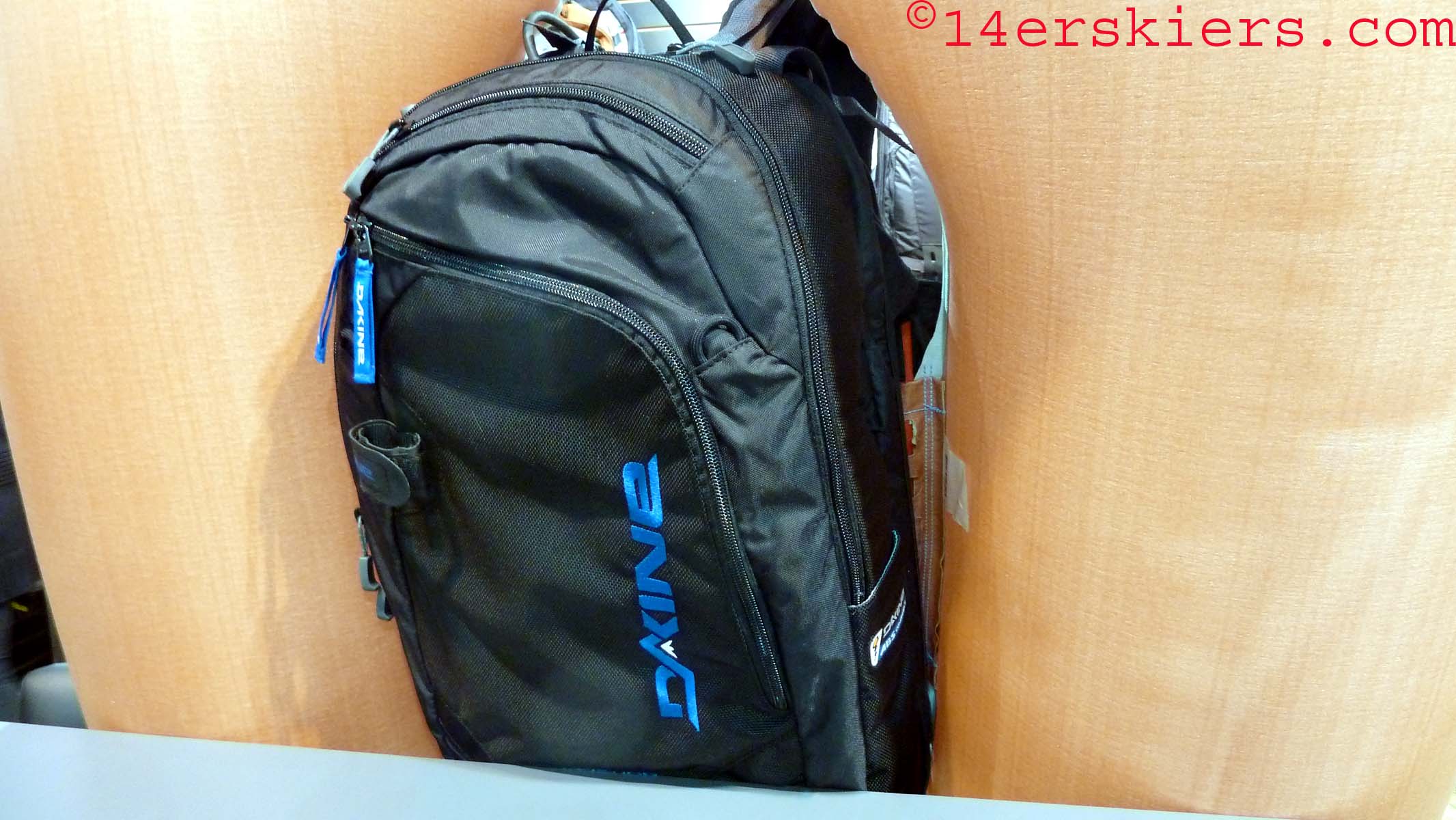 As a fan of Dakine packs like the Heli Pro and the Poacher, I was tremendously excited to see what Dakine would come up with. Dakine decided to contract with ABS, and the ABS system is more or less zipped onto the Dakine pack. On the one hand, this allowed Dakine to use ABS' many years of experience in this field to produce their own airbag pack, but on the other hand Dakine didn't exactly come up with anything new or exciting as far as airbags go. Using an existing system won't do a whole lot to reduce the price or weight of an airbag pack, and those two things remain as the biggest detriments to potential airbag buyers.
Still, they're not bad packs (called the Altitude 25l for slackcountry and the Altitude 40l for true backcountry). For one thing, this airbag system is released from the sides, so unlike many airbag packs, the 40l pack is a top-loader, which is really nice for stowing an extra jacket or a rope (The smaller 25l is not a top loader). Plus, since it uses the ABS base system (called the Vario), you can easily move the base unit from pack to pack, even with other manufacturers. Or, just zip the ABS off and use the pack alone in springtime or inbounds skiing. As I said, the penalties of this system are weight and price. Combining the price of the Vario base and the packs themselves will set you back well over $1,000MSRP. Reported pack weights end up at a hefty 8lbs for the 40l and 7.4 for the 25l.
Dakine packs have never been known as the lightest out there, but they do tend to be inexpensive, so it was disappointing to see what they came up with. As a big company, Dakine could have thrown a bunch of R and D into an airbag pack but instead they just came up with a so-called "me-too" product. Still, Dakine's booth was extremely busy, probably because many of their retailers are big-box sports stores like Sports Authority here in CO. So it's hard to fault their strategy and in the end, they'll still save lives.
On to The North Face: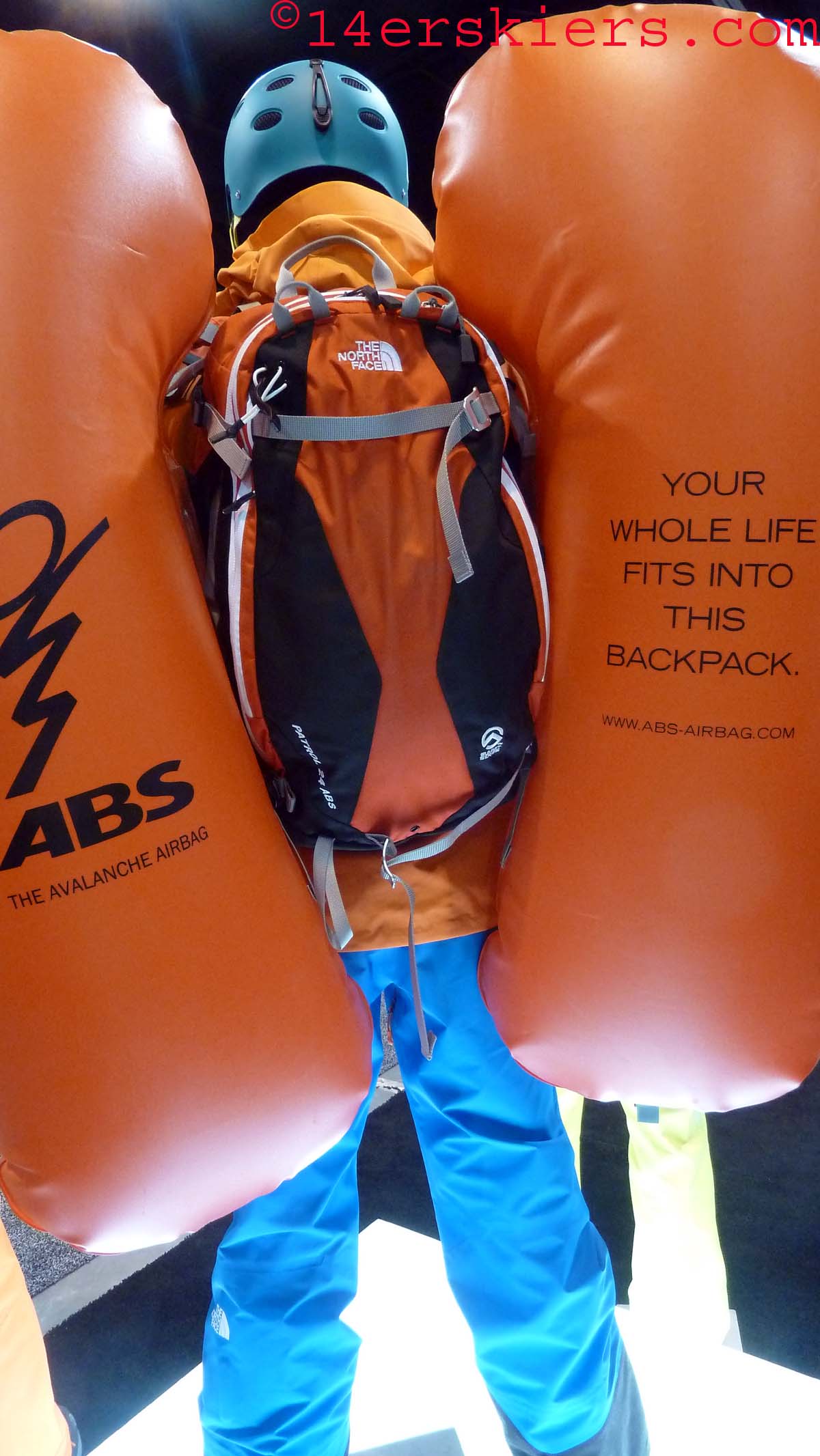 The Patrol 24 pack is a 24l pack that also uses the ABS base system, with all its inherent pluses and minuses. To their credit, TNF did their best to reduce the weight and the pack supposedly clocks in at just over 6 and a half pounds. Price will once again be $1,000 or more once it's all said and done. TNF also has an airbag vest in the works for next season…
Like Dakine, TNF is a big, big player and could have really made some waves in the airbag market, but instead just got a product out there. One more note about ABS systems. ABS uses a tiny amount of explosives to trigger the airbag when it is pulled. This means that your local TSA agent is going to freak out a little bit if you travel with ABS systems. Yes, they are allowed and you shouldn't have a problem if you follow the rules, but it's something to keep in mind.
Mammut's wide range of airbag packs were near the top of our list last fall when we were checking out airbag packs. After seeing them in person at SIA, I still consider them to be some of the best.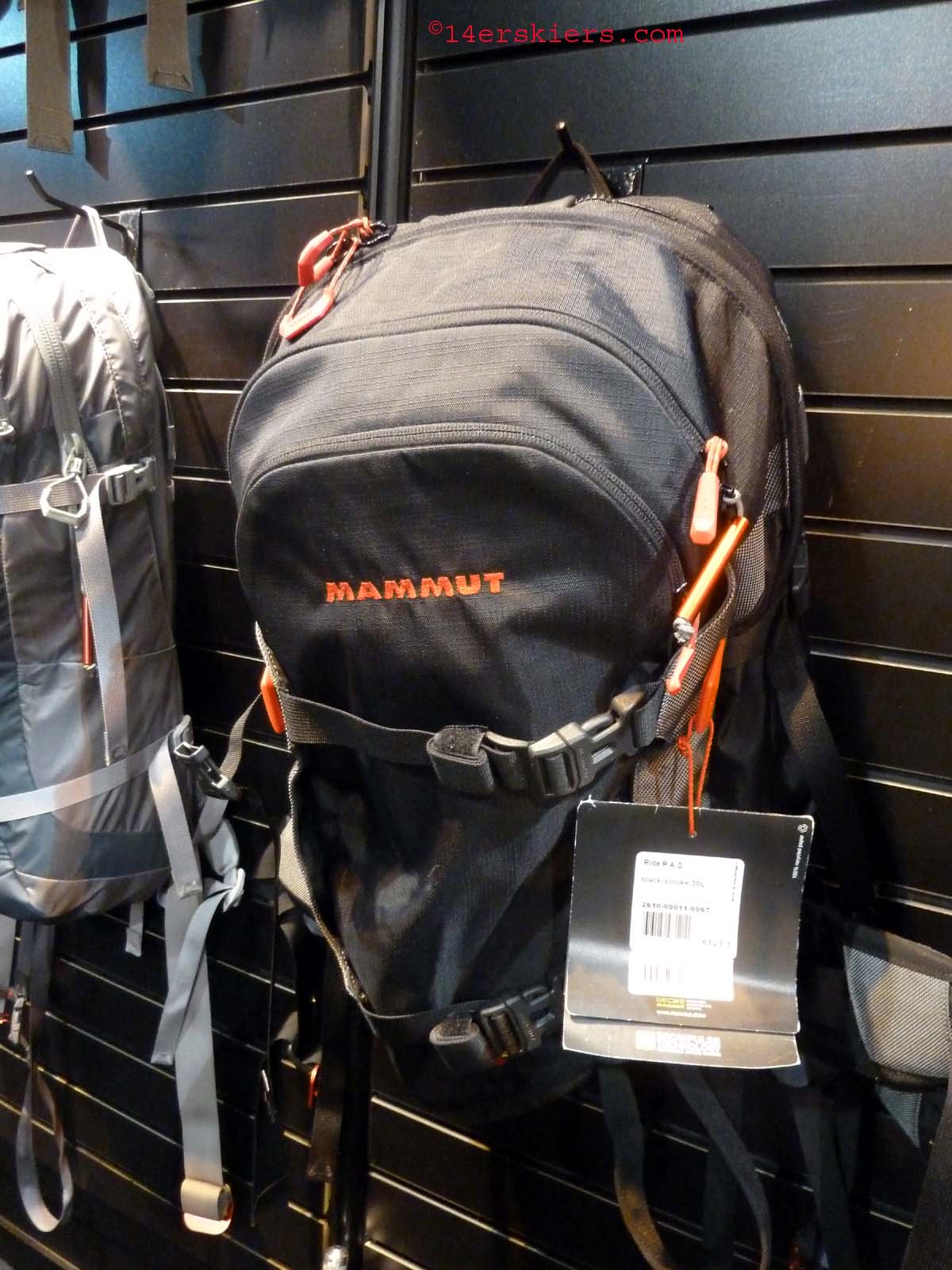 Mammut took the existing Snowpulse brand, bought it, and then designed their own packs around it, calling it RAS (Removeable Airbag System). These packs are well thought-out, light (6.5- 7lbs depending on model size), and relatively inexpensive ($850-$900 range). As the name suggests, you can transfer the system to other RAS packs, or remove it when an airbag isn't necessary.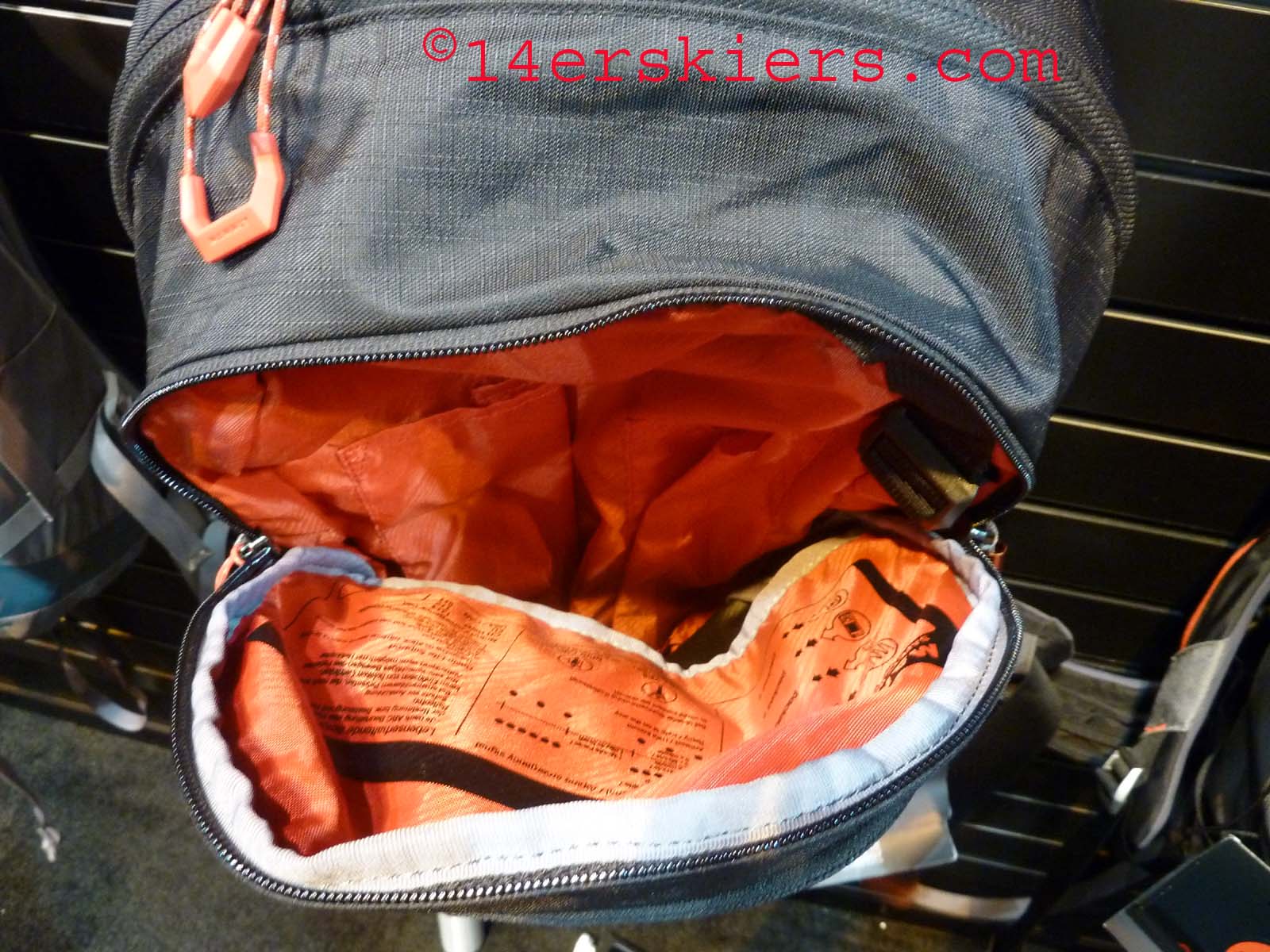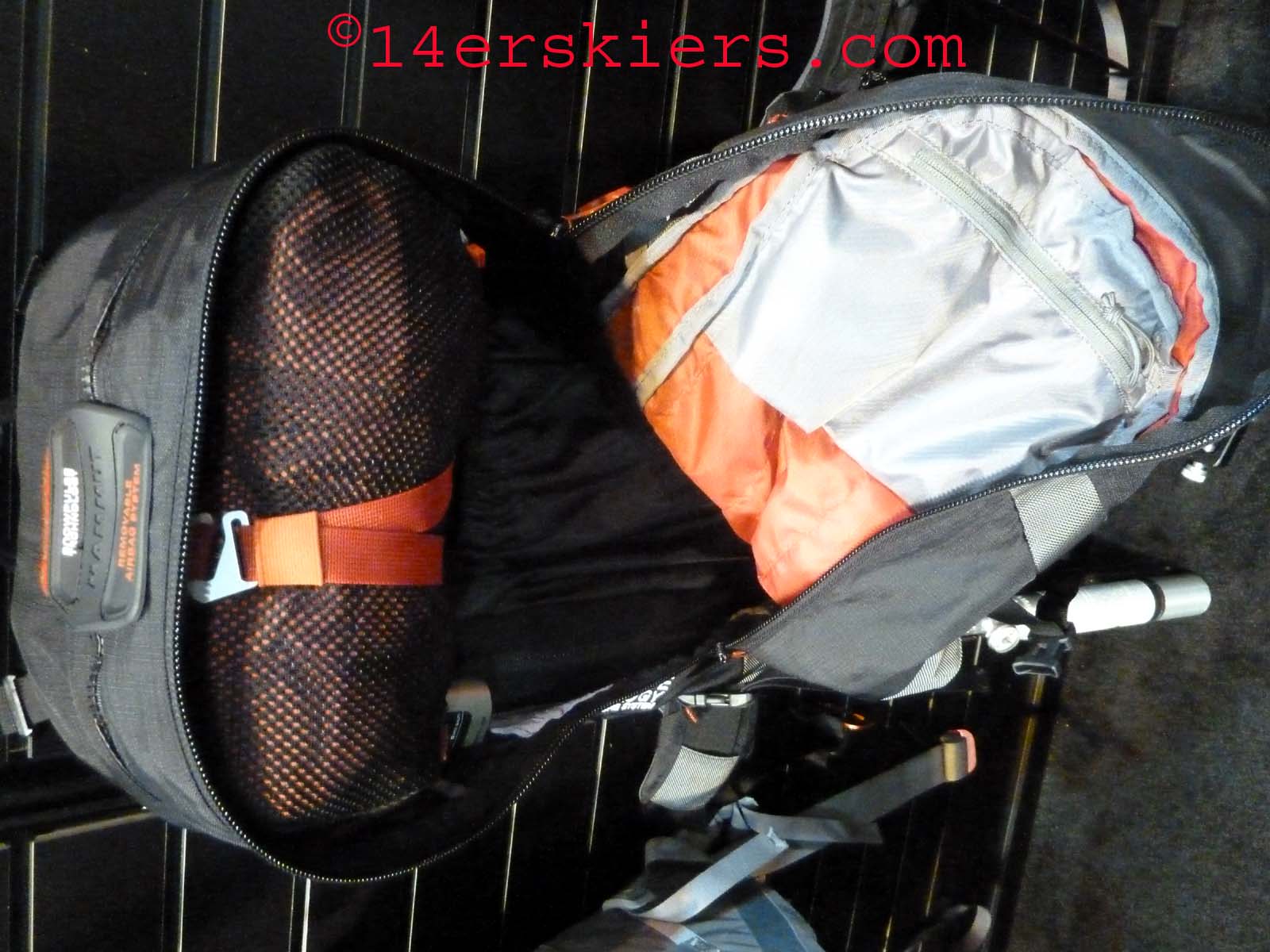 Finally, there's BCA. One might think that BCA would have been content with their Float 36 and 18 models this year, but instead they substantially improved them for next year. When I say "substantially improved", I mean BCA is claiming a 25% reduction in weight and a targeted $599 price tag for next year's Float 32 (replacing the 36)(The Float 22 will replace the 18). That puts the weight at a very impressive ~6.2lbs.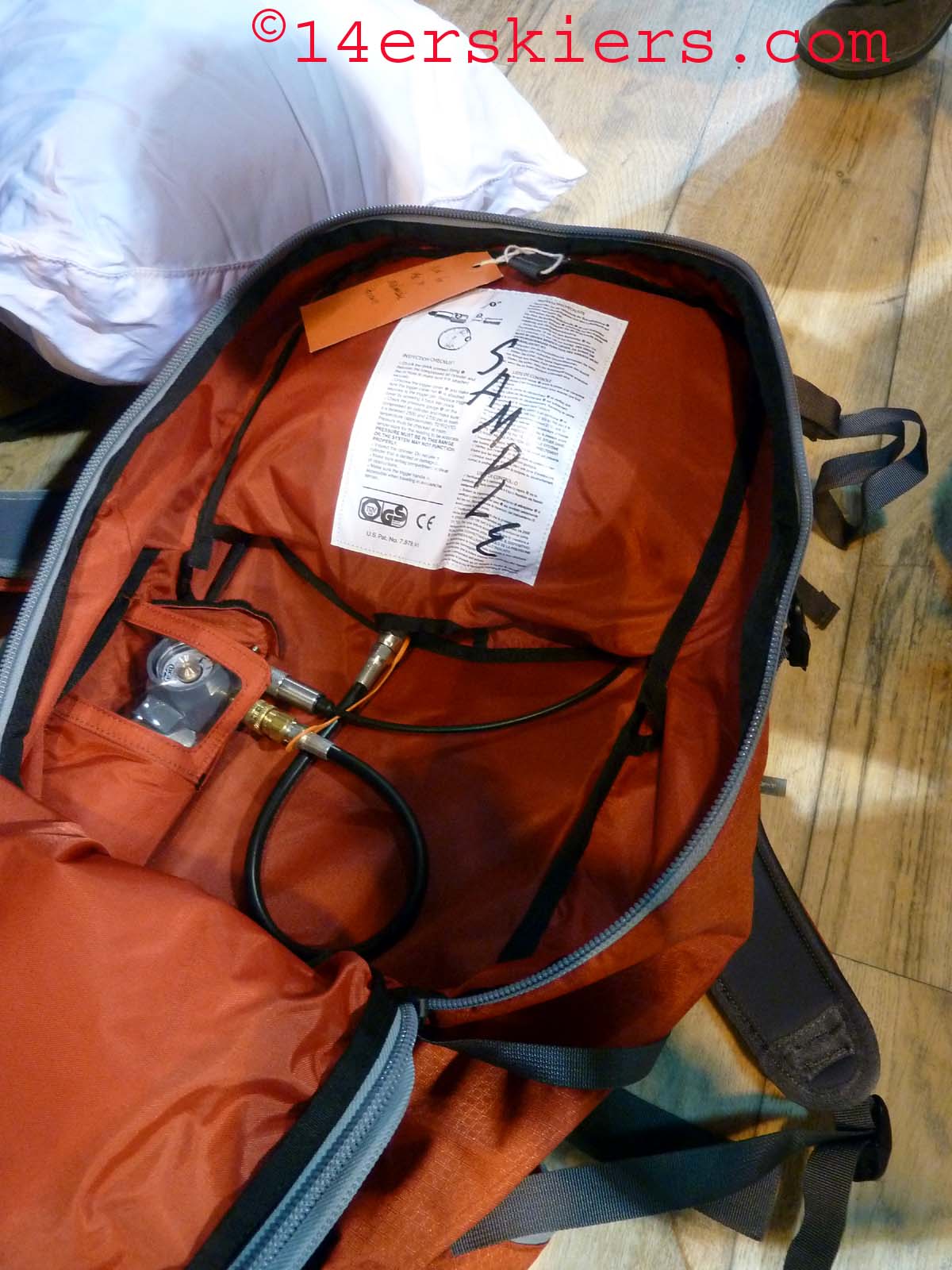 The Float 36 had a back panel compartment for the "guts" of the airbag system, which was not removable. Next year, the guts will be in the main compartment separated by a nylon sleeve (not shown in the sample above), and will be removable. I was also excited to see that the trigger next year can be placed in either shoulder strap- I'll place it in the left because I believe I'll have an easier time pulling it there as a right hander, plus I constantly mistake the trigger on my right shoulder strap for a hydration nozzle, since that's where my bike packs have it.
The back panel access is gone, as is one of the 2 waist belt pockets, so the new pack might not be as user friendly. Still, I'll take the 1.5-2 pound weight differential. We'll have to use it in person to make a full review, but so far we're impressed with BCA in a big way.
Sorry we're getting so gear-intensive here at 14erskiers, but with so much to talk about from SIA and a lack of good and safe ski conditions here at home base, that's where we're at.
Frank
loves snow more than anything... except his wife.  He ensures his food is digested properly by chewing it 32 times before swallowing.He is a full-time real estate agent serving
Crested Butte and Gunnison
and would be honored to send you his
monthly newsletter.
Latest posts by Frank Konsella (see all)