2011/2012: Year of the Airbag. BCA Float 36 Review
(Last Updated On: December 7, 2011)
This season seems to be the one when critical mass has been achieved with the use of airbag backpacks here in North America. No longer a strange curiosity occasionally seen on a backcountry skier returning from Europe, backcountry users are now embracing the technology in increasing numbers as prices and availability have gone up. Before we get to our review of the BCA Float 36, let's hear the case for airbags.
Most of the airbag research thus far has been conducted in Europe, where big open alpine faces provide a perfect place for airbag deployment. Here in North America, where backcountry skiing often takes place in treed areas, the results of airbag use will surely be different than in Europe. Still, the statistics from Europe are quite convincing. Between 1990 and 2007, of 151 skiers wearing an airbag (specifically ABS), only 3 people were completely buried without part of the airbag still showing. There were only 2 fatalities. Those numbers would be far worse without the airbags. Check this LINK.
Even if you ARE buried with an airbag pack, two things are likely to help your survival. First, some part of your airbag is probably above the surface, even if you aren't, so your partners won't even need to search for you with their beacons- they will simply ski straight to you, saving you a couple minutes or more of search time. Second, you probably aren't buried as deeply as you would have been without the airbag, greatly reducing your burial time. Even an experienced group may have trouble finding and digging out a deeply buried victim in less than 15 minutes, given how long it takes to dig through concrete-like avalanche debris.
Trauma will remain a big concern for avalanche victims, and it is unclear if airbags will help with that aspect at all. Still, one has to think that a big poofy airbag, situated by your head and neck, will at least help a little. Also, since it tends to keep victims above the moving debris rather than sucked down in it, trauma will likely be minimized.
However, even with an airbag pack, the best thing to do remains not to get in an avalanche. Anyone who has had a uncomfortably close look at a big avalanche knows that serious injuries are a real threat with or without airbags. For those of us who ski in the backcountry on a regular basis, the odds say that you'll eventually make a mistake and be involved in an avalanche. So, the choices are not to ski, only ski on slopes less than 25 degrees, or try to make good decisions and try to stack the odds in your favor.
Therefore, Brittany and I will both be skiing with BCA Float 36 backpacks this season. At $785 MSRP, they're not cheap (although they are cheaper than most airbag packs, many of which are over $1,000). And at a reported 7.7 pounds, they're certainly not light either (a typical non-airbag pack of the same size is probably around 2.5lbs). After a half dozen ski trips with our new packs so far, here's our take on the Float 36.
Float 36 Review:
First off, it is heavy. You won't pick it up without noticing that. Thankfully, however, the engineers at BCA have done a terrific job of designing the pack in a way that makes the weight less noticeable. After all, 20lbs in a cheap school backpack won't carry as well as 20lbs in a nice ski pack. The "guts" of the pack are tight against the back, where the weight isn't as noticeable once the pack is on.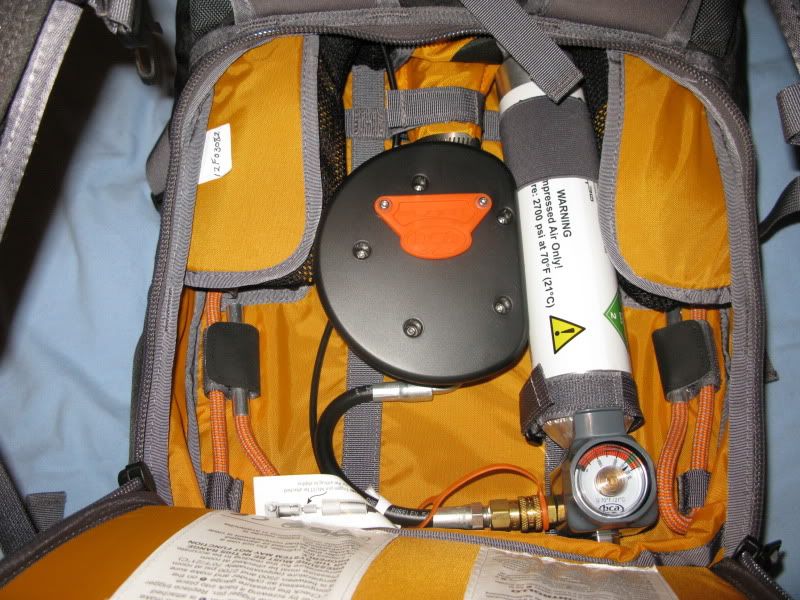 The main compartment is huge and can be opened nearly completely, making it easier to dry out at home or stuff a big jacket in there. Meanwhile, there is a pocket for the shovel blade (My BCA Companion shovel is the biggest you'll get in there), and side pockets for the handle and probe. Water bladders can go behind the shovel blade where my hand is: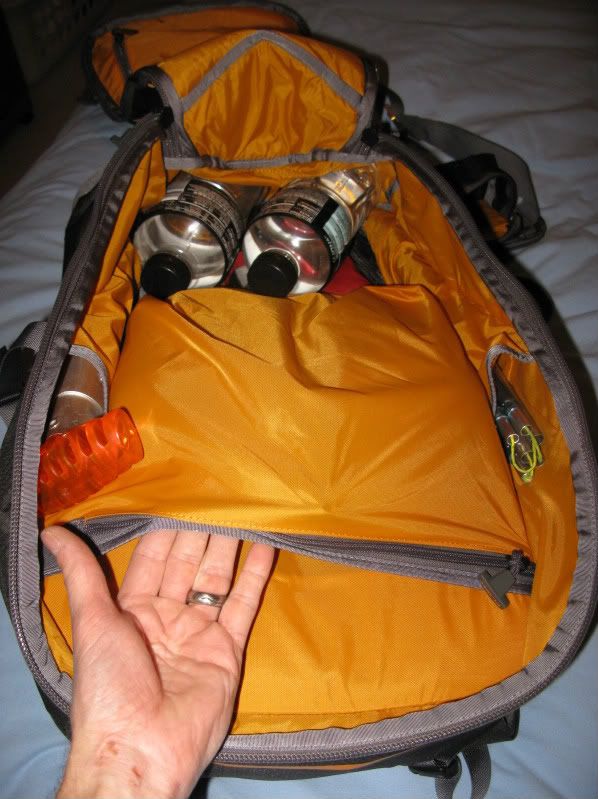 Hose routing for water bladders is a bit of an issue, so Brittany was forced to make a small cut to allow the hose routing from the main compartment to the shoulder strap access point (I don't use bladders, so a non-issue for me). One more inside pocket, which I've been using for snacks: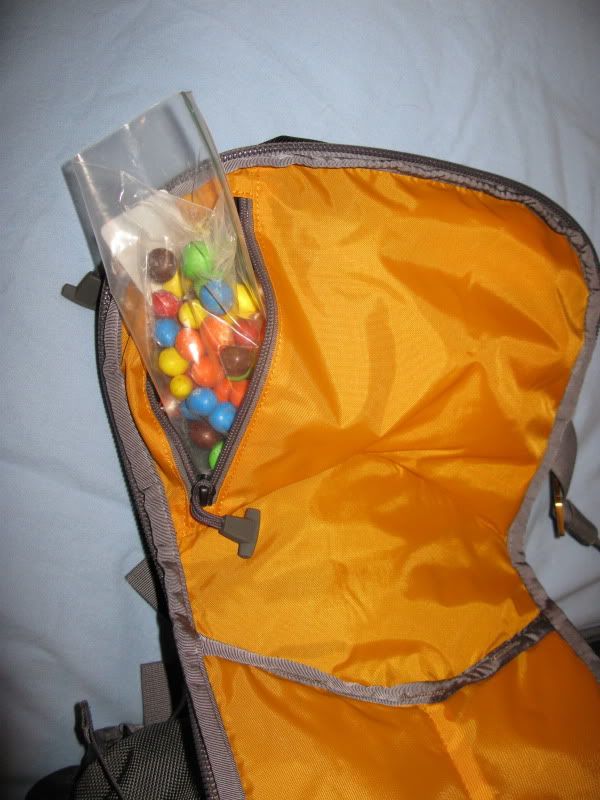 The main compartment can also be accessed by a small access panel in the back of the pack, making it user-friendly for things I grab often, like water.

Fleece lined goggle pocket on top of the pack:

The outside of the pack: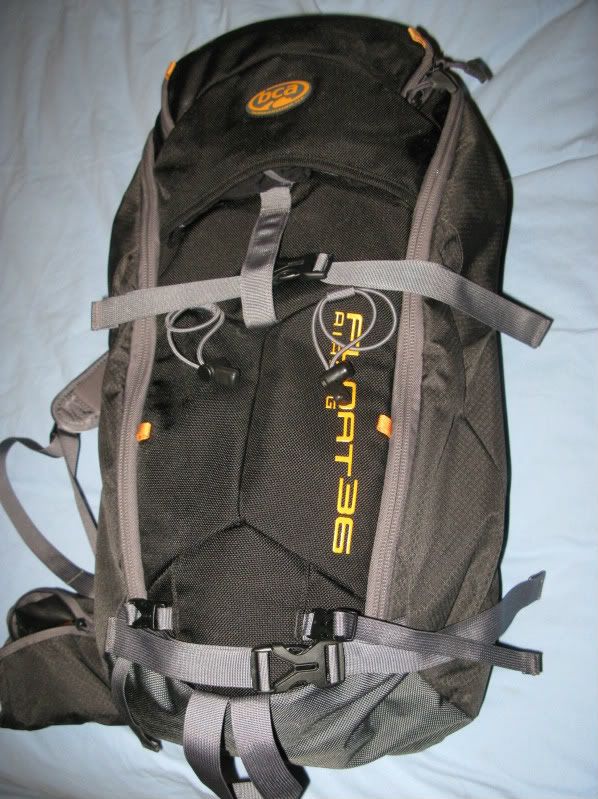 As you can see, it's quite clean and has 2 ice axe loops as well as a diagonal/vertical ski carry system. We haven't carried our skis much at this point, and probably won't- once the Colorado snowpack allows safe bootpacking, we will be using our old non-airbag pack more often than not. Plus, these days I'm a fan of pulling my skis whenever I can and all together avoiding the extra weight of skis on my bag. Here's a couple of shots of the ski carry system (a loop in the center of the pack is what differentiates the diagonal or vertical setup):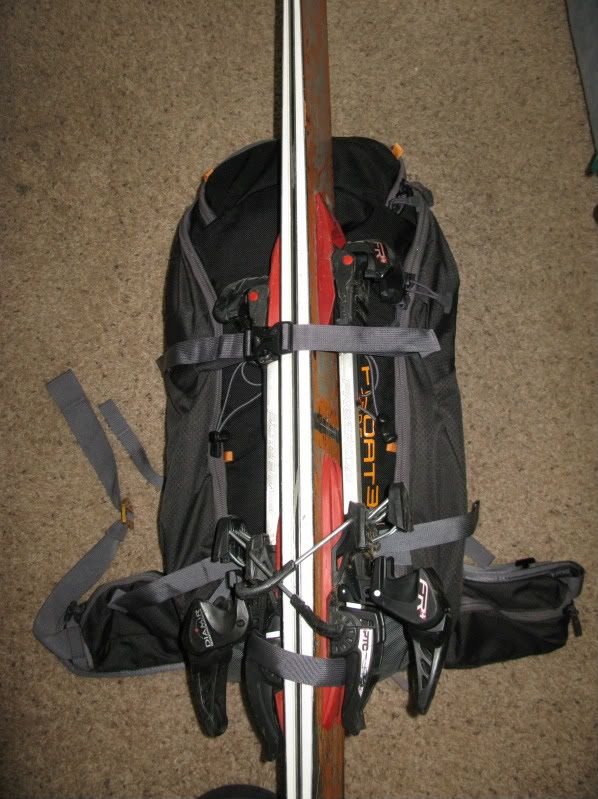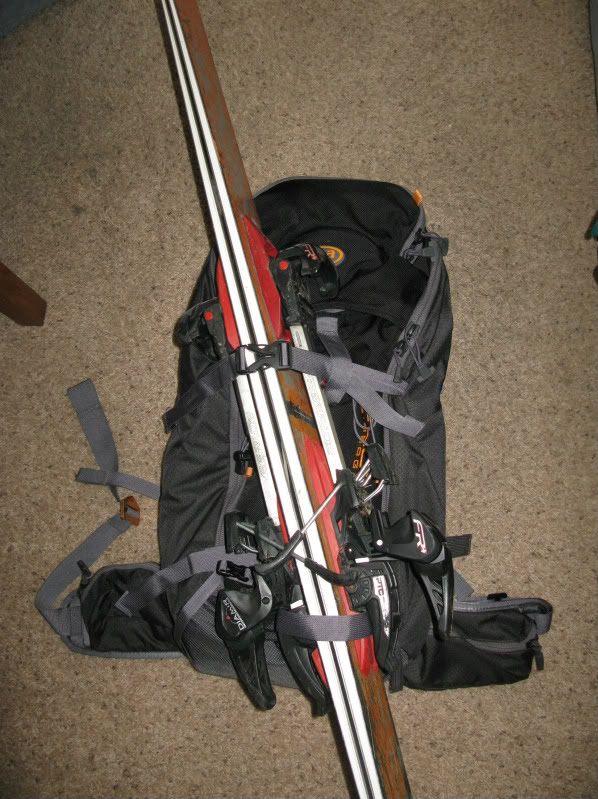 The Float 36, like most airbag packs, isn't a top loader, which can make packing an item like a rope a bit more tricky. But experimenting with my rope led me to believe it won't be too bad to lash items to the outside of the pack using the horizontal straps, as so:

Underneath the top part of the pack is a really slick helmet sling which can be attached up or down, as shown here: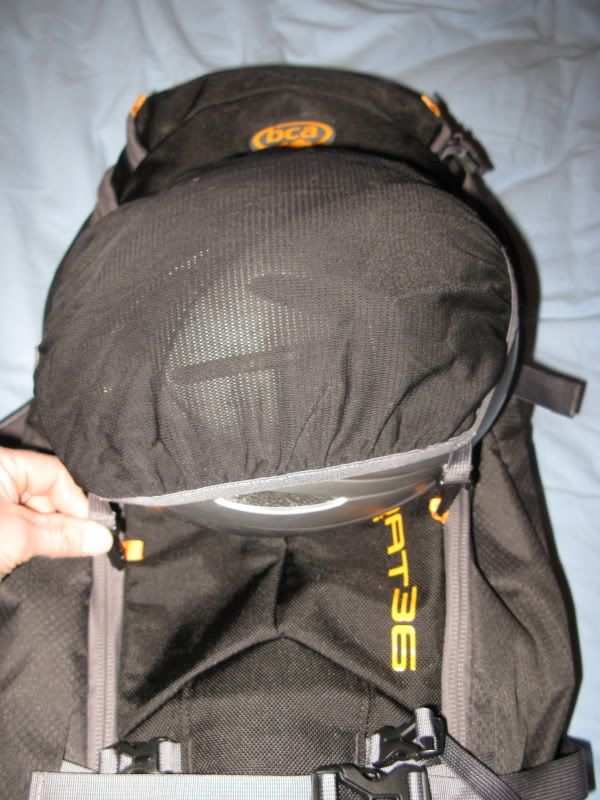 One complaint here: the little orange tabs are a little difficult to hook, especially with gloved hands. A tiny loop of accessory cord will make for a quick fix for that problem, minor as it is.
Airbag packs require a leg loop to insure they don't come off when subjected to the intense forces of an avalanche. In this case, I have stuffed the leg loop under the waist pocket, which is convenient for travel. The waist pockets (one on both sides) are huge and awesome- plenty of room for a large camera, or snacks, or a 2-way radio.

In addition to the leg loop, airbag packs need a strong, climbing-harness style buckle, since a regular fastex buckle would simply break. It takes a little fiddling with gloved hands, but it's easy once you get used to it.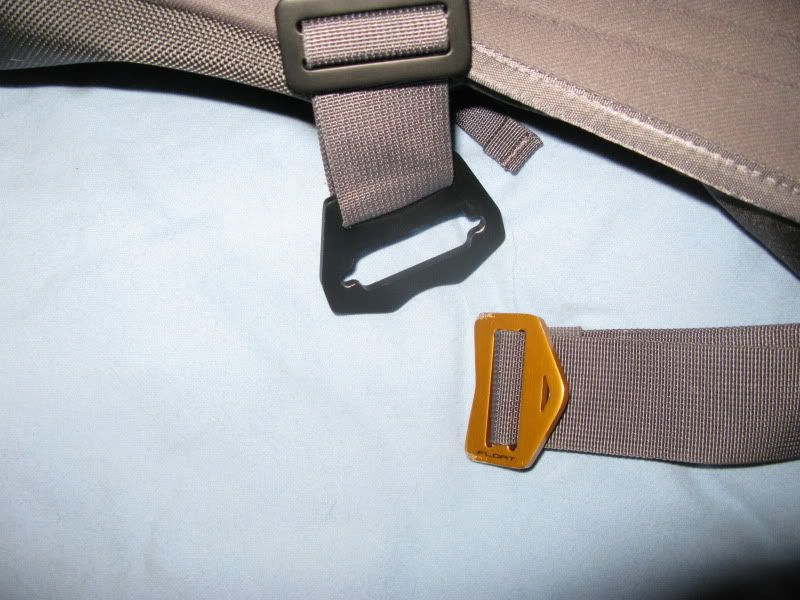 The trigger on the right shoulder strap.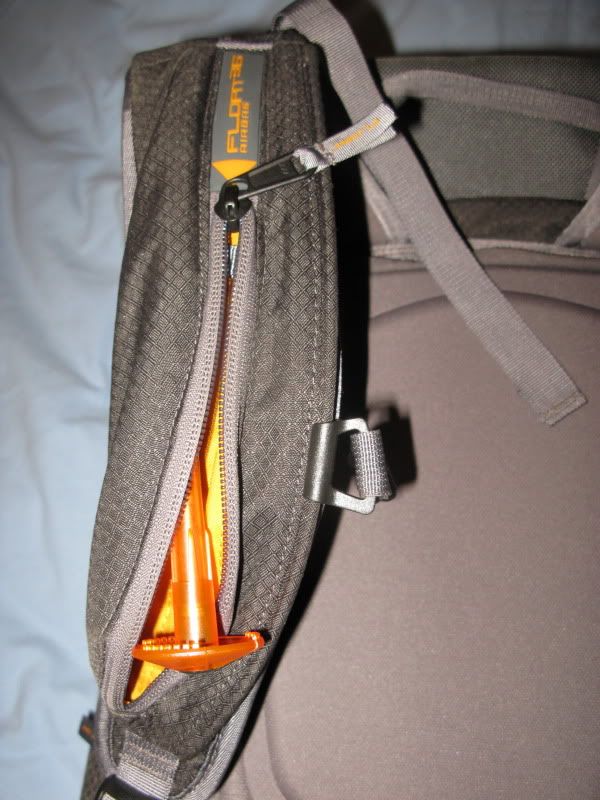 It is easily stowed back within the zipper to prevent accidental deployment in the car, helicopter, or snowcat. Some heli companies may also make you disconnect the canister before boarding the 'bird. Traveling on an airline with this pack goes like this: In North America, you will need to discharge the canister (good practice for pulling the trigger), and disassemble the canister so the TSA agents can look inside. Once at your destination, you'll need to refill it at a refill center, or refill it yourself if you have the know-how and correct air and pressure, or have BCA send you a canister to your destination. In Europe and Asia, you can keep your canister full when you fly. Also important to note: you can fly on non-commercial planes (i.e. bushplanes) with a full canister (something I hope to do this winter).
If you get caught in an avalanche, the number one thing that could increase your odds is an airbag- more than a beacon, more than body armor and a helmet, and certainly more than an avalung. If you regularly ski in the backcountry, it's something you should strongly consider, despite the weight and the price. We've been very impressed with BCA's Float 36 so far- yes it could be lighter, but that's the only complaint. If it were lighter because it used lots of carbon and titanium and unobtainium, and retailed for $3,000, I wouldn't consider it an improvement. If it were lighter because it was bare-bones and didn't have any of the useful features that I actually use, I wouldn't consider it an improvement. Nor would it be an improvement if it were made with uber-light fabric that shreds when in the general vicinity of a tree. BCA did a great job with this pack.
Brittany's Take:
The BCA Float 36 is a great airbag pack. I agree with all of the positives Frank mentioned above- including the easy access and large size of the main compartment. With the Float, I can fit all of my necessary backcountry gear with ease and room to spare. My two favorite features of the bag are: 1) the oversized hip-pockets – a camera goes in one, and lots of snacks in the other, and 2) the pull-out helmet-sling. Though I agree with Frank's comment that the hooks on the sling are a bit difficult to push into the tiny orange tabs with bulky gloves in the way, the problem is easily remedied by adding additional pieces of cord. While getting a bladder/hydration system in there required cutting a small hole, the hole is not detrimental to the pack and snow still will not enter that hole. The pack is definitely compatible with a hydration system with a convenient zip-sleeve on the left shoulder strap, opposite the airbag-pull on the right.
As for sizing- the Float 36 currently does not come in different sizes. Here is where my longer torso (paying for with short-legs!) becomes a nice convenience. The Float 36 fits my 5'3″ self absolutely perfectly. But, adjustments on it do allow the pack to fit a wide range of torsos!
While the additional weight of the pack is noticeable, I didn't really feel it while actually carrying the pack on my back. The airbag system is placed well and doesn't feel extra bulky while climbing or skiing.
Overall, I'm really pleased with the Float 36. It's the best pack I've owned in quite some time! I would recommend the Float as a fantastic option for backcountry skiers looking for an airbag pack.
Check it out:

Frank
loves snow more than anything... except his wife.  He ensures his food is digested properly by chewing it 32 times before swallowing.He is a full-time real estate agent serving
Crested Butte and Gunnison
and would be honored to send you his
monthly newsletter.
Latest posts by Frank Konsella (see all)