SIA: Black Diamond update
(Last Updated On: February 4, 2012)
Though Frank and I are not true to one brand for all of our gear, there is no doubt that Black Diamond is among our favorites. We spent quite a bit of time checking out next year's line up of new gear. Here's some of what we found.
The patent ran out on Flicklock, so they developed a new and improved version of their current Flicklock system. This one will be more user friendly, with a wider lock lever. Also, it's less likely to loosen, which sometimes occurred with the old Flicklock system.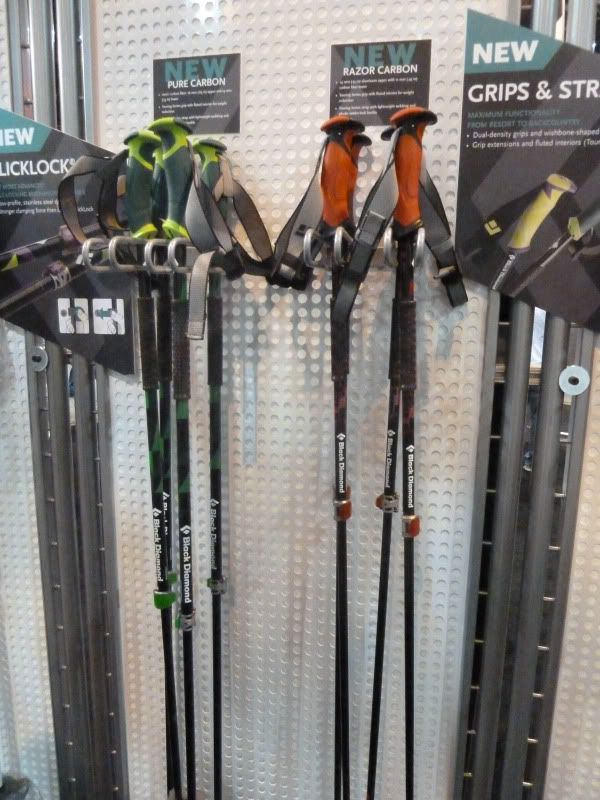 You'll notice a wider hold on the top of the pole grip, for better gripping with the palm when you need it most. The Whippet largely remains the same, with a few minor changes to the grip.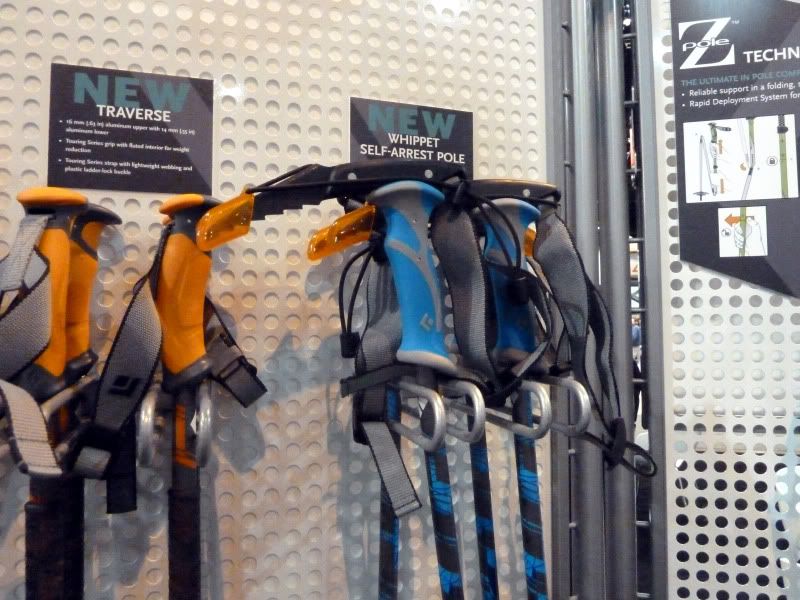 Black Diamond skins are currently our favorite skins on the market. Gaining popularity is the split skin, shown on the left, intended for skis 115 mm or wider underfoot. With backcountry skiers venturing further with fatter skis, this skin fits a growing niche in the market. The goal of this skin is to save a bit of weight while also significantly improving glide.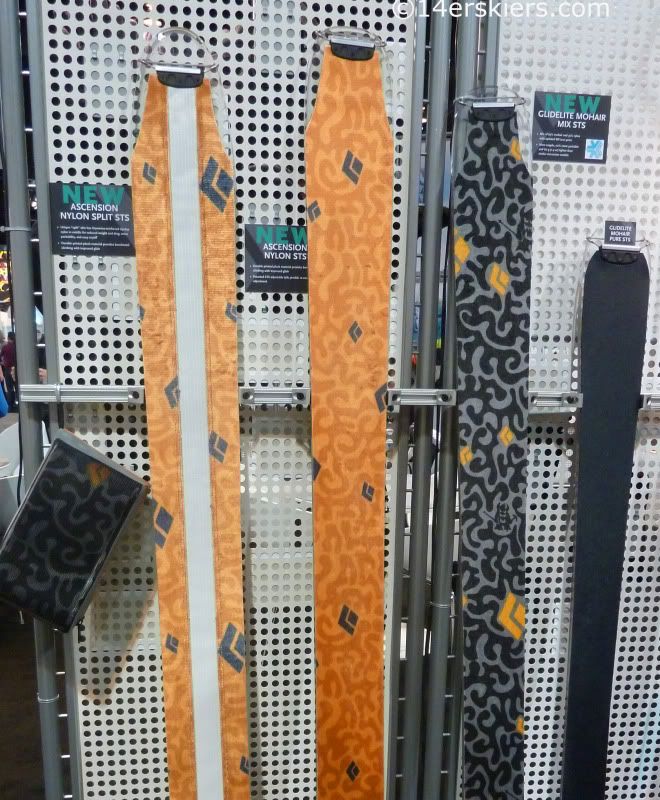 Users will notice some changes in the BD skins as well. They've made them noticeably thinner, for a beneficial weight savings. At the same time they changed their glue to improve adhesion in colder weather. Lastly, but perhaps more importantly, they lengthened the "hairs" on the skin, to improve both glide and traction.

One of the neatest changes we saw was the addition of the Ergoactiv system to their Covert pack. This unique system allows for flexibility at the waist.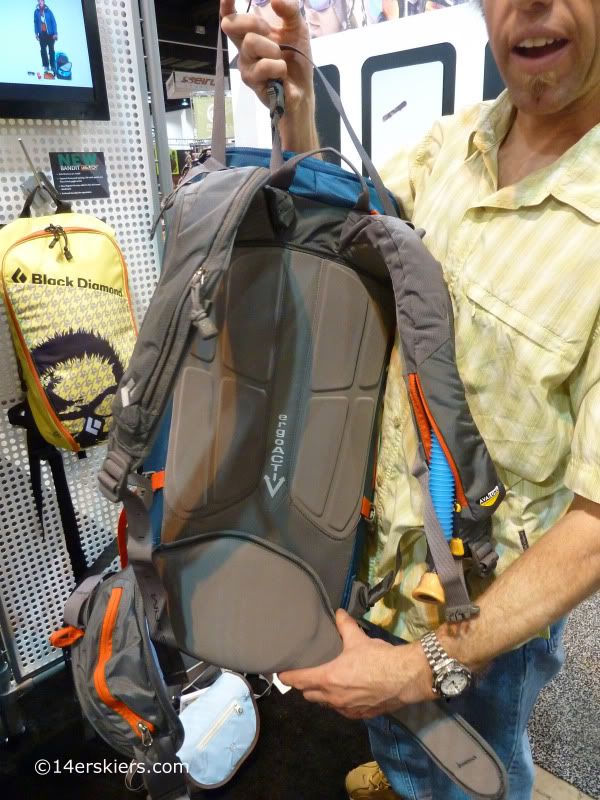 Observing the system and how it works is one thing, but actually trying it on is another. Both Frank and I were pleasantly surprised at how noticeable this feature is on the pack. This Ergoactiv system improves both comfort and flexibility, especially when you need to bend down and mess with something on your boot or bindings. We felt that more packs should carry this feature.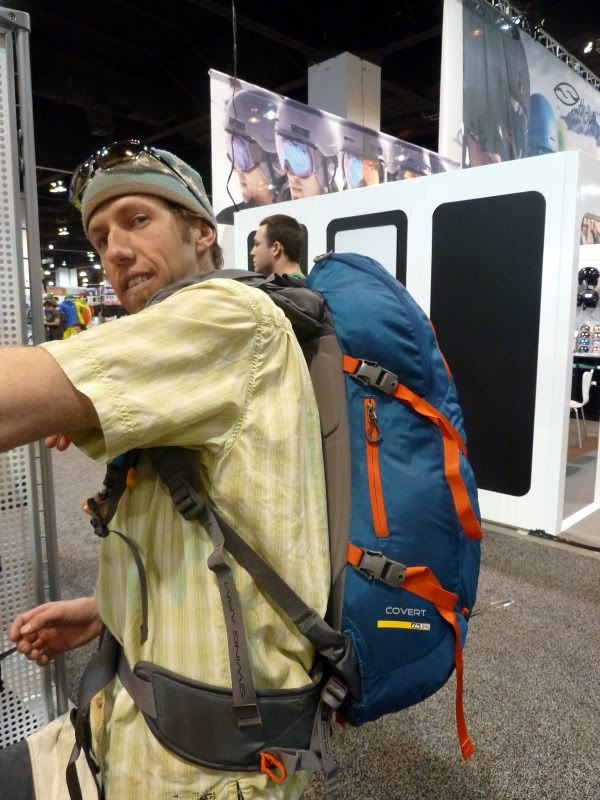 While most backcountry skiing pack companies are in the process of developing some sort of airbag system, Black Diamond has taken a step back in this technology. We were informed that BD will produce an air bag pack, but they are grappling with whether to continue to incorporate the Avalung or not. Have airbag packs made the Avalung obsolete? Or is there still a need for both features in a pack? These questions are an ongoing discussion. It will be interesting to see what BD develops from this in the future.
For ski boots, the line remains unchanged from the current season. Look for changes in 2013-14.
Thanks for the detailed tour BD!
Aside from skiing, biking, and all outdoorsy things,
Brittany Walker Konsella
also loves smiles and chocolate 🙂 Even though she excels at higher level math and chemistry, she still confuses left from right. Find out more about
Brittany
!
Latest posts by Brittany Walker Konsella (see all)