SIA: Tecnica Cochise, Cochise Light, and Cochise Pro
(Last Updated On: January 31, 2012)
Brittany headed down to Denver last weekend to attend the SIA show and check out some new gear. We have a lot of "quick-look" products to show everyone, and hopefully we'll get a chance to thoroughly test and review some of these products in the near future. We'd love to throw in some fun stoke from the backcountry as well, but we've pretty much cut out backcountry skiing for the time being thanks to the horrible snowpack we have here in most of Colorado. At least we have Alaska to look forward to in the near future.
In any case, one of our first stops was the Tecnica booth. I've been extremely happy with my Cochise boots (REVIEW HERE), but I wanted to learn more about them as well as some new offerings in the Cochise line-up. In my review, I stated that the Cochise boot was the first AT boot I've skied that truly skied like an alpine boot, something I've always wanted and hadn't previously found. So why do they ski so well?
Not surprisingly, they ski well because Tecnica did their homework. AT boots present a bit of a challenge for boot designers. After all, they're supposed to be light, have a tremendous range of motion, grippy soles, and then turn around and perform well on the descent. In an alpine boot, the upper and lower cuffs work as one unit, and inputs from the leg are quickly and decisively transferred from the boot to the ski. AT boots, on the other hand, have to separate the upper and lower in order to achieve a range of motion while in walk mode. In general, the upper and lower are connected in three places- the two hinge points at the ankles, and usually with a metal bar or rod in the back of the boot. Just how much lateral stiffness does that provide? Even rearward in some cases? Not much, in my experience. That's great if the latest greatest stiff boot claims a forward flex of 200- if the lateral flex doesn't match it, you might as well put some dynafit fittings in your street shoes and ski that way.
Tecnica tried to mate the upper and lower cuffs of the Cochise, and I think they've made some great strides in that area. Here's the lower- notice the metal "H":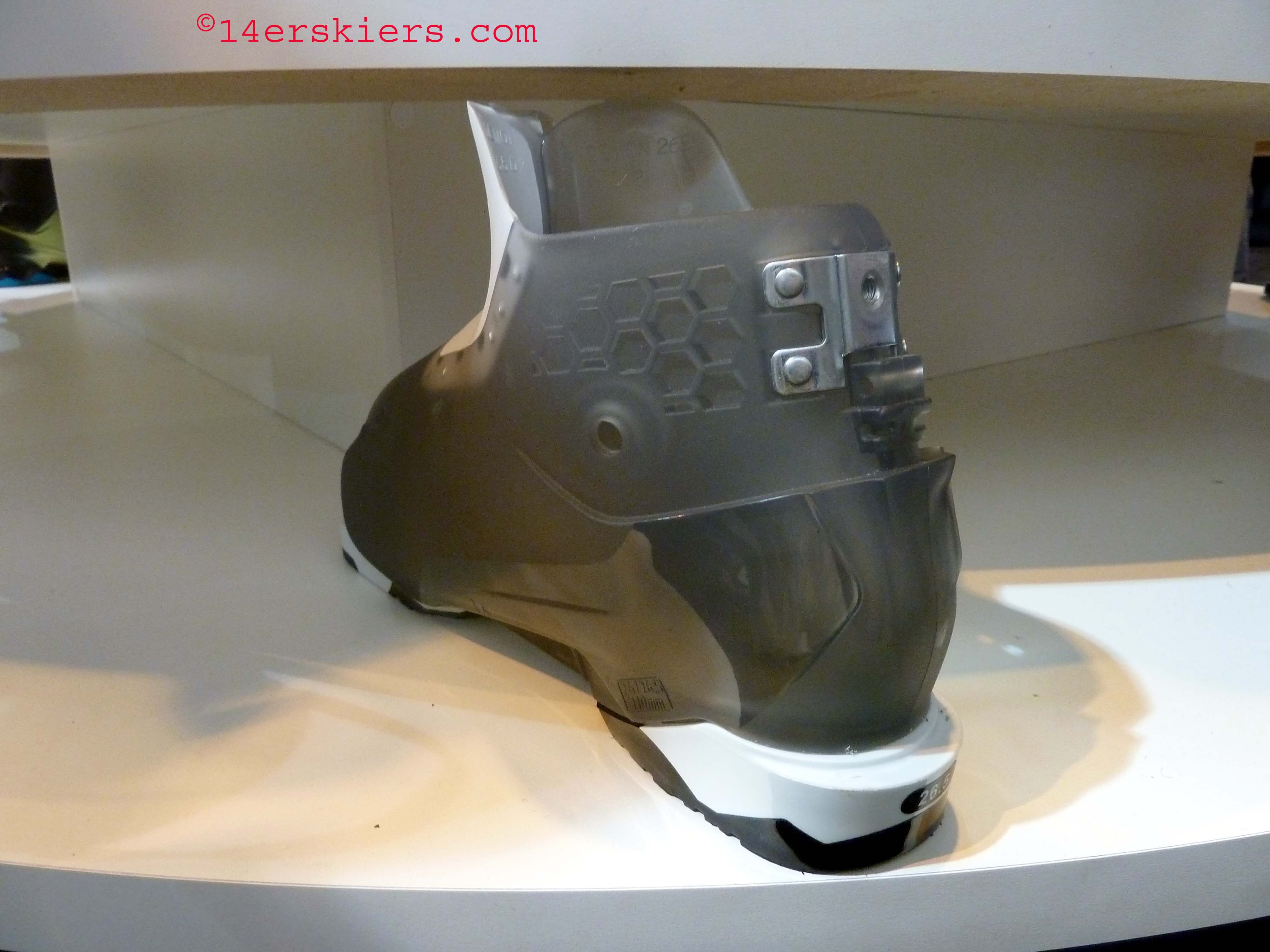 Here's a combo view with part of the lower cut away. There's a lot to look at- notice for one thing that the screws on the replacable soles go into T-nuts. Then there's the Tech fitting (sitting by itself in the heel pocket) that also has metal reinforcement. But you'll really want to check out the "T" fitting tied to the string in the middle of the boot. This is the part on the upper that fits into the "H" seen above. Click, click- upper and lower mated so much better than before.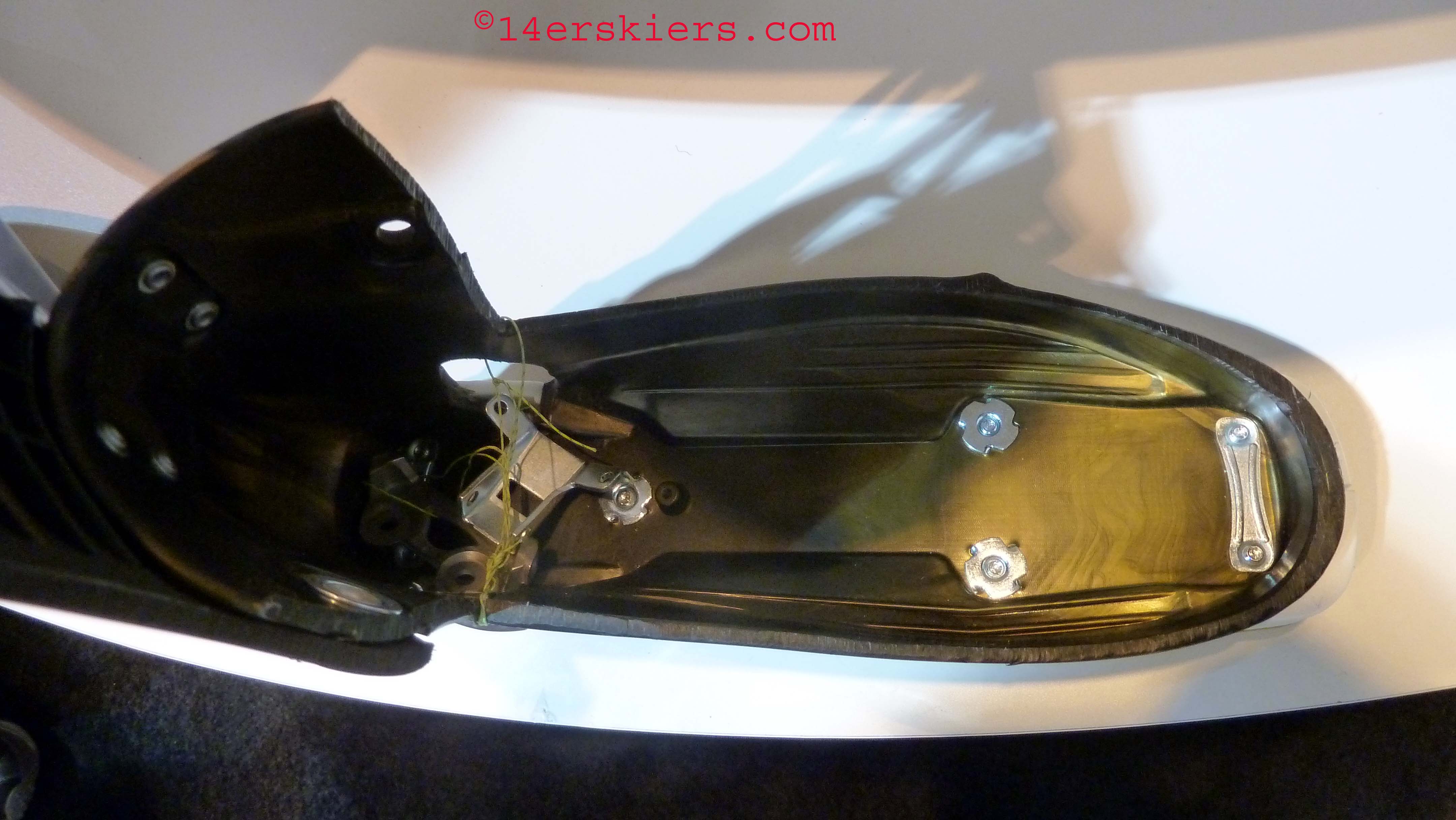 Another view with a cut-away window:

So there you have it- a big part of the reason why I think the Cochise skis so well. Meanwhile, the Cochise will have some cousins next year. First up is the Cochise Pro. Basically, it's the Cochise with slightly thicker plastic. This has three main results- 1) It's stiffer (130 vs. 120 for the standard Cochise) 2)It's narrower- 98mm last vs 100mm for the standard 3)It's heavier. I tried it on and found it to be a "wide" 98– I could probably adjust the fit and make this boot work, something I can't do with other 98mm boots (Salomon Falcon). The weight is noticeable– it would be a great boot in a place like Jackson where it could handle top-to-bottom tram laps followed by shorter bootpacks out Granite or Rock Springs, but I'm not sure I'd grab this boot on a 12+ hour tour up a 14er. It comes with standard soles (non- tech), so I feel pretty safe saying that this is where they see this boot. (Yes, you can get tech soles). The Pro is on the upper left: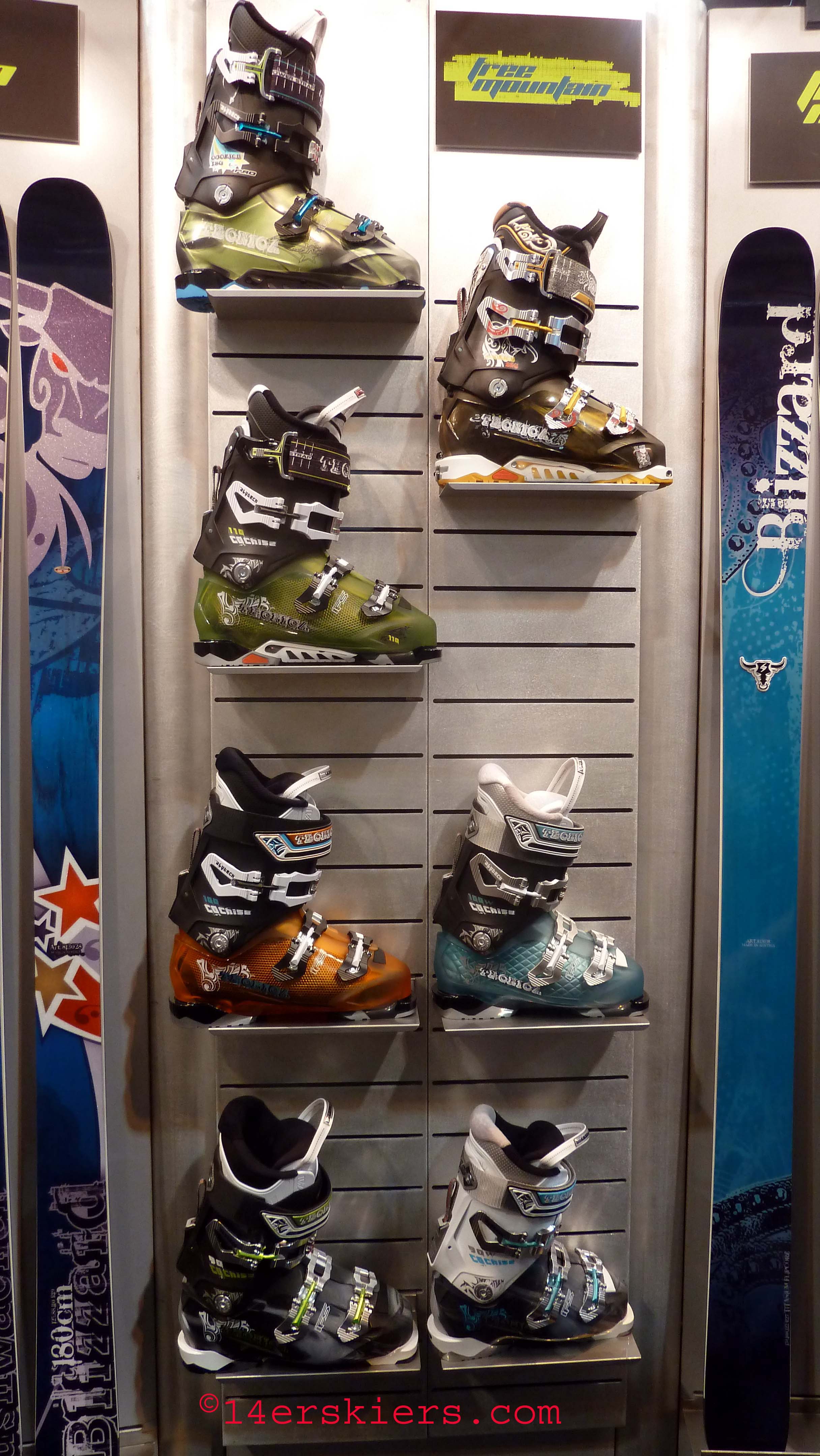 Then there's the Cochise Light, and I really hope to put this boot to the test this spring. Tecnica replaced the three buckles with lighter weight ones, replaced the top strap/buckle with just a strap, removed the rubber instep grip, and went to a light, moldable (and from what I could tell, awesome) Palau liner.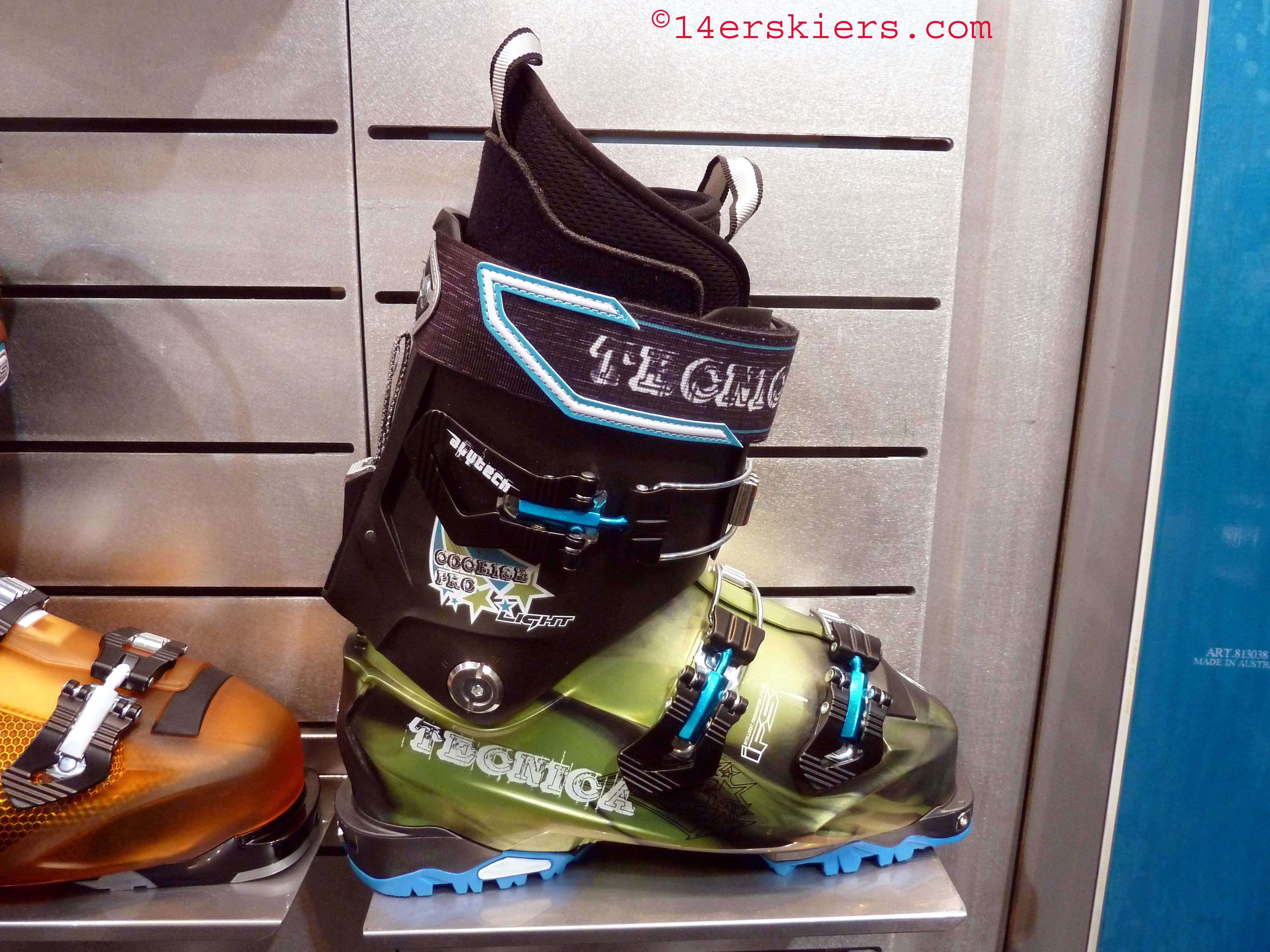 The result? Reportedly, a roughly half pound per boot weight savings. Yes, that's about a pound for a pair. Impressive. I would miss the instep rubber while snowmobiling, and I would guess that I'd put a bit of weight back on by replacing the strap with the strap/buckle, but still, I want this boot. That's it- more to come from SIA soon…
Frank
loves snow more than anything... except his wife.  He ensures his food is digested properly by chewing it 32 times before swallowing.He is a full-time real estate agent serving
Crested Butte and Gunnison
and would be honored to send you his
monthly newsletter.
Latest posts by Frank Konsella (see all)