Forget A-Frame, Forget Diagonal- Pull Those Skis
(Last Updated On: June 25, 2011)
On our recent "day before the wedding" ski of Whiterock Mountain, one of the things I was most excited about was trying a different carrying method for my skis. My friend Jon Johnston has long been using this method, and since he was down from Canada for the wedding, it was the perfect time for him to show me how it's done. A-Frame has always been my least favorite method, as it is time-consuming to set up and I always seem to hit my calves on the tails. Diagonal is a bit better for me, though it really depends on the backpack and it's still easy to catch your tips when climbing steep terrain. Pulling the skis avoids both of these problems.
Jon showing the technique: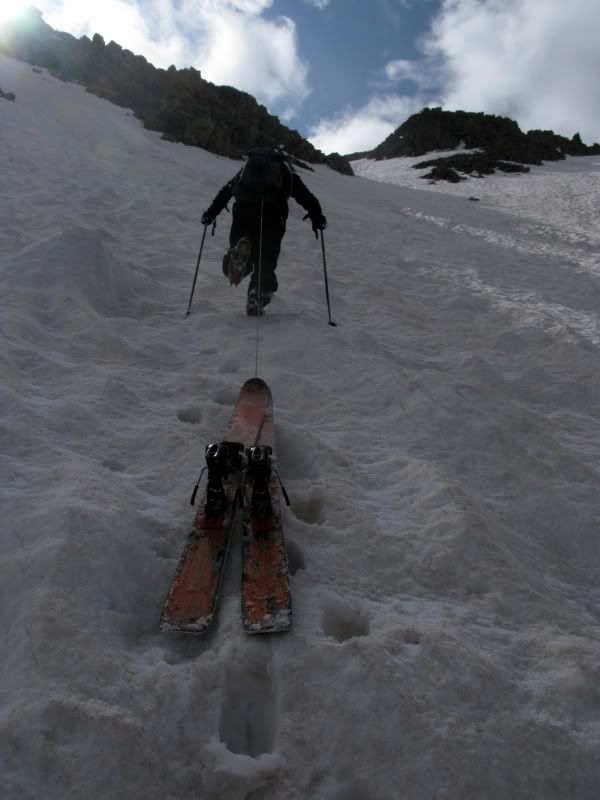 Jon gave credit to Peter Ressmann for developing the technique while they were on Mount Saint Elias along with Axel Naglich, filming the movie of the same name. It makes a ton of sense to pull skis on a huge expedition-style ascent like Mount Saint Elias, when you'd already be carrying massive loads from camp to camp. I kept seeing Jon using the method over the past few years, so it looked like it must be a viable method even on a more standard day trip. Conditions in Canada this past winter prevented me from ever trying the technique- we were too busy stepping off the snowmobiles and shredding powder spines– so I was glad Jon joined us on Whiterock for another try.
It's pretty simple to set up. Drill a hole in each ski- I used a 3/16″ bit. Some epoxy is probably a good idea as well. Grab a few feet of cord, tie a couple of stopper knots in one end, and thread the cord through the skis. Rotate the dynafits so the brakes are up, orleave the Fritchis in the high bar so their brakes don't drag. Tie a figure 8 into your ice axe loop on your pack and start hiking. Close-up:

So, how did it work? I'm not 100% sold, but it's something I'm definitely putting in my bag of tricks. On flatter ground, it works really well- you don't even know the skis are there. Steeper terrain really works well, too- once the backpack and the skis are more or less parallel, the skis again seem to disappear. It's on the moderate terrain of say 30-40 degrees that I'd just assume have the skis on my pack. There's simply something in the angle that makes the skis pull strangely on moderate slopes. One thing I was worried about was how it would pull through mixed ground, or even on the suncups of summer. It's pretty amazing, actually- the skis simply find their way and you don't even have to worry about them. All in all, I would recommend the technique, it's definitely worth a try. A long, steep face climb would be the ultimate proving ground.

A clip from St Elias. Check it out around :20seconds…

Shop Backcountry.com CLEARANCE SALE Now – Unlimited Return Policy – Limited Time Only
Frank
loves snow more than anything... except his wife.  He ensures his food is digested properly by chewing it 32 times before swallowing.He is a full-time real estate agent serving
Crested Butte and Gunnison
and would be honored to send you his
monthly newsletter.
Latest posts by Frank Konsella (see all)