All Treat, No Tricks: Cinnamon and Baldy 10.28.10
(Last Updated On: October 29, 2010)
After a quick lap in the Anthracites the day before, I knew 2 things: the skiing is really, really good for October, and I wanted to get higher. So, Pete Sowar, John Jasper and I headed out towards Paradise Divide with a number of possibilities grabbing our attention. We wanted to go deep, real deep, towards North Pole Basin or even Bear Basin off Treasure Mountain, but we got off to a late start and didn't even make it to Elkton, so we re-evaluated our plans and made a beeline towards Baldy.
Our mountains have quickly turned from a fall playground into a winter one, with Crested Butte's "pow cam" getting literally buried. This shot was only halfway through the storm:

The higher peaks to the West and North were even more buried. To say we're off to a good start is, at this point, an understatement. Let's hope it keeps up and we're left with a nice stable base for the rest of the season. As we skinned up the South side of baldy, I came to the unfortunate realization that my camera batteries were dead. I had just replaced them, but the rechargeable AA batteries must have never been recharged. It was a bummer, but the skiing was still superb. After our second lap of the day, I was scrounging around my pack looking for sunscreen, (which I did not find, and my face is burnt, so don't forget your sunscreen as we begin the ski season) when I found some other batteries. While they died last spring, they had regained just enough juice to take a few photos.
WSC bowl is named because it is very popular with students from Western State College at this time of year. A few years back I even saw a college student with a full-length garden shovel sticking out of his pack. At least he had something, I guess. In any case, here's our tracks. The skiing was probably as good as it gets in October, with a supportable base and no rocks at all.

The second lap took us down "Skinny Cinny", a couloir that drops off the summit of Cinnamon to the South. The first time I skied this line was way back in October 1996, a year that also started off really strong. We walked all the way from Pittsburg in the Slate River valley that time, and skied it with our 205 skinny skis. I can't think of much that I miss from those days. "Skinny Cinny" isn't all that skinny right now (our tracks are hard to find, but they're in there):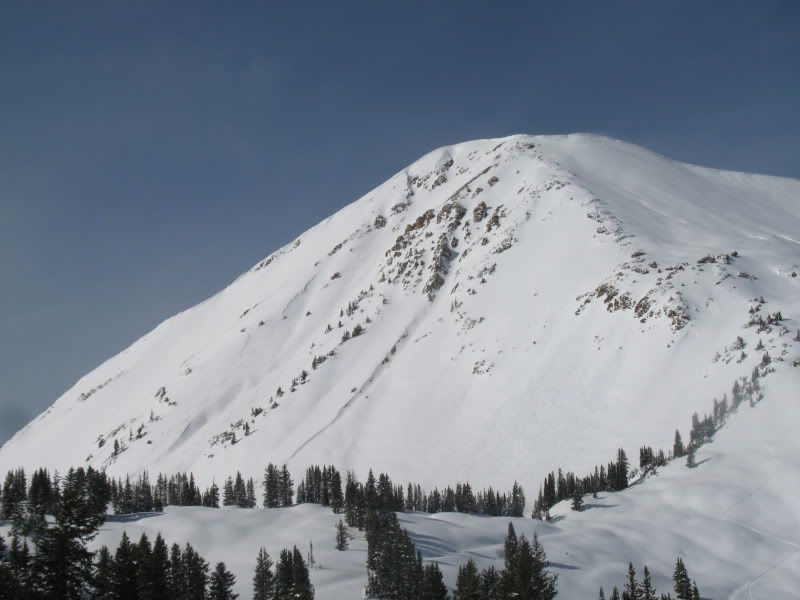 All that was left after our second lap was another trip up and over Baldy.

Looking North towards Siberia, Capitol, Snowmass, and Hagerman:

Taking a break and looking towards Crested Butte: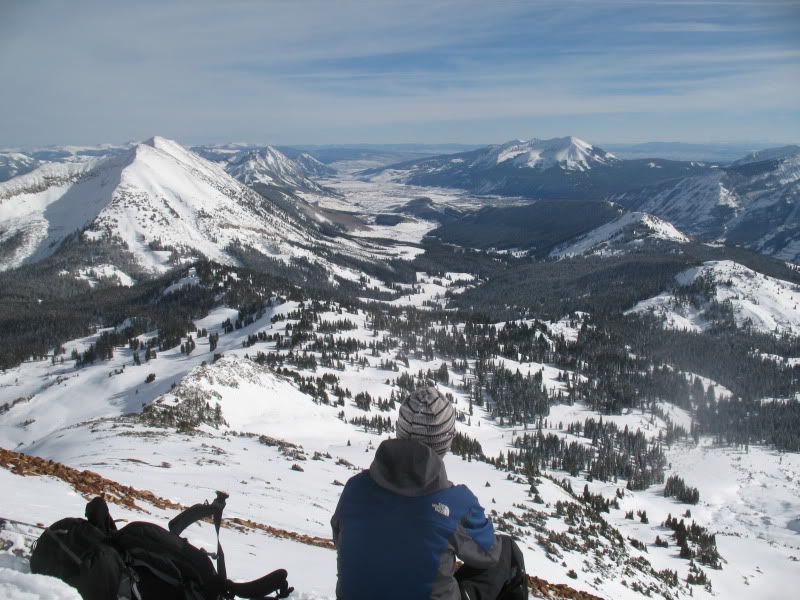 Even at the end of a hot, sunny day, the South side of Baldy was still skiing very well. That said, I'm not sure how many sunny days the South faces can handle.

Conditions are unbelievably good right now. This is a great start to our base, but of course the fear is that all this snow now will simply be a rotten avalanche causing mess later on this season. Right now it looks like we're heading into warmer and dryer temperatures, so we can only hope for the best. At least the skiing will be good in the short term.
On Sale – Women's Softshell, Fleece, Down & Rain Jackets Up To 50% Off At Backcountry.com. Valid While Supplies Last.
Frank
loves snow more than anything... except his wife.  He ensures his food is digested properly by chewing it 32 times before swallowing.He is a full-time real estate agent serving
Crested Butte and Gunnison
and would be honored to send you his
monthly newsletter.
Latest posts by Frank Konsella (see all)