(Last Updated On: April 19, 2018)
In 1995, Christian Begin released his award winning movie, "Locomotion". A ski movie with an actual storyline, Locomotion told the tale of Roger's Pass and the terrible toll it took on the men who built it. In 1871 Canadian Prime Minister John Macdonald promised the people of British Columbia that a transcontinental railway would be built within 10 years, as an incentive for the people of B.C to join the new Canadian Union. Without a railway linking B.C to the rest of Canada, there was strong talk of B.C joining the U.S.A. Unfortunately for Americans who wish they could live in B.C, Roger's Pass was discovered and the railway was built, though not without the loss of many lives due to avalanches that plagued the route. 58 men were killed in one avalanche alone, on March 4, 1910. Begin's movie tells the history of this pass, and features the skiing that is now world famous at Roger's Pass.
Today, Roger's Pass is a huge destination for ski touring. Several areas of the pass are permanently closed for highway crews to study snowpit data and for avalanche blasting. Other areas need a permit at the Roger's Pass Centre, and may be closed due to avalanche control work. We arrived at Roger's Pass with a few inches of new snow, fog, falling snow, and high avalanche danger due to several buried surface hoar layers. Meanwhile, just prior to our arrival, daytime highs had been hitting the low 50's even at the tops of the highest peaks in the area. Reports of avalanches on these buried layers were everywhere, with some slides occurring even on low angled slopes.
With that in mind we discussed our options with the friendly rangers at the Centre, and they eventually steered us to Loop Creek and the Bonney trees, which were less crusty due to their northern aspects, and popular enough that some of the snowpack weaknesses would be less of a concern than other areas.
Our views looked like this for much of the day: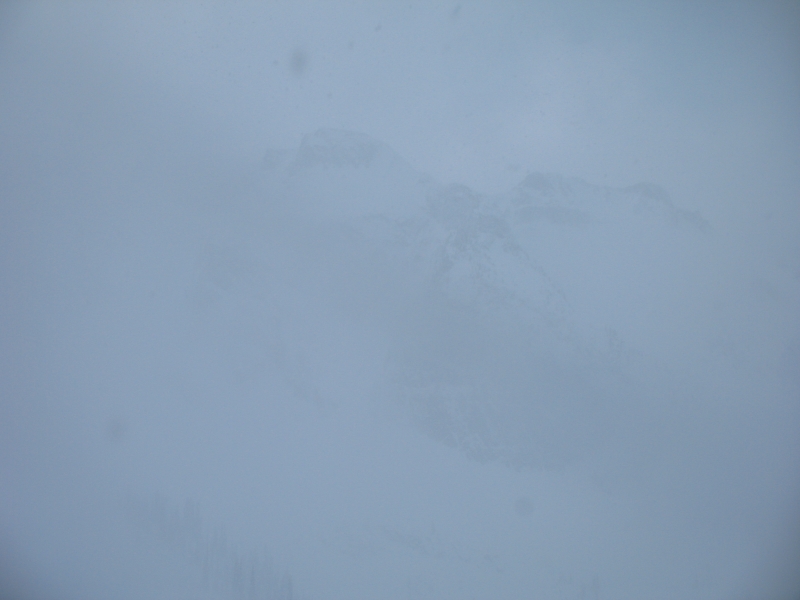 It was a pity not to be able to see these huge mountains and their tremendous relief (ski descents of 5-6,000′ are common), but we continued up through the fog and occasionally saw some enticing terrain: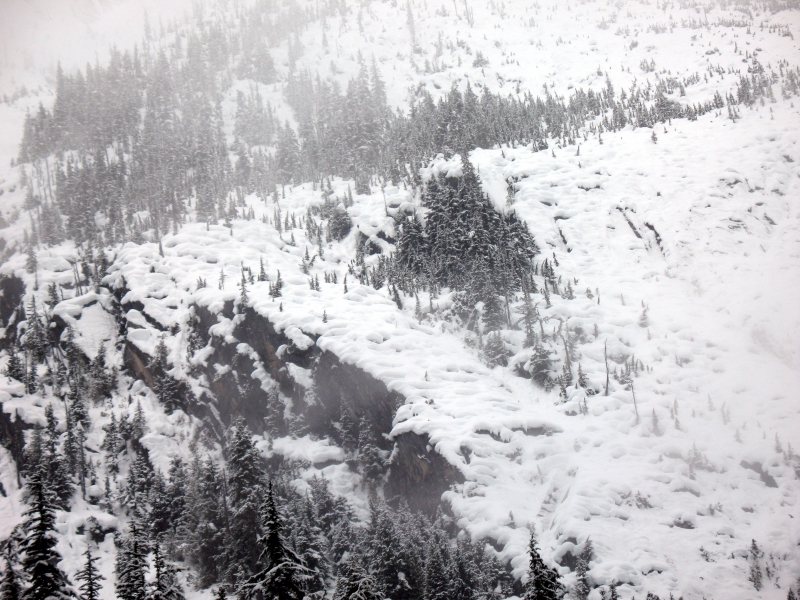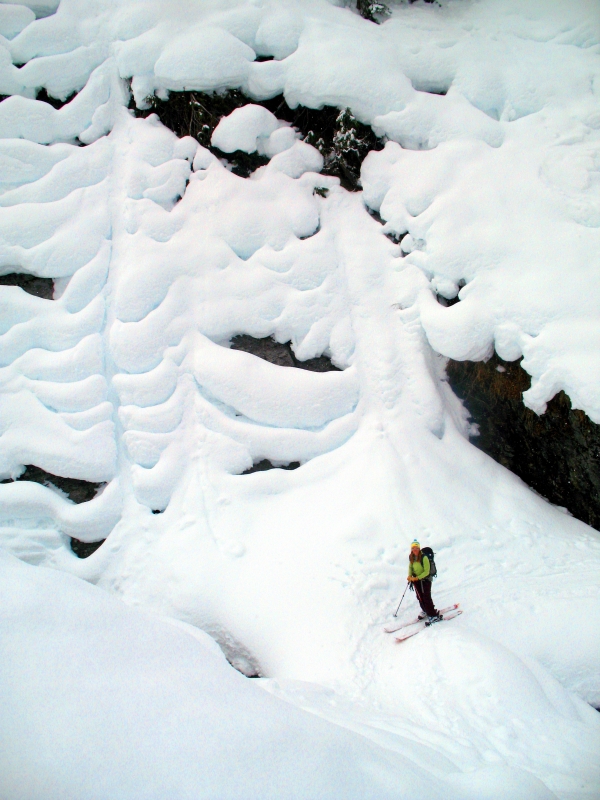 Gap jump, anyone?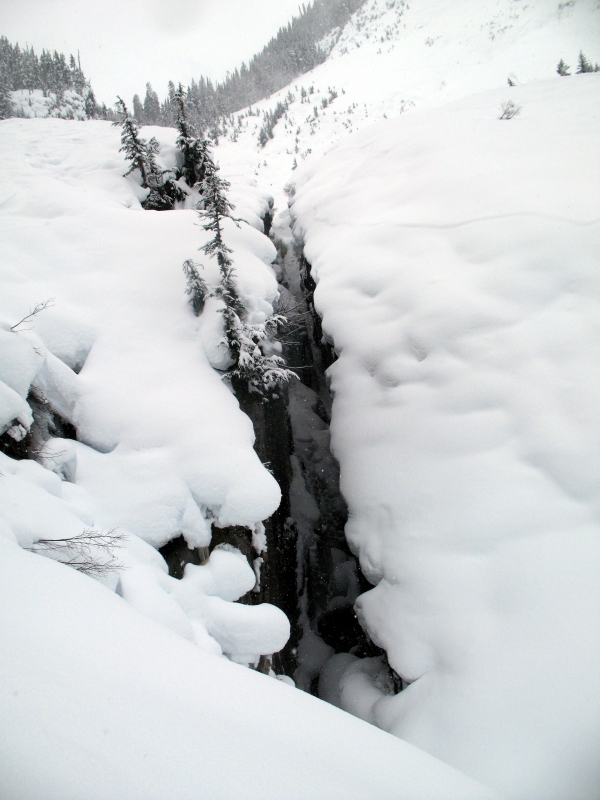 We also passed some of the old railroad towers, since replaced with a tunnel. 90 degree pillow lines, oh yeah!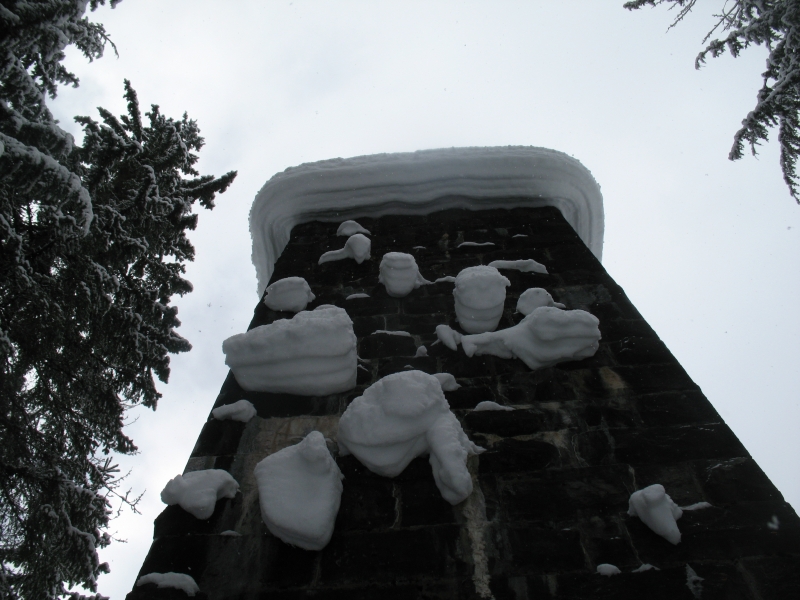 We reached treeline and that was the end of the road for us, as the visibility was no where near good enough to continue onward. The snow quality had improved greatly as we headed up, and we were now set to ski well over a foot of fluffy fresh snow. Brittany: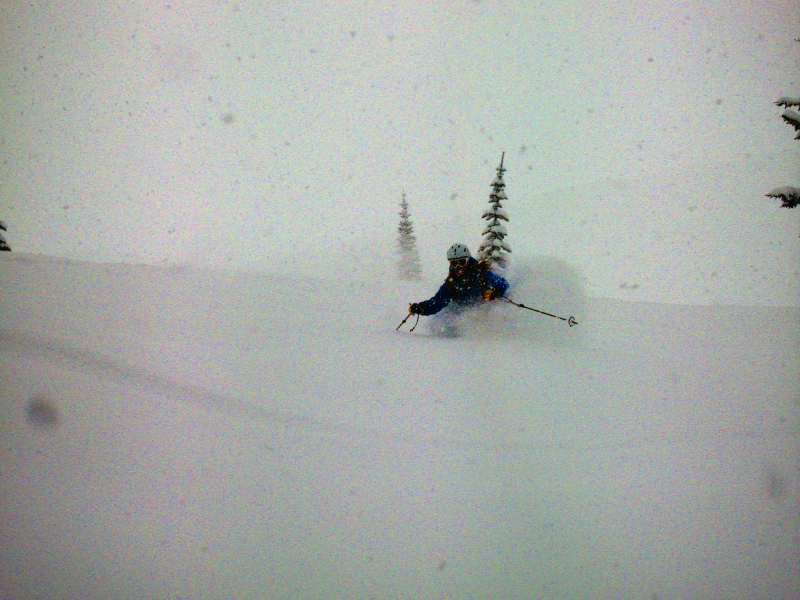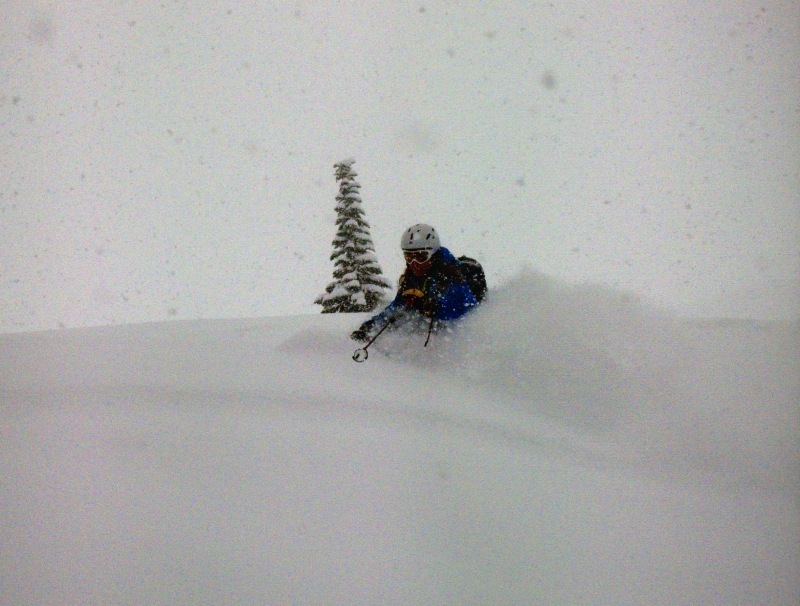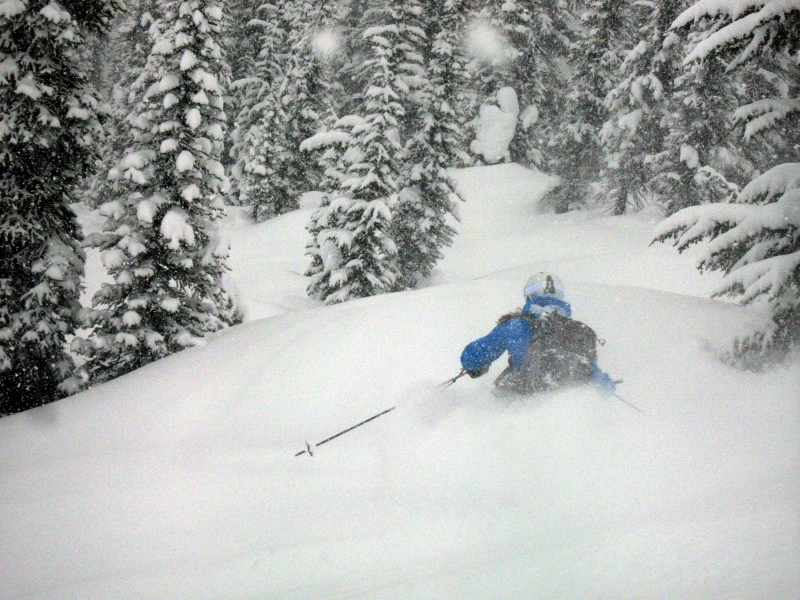 Frank: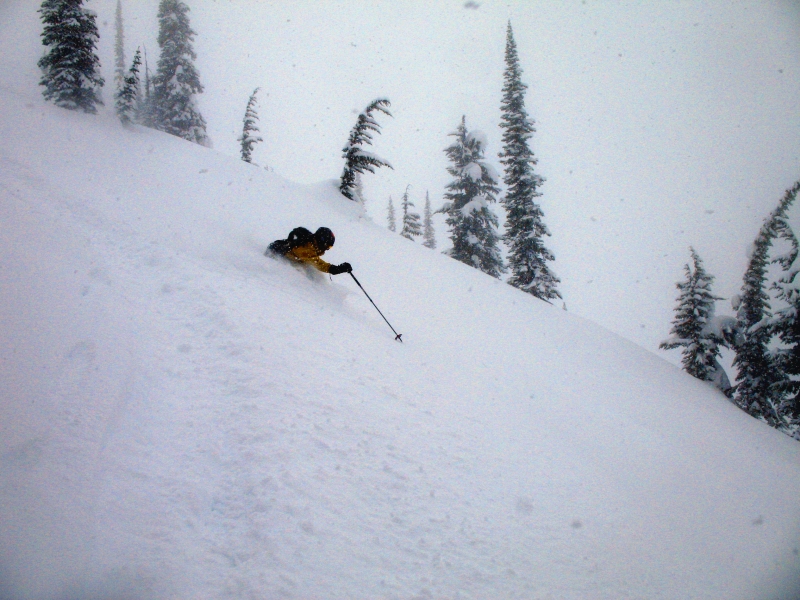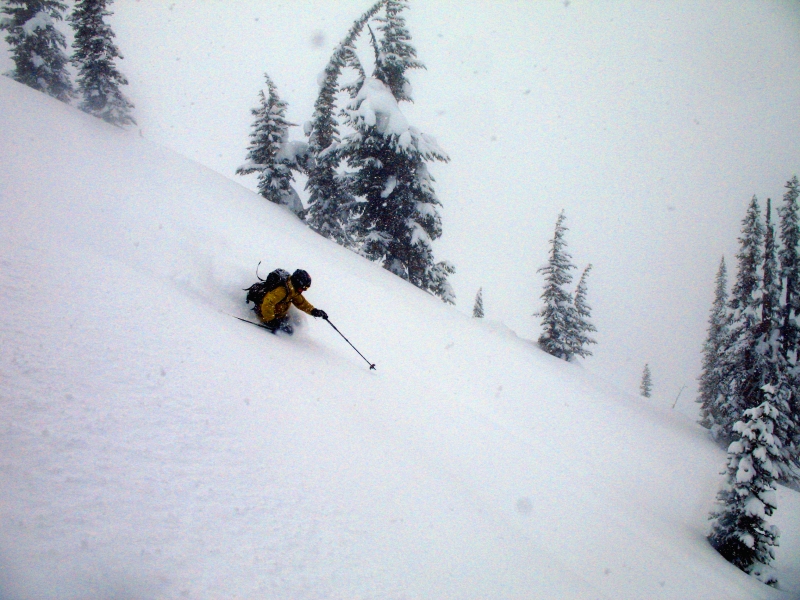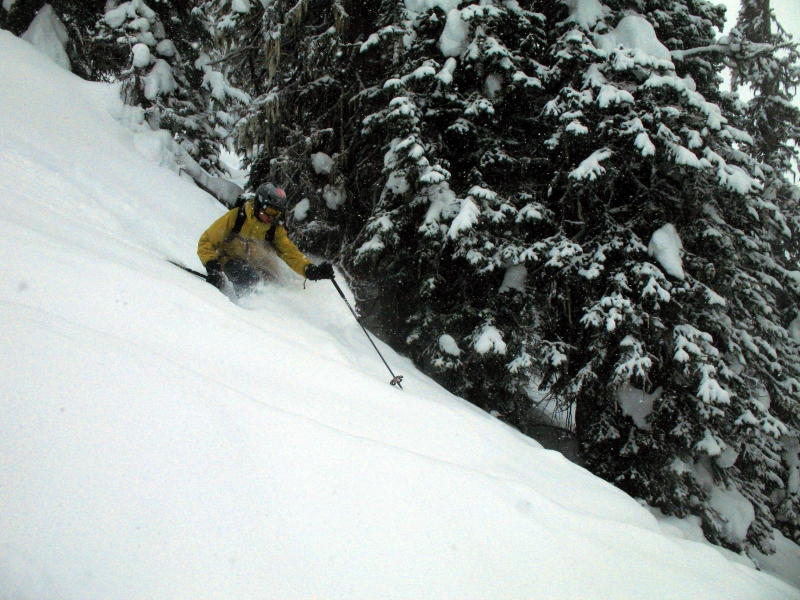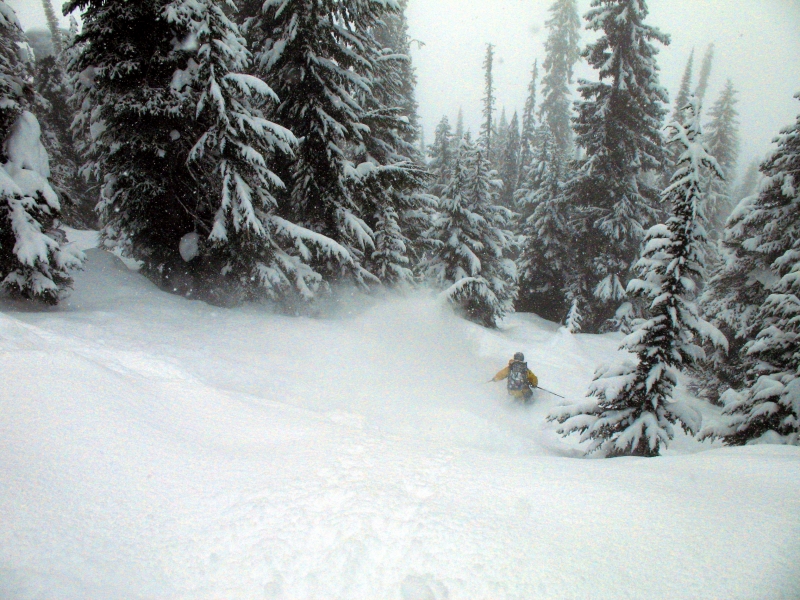 We stumbled into this clearing, which was steep and filled with pillow after pillow after pillow, all around 5′ high. While the photo does it no justice, this 1000′ of skiing was my favorite of the whole trip.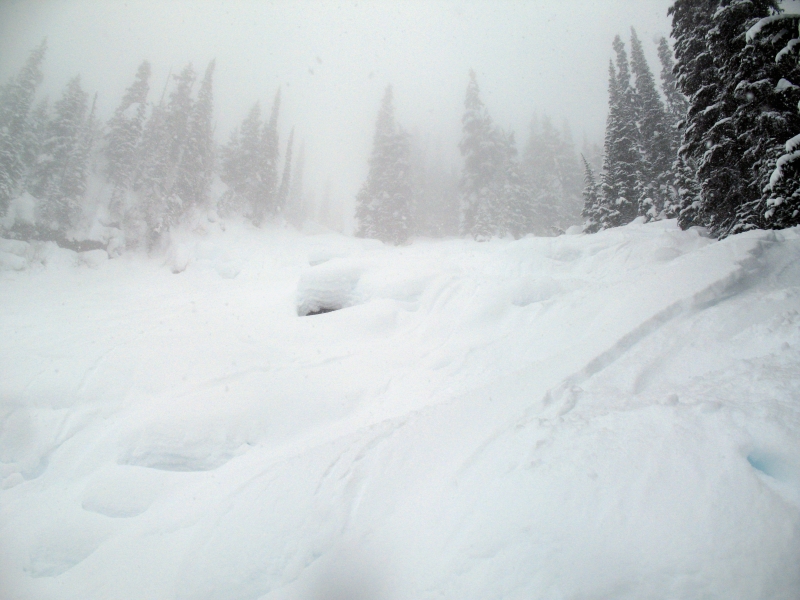 While we had planned on skiing Roger's Pass for at least a couple of days, the avalanche and weather conditions kind of forced our hand a little, and this would be the only day we skied Roger's. Still, Roger's Pass remains as one of the epicenters of North American skiing, and we were grateful to experience it, if only for a day. Next stop, the 2 year old resort of Revelstoke…
Other Montana-Canada Road Trip Blog Posts
Road Trip Update
Itinerary
Bridger Bowl
Whitefish
Fernie
Kicking Horse
Roger's Pass
Revelstoke
Nelson and Whitewater
Red Mountain and Rossland

Frank
loves snow more than anything... except his wife.  He ensures his food is digested properly by chewing it 32 times before swallowing.He is a full-time real estate agent serving
Crested Butte and Gunnison
and would be honored to send you his
monthly newsletter.
Latest posts by Frank Konsella (see all)
Summary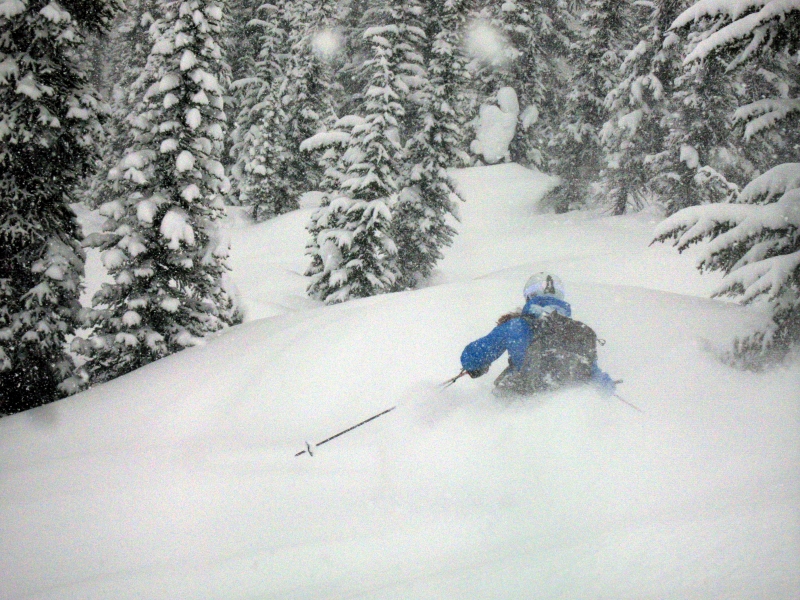 Article Name
Description
Part of a series of posts from our skiing road trip to Montana & Canada. This segment features excellent powder turns on the famed Roger's Pass!
Author