Mount Emmons: Coon Basin to Climax Chutes 3.20.10
(Last Updated On: March 22, 2010)
After a quick 6-12″ storm late last week in Crested Butte, Zach, Brittany and I headed out to see how things were. Unfortunately, our nemesis of the past 2 weeks, the wind, was back again. Our original plans had us going to Redwell, Wolverine, or both, but the wind was taking the snow right off those basins, so it was time to switch plans. Conversations are always tough when conditions are like this:

The new plan involved Coon basin, which Zach had skied recently, although neither Brittany or I ever had. It turns out to be a short and sweet bit of terrain that I can see myself going back to. Zach: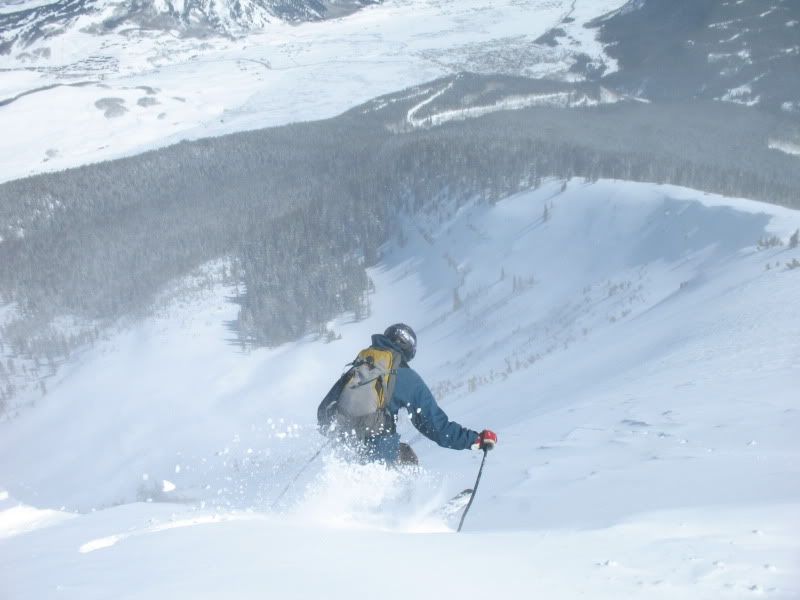 Frank:

Our tracks:

Looking back at Coon and Mt. Emmons:

From Coon, the hike back to the top of Climax ridge is a quick 20 minute skin. I used to ski Climax quite a lot, which was an easy skin from the top of Trapper's Crossing subdivision. A few years ago things changed and parking or even driving on the road would likely get you a trespassing ticket. If the rumors are true, it's hard to blame the homeowners for shutting down access. Most of the homes in this subdivision sit empty most of the year, which led some idiots to do some dumb things. In one case, a mattress was dumped on the side of the road at the end of the ski season. In another case, a Blue Spruce was cut down in someone's yard, one which had been planted by landscapers, not just a natural one. Hope they enjoyed their Christmas tree.
Access to Climax is more difficult these days, so it sees a lot less traffic than it used to. I had had some amazing turns on Climax in the past, so I was excited to ski it again. It was as good as I remember it (Zach):

Brittany:

Good times, Great oldies. 'Til next time…
Frank
loves snow more than anything... except his wife.  He ensures his food is digested properly by chewing it 32 times before swallowing.He is a full-time real estate agent serving
Crested Butte and Gunnison
and would be honored to send you his
monthly newsletter.
Latest posts by Frank Konsella (see all)