Shredding The Gnarnia Of The Red Lady Glades 12.11.09
(Last Updated On: December 14, 2009)
The Red Lady Glades, on the flanks of Mount Emmons outside of Crested Butte, are one of the steepest descents anywhere in the world. It has rarely been skied, and only by the most experienced and risky skiers. I've looked at this steep face ever since moving to Crested Butte, and finally decided yesterday was the day to risk everything for a rare descent. I brought Adam Buckwalter along, who at the age of 19 would surely be the youngest skier ever to complete this sketchy descent.
On the climb, I was able to carefully take this photo of a leaf with my point-n-shoot, thankful I didn't have a SLR which would have been too awkward to take out on such steep terrain. I don't think people realize the danger getting shots like this entail.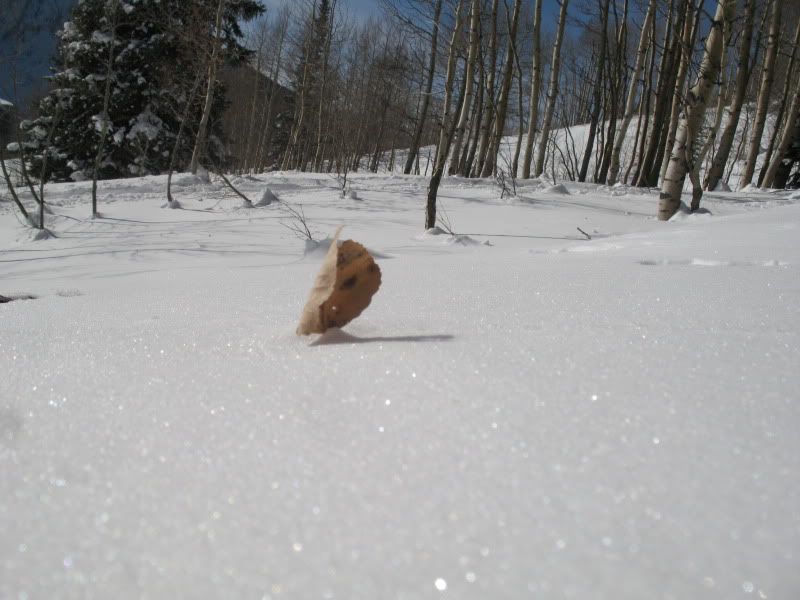 Higher up we discussed roping up while negotiating these gaping crevasses, but decided to risk it knowing how long the rest of the ascent would take.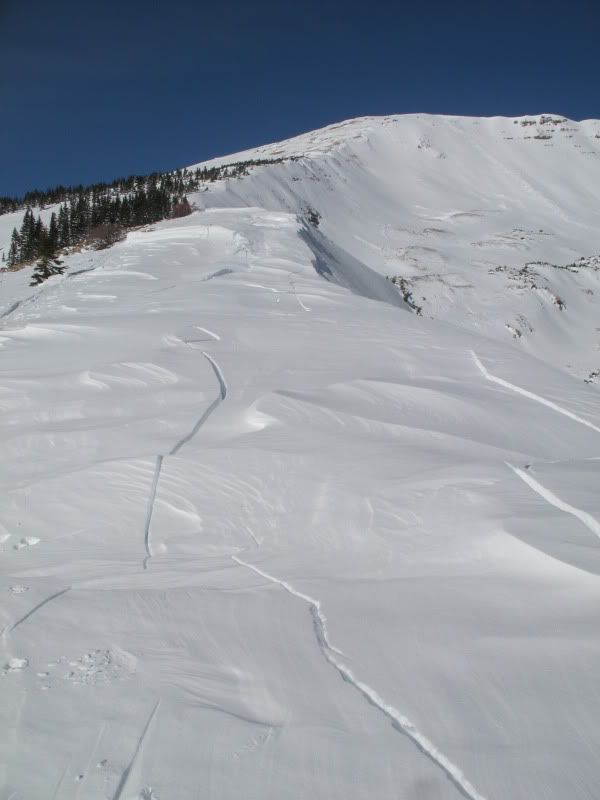 The ascent was too perilous to take any more photos on the way up, and filled with dangerous moments too scary to discuss at this time, but we were able to reach the summit. Ruby/Owen/Purple: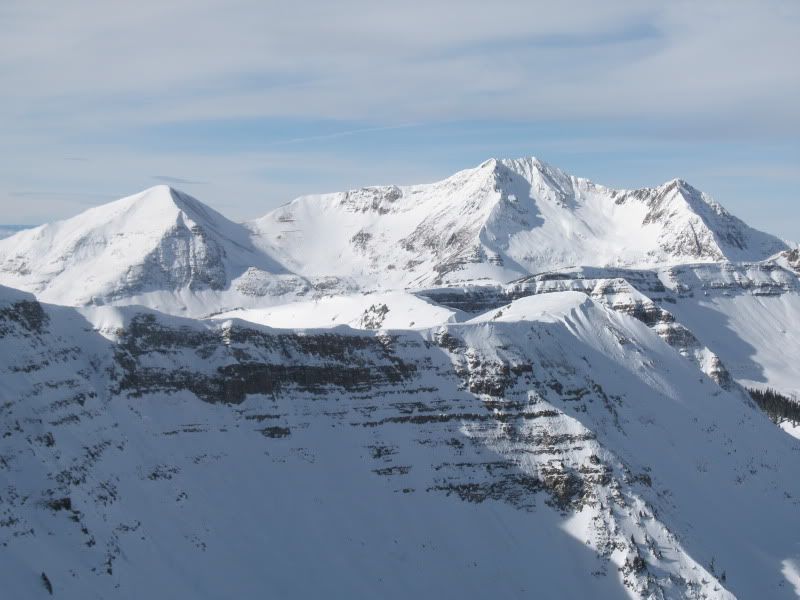 Another group had completed the ascent as well, but were too scared of the glades and opted for turns in the bowl instead: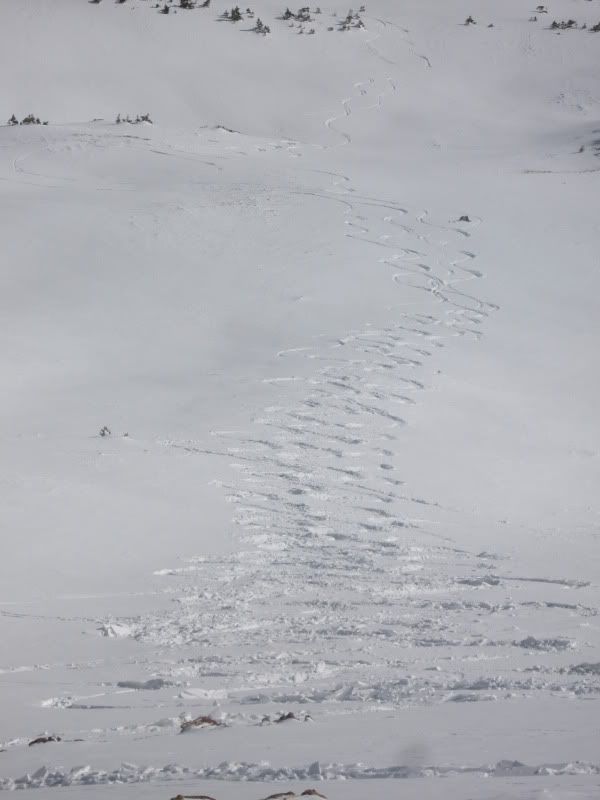 Prayer flags mark the summit and we hoped they would guide us safely on our upcoming descent.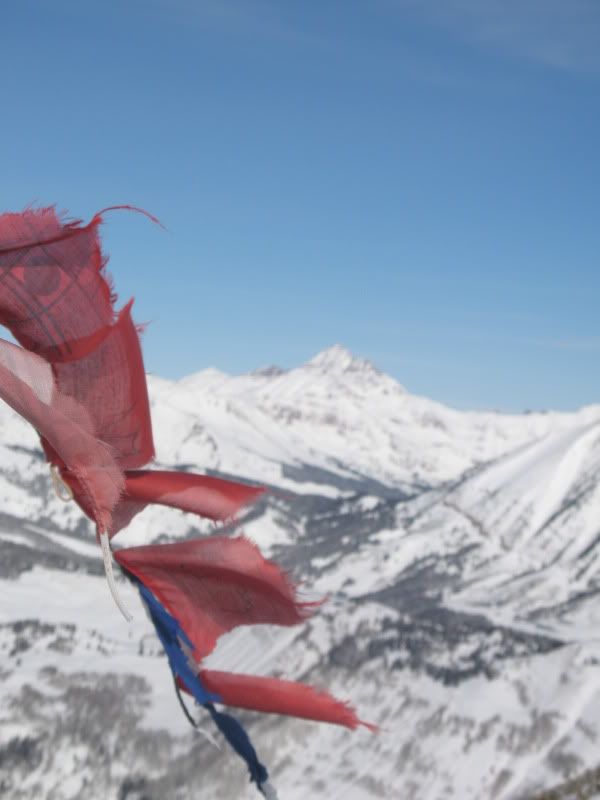 Adam negotiates a turn halfway down the descent. On terrain this steep, the margin for error is exceedingly small and our adrenaline was maxing out.

I anchored myself to the near vertical wall with 5 ice screws and a couple of snow pickets to get this photo of Adam hanging it out on the edge: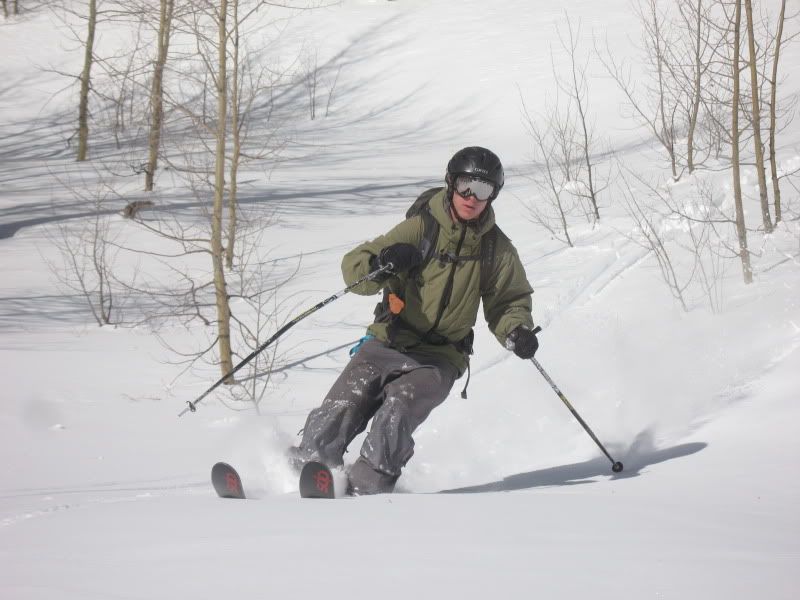 We completed the descent without incident and have been inundated with calls and inquiries from the press about how we were able to survive. We're still trying to wrap our heads around completing such a lofty goal ourselves, and words can't describe all the feelings and emotions that go along with a successful expedition like this.
Meanwhile, on a serious note… We chose the Glades because they are very low angled and the current snowpack is unbelievably weak. I often stepped off the established skintrack to get a feel for the snow and would get huge settlements that would shake the snow off the trees 25 feet away. Nearly any steep face seemed to have slid during last week's storm, hopefully scouring out the rotten snow beneath: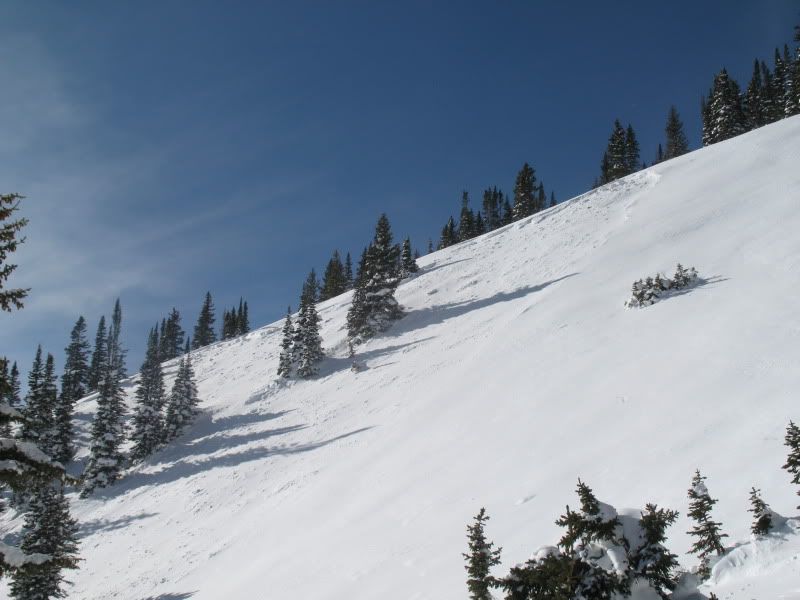 Our snowpack may still heal and give us a good season, but for now things are looking grim. Hopefully this weekend's storm will be a good addition to the snowpack and will either rip more bad snow out or at least start bridging it over. If not, this may be a season of low-angle turns in the backcountry until springtime, and a lot of days at the ski area.
Frank
loves snow more than anything... except his wife.  He ensures his food is digested properly by chewing it 32 times before swallowing.He is a full-time real estate agent serving
Crested Butte and Gunnison
and would be honored to send you his
monthly newsletter.
Latest posts by Frank Konsella (see all)