Best Desert Rides in Colorado (West of the Continental Divide)
Spring is upon us and it's natural for outdoorsy folk so start drifting their thoughts from dancing on skis to rolling on two wheels with a bike. The desert is the best place to play on a bike during the shoulder seasons in spring and fall, and Colorado is full of desert – some of it high desert, of course.
Although Moab seems to come to most rider's minds when they think of riding in the desert, Colorado can hold it's own. And every time I look, there's some other great desert ride I didn't know about. Here's our favorite list of best desert rides in Colorado.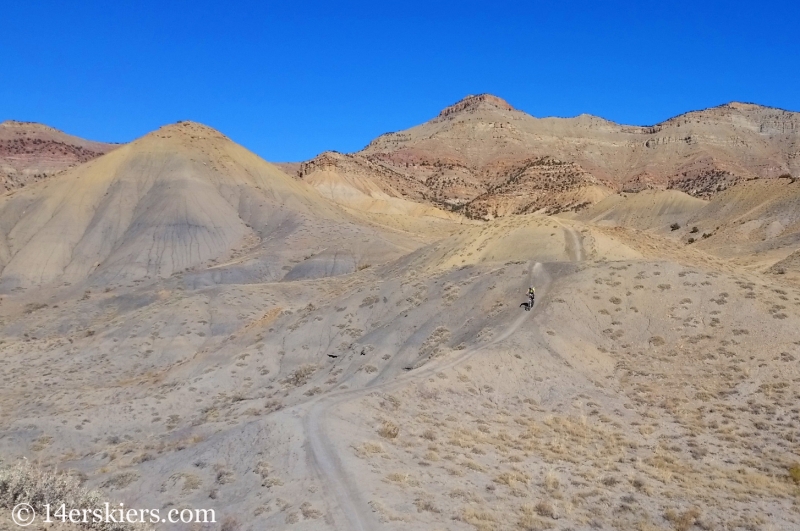 1) Loma/Mack Trails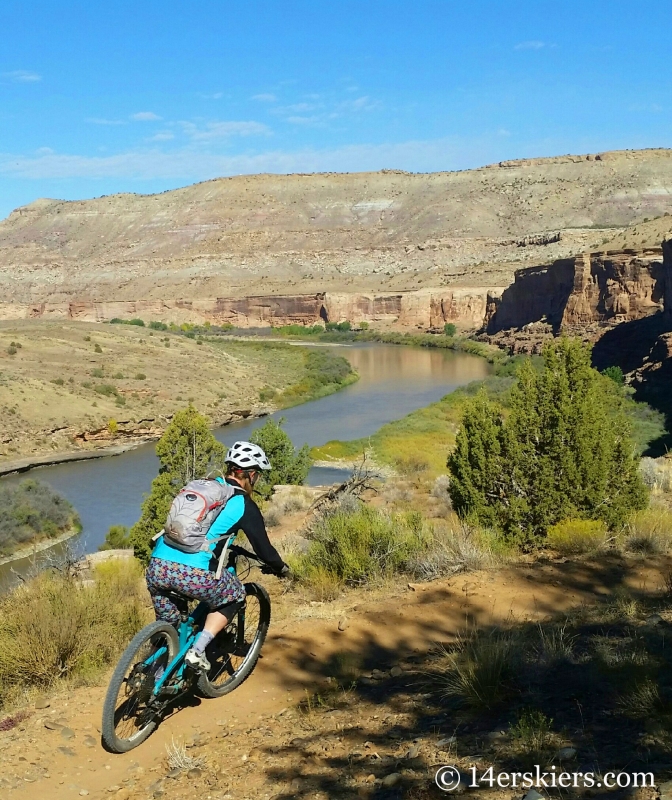 Just west of Fruita, the Loma/Mack area is considered the home of the "Kokopelli Loops". Though the Kokopelli Trail does start here, in continues 142 miles southwest through canyons and around the La Sal mountains, ending near Moab, UT. In this zone, you can ride the Kokopelli Trail, or many of the other scenic loops of the area – and believe me, they are scenic as they they overlook the Ruby/Horsethief Canyon of the Colorado River below. Some of our favorites include Horsethief Bench Loop, Moore Fun, Mack Ridge, and Troy Built. Nonetheless, there are miles of scenic trails from beginner to advanced to explore here. And it's certainly worth your time to do so.
2) 18 Road Trails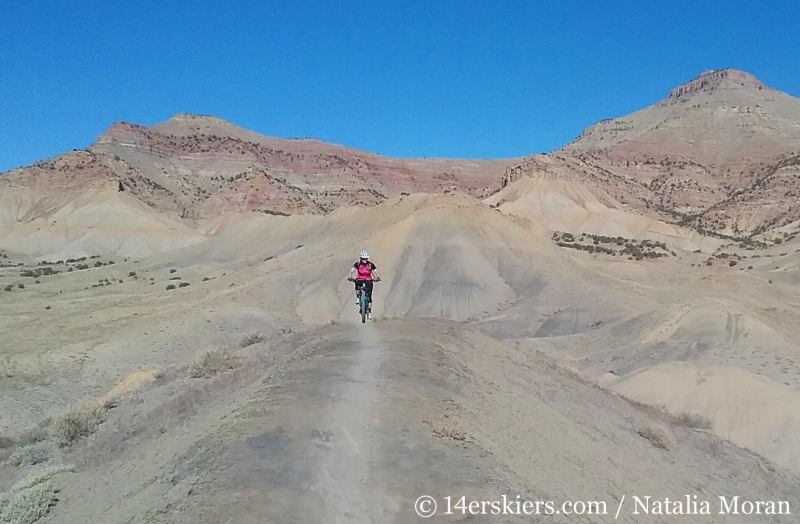 Riding in this area is much different than much of the other riding in the nearby area because it sits in a softer different geologic layer. Instead of the epic sandstone slickrock and huge canyon views, 18 Road riding makes you feel like you're in a barren otherworldly landscape, more reminiscent of a Star Wars movie set than one on planet Earth. Less technical than some of the other areas, 18 Road still has it's own flavor of flowy fun. Some of our favorite rides include Joe's Ridge, Zippity Do Da, and Kessel Run.
3) Grand Junction – Lunch Loops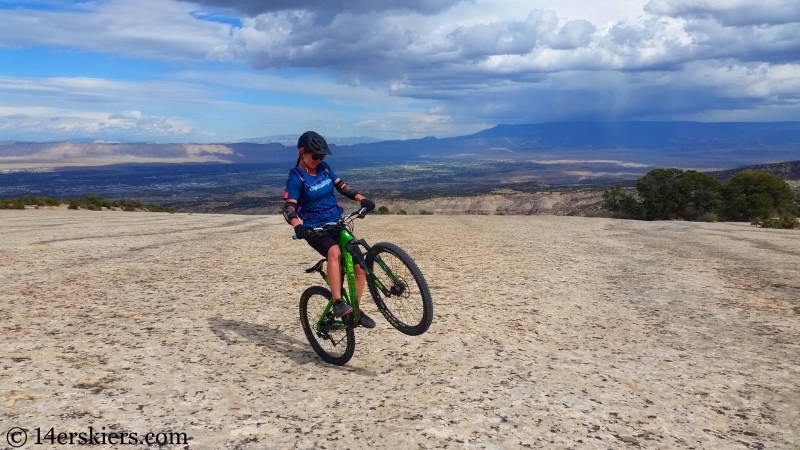 Just south of Grand Junction, the Lunch Loops are aptly named. You could ride to them on your lunch break from downtown GJ if you wanted. This extensive network of trails is mainly geared toward more technical riding and sometimes can be easily underestimated. But, even the best riders can get an ass-kicking here, so watch out. Some of our favorite rides include the technical Holy Cross and the wonderful slickrock of the Ribbon Trail.
4) Sidewinder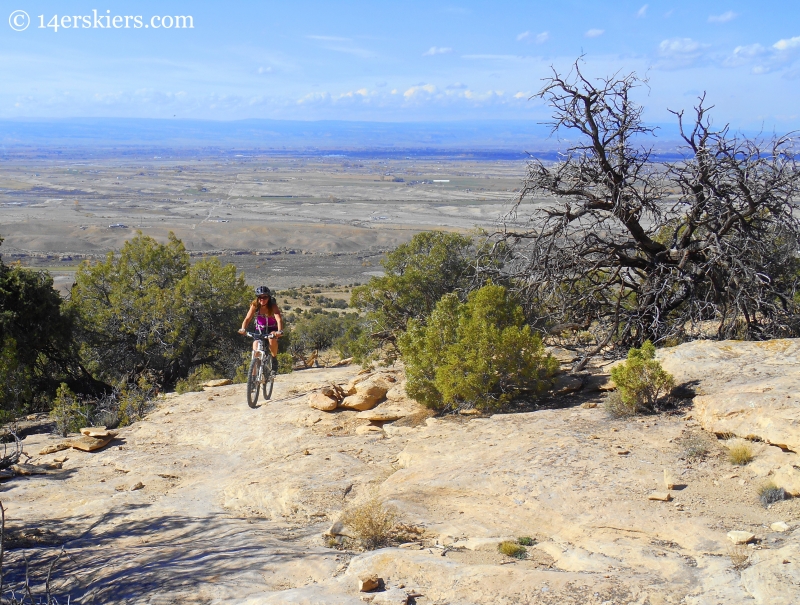 About 40 minutes south of Grand Junction, Sidewinder sits on the hills just west of Delta and runs parallel with the Gunnison Gorge. Often overlooked for the greater network of trails in nearby GJ and Fruita, this technical 18.6 mile trail can hold it's own and is certainly worth the visit. It can be done as a shuttle, a 38.5 mile loop, or as an out and back. Plenty of intersecting roads allow for shorter loop options as well. I've ridden this trail in both directs and prefer riding it from south to north as the better technical sections are downhills this way. But, other sources may tell you otherwise.
5) Hartman Rocks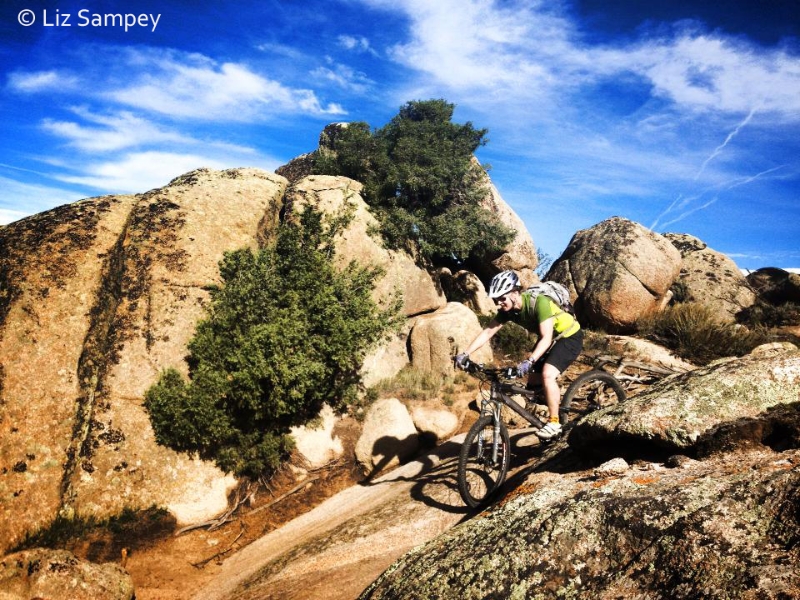 Typically not rideable in winter, Hartman Rocks is considered "high desert" terrain. Don't let the 8000-foot elevation fool you – Hartman Rocks has desert-like terrain that can rival any of the more known areas of Fruita and Grand Junction. The extensive network of trails that range from beginner to expert keeps growing every year, and this area is certainly one that could take several days to explore! There's so many fun trails to ride here but some of our favorites include Freefall (technical), Ring Dike, Skull Pass, Aberdeen, Rattlesnake, Beck's, the Notch, Graceland, and Behind the Rocks. More info can be found on our Crested Butte Mountain Biking Guide.
Worth Mentioning- Rabbit Valley & Salida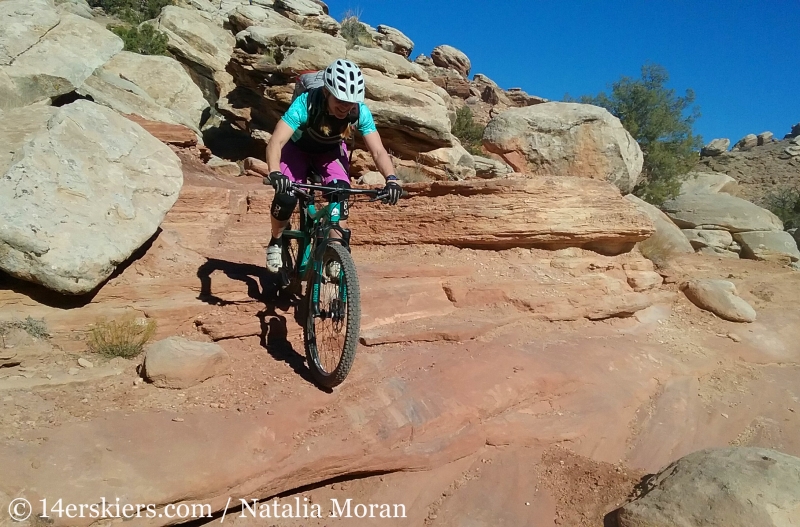 West of Loma/Mack, right on the border with Utah, sits the beautiful riding of Rabbit Valley. If you're looking for trails that are a little less traveled than 18 Road and Kokopelli Loops, then Rabbit Valley's the right fit. Certainly a scenic area, our favorite ride is a loop with the beautiful Western Rim Trail, which is largely intermediate to advanced-intermediate riding.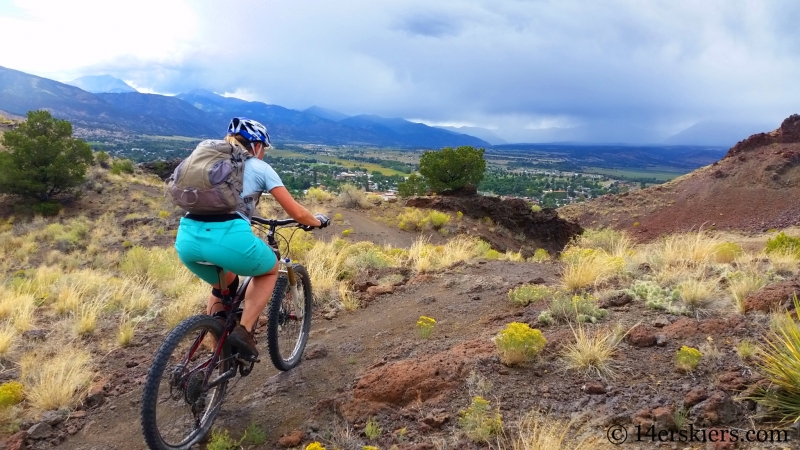 Also worth mentioning is the Salida area. The riding off the S-Mountain (Arkansas Hills Trail System) and Little Rainbow (Methodist Trail System) zones are border-line desert riding and its not actually west of the Continental Divide (although it is close), so it's not an official addition to this list. However, the riding in these areas are often rideable close to year-round. Even though mountains surround this town, this playground often remains fairly warm and dry even in the heart of winter. Some of my favorite trails in the area include the Cottonwood Loop, Backbone, and Sweet Dreams. The non-technical Little Rainbow trail is also quite scenic and perfect for beginners.
TBD: Cortez – Phil's World
To be honest, we haven't yet made it down south to ride Phil's World. But, we keep hearing about it – and lots of good things at that. We hope to head down there later this spring to check out all the hype and see if all the talk is justified. We think it probably is, and hope to make this an official addition to our list of best desert rides in Colorado soon!
Though some of these best desert rides in Colorado are more known than others, one thing is for certain – Colorado is home to some great desert riding. What are some of your favorite desert rides, both in Colorado and beyond?
It's spring, and time to head to the desert for some fun in the sun on two wheels!
Summary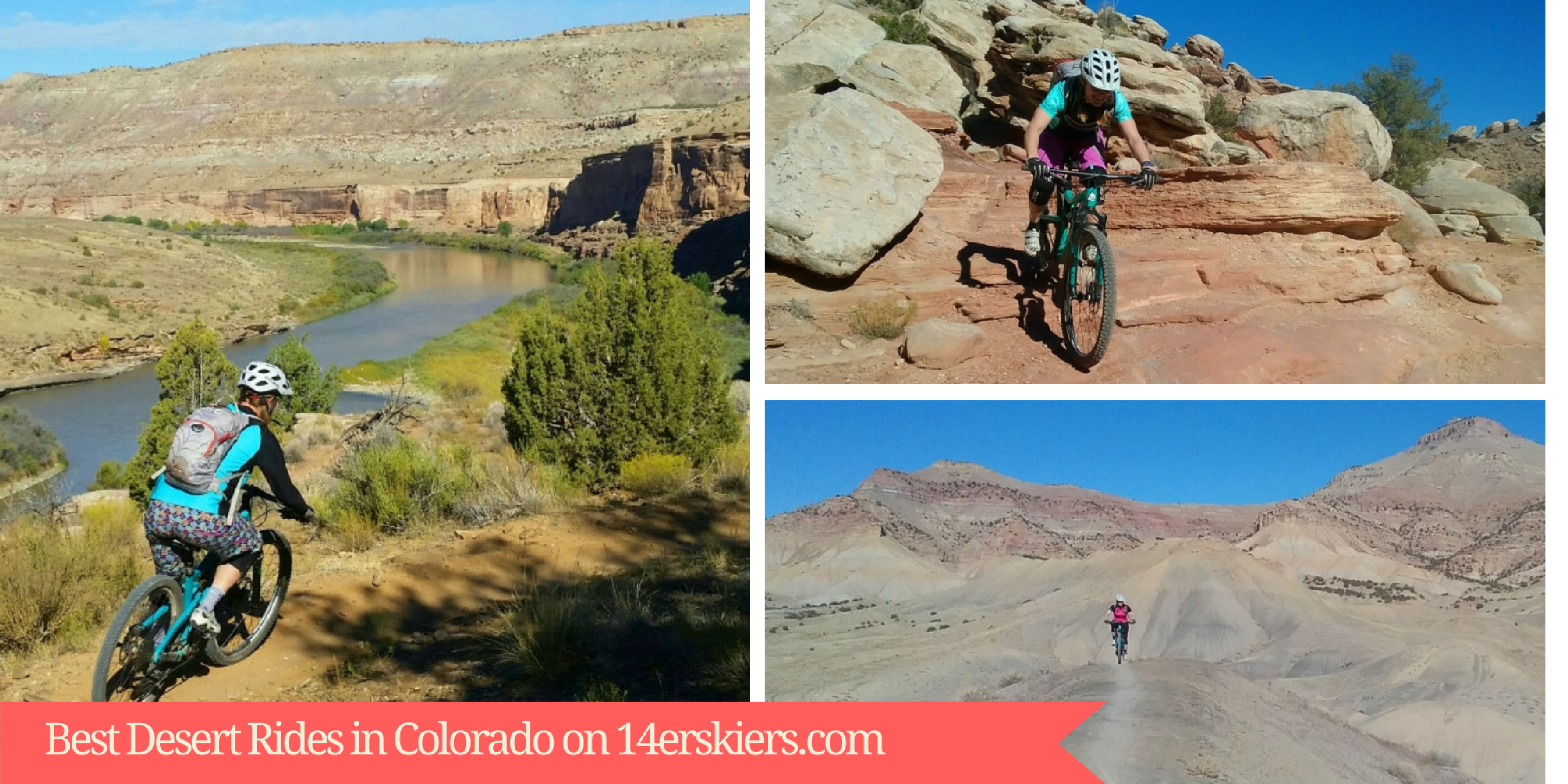 Article Name
Best Desert Rides in Colorado (West of the Continental Divide)
Description
Colorado is home to some fantastic desert terrain for mountain biking. Here's our favorite list of best desert rides in Colorado.
Author
Aside from skiing, biking, and all outdoorsy things,
Brittany Walker Konsella
also loves smiles and chocolate 🙂 Even though she excels at higher level math and chemistry, she still confuses left from right. Find out more about
Brittany
!
Latest posts by Brittany Walker Konsella (see all)