(Last Updated On: August 13, 2012)
After Saturday's ski of UN 13,260′, I knew I wanted to get back and ski Precarious as soon as possible. Josh was game to give it a go today and we made plans to meet early in the morning. Unfortunately, when I woke up at 5am, the temperature at my condo was distressingly high- in the upper 40's at about 9500′. Non-freezing temps mean a lot of things to springtime ski mountaineers, one of which being impossible post-holing and the other being an increased chance of wet slides. I gave Josh a call right away thinking I would be crawling back into bed, but Josh said he was just about to leave Gunnison anyway and we might as well go for a walk. By the time he picked me up, a light drizzle was falling and I had no idea why I wasn't in my cozy bed.
In just three short days, the snow had melted up the road another half mile or so, so we parked at the trailhead and started walking around on patches of snow to see how soft they were. Surprisingly, they were supportive and we decided to continue on our way and hope for the best. At least the scenery was nice, right?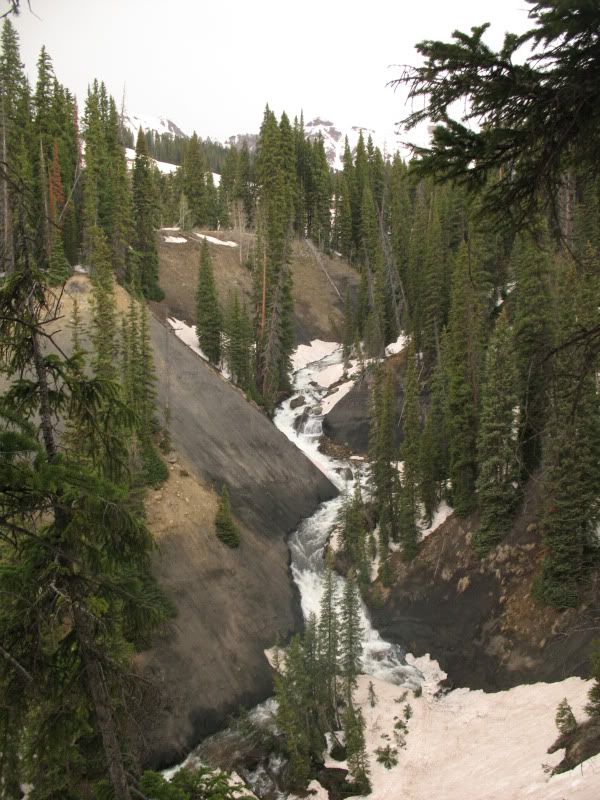 Farther up another little snow squall came through and it was yet another opportunity to turn around.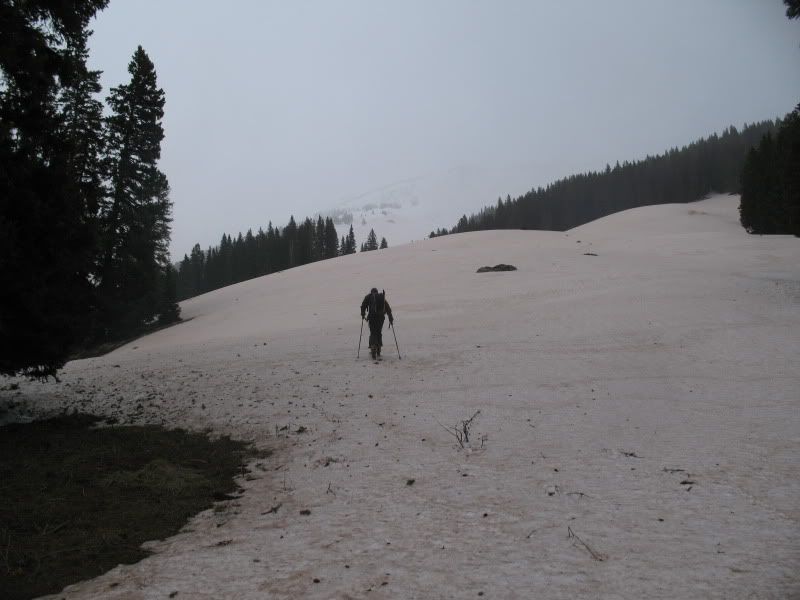 But then the sun came out and it was just too pretty to turn around so we kept going.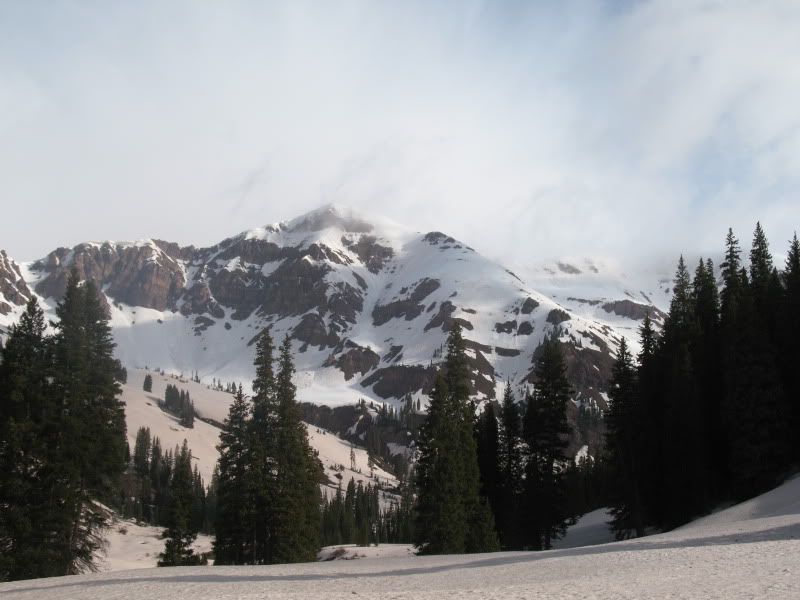 We finally started to turn the corner in the valley and get our view of Precarious. It lives up to its' name from this angle:

We continued up the valley and saw something very strange. The stream was running on top of the snow. This often happens on glaciers, but I'm not sure if I've ever seen it on glacierless Colorado snow.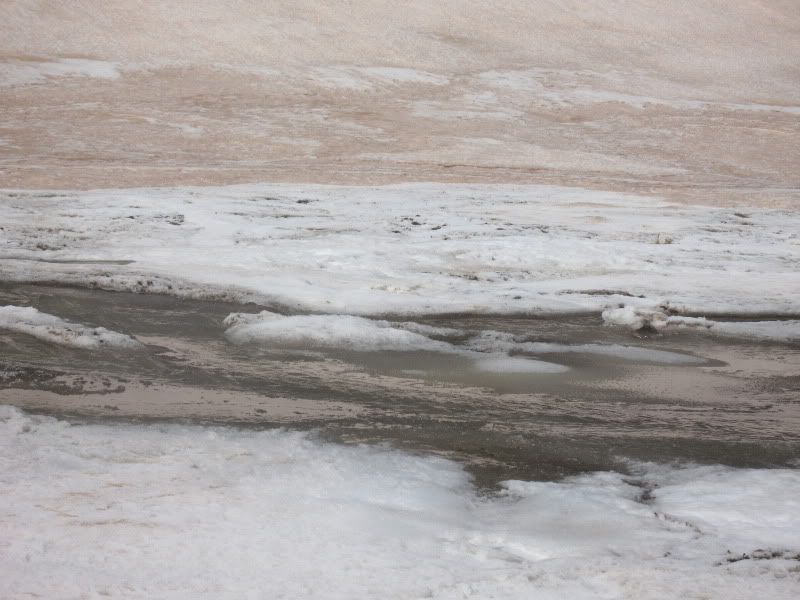 The peak that Rob and I skied on Saturday looked just as good on the North side as it did on the South side we had skied. Josh had climbed the peak in summer and mentioned the summit register gave it the unofficial name of "Golden Tops Peak". Josh and I talked about skiing it instead of Precarious because it was a much better aspect given the time of day and the light overnight freeze, but it was hard for me to motivate to climb the same peak in three days.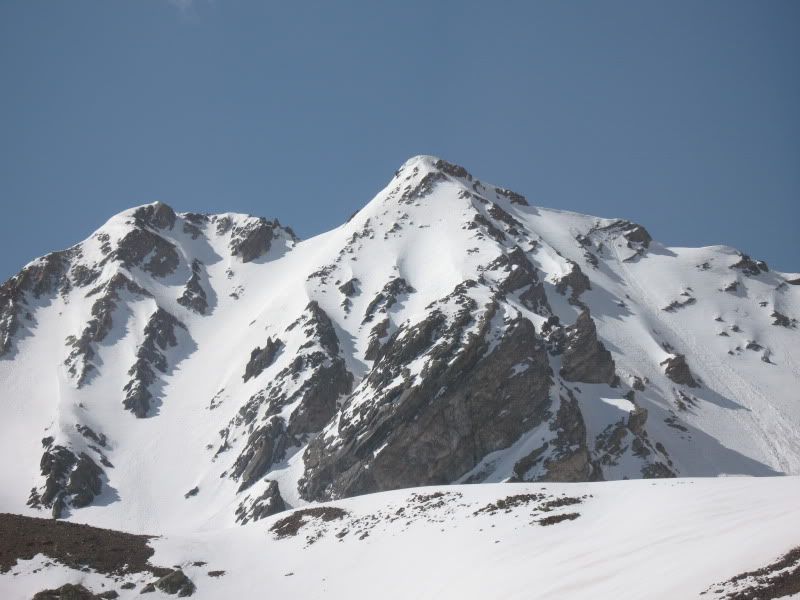 We decided to keep going towards Precarious, especially since the couloir we wanted to climb was still shaded and had huge chunks of debris in it, making it unlikely to wet slide again anytime soon. This is our ascent route (blue= a hidden downclimb)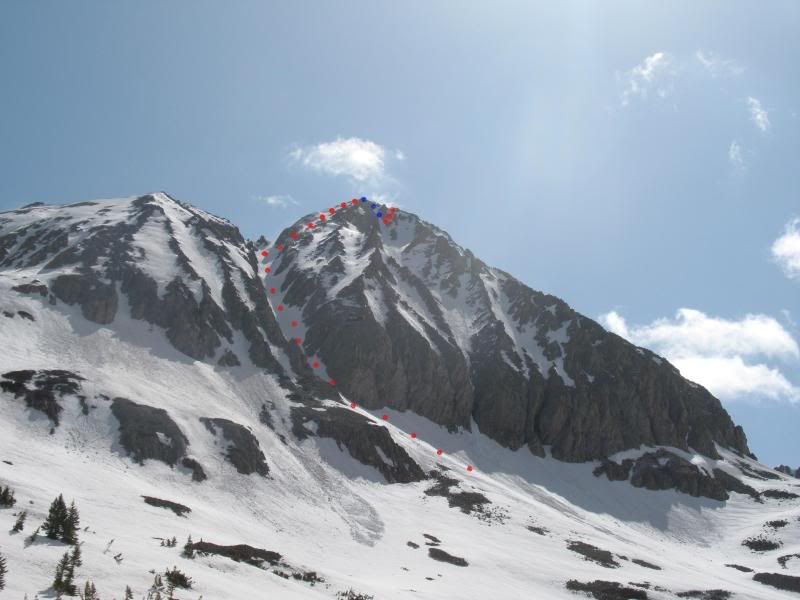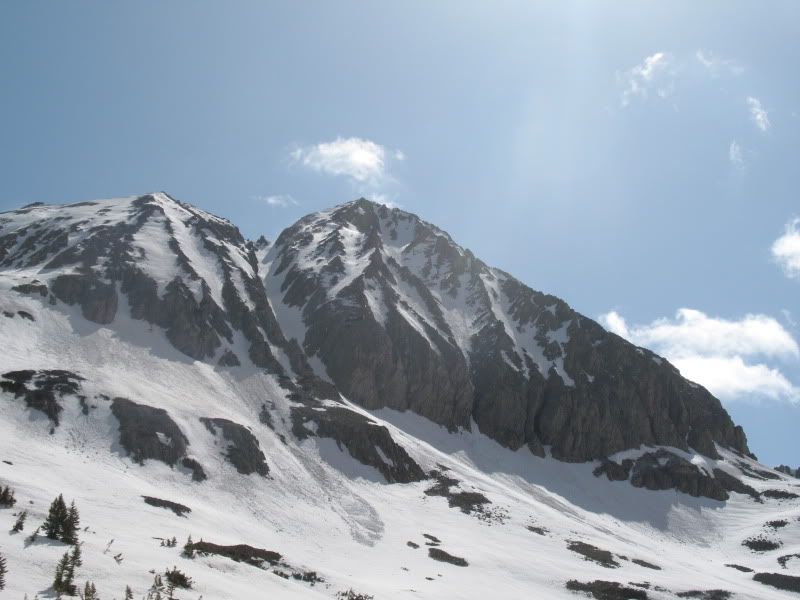 Frank:

Josh: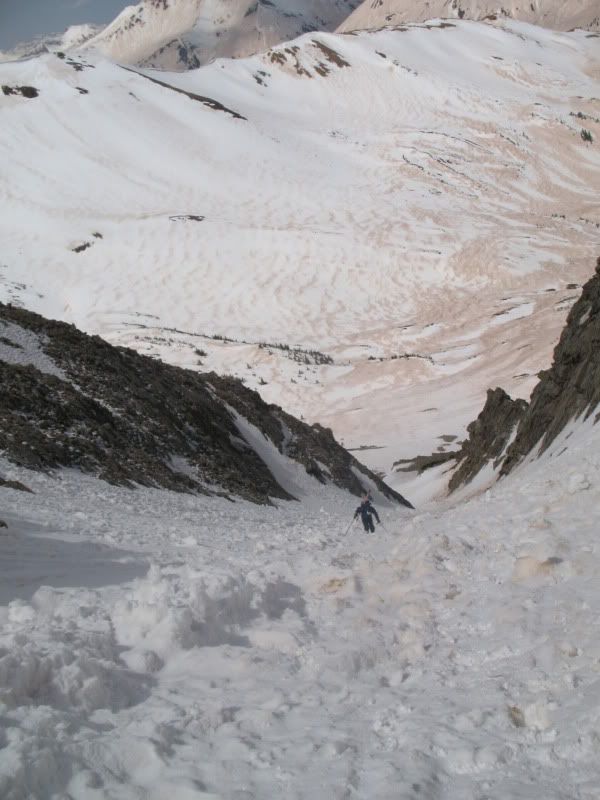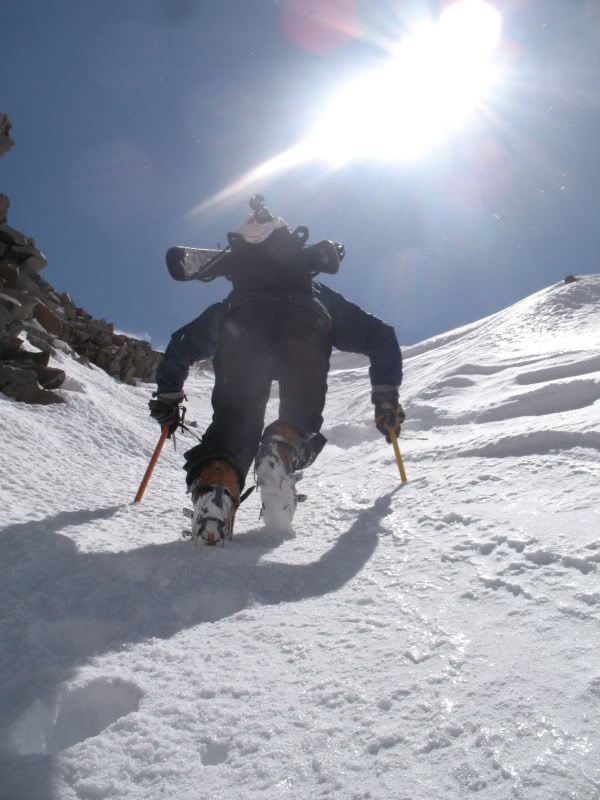 Josh on the downclimb: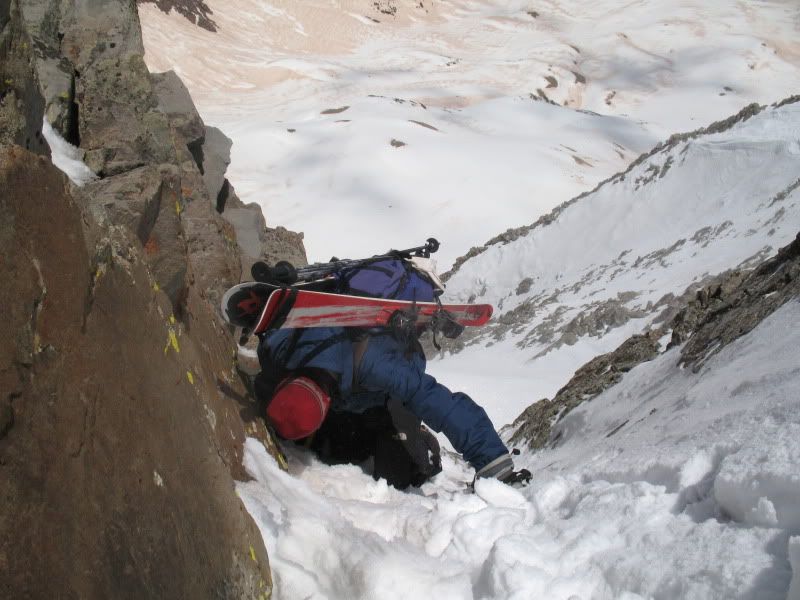 Then to the top (Frank)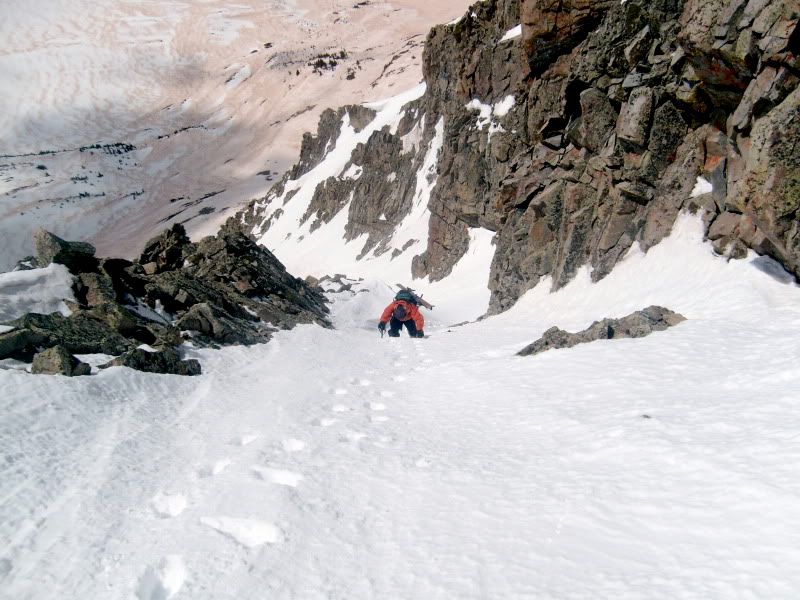 Josh: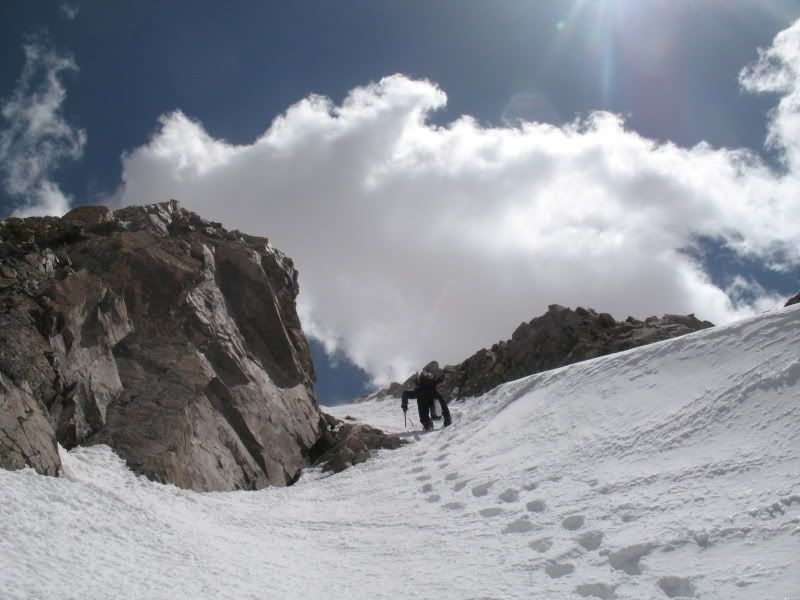 Josh has climbed Precarious in the summer before, and he mentioned that it was easier this time on snow. Things really only got tricky in the downclimb area, but once we got back on snow in the upper couloir, it was mostly just fun and straightforward steep snow climbing. Precarious lies on top of the dividing line between Aspen and Crested Butte, meaning that to our North was East Maroon Creek draining towards Aspen and to the South was the East River valley leading to Crested Butte and Gunnison. Pyramid massif and the East Maroon creek drainage: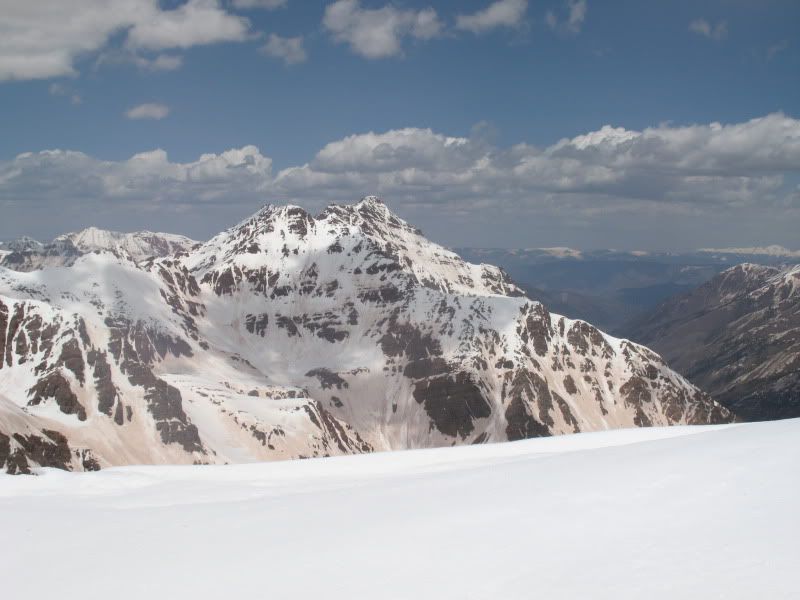 Views of the Bells never get old: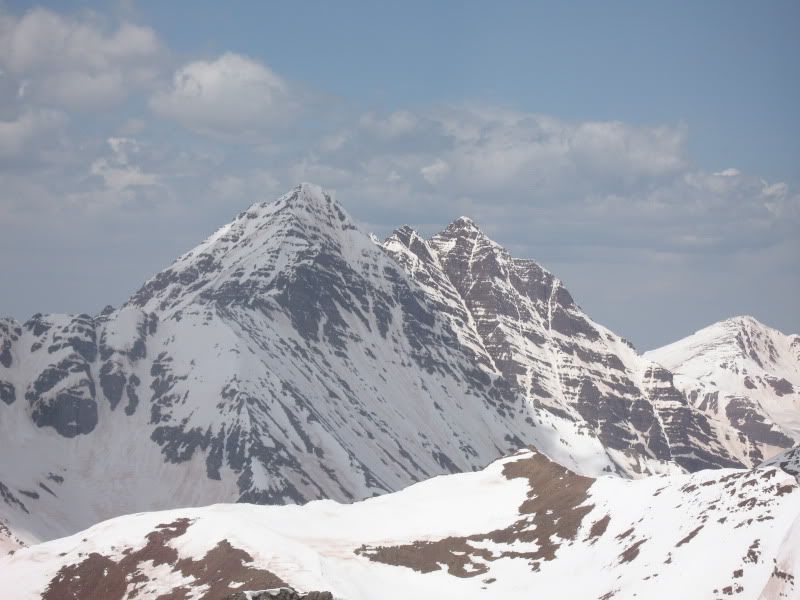 We were very late to ski the face we wanted to ski, but a strong wind had dried out the snowpack a little and kept things from getting out of control. Still, we stayed close to a small rocky ridge as long as we could and skied conservatively. Slight differences in aspect switched the snow from icy to perfect to a deep sloppy mess. Josh, stoked to be skiing Precarious: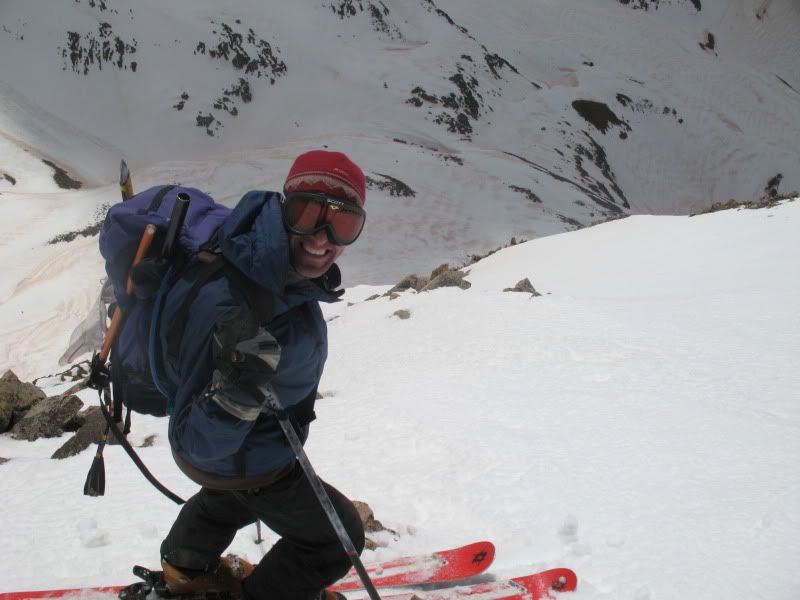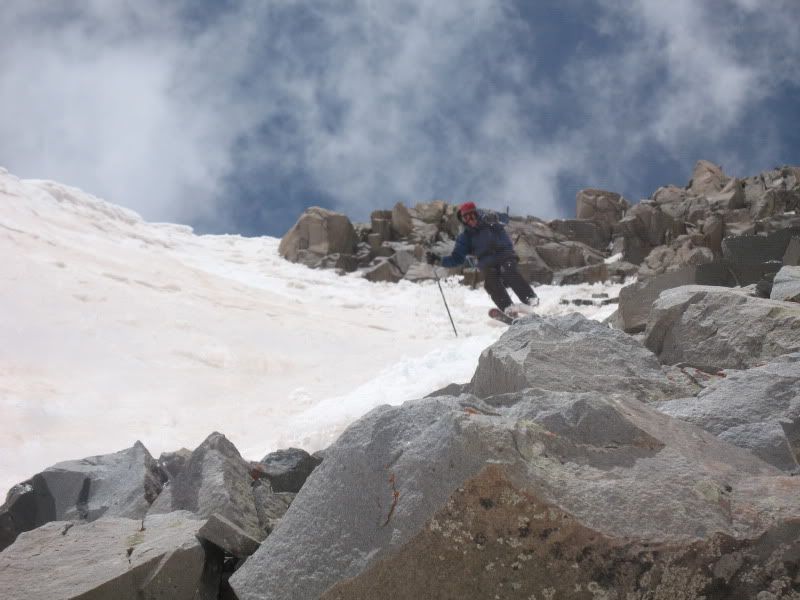 Frank: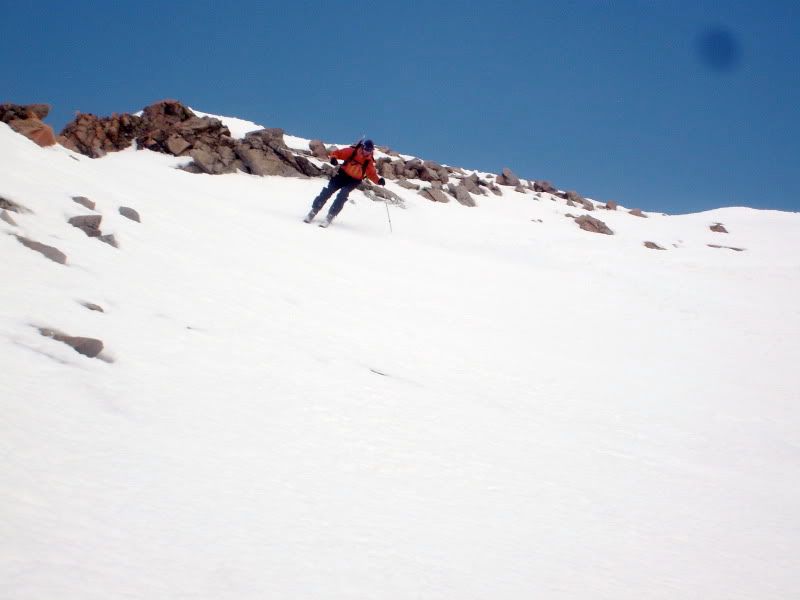 Our descent route: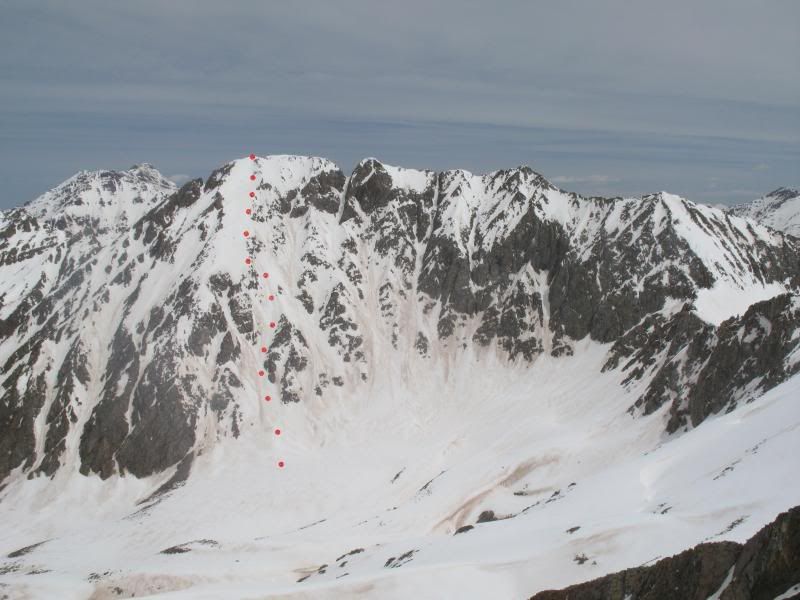 The worst part about exploring new places is that there is always something good around the corner that you have to go back for. Unlike skiing the fourteeners, skiing intriguing lines is a game that can never be won. For instance: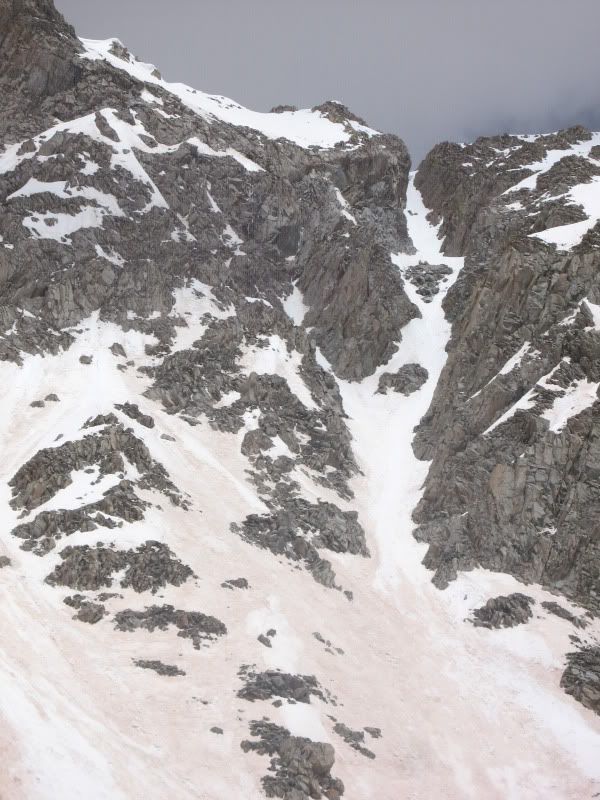 While we were able to pull of a climb and ski descent of Precarious, I'm not sure that we should have. We definitely got away with one when the temps were that warm both overnight and when we skied. It takes some experience to know that mistakes were made even when you're successful. I let Josh talk me out of bailing a when I woke up, but after that, my ambitions to ski Precarious were equally up to the task of pushing us farther than we should have. Things never got that scary, but we still knew better.
Frank
loves snow more than anything... except his wife.  He ensures his food is digested properly by chewing it 32 times before swallowing.He is a full-time real estate agent serving
Crested Butte and Gunnison
and would be honored to send you his
monthly newsletter.
Latest posts by Frank Konsella (see all)