Mistaken Identity: The Middle Teton 5.25.09
(Last Updated On: May 20, 2014)
After our massive day getting to Mt. Moran and skiing it, we were pretty spent and got a room in Jackson to get some rest, a shower, and to watch the Nuggets game. We had optimistic plans to ski at least 3 peaks in the Tetons, but after that much travel, climbing, and 36 hours straight without sleep, Sunday skiing just wasn't going to happen. Besides, the weather had really taken a turn for the worse, with rain and forecasted lows well above freezing throughout the rest of the holiday weekend. After a good night's sleep, I was starting to feel a little less zombie-like, and we began discussing plans for the rest of the weekend.
I'm a fair-weather skier, at least when it comes to springtime peak attempts. I like to stack the odds in my favor however and whenever I can, so when we woke up to light showers and a continued dismal forecast, I wasn't all that interested in putting out much effort. Had I been on my own, I probably would have driven to Yellowstone, since I've never been there, taken a photo of Old Faithful, and then driven home, content with the Skillet. Andy was still super-mega-gung-ho, and Jordan was somewhat gung-ho, so we came up with a plan. We decided that we should head up Garnet Canyon that afternoon so we could camp at "The Meadows", which would leave us plenty of options. If the storm cleared and we got a nice freeze, we could still climb and ski the Grand Teton, which was one of our main objectives of the trip, and otherwise we would still have other routes on peaks including the Middle Teton. Worst case scenario, we would at least get a look at the approach and area for a trip sometime down the road. Nothing like starting the hike in the rain…

The trail from Lupine Meadows had seen a fair bit of traffic, so we were able to stay in shoes for most of the hike, albeit on snow. We ran into some Exum guides and none of them had anything good to say about the weather that day, saying the visibility was zero and it was snowing as well. No one had made it higher than the upper saddle that day on the Grand. Still, after setting up camp we at least got a partial clearing at dusk:

I got a little bit of sleep, but I also heard rain on the tent on a few occasions, so when we started out around 3am, I really wasn't sure why I wasn't going right back into the tent. The rainy/foggy/sleety/snowy mix wasn't inspiring us in the least, and when Jordan's skins stopped sticking to his skis early on, we were pretty much moving as slow as one can while still actually moving. Just after sunrise (not that we saw the sun), we discussed calling it a day, but the tables were turned and this time I was the one who said, "We're here, might as well keep going for a bit." Keep in mind that the entire time we were simply following tracks- there was nothing else to see in the fog and the darkness. We soon hit a saddle, which we decided must be the "Lower Saddle", which would mark the start of real climbing on the Grand. Here's the view into the abyss:

We had another long discussion about calling it a day, but Jordan's enthusiasm won the day and we continued following the tracks upwards, with the understanding that if it got difficult, we would turn around.

As we continued up, the clouds started to lighten a little, and we could actually see a little bit around us.

Then we started to really see- we had climbed through the clouds and were starting to break out above them! We turned around and looked at the peak behind us, which we assumed was the Middle (it's the South), since we still thought we were on the Grand.

Idaho:

We kept climbing and kept waiting for the difficult climbing to arrive, which of course it never did. Jordan:

Andy up front and Jordan:

Jordan then took the lead to a small col and said, "Guess what guys, we're a long way from the Grand!" We came up to his perch and quickly realized we never made it into the N fork of Garnet, but actually stayed in the S fork and were therefore on the Middle Teton. A fun little traversey climb quickly brought us to the top of the Middle and amazing views of the Grand. Frank gets a better view:

Well, the Middle (12,804′, 3rd highest in the Tetons) was the third peak we had wanted to ski this weekend, so all in all this was a pretty good consolation prize. Jordan and Andy were immediately drawn to the Glacier route on the opposite side of what we had climbed (the SW couloir). Facing both East and Northeast, the Glacier route was clearly heating up in the sun, with some fresh wet debris and "spiderwebby" natural snowball releases in the new 3″ or so of snow. While the Glacier route seemed a lot nicer than what we had gone up, I wanted nothing to do with routefinding on a route we had never seen, and in conditions that I felt were already well past prime that day (it was around 10:30). Eventually we agreed to go back the way we came, which was in good condition as it was still mostly shaded with the little bit of new snow in it. Hey, we're used to summit skiing 14er-style, so we made our way through the rocks right off the summit.

Jordan: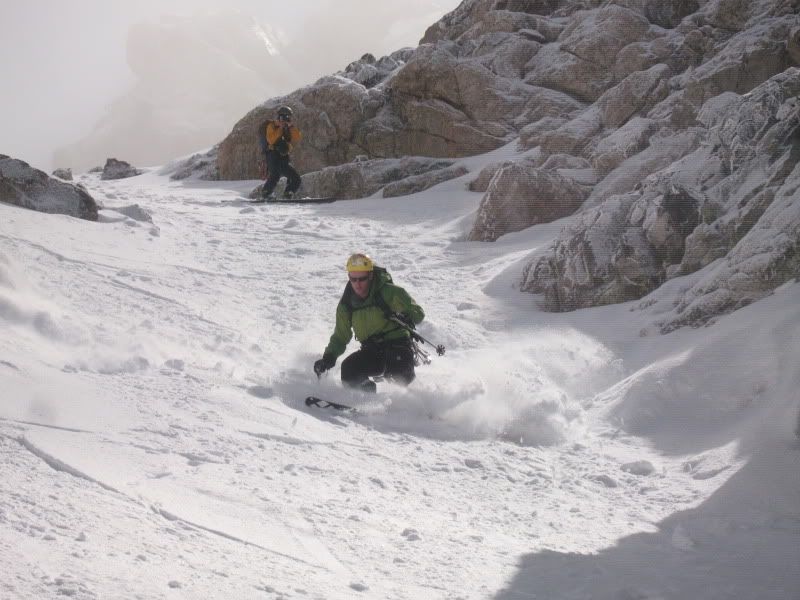 Frank:

Eventually we started skiing back into the cloud layer, but in this nice tight couloir we still had good definition. Jordan: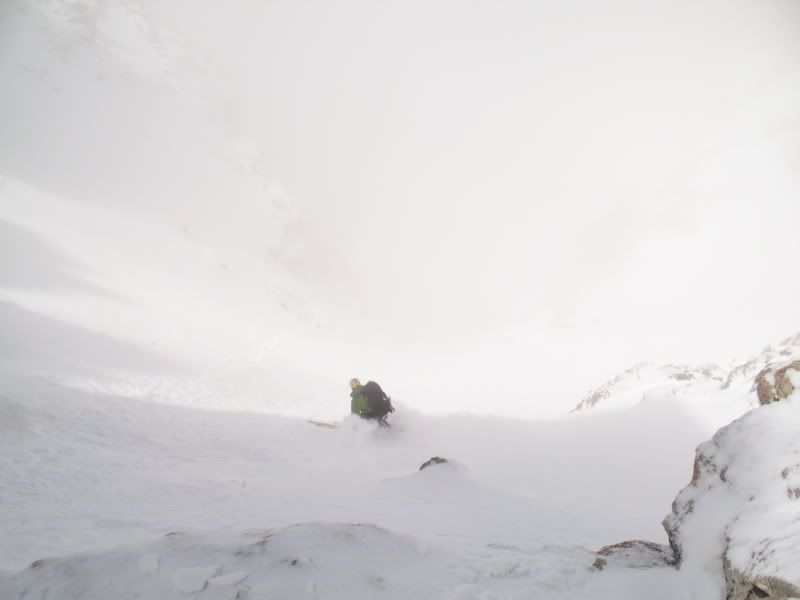 Andy:

Frank:

We did the typical skier's left exit and had some nice corn near the bottom. Jordan: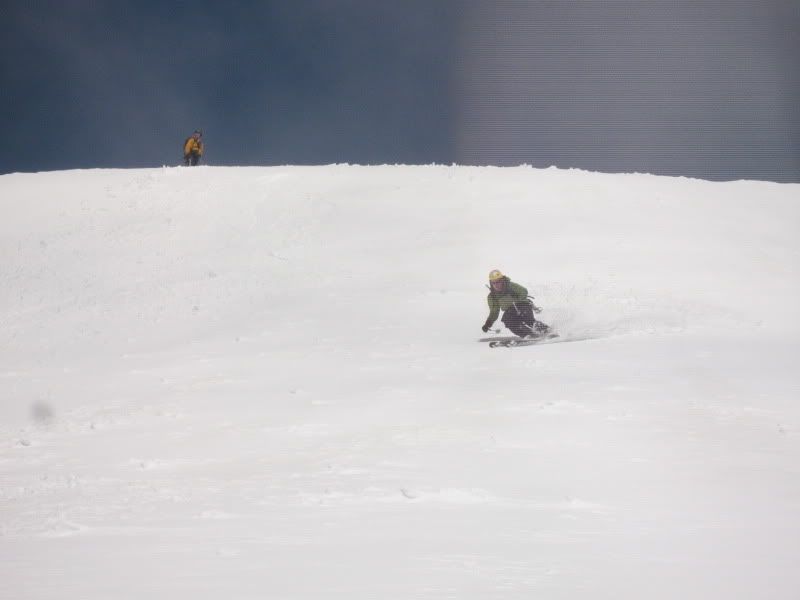 Andy:

We packed up our camp under what were now sunny skies and headed down with our big overnight packs. Andy:

We were able to stay on snow through much of the switchback section and make it within about a mile and a half of the trailhead before we had to give in and boot the rest. We put our heads down and suffered through it until we made the trailhead. When we returned our bear-proof containers at the ranger station, the ranger mentioned that there had been slides on both the Skillet and the Koven that day, confirming my belief that the Glacier route would have been a bad idea. Some food and a beer at the brewery got us ready for the long drive back to CO. I ended up crawling into the back of my truck and sleeping right where it had been parked in Carbondale before finishing up my drive on Tuesday morning back to Crested Butte.
Until next time, Tetons (Middle Teton and the Glacier route on the left, Grand right)…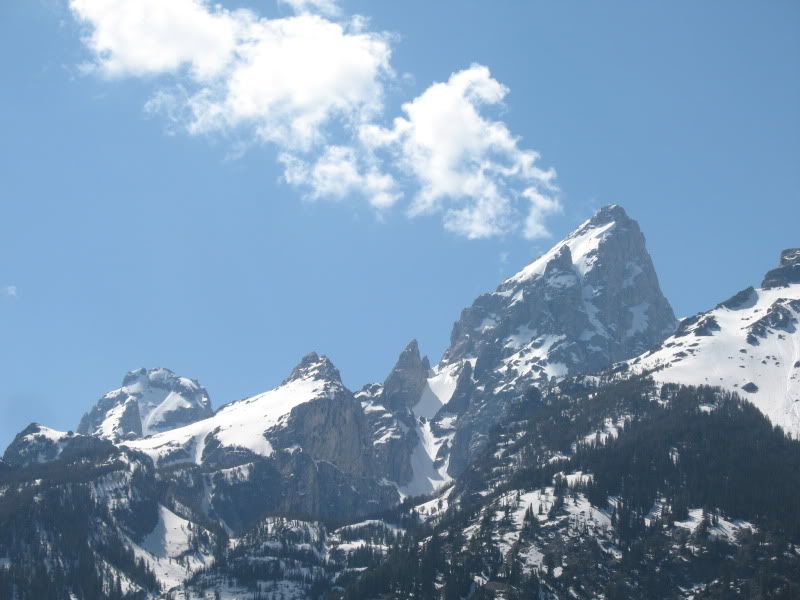 Frank
loves snow more than anything... except his wife.  He ensures his food is digested properly by chewing it 32 times before swallowing.He is a full-time real estate agent serving
Crested Butte and Gunnison
and would be honored to send you his
monthly newsletter.
Latest posts by Frank Konsella (see all)