The Skillet Serves Up White Snow 5.23.09
(Last Updated On: July 3, 2012)
Mt Moran and the Skillet Glacier Route: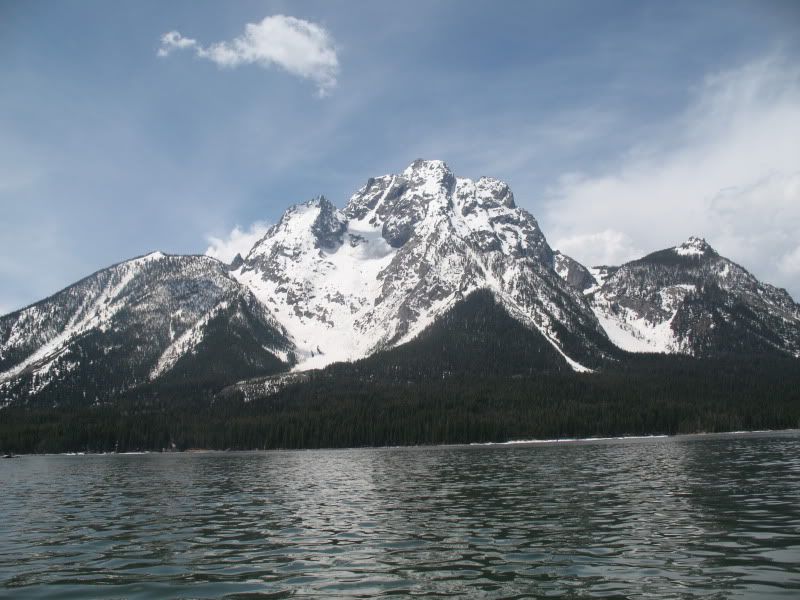 After some of the most intense dust storms seen in CO in quite some time, the local mountains have been pretty much cooked this spring. Yes, you can still ski the brown stuff, but it's pretty low quality and certainly low on anyone's aesthetic scale. So, Jordan, Andy and yours truly decided to head to the Tetons and see what we could ski there.
Lou Dawson's book Wildsnow describes the Skillet route on Moran as "the most classic descent in the Tetons- perhaps the most classic in the conterminous United States". Tom Turiano's book Teton Skiing A History & Guide To The Teton Range says simply "This is the classic Teton descent." It's hard to argue with any of that, and we made the Skillet one of our main goals of the trip. Mt Moran is the fourth highest summit of the Tetons, at 12,605′, though it only ranks 63rd in WY, where most of the highest peaks are clustered in the Wind Rivers. The first descent of the Skillet was made by Bill Briggs of Grand Teton fame, along with Peter Koedt, Dick Person, and Fletcher Manley (Turiano).
Friday, 11:15am. After packing and loading my car, I left Crested Butte for the long drive to Jackson, WY. Thankfully, Kebler Pass had just re-opened so I was able to make good time to Carbondale, where I was meeting up with Jordan. It was raining off and on, so I was hardly sad to be leaving.
Friday, 1:30pm. After loading up Jordan's truck with all of my gear and parking my truck we were off, complete with a canoe that Jordan had borrowed from his boss at work. Accessing the Skillet is best done with a canoe trip across Jackson lake to avoid a long hike in past String and Leigh lakes.
Friday, 3:30pm. After a few grocery items and a quick burrito in Glenwood Springs, we take our first shortcut of the day from Meeker to Maybell along the Strawberry gulch road, which is paved.
Friday, 4:15pm. We pass the few buildings that make up the town of Maybell and enter the unpaved Irish Canyon road on our way to Rock Springs, WY. This route is 2-3 hours shorter than any other way getting from Western CO to Jackson. The stretch from Maybell to Rock Springs is one of the least populated, desolate areas I have ever visited.
Friday, 11:30pm. After a few more stops in Jackson, and a few wrong turns trying to find the Spalding Bay boat launch in Grand Teton National Park, we finally made our destination. By this time, Andy had caught up to us on his way from Denver, so we were all present and accounted for. With around 4 miles of paddling in front of us, plus an almost 6,000′ ascent, plus temperatures which weren't going to drop much below freezing, we really had only one choice- keep going.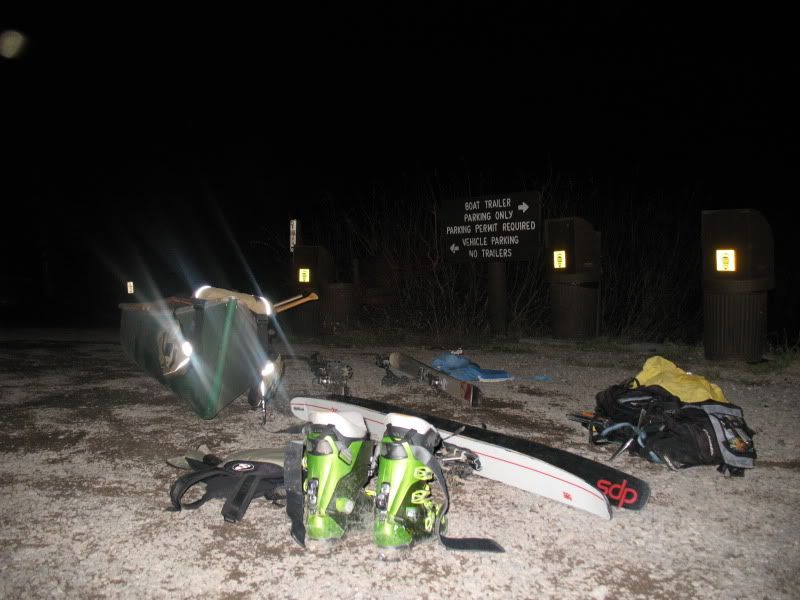 Saturday, 12:30am. With our gear finally packed into our bags and the canoe, we pushed off into the waters of Jackson Lake under starry skies. A few shooting stars lit our way, but no moon at all, since it was the new moon. I wish I had a way with words to describe what that canoe ride was like. It was so dark we could barely make out the outline of the mountains, so we stuck close to shore. A hint of lake fog made for an equally eerie experience that was occasionally punctuated by a low flying bird checking us out. We found ourselves in Bearpaw Bay looking for the most likely landing spot to start climbing Mt. Moran and eventually found another canoe. Not bad for some sleep-deprived non-water boys from CO.
Saturday, around 2:30am. We made the switch to ski gear and began heading through the forest towards the Skillet. There were a number of tracks in the remaining snow patches, some of which were Moose tracks, and we had a hard time navigating in the dark forest. We eventually found a more open area which we assumed had to be the lowest reaches of the avalanche path and fought the steep undergrowth for a while before finally popping out right where we wanted to be. There were two other headlamps above us on the route, which looked deceptively small from here.
Saturday, around 5:30am.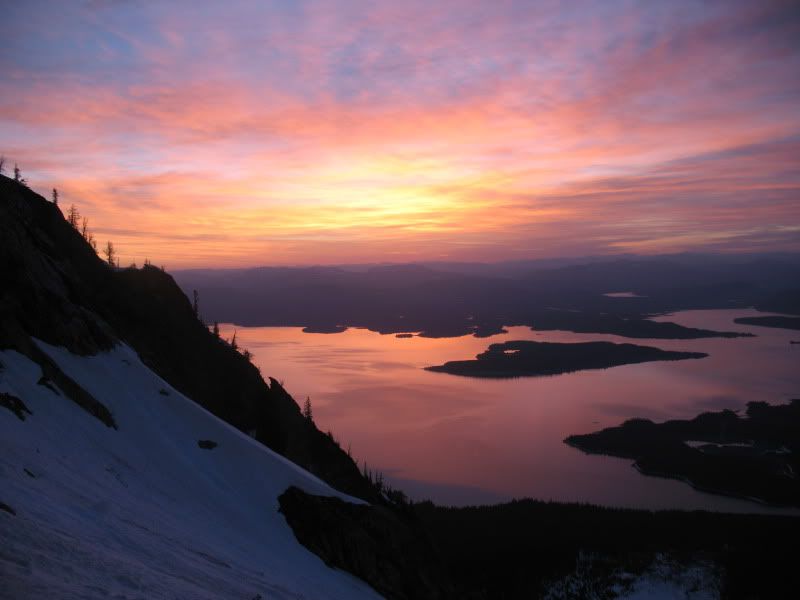 Saturday, around 7am. (Andy)

Saturday, around 7:30am (Andy)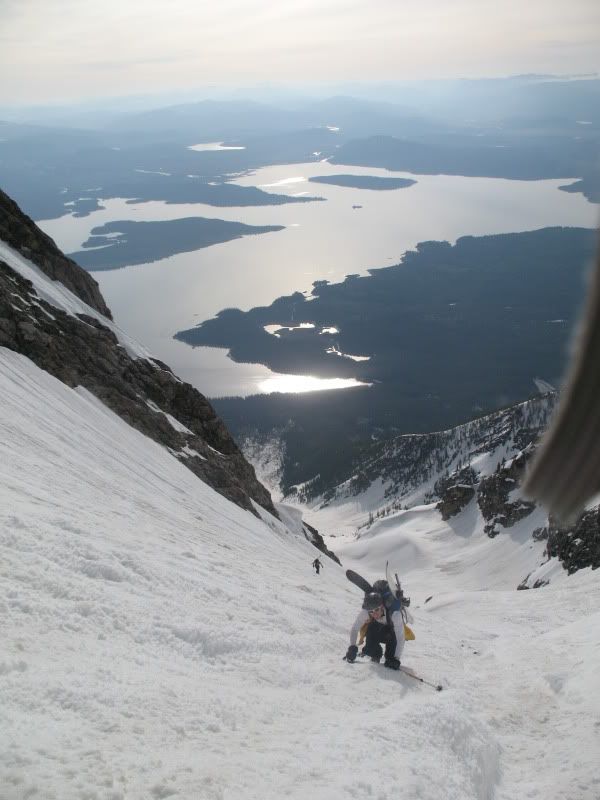 Saturday, around 8:45am.
I arrived at the summit, perhaps a half hour ahead of Andy and Jordan and just a few minutes behind the other group from Bozeman, MT. The other group was kind enough to wait for us before beginning their descent. Jordan topping out: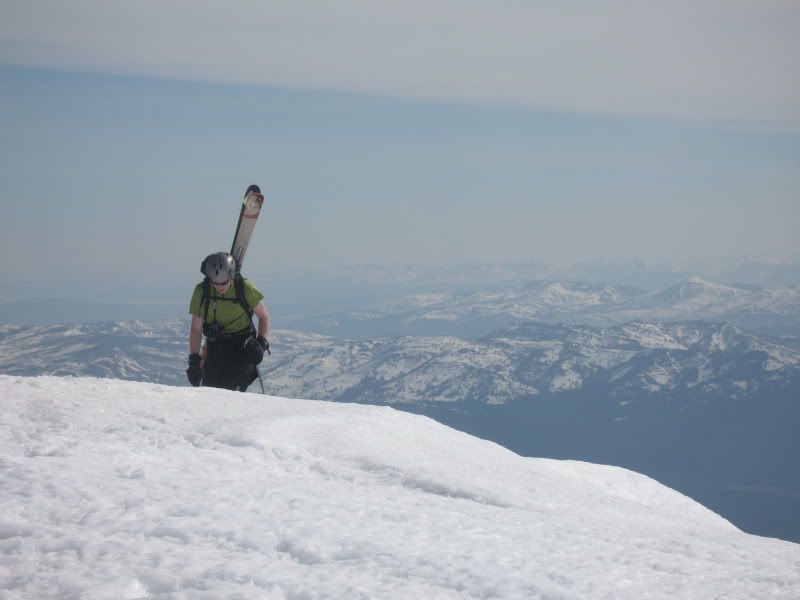 Nice:

Saturday, 9:30am. Ideally, we would have dropped in a little earlier to get the best conditions on the route, maybe around 8:30, which would have been a little frozen up top, perfect in the middle, and a little sloppy at the bottom. It's tough work getting good turns the whole way down 6,000′ of skiing 🙂 We clicked in at the top for a few turns until a short rock section just above the Skillet handle. Frank:
From the handle down: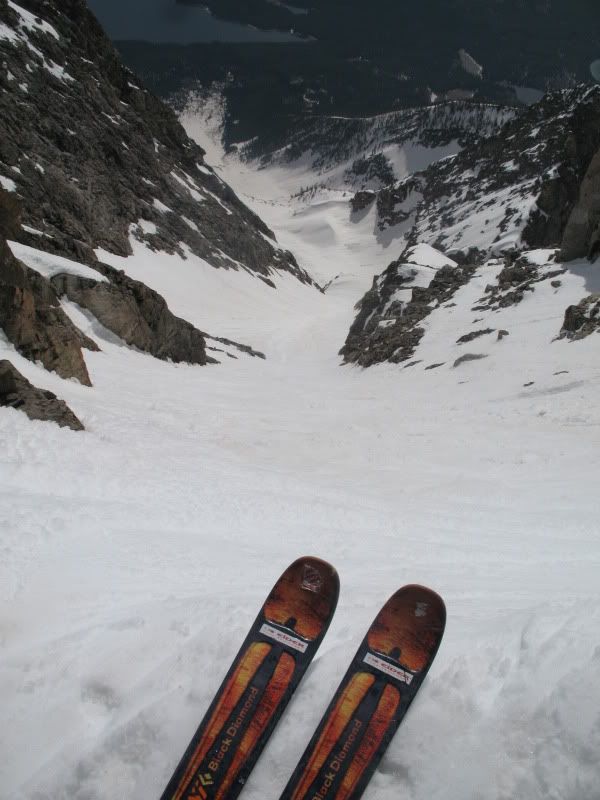 Jordan, feeling surprisingly awake and stoked to be there: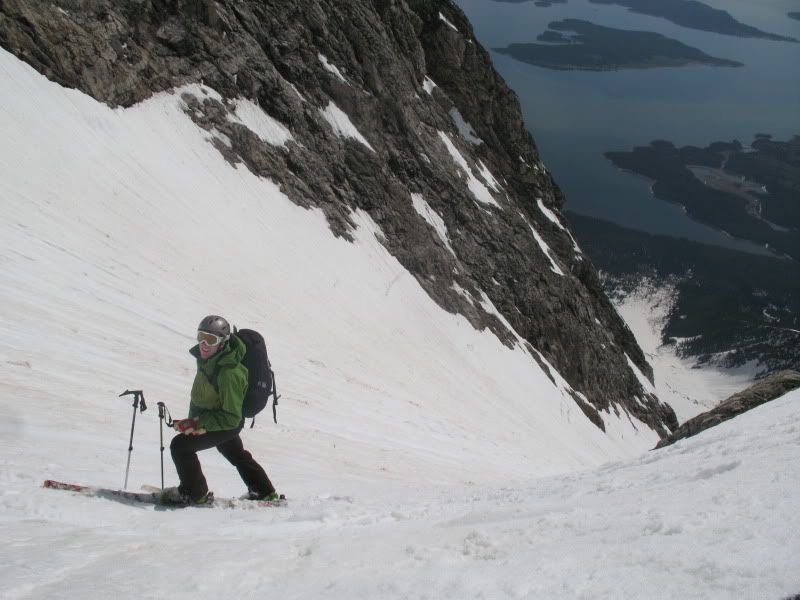 Andy:

Frank:

Jordan: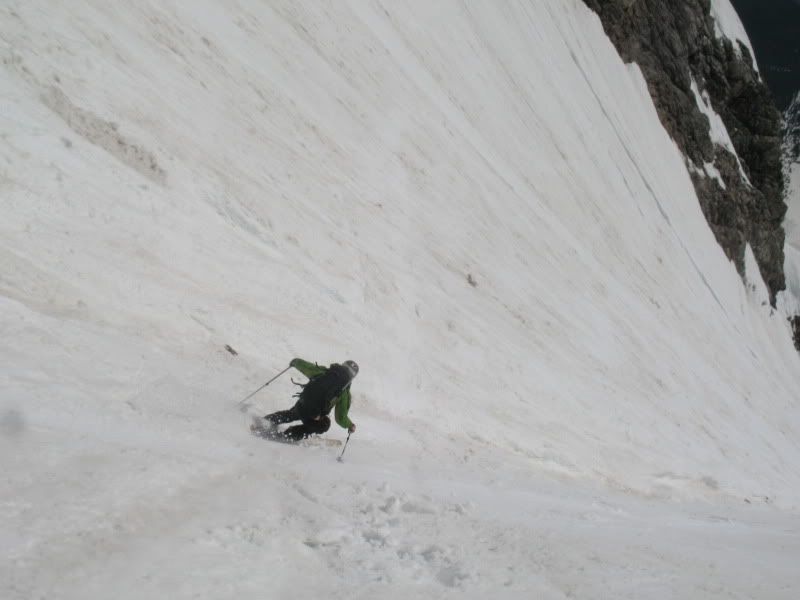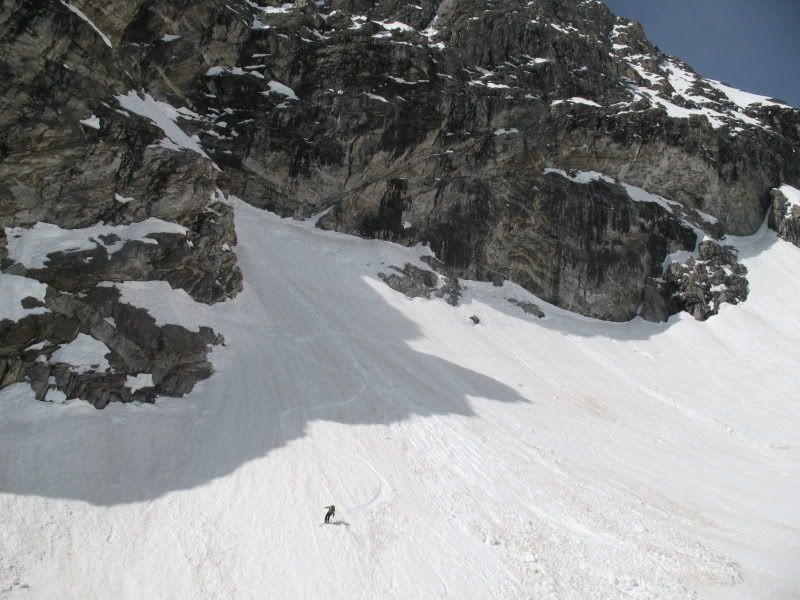 Saturday, around 10am. The bottom was pretty sloppy by now, but still a whole lot better than the dirt of home. Jordan and Andy: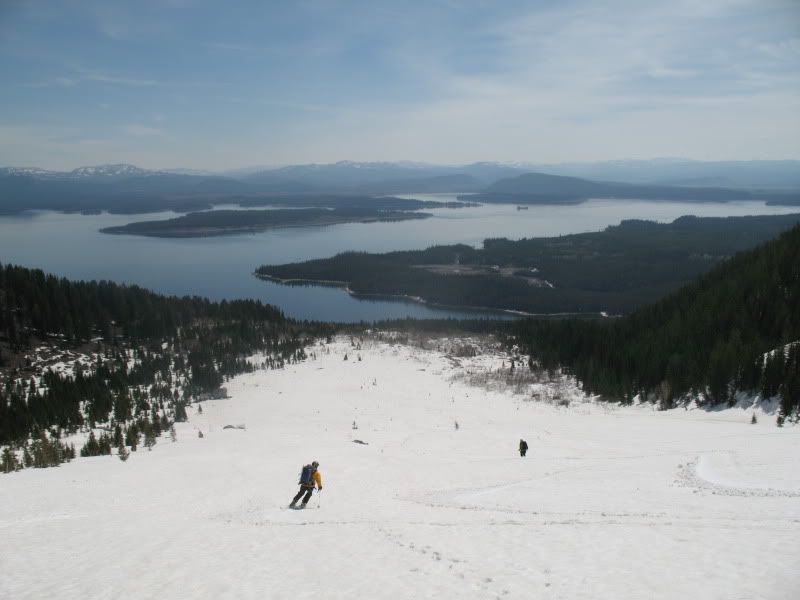 We followed as much snow as we could and actually got pretty close to skiing to the shore. Then it was time for more canoe loading and paddling.
Saturday, around 11am. Now on the lake in daylight, we enjoyed the views of the Skillet from the canoe.

Thankfully, we had beer.

Saturday, around 1pm. Over 24 hours after leaving home, we made it back to our put-in, tired from the lack of sleep and the effort of climbing and skiing that much vert, not to mention the paddling, which none of us are all that used to. We headed back to Jackson to re-fuel and make a plan for the next day- more on that later.
THE most classic descent in the lower 48? Well, that's certainly a very subjective question, but the Skillet has to be on anyone's list. California's Mt. Shasta is the only other descent that I can think of to put on that list, at least that I've skied. Anyone else like to nominate a different descent, or agree with either Shasta or Moran?
Frank
loves snow more than anything... except his wife.  He ensures his food is digested properly by chewing it 32 times before swallowing.He is a full-time real estate agent serving
Crested Butte and Gunnison
and would be honored to send you his
monthly newsletter.
Latest posts by Frank Konsella (see all)