Silvretta Ski Tour Part 1: Ischgl to the Jamtal Hut
(Last Updated On: March 28, 2019)
After our short "jet lag tour" near Garmisch, Conan, Brittany and I headed once again towards Austria. Our goal was to do a classic multi-day hut tour in the Alps called the Silvretta Tour, straddling the border of Austria and Switzerland in the Tirol (or Tyrol) region. Our first stop was the resort town of Ischgl. Most Americans have probably never heard of it, despite it having 50+ lifts and being far larger than any North American resorts. We ran into a bit of a problem there- no parking in the few spaces allotted to overnight hut visitors. Poor Conan had to run around for hours before finally finding someone who took pity (and 20 Euros) to let him park there.
Access to the Heidelberger hut is incredibly easy- you just get to the top of the E5 lift (Piz Val Gronda) at Ischgl and traverse down to the hut (you could also do a long, flat valley skin from Ischgl, but the lift option seems like a lot more fun). That meant we had time to make a few laps at the ski area and check out the scenery: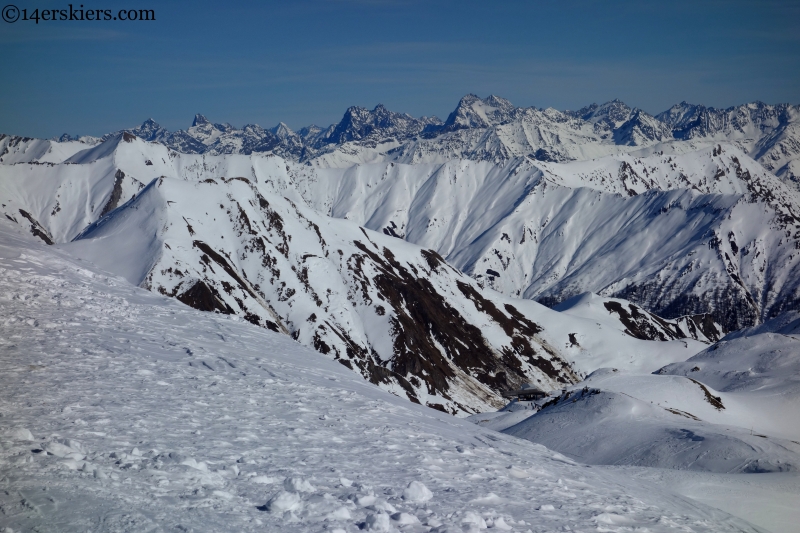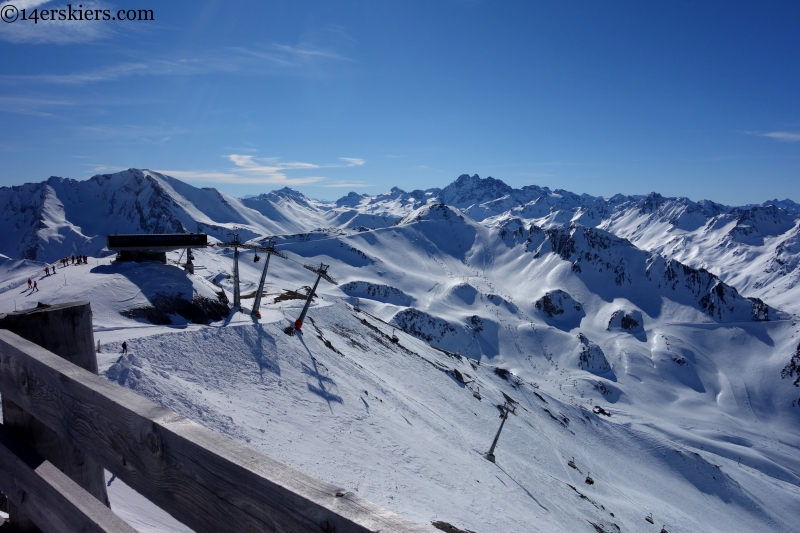 One curious thing about Ischgl was the "duty free" store in Switzerland. Since a corner of the area is in Switzerland (most of it is in Austria), you can buy some booze and cigarettes duty free, then ski back to the base. So Euro… We skipped that and headed towards the Heidelberger hut: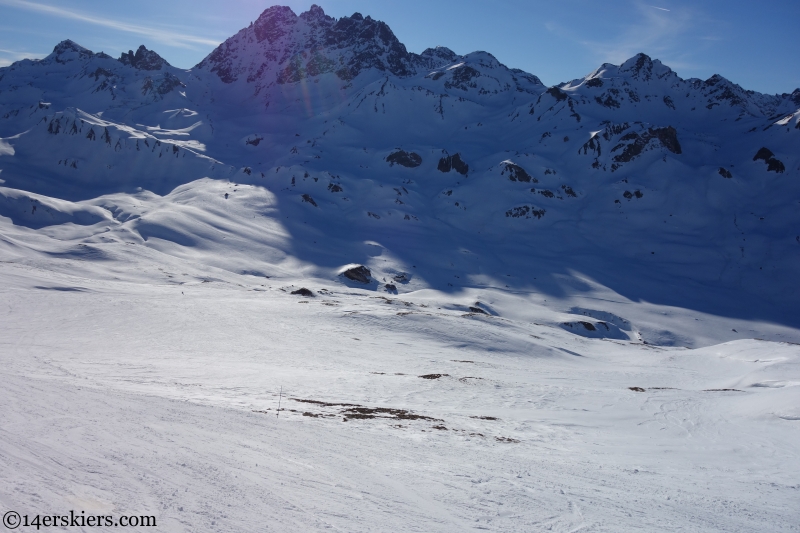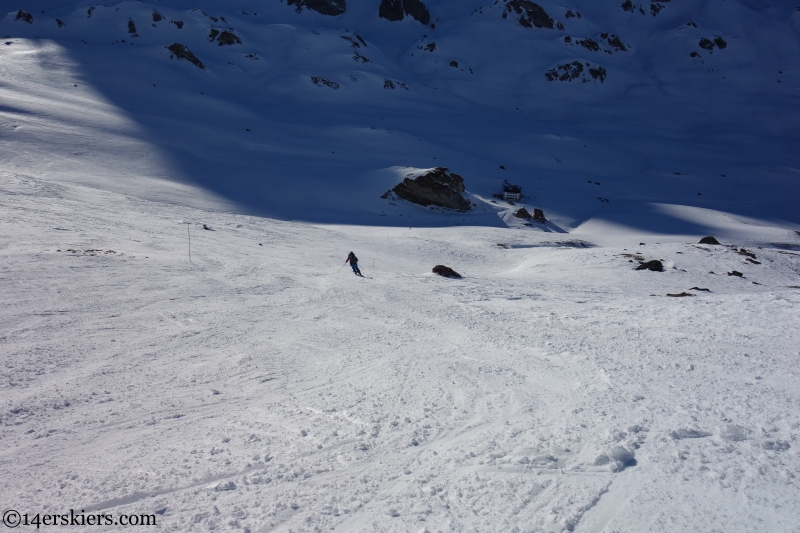 For the uninitiated, huts in Europe are often more like a hotel, plenty of rooms, great food, and beer, of course. Best of all, that beer is not of the overly-hopped swill that is so popular in the USA, but instead is delicious weiss, dunkelweiss (my favorite), and Helles varieties.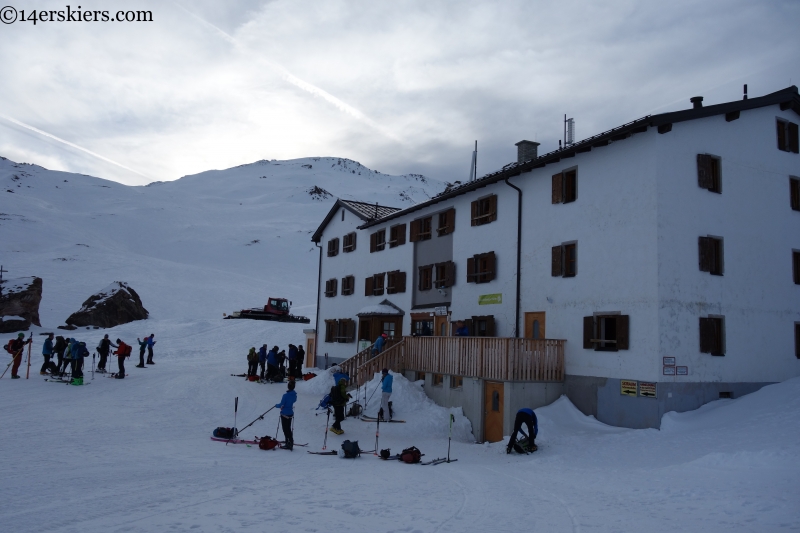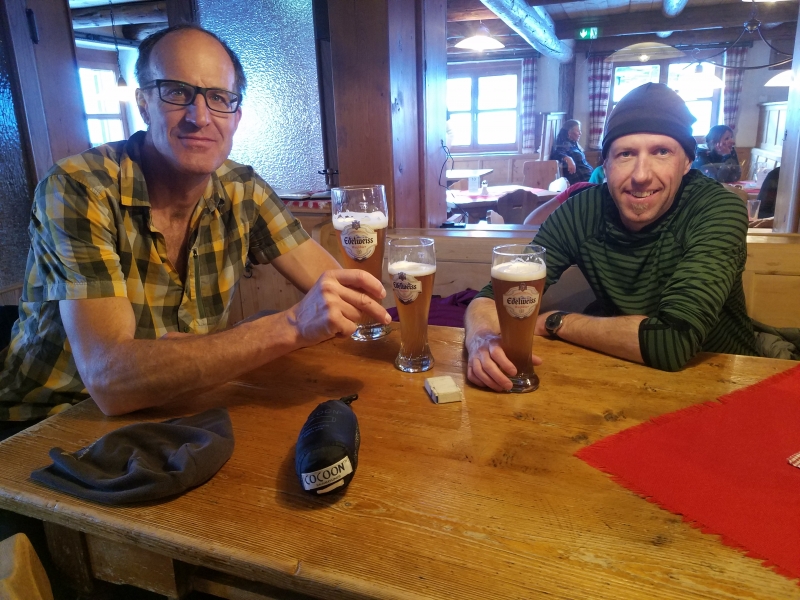 We ended up sharing a room with about 10 others. At all the other huts, we actually had private rooms. With European huts, the gear needs are pretty minimal. Rather than a sleeping bag, you just bring a tiny, lightweight liner, along with your toothbrush and you're set. They even have slippers to use, although I might consider bringing my own next time. Showers were certainly nice as well. The one thing I didn't bring that I wish I had- soap. None of the bathrooms at any of the huts had soap. Anyway, after a good night's sleep, we headed out behind most of the other groups towards the Jamtal hut.
We headed to the pass called Kronenjoch, though it's not the only route between the Heidelberger and the Jamtal. Either route is a bit less than 3,000′ of elevation gain. Morning light: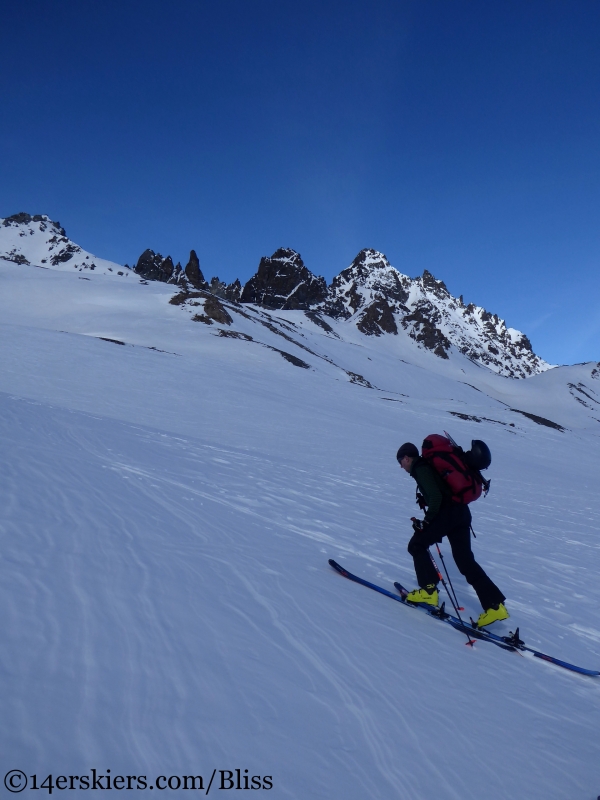 Kronenjoch: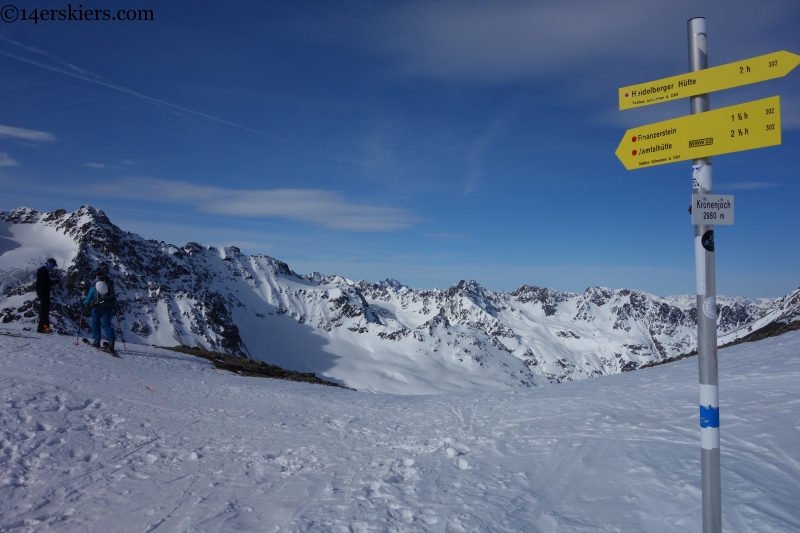 View from the pass: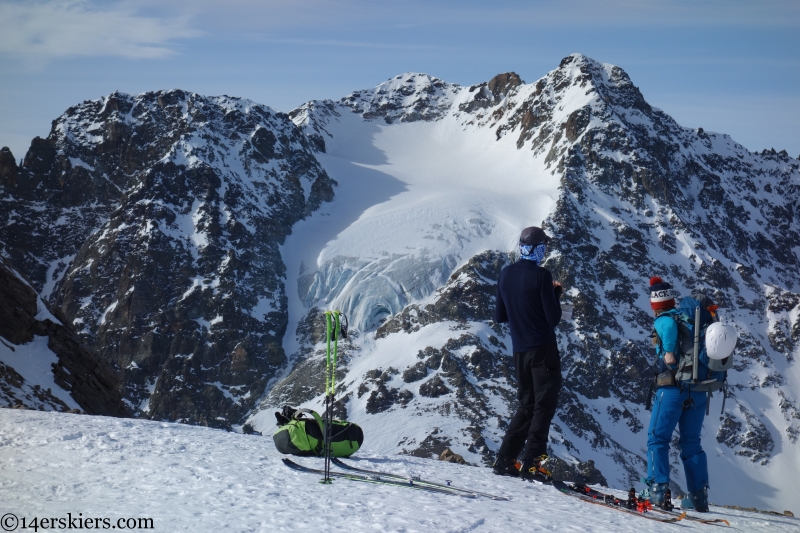 From Kronenjoch, you could ski fairly flat terrain straight to beers on the deck of the Jamtal Hut. Or climb the small neighboring peak, Krone. We were looking for more interesting skiing, however. Meanwhile, the snow wasn't exactly inspiring. On the one hand, it was stable. But warm temps and wind made almost all of the snow surface less than desireable. Still, as CO skiers, one thing we know is finding good snow even when it hasn't snowed in a while. We knew we were looking for the "rippled" textured snow- this face looked like it might have some promise: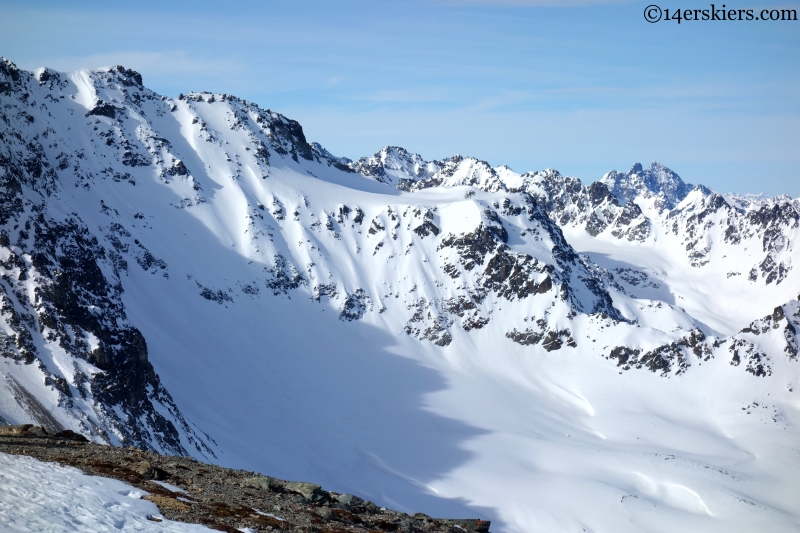 We headed that way: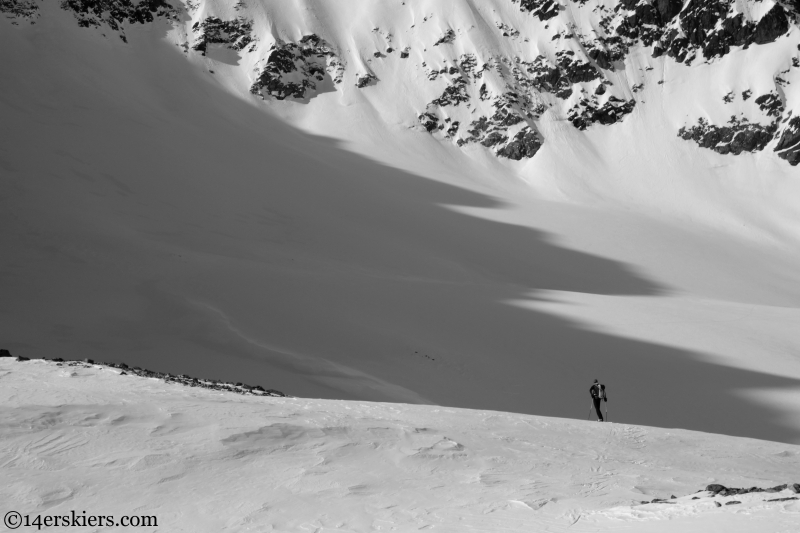 We decided to try to turn the corner on the climber's right of the face- either finding an easy way around the back, or skiing what we came up, or looking for better terrain on the other side. From this mini col, we could see the Jamtal hut, complete with ice climbing towers far below: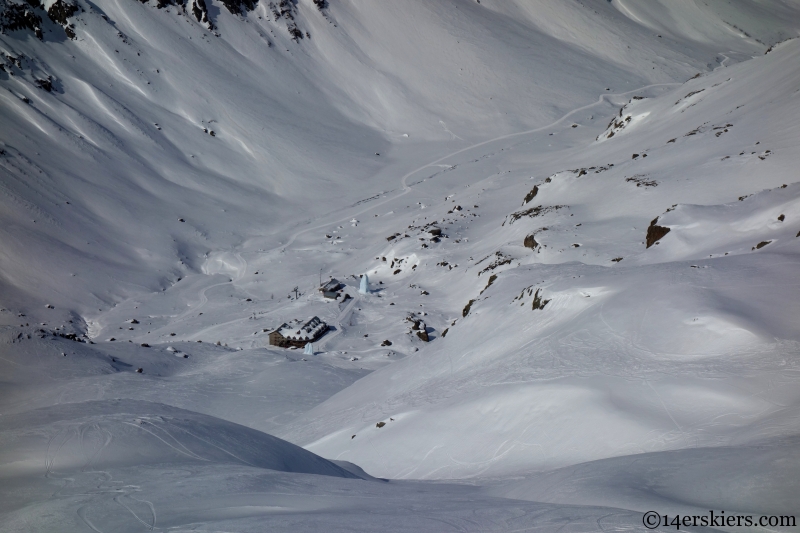 We found what looked like good snow below us, plus potentially some other terrain, so we dropped off the other side. Frank: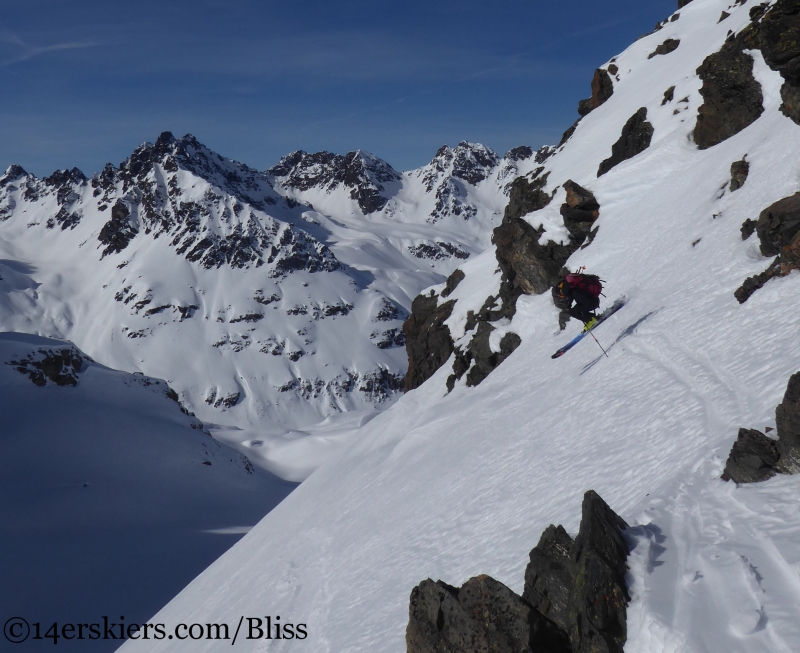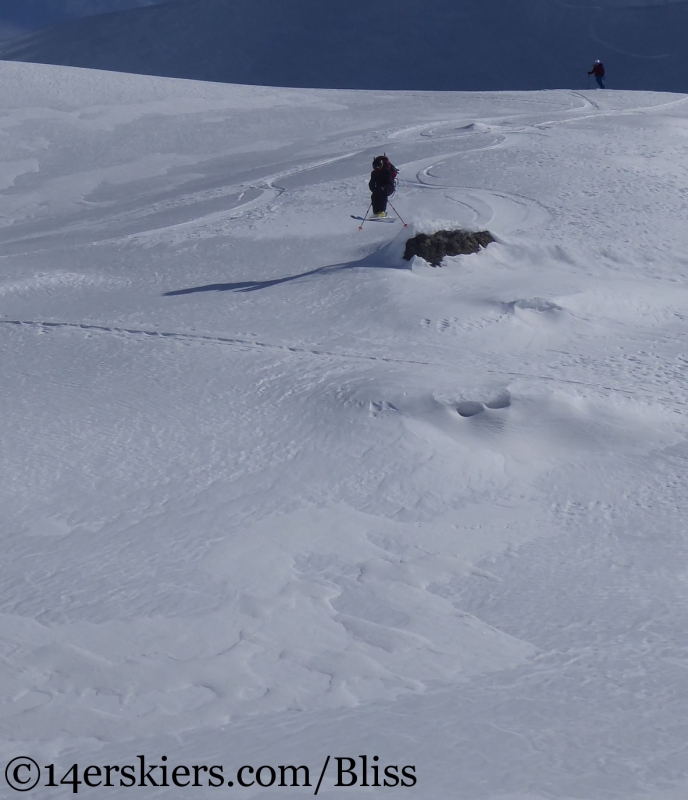 Brittany skiing the ripple snow towards the hut: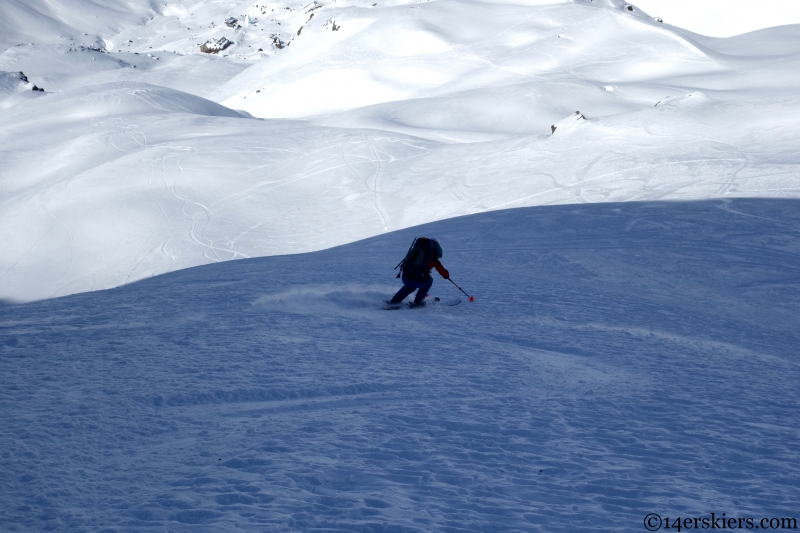 It would have been easy at this point to call it a day and ski to the Jamtal hut and enjoy a dunkelweiss in the sun. Instead, we traversed left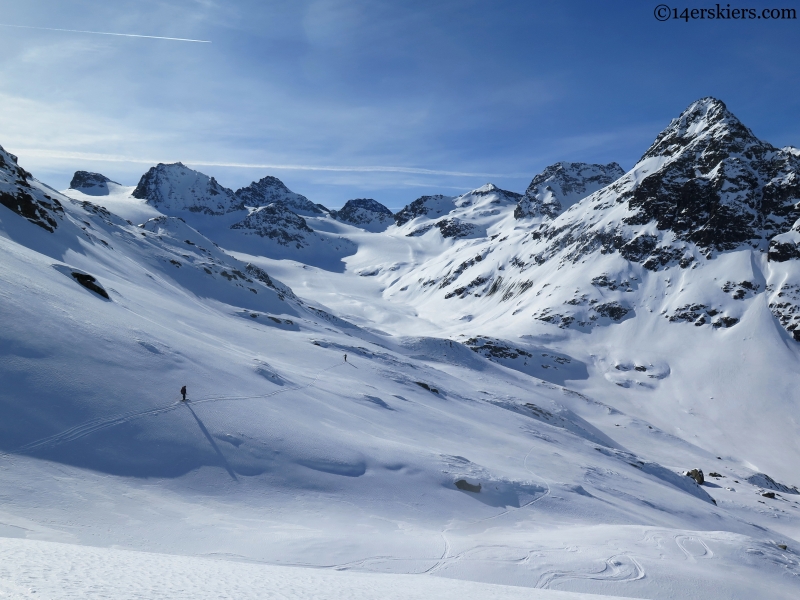 and Brittany found a couloir. So we climbed it. Conan: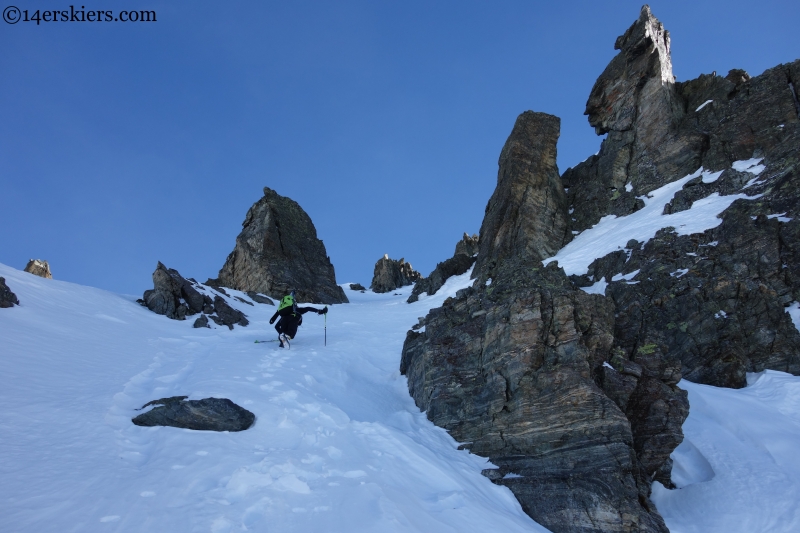 Then we skied it. Conan: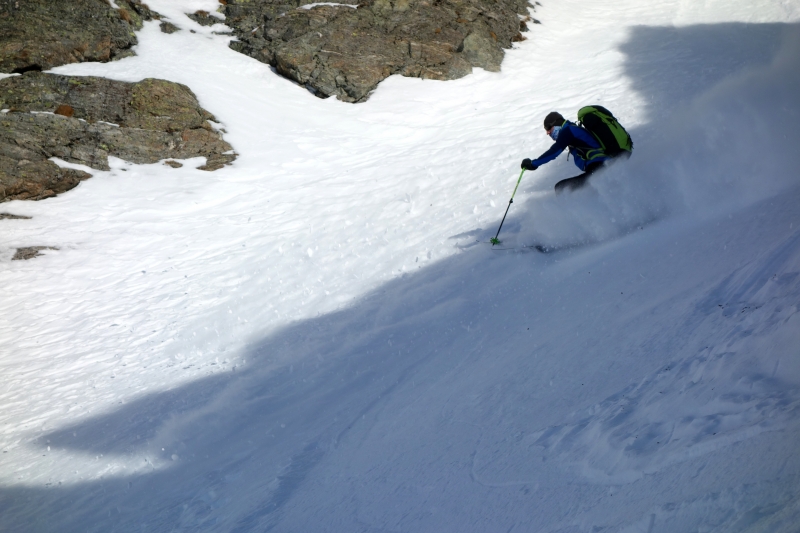 Frank: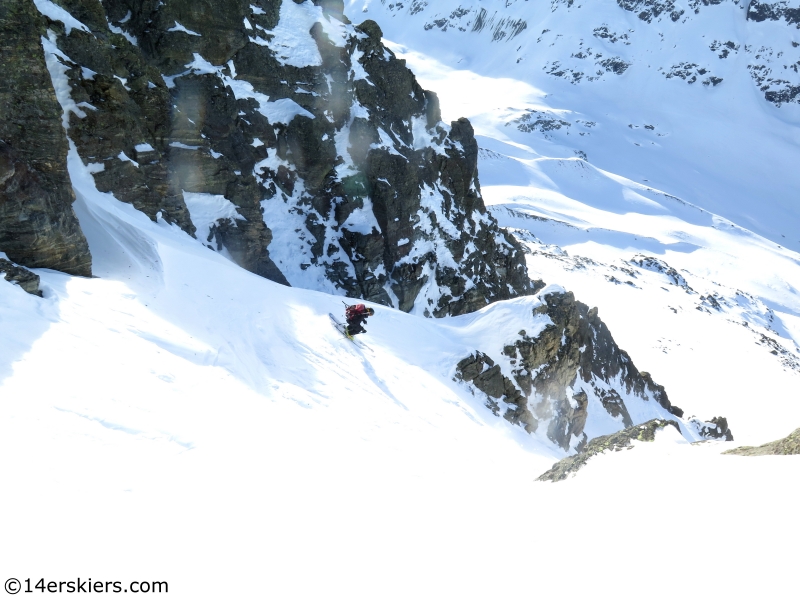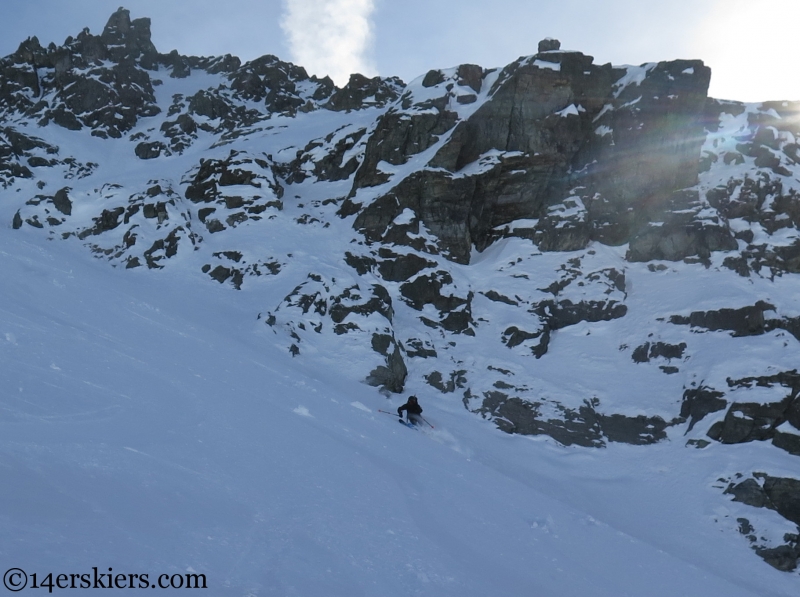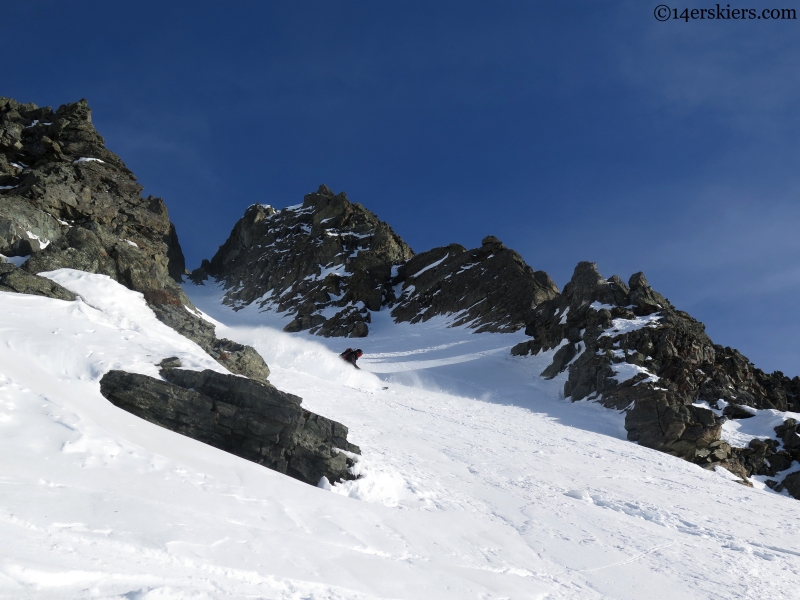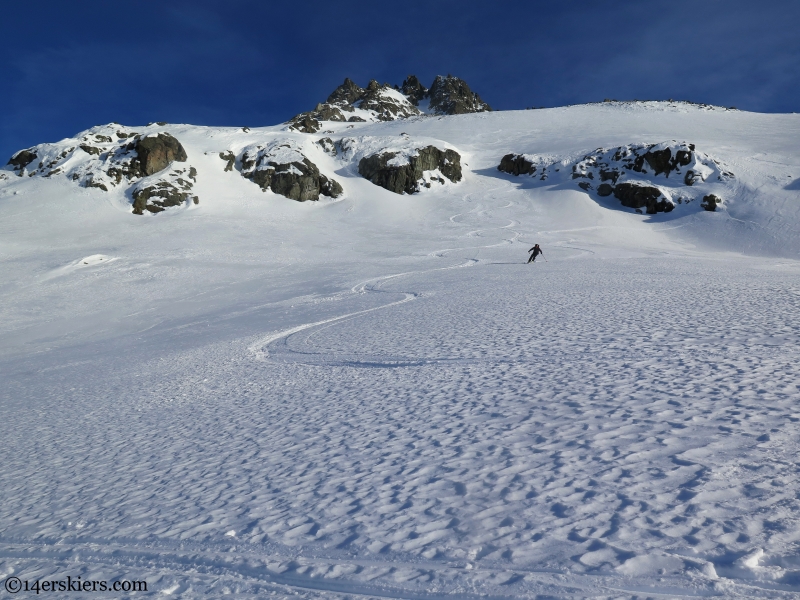 Brittany: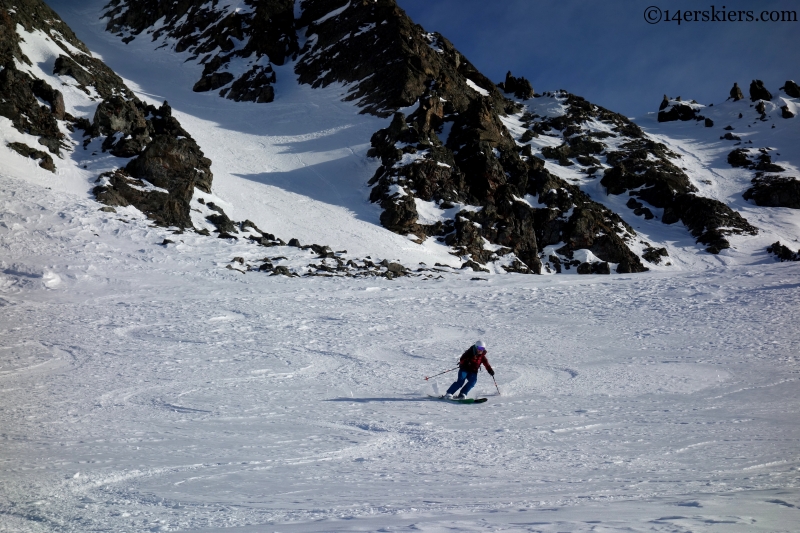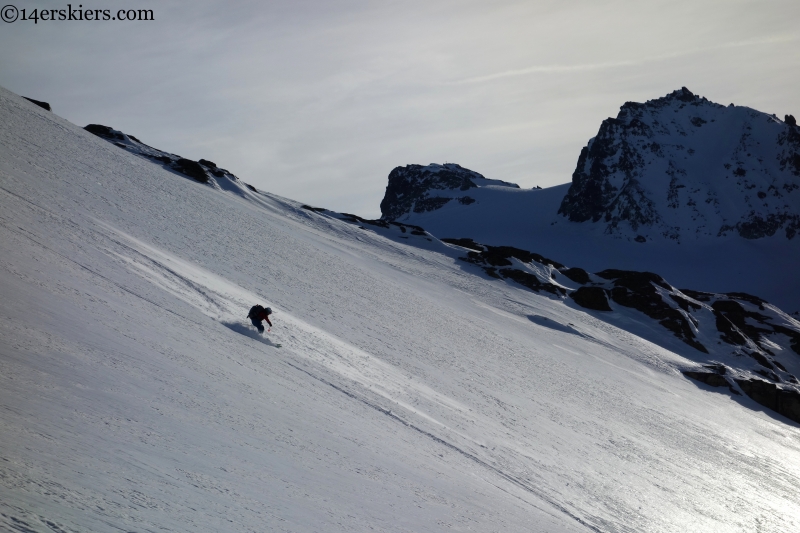 We skied down to the hut, straight to the little ice climb tower. Our route is hidden on the far right of the rocky peak in the upper right.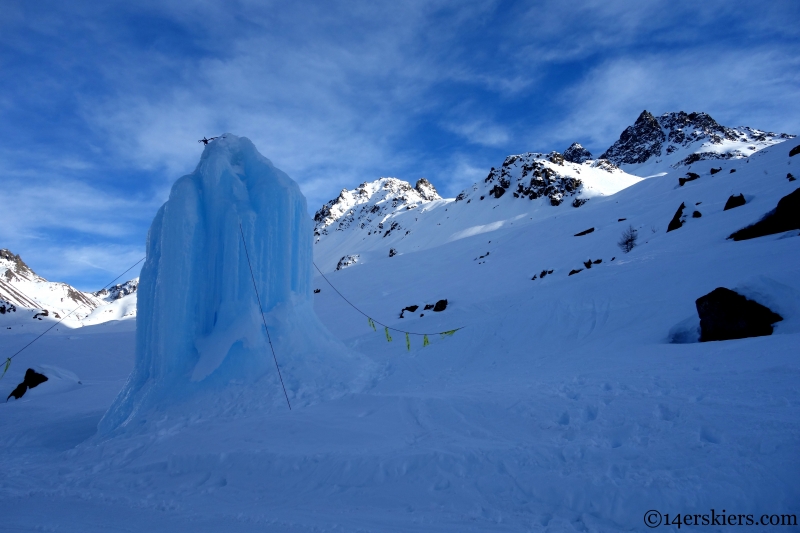 We're newbies, and you can tell because we didn't make it to the hut in time for beer in the sunshine. But I'm pretty sure we skied better snow than everyone else did that day.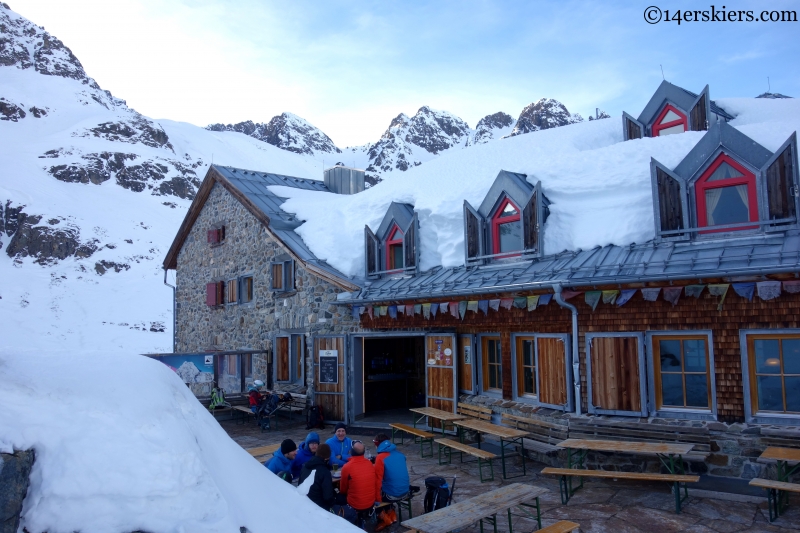 That concludes part one of our Silvretta ski tour. we'll have another post soon covering our time from the Jamtal Hut to the Weisbadaner Hut, followed by the exit to the town of Galtur. Here is our map from the Heidelberger to the Jamtal:
Frank
loves snow more than anything... except his wife.  He ensures his food is digested properly by chewing it 32 times before swallowing.He is a full-time real estate agent serving
Crested Butte and Gunnison
and would be honored to send you his
monthly newsletter.
Latest posts by Frank Konsella (see all)
Summary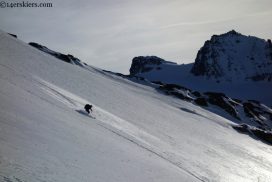 Article Name
Silvretta Ski Tour Part 1: Ischgl to the Jamtal Hut
Description
Trip Report, photos, map, and observations from the Silvretta ski tour, located in the Tirol area between Austria and Switzerland