TR: Mount Powell Ski (8 April 2019)
(Last Updated On: April 13, 2019)
Mount Powell is named after John Wesley Powell, the same explorer what Lake Powell is named after, who summited the peak way back in 1868. At 13,596 feet, Mount Powell is the highest peak in the Gore Range and barely makes the cut-off as a Bicentennial Summit in Colorado, ranking at 198th. Still, from certain aspects, and even for a short glimpse on I-70, Powell is inspiring and the multiple aspects allowing for ski descents have caught my attention for years. I'd stood just beneath it on our way to ski CC Rider Couloir on Peak C a few years back and it had been beckoning me back. But, getting there is a chore. Either you wait until Red Sandstone Road to Piney Lake is open to drive, or you go earlier and make the 8-mile journey to the lake via a snowmobile. The main problem with using a snowmobile is that by the time the snowpack has reached a more stable state in spring, the road is often partially melted out and gated from the bottom. You'd have to ride a long ways on dirt. But, not this year. Colorado has been rewarded with snow and Red Sandstone Road showed no signs of dirt, except for the first 100 feet. Mount Powell was calling louder than ever.
It was a whirlwind journey from Crested Butte. I escaped the closing-day apres-ski tradition to hit the road at a reasonable time to try to get close to the trailhead and catch some zzz's. But, I tossed and turned, and only slept an hour at best. I met my friend Larry at the trailhead – who was just as eager as I after having also stood beneath Powell when we skied Peak C along with me in 2016. He graciously brought down his snowmobile from Steamboat so we could use it on the 8-mile road. We met in the dark hours of the morning, loaded up the snowmobile, and we were off. Of course, frozen spring conditions led to the snowmobile overheating a few times. But, we cooled it off when needed, and made our way to Piney Lake as dawn was breaking.
The skate across the valley went fast. But, things slowed as we began skinning in the trees. Steep and frozen, the skin was more of the "death-grip" kind – slow, treacherous, and energy-sucking.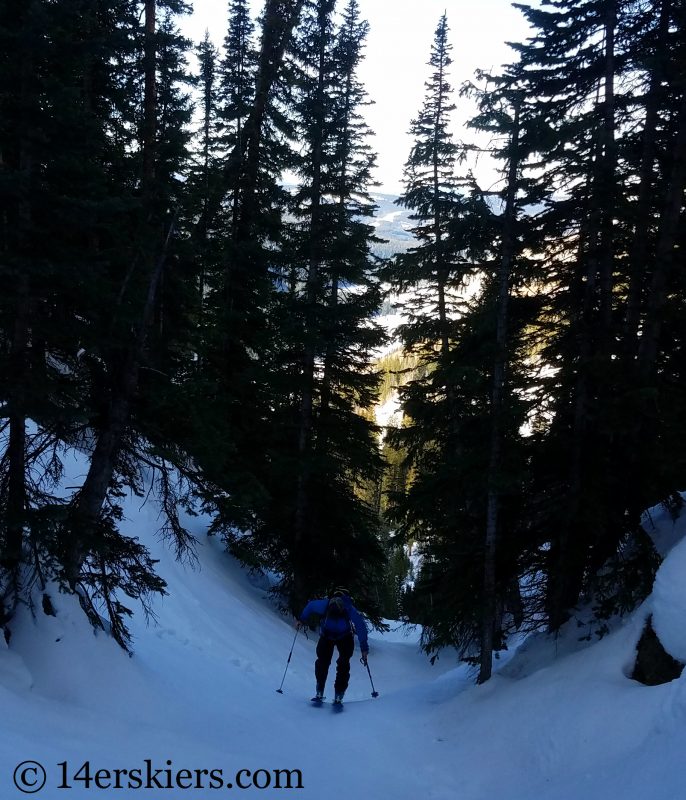 We were both relieved when we exited the trees and found ourselves at the beautiful basin beneath Mount Powell. Larry, with Mount Powell, and Kneeknocker Pass to the right.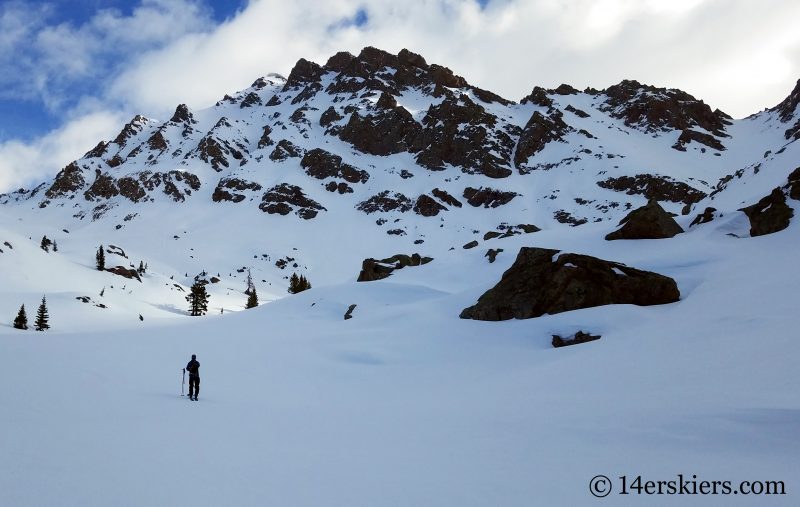 Part way up the pass, we switched from skinning to booting.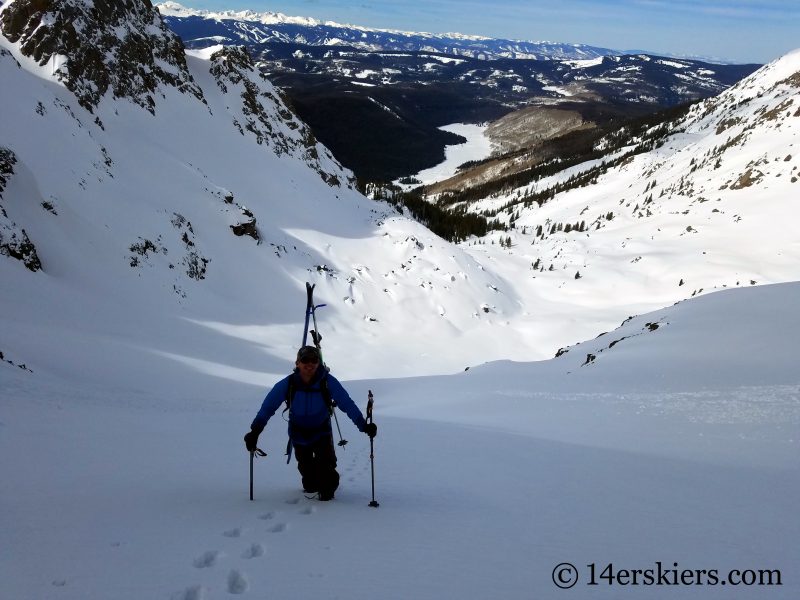 East Corner Peak presents some interesting lines in itself.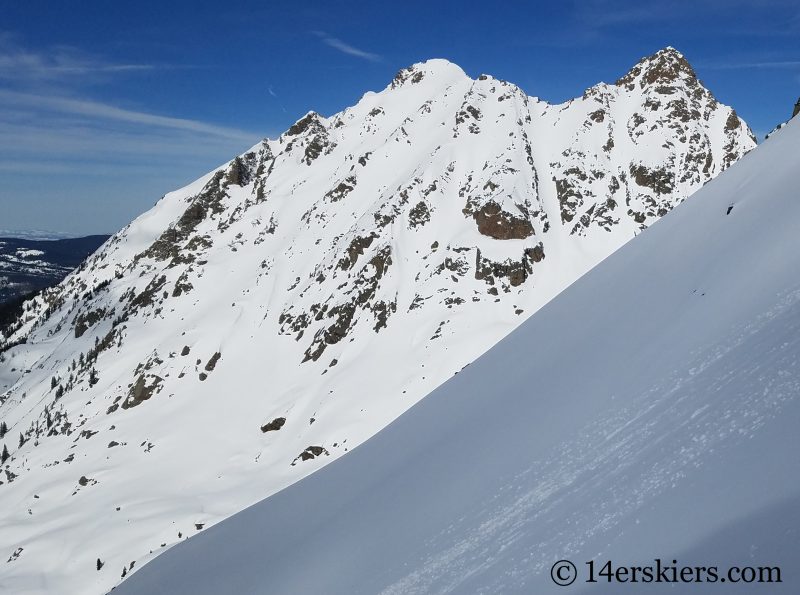 The wind blasted us on the pass, but we made it, and caught a nice glimpse of the south side of Powell.