TR: Lily Lake- Carbon Creek- Wildcat Trail 7.22.17
(Last Updated On: August 8, 2017)
Brittany and I ride what we like to call the Tour de Axtell every year or two- so named because you make a giant loop around Mount Axtell. Usually, we connect to the Carbon Creek trail a little differently, but this year, we decided to add the Lily Lake trail into the mix for something a little different. Lily Lake isn't the funnest trail in the Crested Butte area, although if you make the quick sidetrip to the actual lake it is really pretty. And it does make a nice connection to the Ohio Pass area so you can access Carbon Creek.
After we cruised down Ohio Pass, we started up Carbon Creek. This point is actually the end of the line for the Denver, South Park, and Pacific railroad (this is the same railroad as the Alpine Tunnel, and that can also be seen on top of Kenosha Pass). Keep cranking hard and the rocky start isn't as hard as it looks: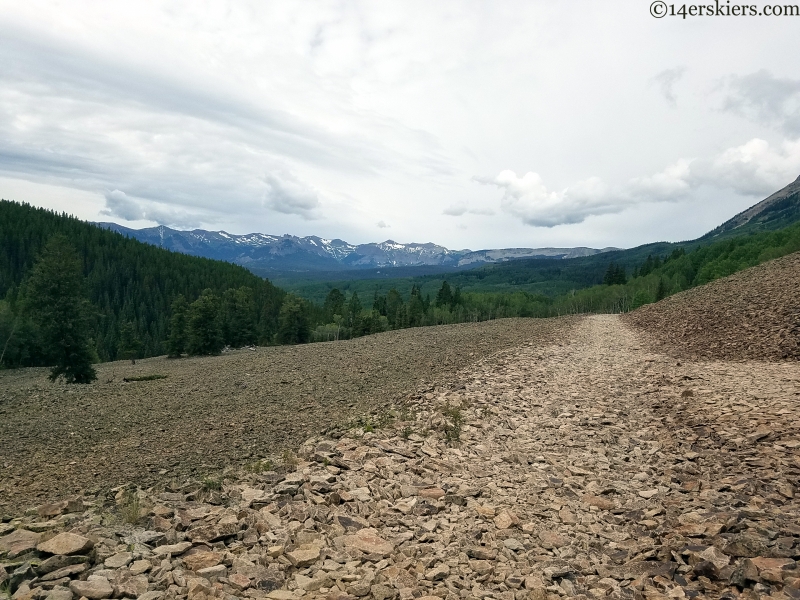 Brittany, with the Anthracites behind: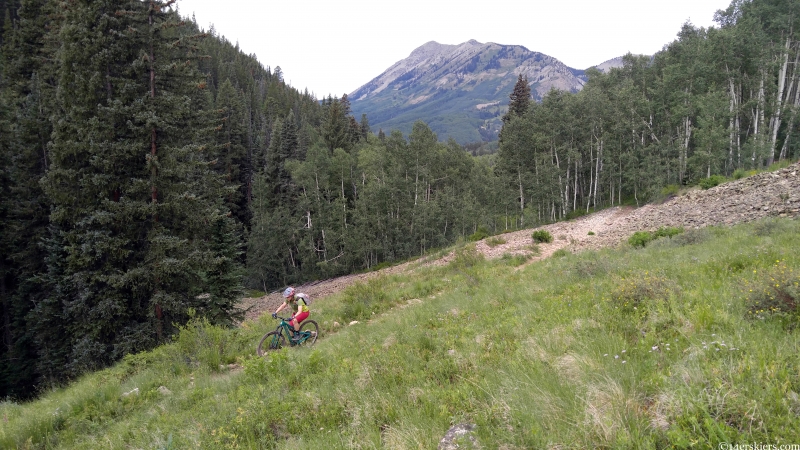 Carbon Creek is a great trail for about 3/4 of its length, with great views of Whetstone: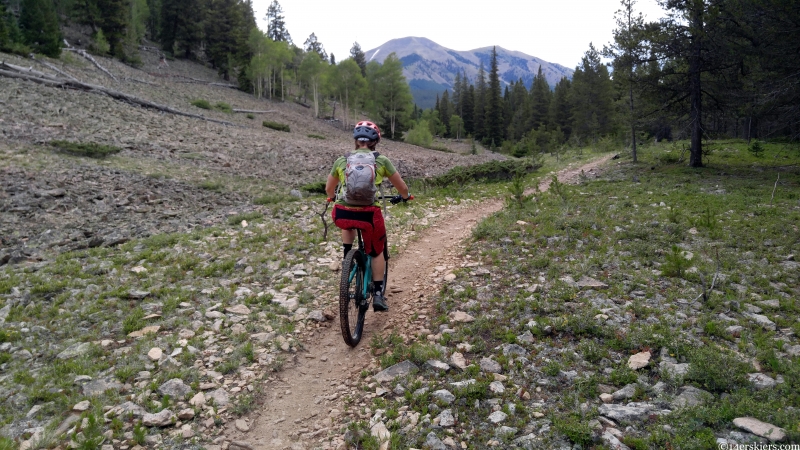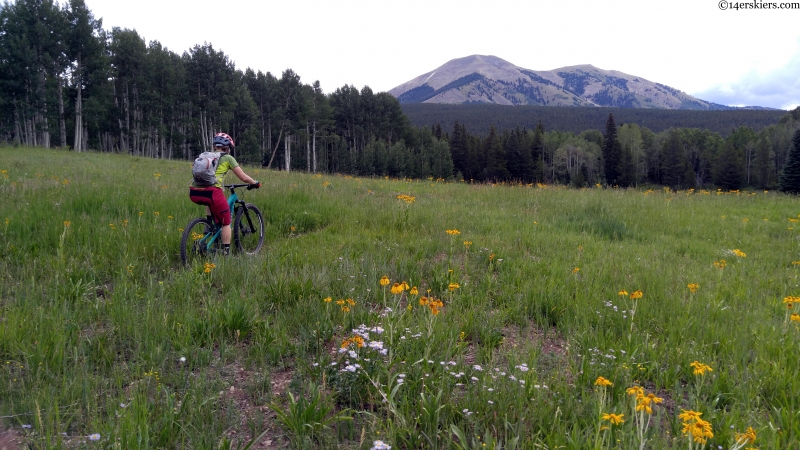 Unfortunately, the trail turns to hell as you approach Gibson Ridge between Axtell and Whetstone. Looks fun, right?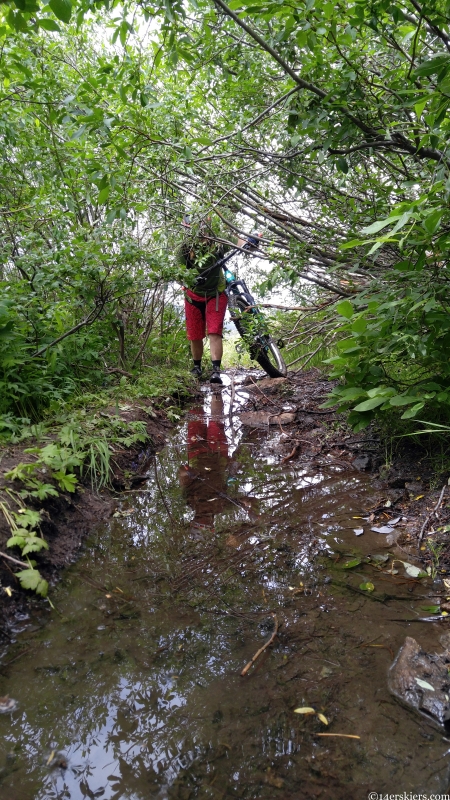 We heard that some of the worst sections have been cleaned up a bit by local dirtbikers, but the trail remains steep, loose, and rutted no matter what so expect to walk. Perhaps once the Baxter Gulch trail is finished, Carbon Creek will get some much needed attention so this area can play host to some nice large loops right from town. Finally, we made it to the top and got to enjoy a downhill. This section was long known as the Don Cook trail before being renamed para mi y para ti. But the CBG app also has this marked as simply a continuation of Carbon Creek, so who knows what it really is. It's steep and loose, but also a ton of fun. Some of the worst areas were worked on last year. Me: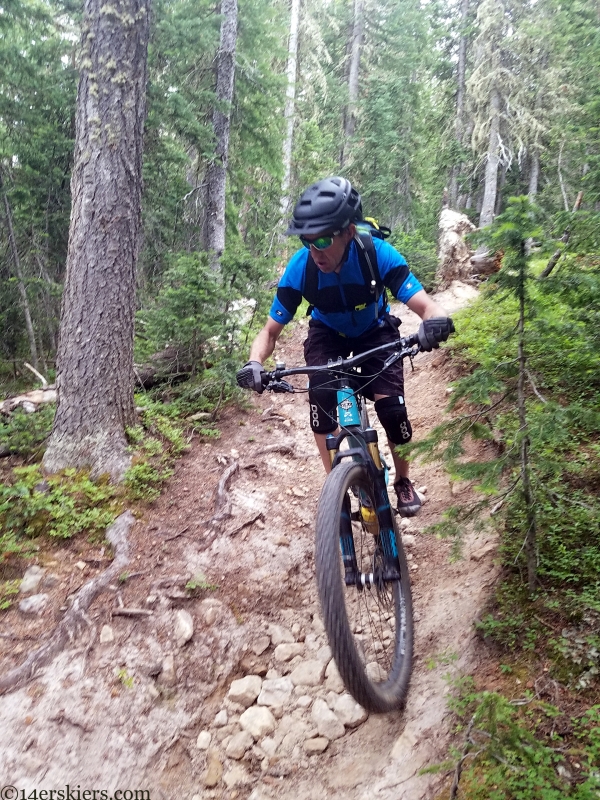 Normally, the big payoff on this ride is a descent of the Green Lake trail, but since we're chasing Trailquest miles, we descended the Wildcat trail instead. This trail was also re-routed and isn't as steep as it once was, so it might make a much nicer uphill to Green Lake than it did before. Unfortunately, we were there a bit too early and the dirtbike crowd hadn't cleared the trees yet (they did just a few days later). Still a good challenge: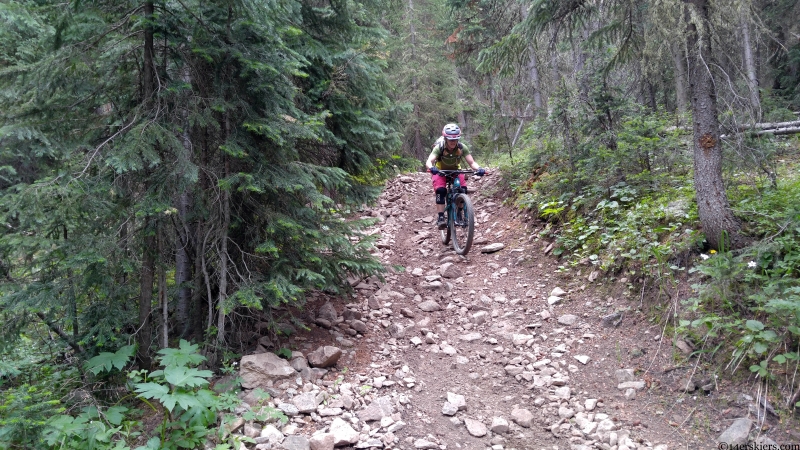 Wondering how to do this loop yourself? Here you go:
Frank
loves snow more than anything... except his wife.  He ensures his food is digested properly by chewing it 32 times before swallowing.He is a full-time real estate agent serving
Crested Butte and Gunnison
and would be honored to send you his
monthly newsletter.
Latest posts by Frank Konsella (see all)
Summary
Article Name
TR: Lily Lake- Carbon Creek- Wildcat Trail 7.22.17
Description
Mountain Biking Trail Report for the Lily Lake/ Carbon Creek/ Wildcat trail loop near Crested Butte Colorado, including map and description.
Author