TR: Matchless to Doctor Park 7.8.17
(Last Updated On: July 30, 2017)
If you've been following our bike adventures this summer, you're probably aware that we have a few goals going on right now. Brittany is hoping to ride 700 miles of singletrack this summer, as she comes back from ACL surgery last November. But we're also having fun playing TrailQuest (even if you don't want to play the game, it's a good app to find new trails). One route I knew would be a good one for both goals was to ride all of trail 424 from Taylor Park to the standard descent on Doctor's (which is usually called Matchless to Doctor Park). I hadn't done it in 20 years or more, so it was a nice excuse to get out there again.
The trail instantly goes up and up from Taylor Park, and as an added bonus it's loose and rutted thanks to heavy moto use. But once you get up high, it settles into a more up and down scenario, so you at least get some downhill respite. Some of it is quite good, too! Brittany: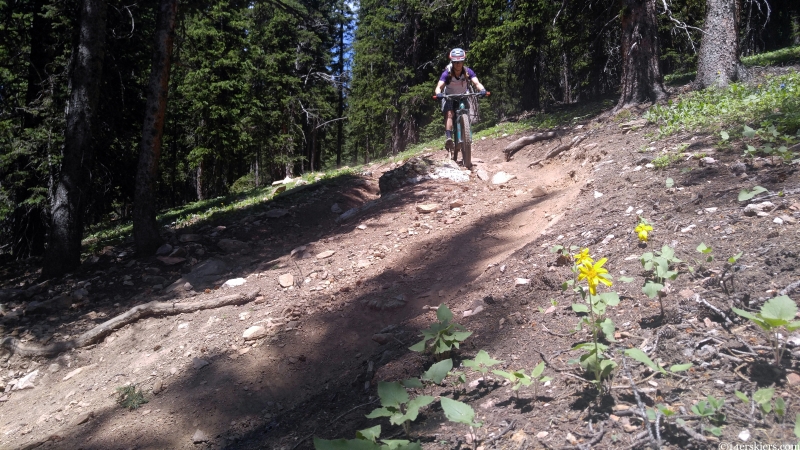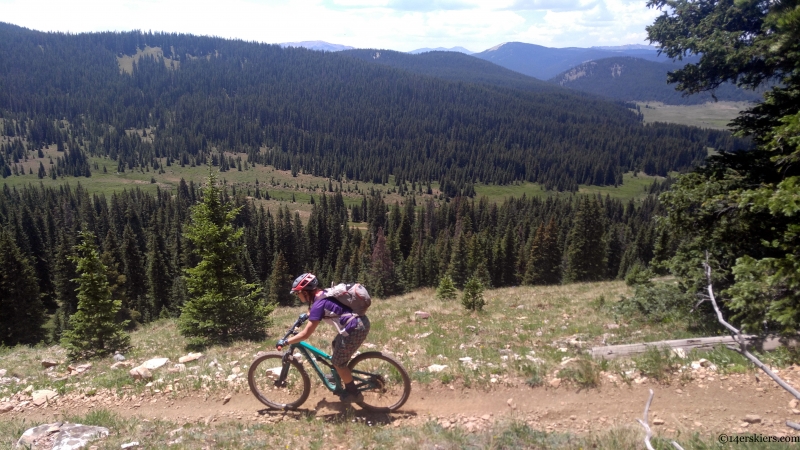 Frank: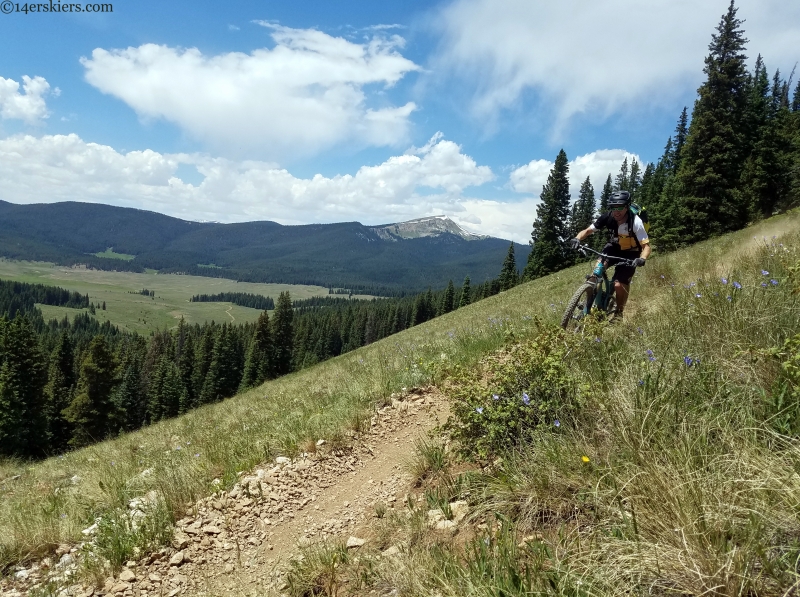 At one point, the trail was part of the Gunnison Spur of the Colorado Trail. This trail was intended to be a shorter version of the Denver to Durango classic. Unfortunately, the trail required a ton of maintenance since so much of it was open to motorized uses, and the CO Trail Foundation has since abandoned any stewardship of the trail. You'll still see the familiar CTF logo along the trail, however. Trail like this can still be pretty fun, though: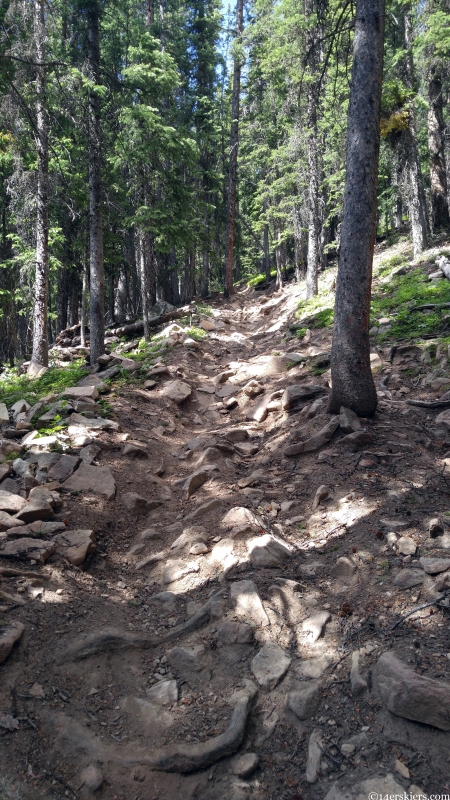 More fun downhill sections with Brittany: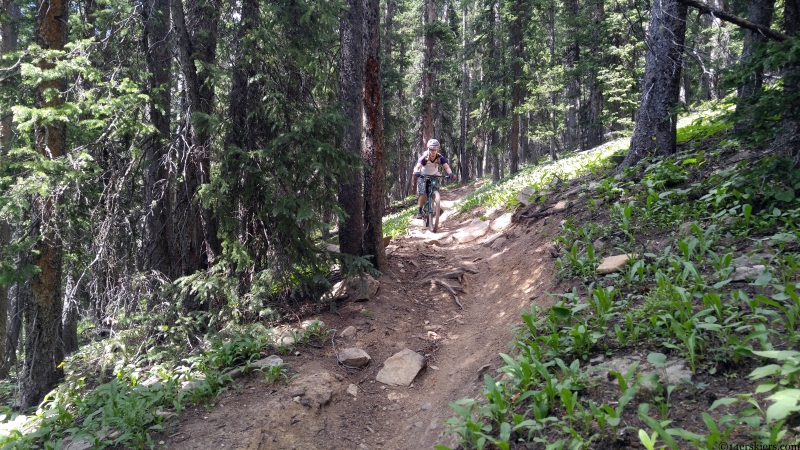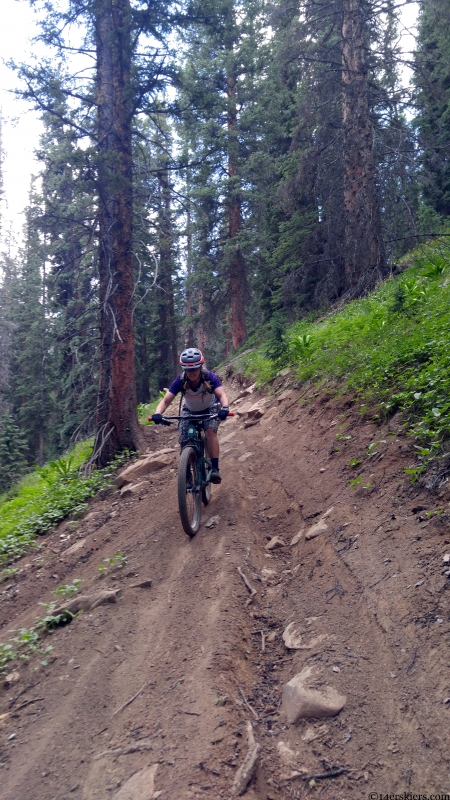 Frank: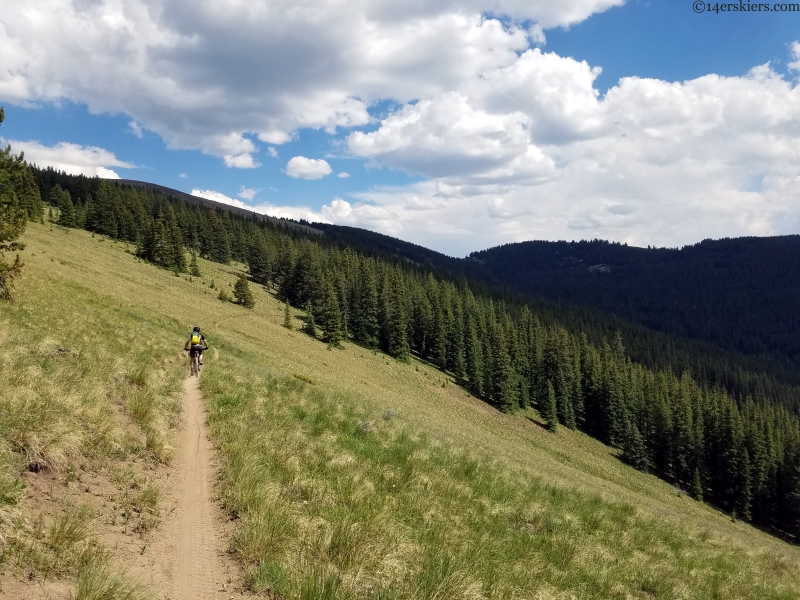 After a nasty hike a bike ATV section, we reached a great viewpoint near Matchless Mountain. To the north was the Elk mountains, while the view to the south was of Fossil Ridge and the Taylor River canyon.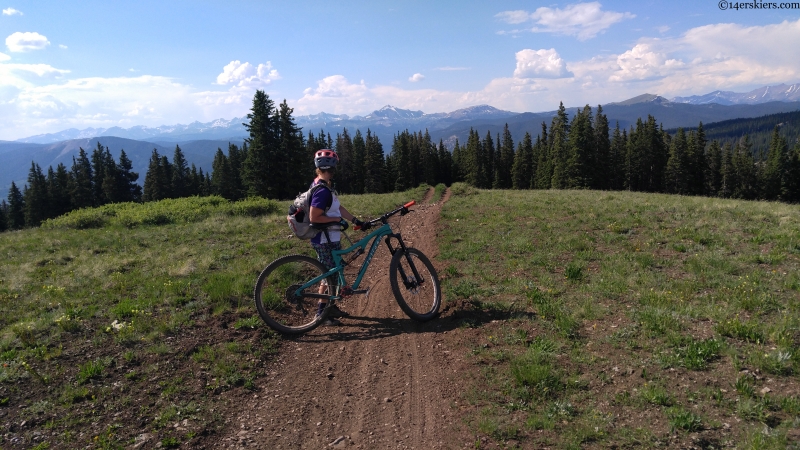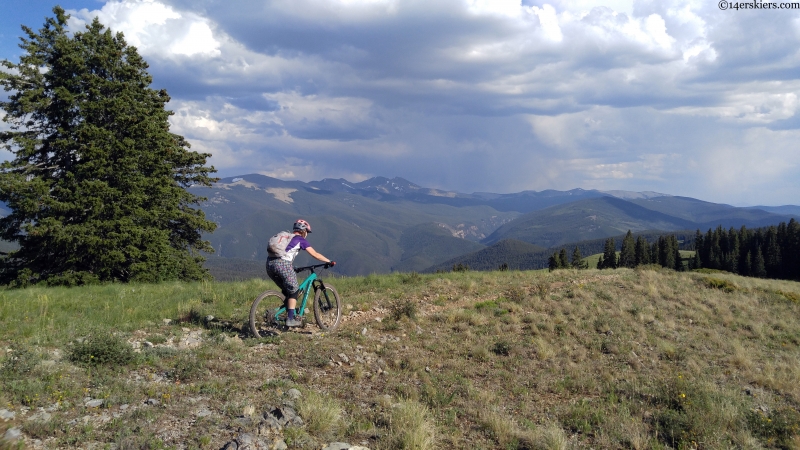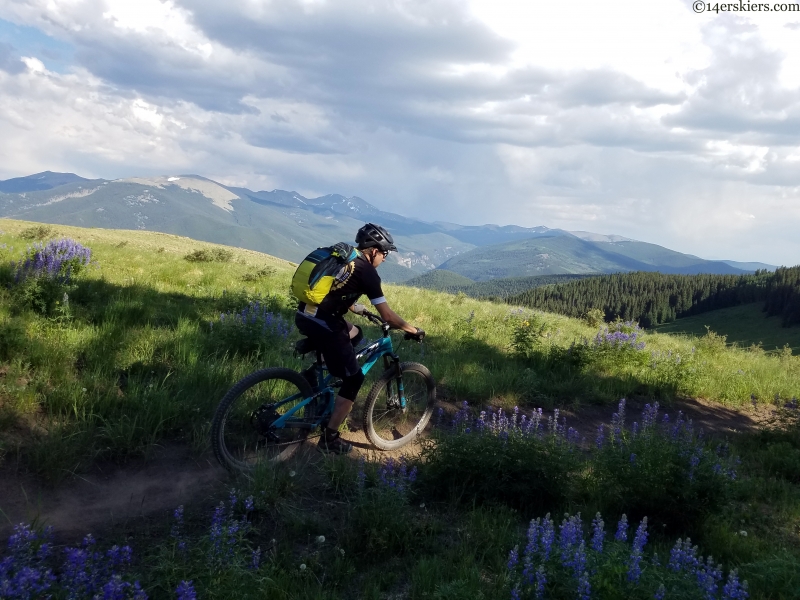 Still a few good chundery sections, too!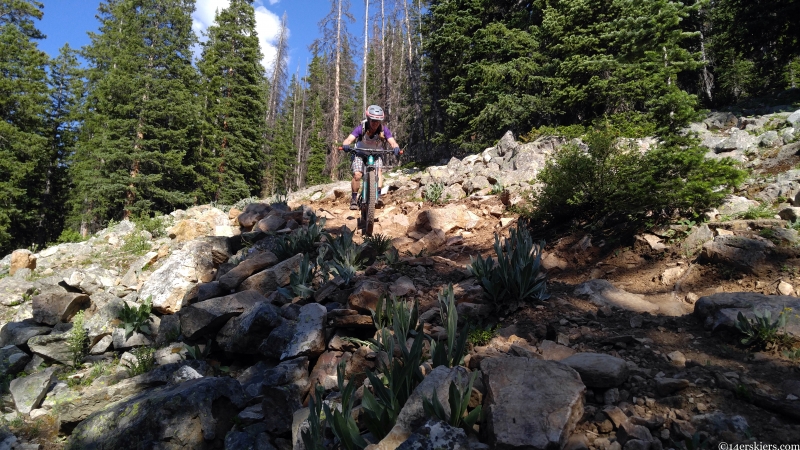 This field had more columbines than anywhere I think I've seen.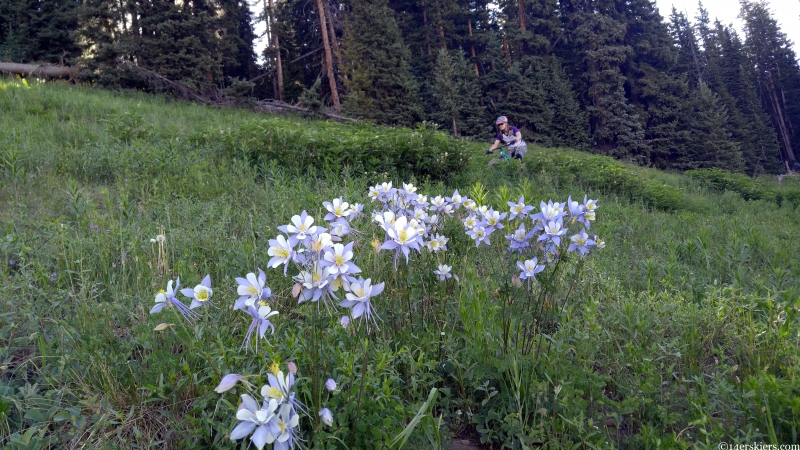 Finally, we were on the familiar terrain of Doctor Park, a little more tired than usual but it's a trail that always energizes.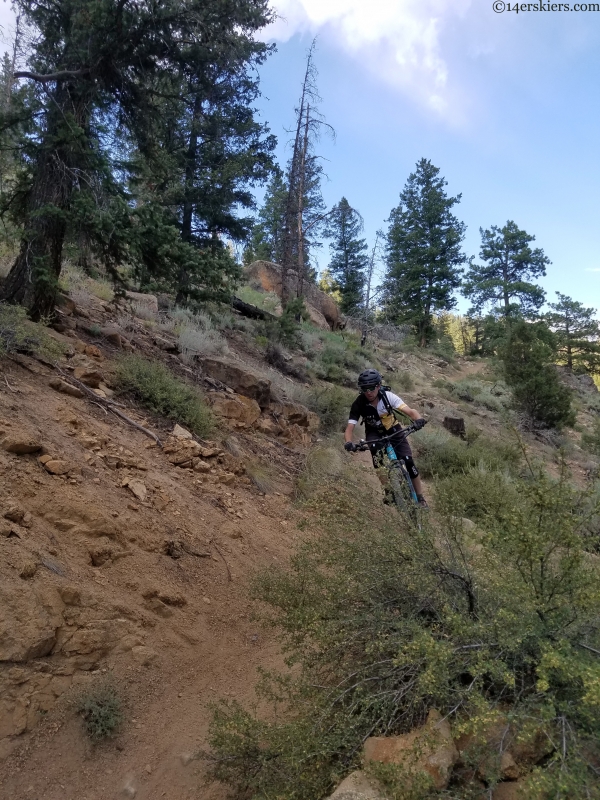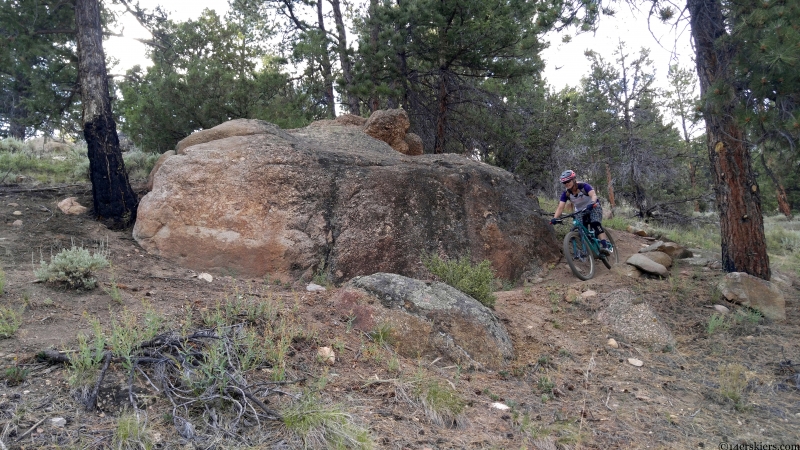 All in all, it's a long day to ride all of 424 from Taylor Park to Harmel's, but it's a fun one if you don't mind the occasional hike a bike on the way. Just make sure the weather is clear, because you'll be out there for a while. Here's our map:
Have fun if you go check it out- or go explore more!
Frank
loves snow more than anything... except his wife.  He ensures his food is digested properly by chewing it 32 times before swallowing.He is a full-time real estate agent serving
Crested Butte and Gunnison
and would be honored to send you his
monthly newsletter.
Latest posts by Frank Konsella (see all)
Summary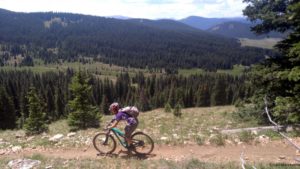 Article Name
Description
Mountain Biking the Gunnison Spur (Trail 424) from Taylor Park all the way to Taylor Canyon near Harmel's- often called Matchless to Doctor's Park. Read our report and view the photos.
Author