Gear Review: Petzl Leopard LLF Crampon
(Last Updated On: May 4, 2017)
Before I begin my gear review of the Petzl Leopard LLF crampon, it might be worth discussing the different styles of crampons. For ice, it's best to get a steel crampon with vertical frontpoints, and maybe even a monopoint. Steel crampons with horizontal frontpoints have long been a common style, but for me, this the the crampon I use by far the least. That's because I transitioned to aluminum crampons with horizontal frontpoints. For 99% of the steep skiing routes I've done in CO, this type of crampon is more than enough. If you're climbing a route where you expect to encounter vertical ice or long stretches of rock, steel remains the way to go, but it comes at a significant weight penalty. The Petzl Leopard LLF crampon clocks in at 330 grams, whereas my steel 'pons are a whopping 900 grams. Not only does the lighter weight make for a lighter pack and lighter feet when they're on, but it also makes the trailhead game of "Should I take ____?" a whole lot easier. With aluminum, you throw them in the pack and have them when you need them. With steel, they stay at the trailhead more often than not, leaving you cursing and sketching out when you wish you had them on your feet. The only downside? Aluminum versions may only last a couple of seasons of heavy climbing, while my steel crampons will probably last my entire life. It's still a small price to pay.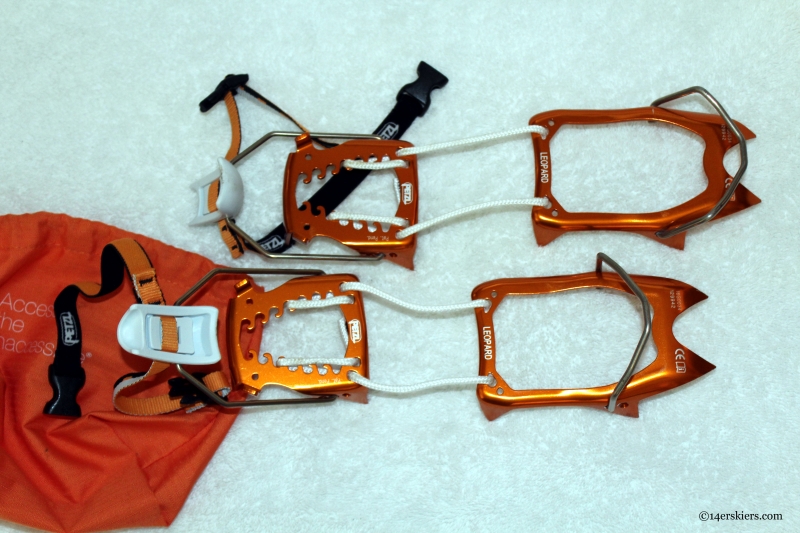 The first thing you will undoubtedly notice about the Leopard LLF is that they do not have a metal bar connecting the front and back section of the crampon. Instead, they have what Petzl calls Cord-Tec nylon connecting the crampon. This saves even more weight for one, but also makes them more packable: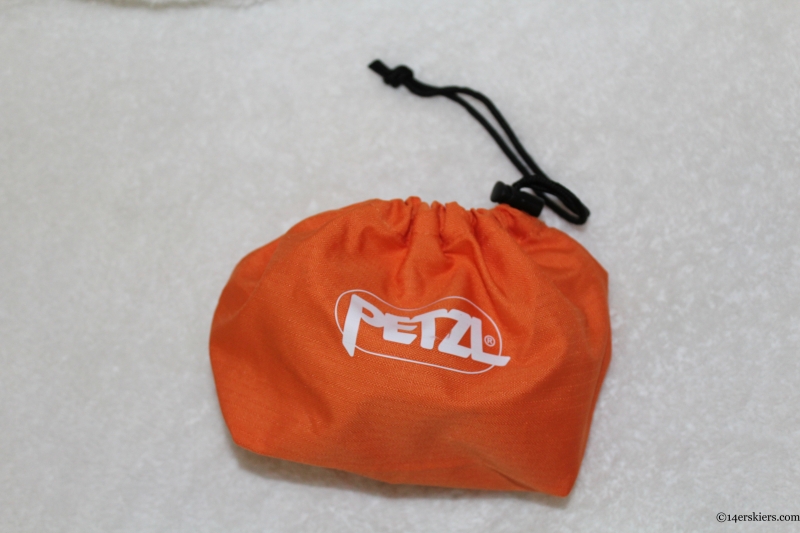 Instead of adjusting the size via different holes in the connecting bar as in traditional crampons, the Leopard adjusts by moving the cord between different teeth. Note that you don't have to be in the same slots on either side- if they fit best by being in slot one on one side and slot seven on the other- that works just fine.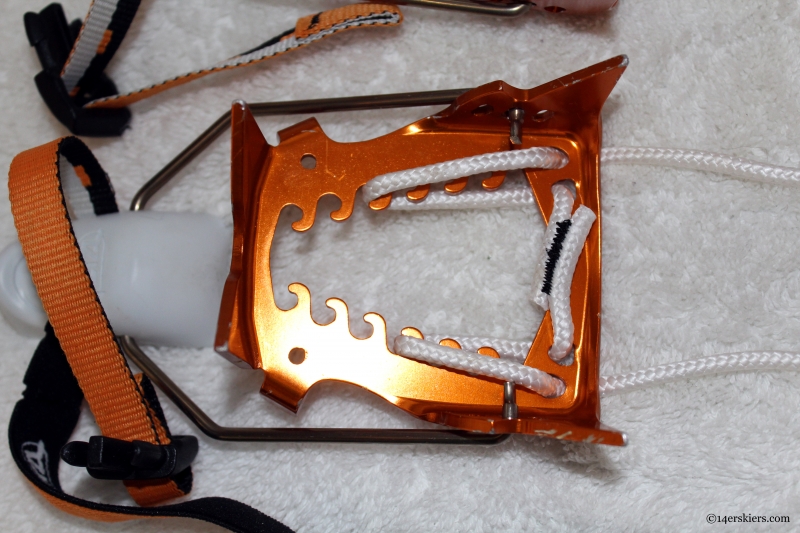 Adjusting the crampons took me quite a bit of trial and error. For one thing, the cord will stretch slightly after you wear them for the first time, and you will probably need to move up one slot once it does. (Playing tug of war between the two sides before you ever go out will help "seat" the cord and reduce this effect). Secondly, the heel throw doesn't have any micro-adjustment capability like all of my other crampons. Even though it would add a tiny bit of weight, I think that an adjustable heel throw would be a significant improvement. Once I got them dialed and stretched, however, they've been great.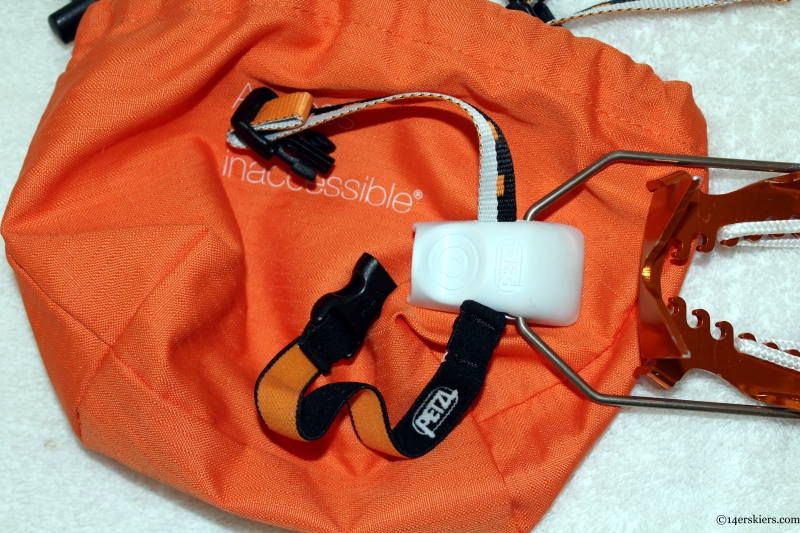 As for performance, you'll notice the weight if you're coming from steel. Also, the Petzl Leopard LLF is a 10 point crampon rather than the standard 12, so they may feel slightly less secure in some situations. All in all, they weren't much different from my other aluminum crampons. The biggest reason to get these is the packability factor- they just take up so much less room in the pack. Out in the field: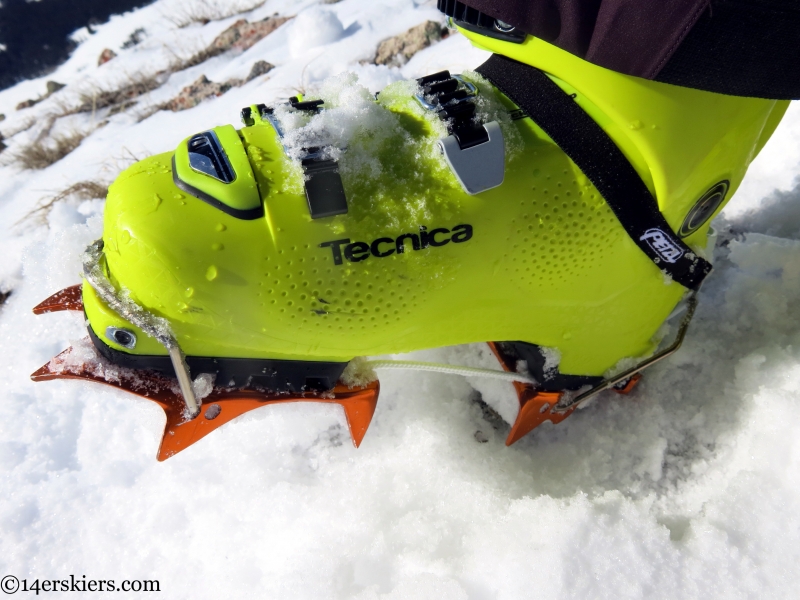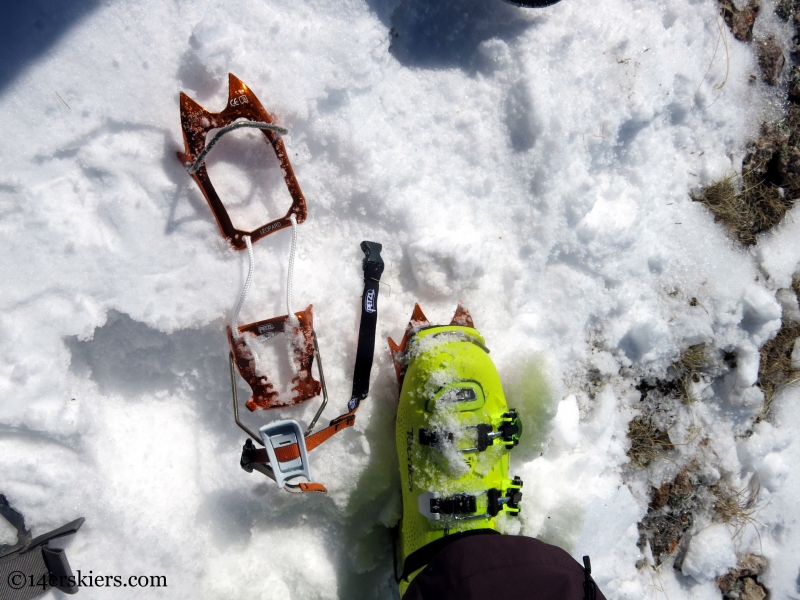 I don't use rockered sole AT boots, but I do wonder if the cord would allow the crampon to fit a boot of this type better. Perhaps someone else can chime in on that? As stated above, durability is a factor in any aluminum crampon. I haven't used these long enough to determine whether or not the Cord Tec wears out faster than the aluminum on snow, rock, and ice. I'll update this post if I discover it does. Antibot plates are available, and I can't see any reason why you wouldn't want them- I did have some snowballing issues when I was using these without the plates.
If you haven't ditched your steel crampons- do it. We're not weight weenies here at 14erskiers, but when it comes to crampons, we most certainly are. The Petzl Leopard LLF is a good choice if you're looking for a good combo of packability and light weight.
Frank
loves snow more than anything... except his wife.  He ensures his food is digested properly by chewing it 32 times before swallowing.He is a full-time real estate agent serving
Crested Butte and Gunnison
and would be honored to send you his
monthly newsletter.
Latest posts by Frank Konsella (see all)
Summary
Reviewer
Review Date
Reviewed Item
Petzl Leopard LLF crampon
Author Rating