Crested Butte Backcountry: East Face Gothic South Face Ruby
(Last Updated On: February 22, 2017)
The 2016-17 Crested Butte backcountry season keeps rolling on- though I've honestly been on the sidelines much of the year. Heavy snow has made the ski area a blast, not to mention we've had a lot of terrain open including Teocalli 2 bowl and 3rd bowl. Add in a friend who was hurt in a relatively small avalanche, and a surface hoar layer that was overstaying its welcome, and it was easy to keep choosing lifts over skins. Last week, things started to settle down a bit and it was time to earn my turns once again. First up was Ruby Peak.
Ruby Peak South Bowl 2.16.17
Everyone seemed to have the same idea on this day. South faces seemed like a good choice since the surface hoar hadn't been sticking around on these sunny slopes. I knew a group of two was planning on skiing the face ahead of us, and they ended up being joined by another group of three. They got the first tracks, but it sounded like our later start gave us better conditions after the sun had warmed things up a bit. In any case, it's a big bowl with plenty of room. Marcellina- probably a good year to go ski this again: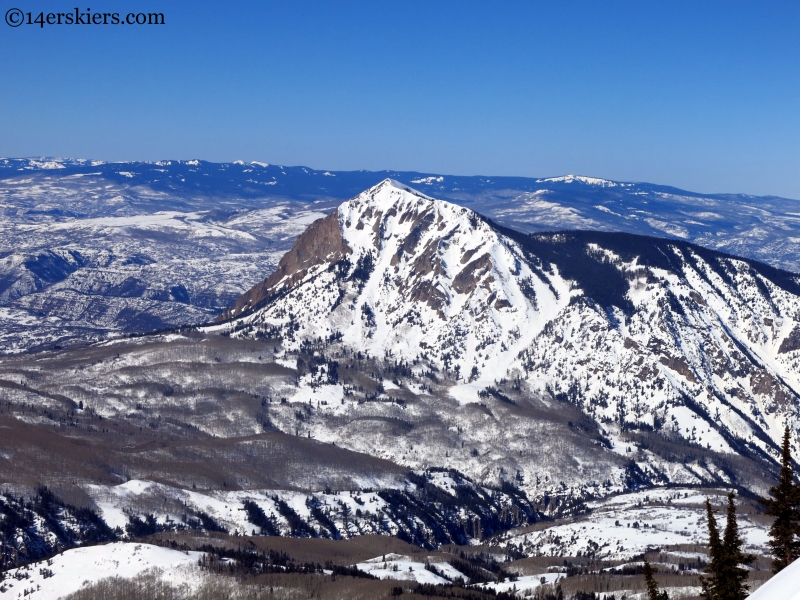 Pete Sowar heading down the ridge: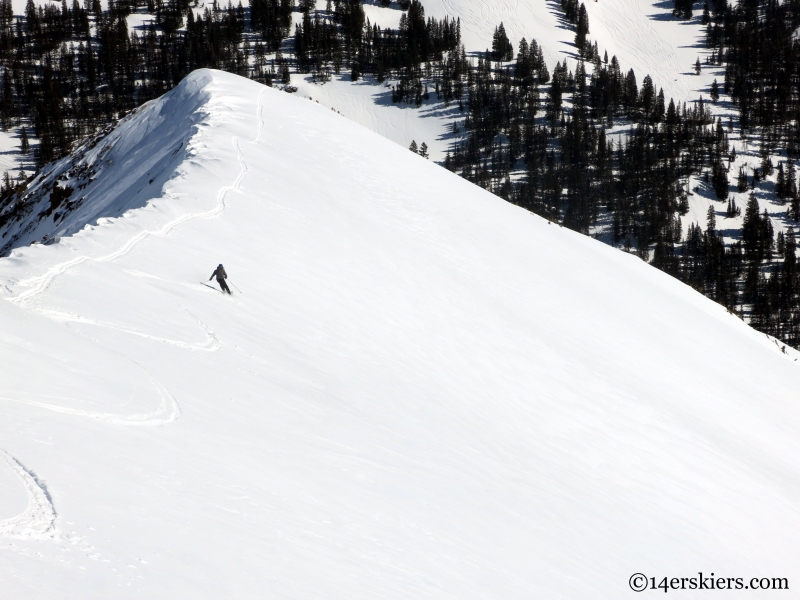 Then down the face: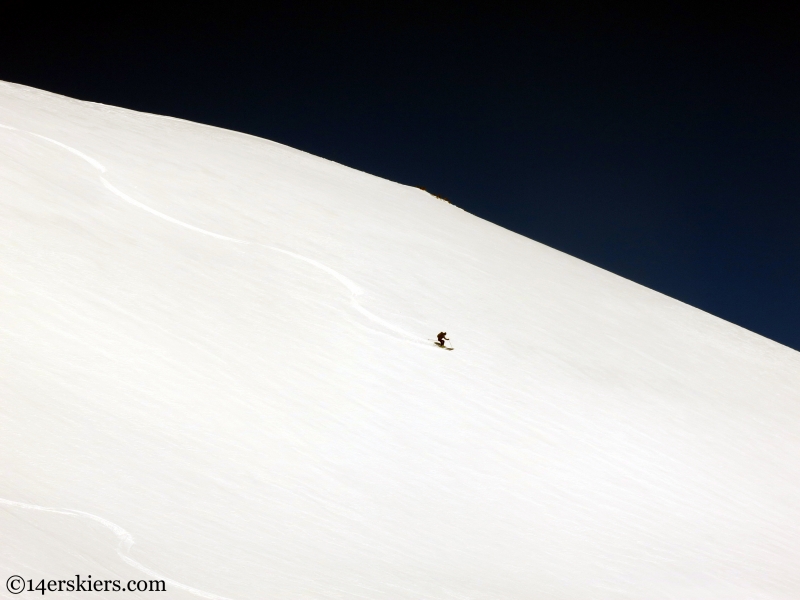 Whiterock in the background: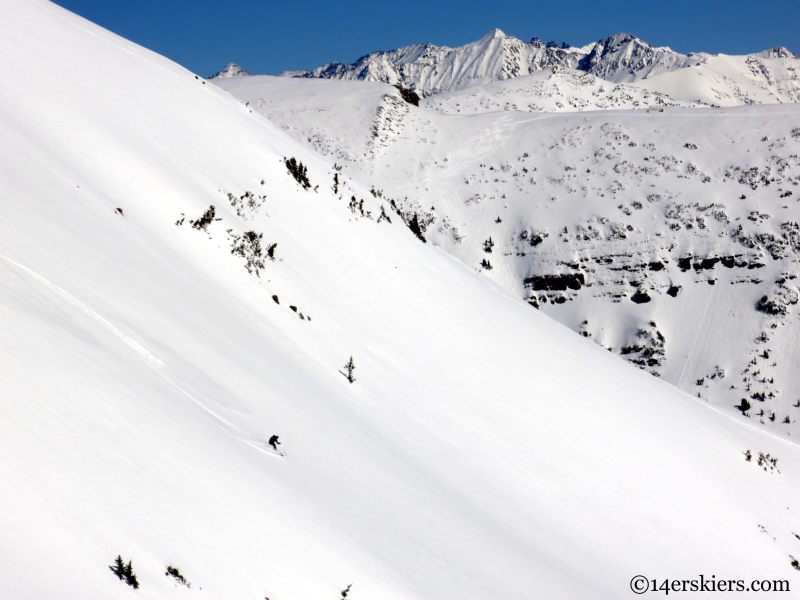 While Pete was skiing "hot pow" verging on corn snow, Dan Loftus and I chose colder snow on the opposite side of the bowl. The technical term would be "rippled pow with a thin zipper crust". It skied great. Dan: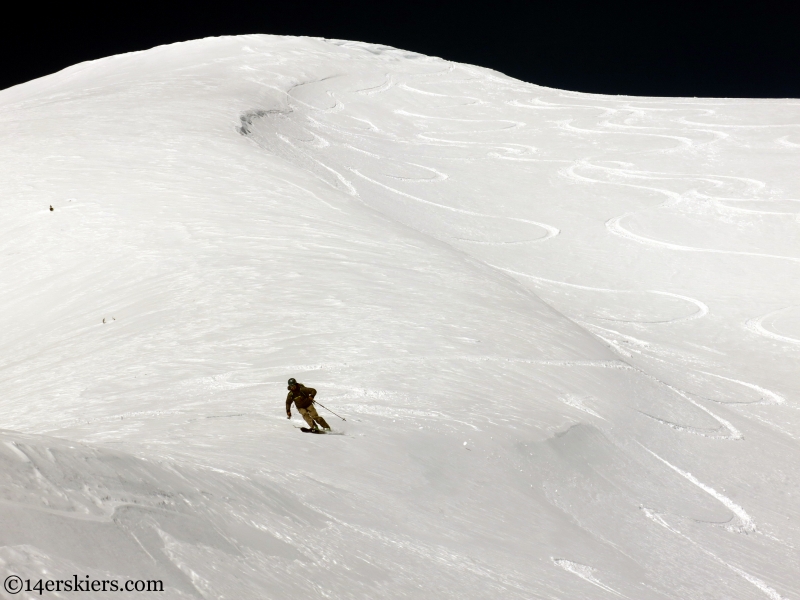 Gothic Mountain East Face 2.17.17
Avalanche problems on this day were primarily moderately angled and protected north faces near and below treeline. Above treeline, like last February, the rating was low and I felt like we had a window to check out what might be Crested Butte's most striking face- the East face of Gothic. Alex Reidman was on the same page, so off we went: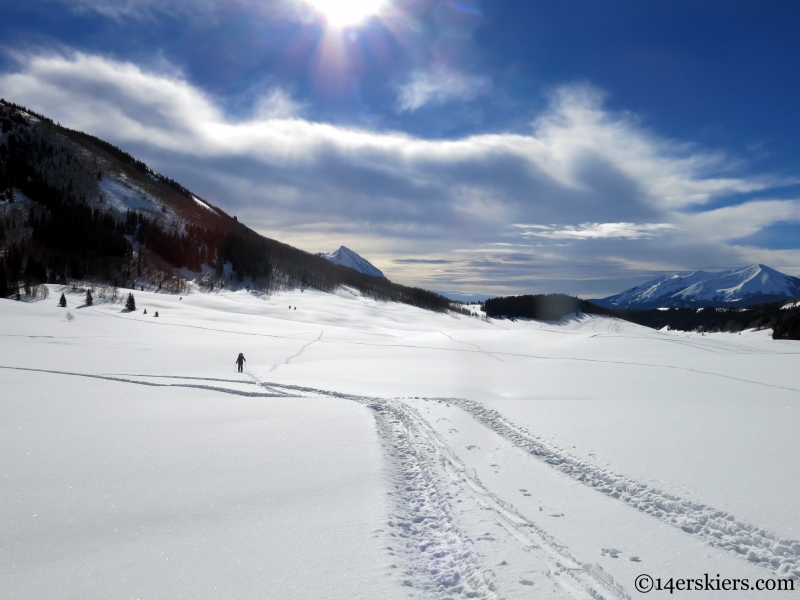 We made our way towards the summit and I had the chance to put in my first day testing the Petzl Leopard crampon. They're light, and very packable thanks to the cord that connects the toe and heel portions of the crampon. I'll do a more detailed review once I have more time with them.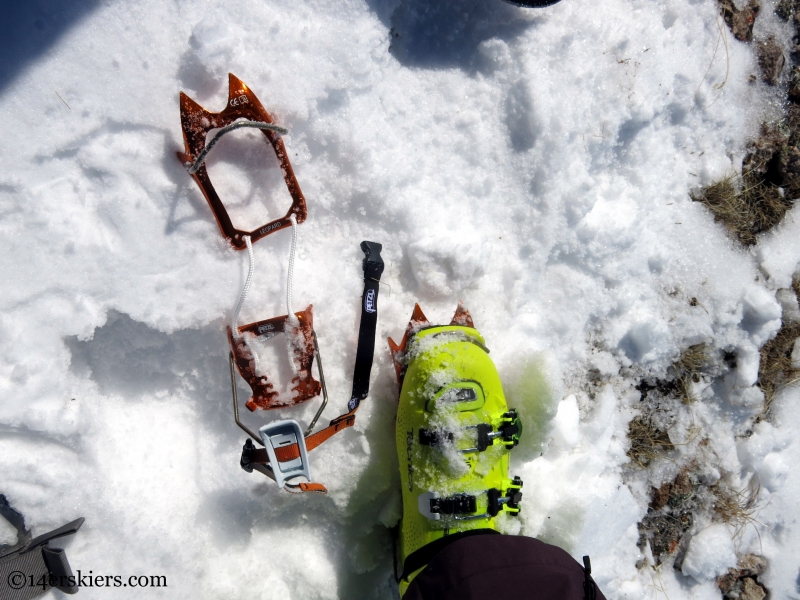 That will work: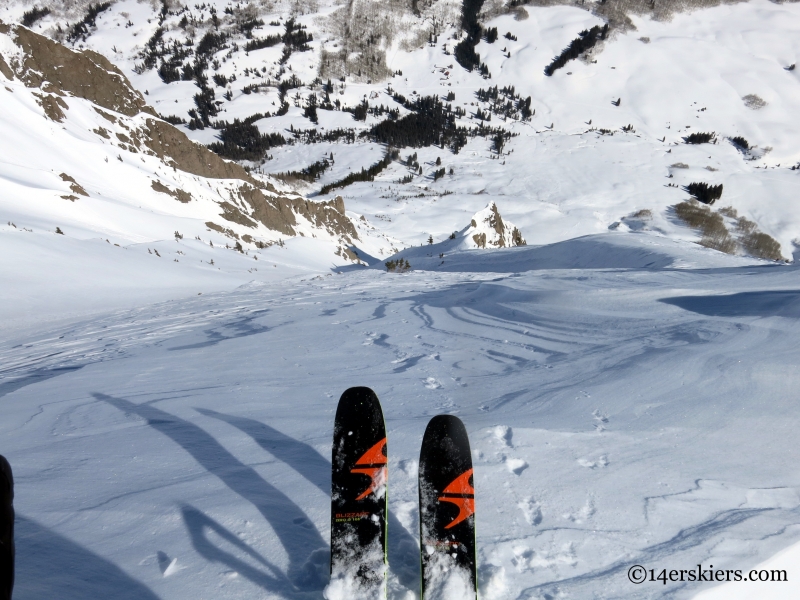 The turns from the top down to my first safe zone were pretty incredible- soft recycled pow. Once I stopped, I had time to get situated and get my camera out before I heard a rumble. My tracks had slowly released a sluff that had increased in size and intensity by the time it rushed past me. I was situated high on a rib, and was in no danger, but we did take note of the conditions. Alex started her own: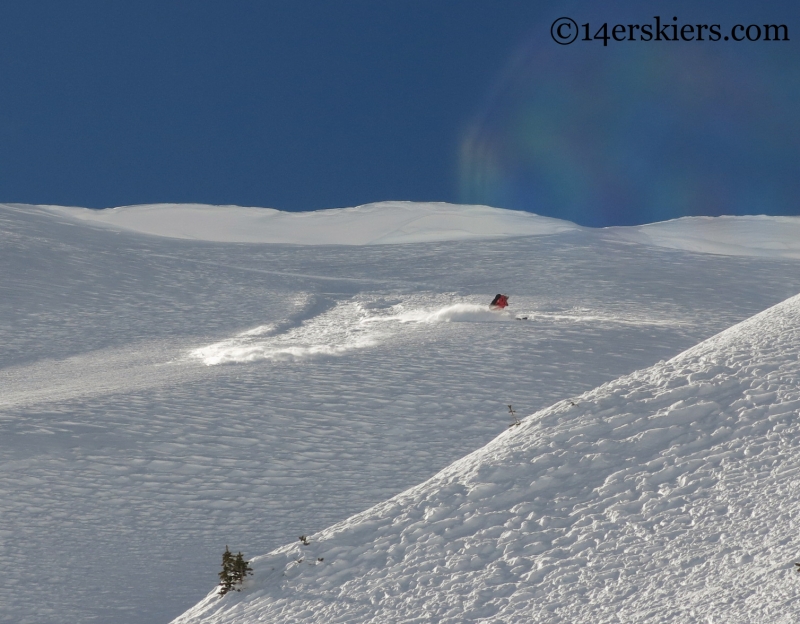 Then she stayed in the path: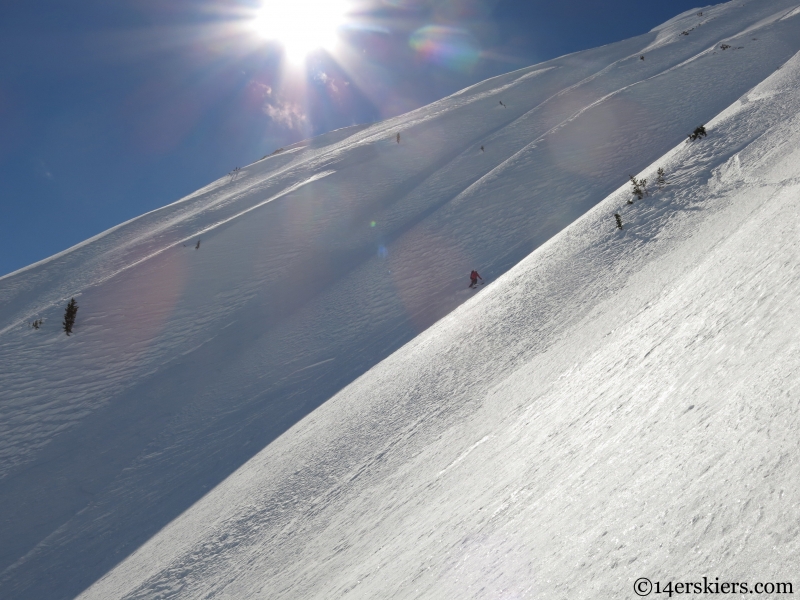 We paid attention to our sluffs then found ourselves on old slide debris. The skiing sucked, but it was pretty safe at this point. The snowpack in the choke was pretty thin, and we even had some ice to contend with: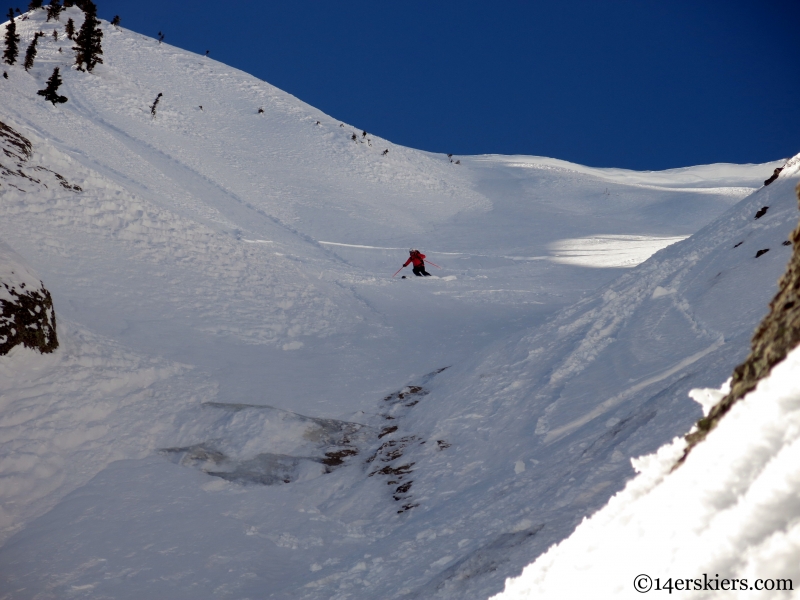 Once we got through the debris, the skiing was good again: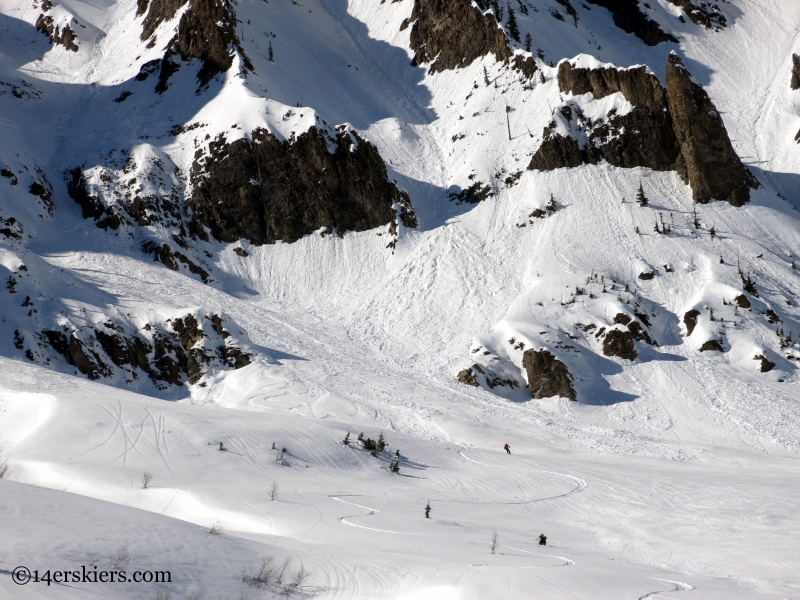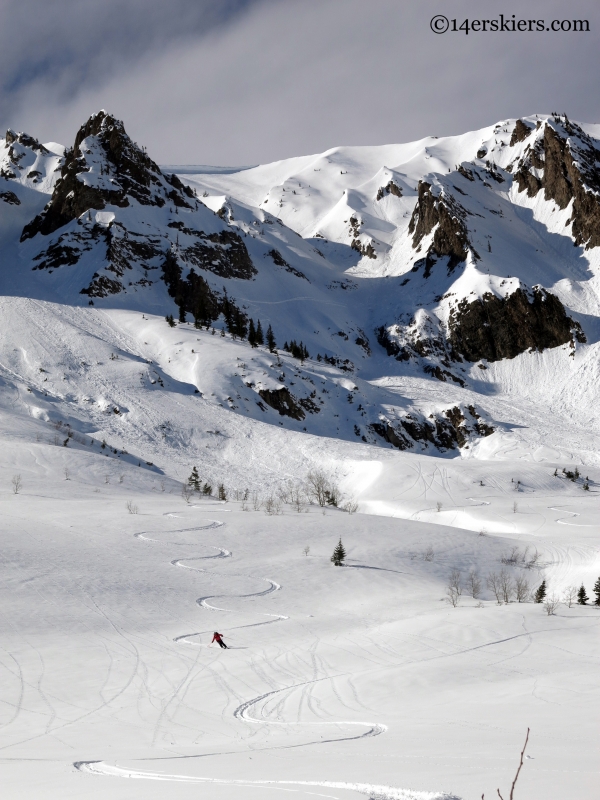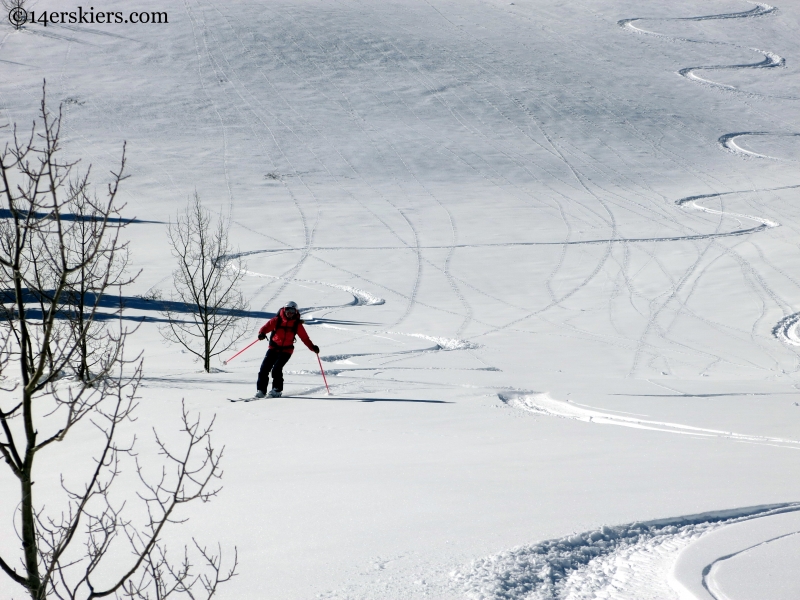 While our tracks were well hidden in the shade and debris, we still had plenty of time on the walk out to admire one of the best faces in Colorado: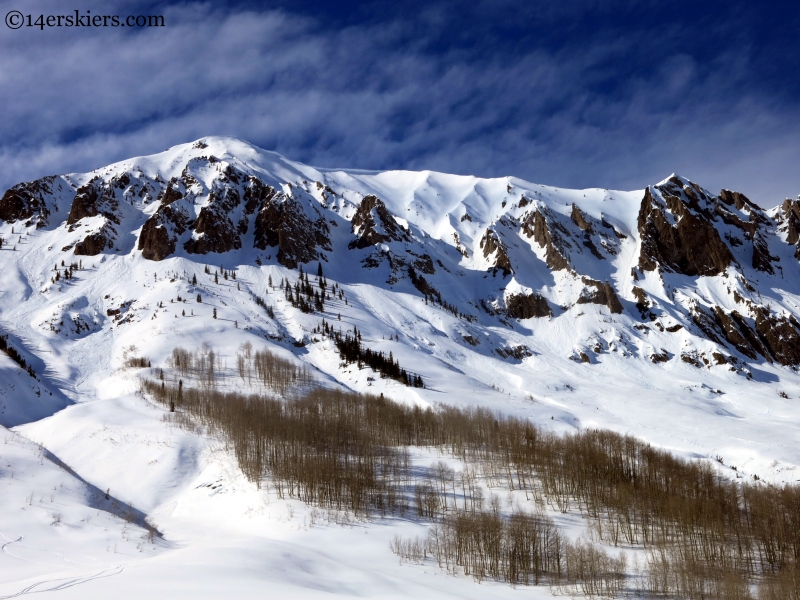 Good times! With snow in the forecast, it might be back on the lifts for me. We'll see… If you're visting Crested Butte:

Frank
loves snow more than anything... except his wife.  He ensures his food is digested properly by chewing it 32 times before swallowing.He is a full-time real estate agent serving
Crested Butte and Gunnison
and would be honored to send you his
monthly newsletter.
Latest posts by Frank Konsella (see all)
Summary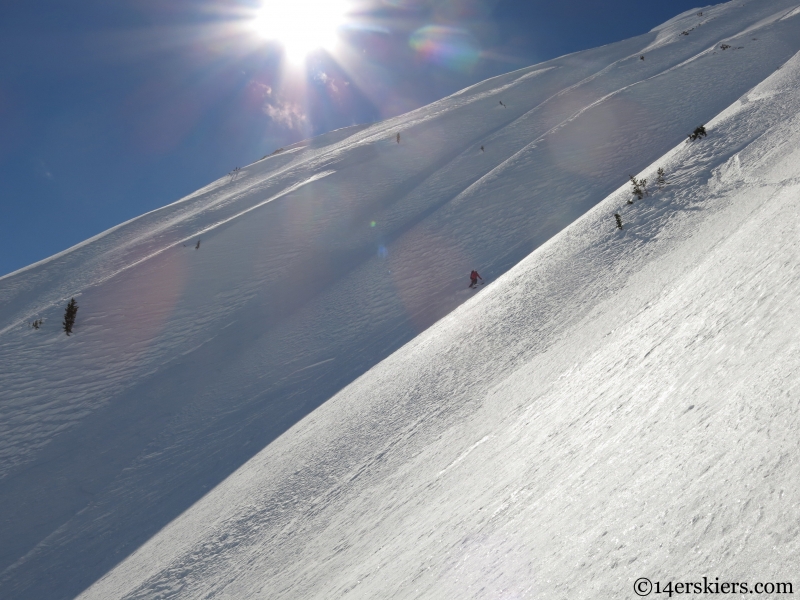 Article Name
Crested Butte Backcountry: East Face Gothic South Face Ruby
Description
Crested Butte backcountry skiing round up, featuring recent descents of Ruby Peak and Gothic Mountain in the epic winter of 2016-17.
Author