Patagonia Snow Drifter 40L Backpack Review
(Last Updated On: April 18, 2016)
The Patagonia Snow Drifter 40L backpack is a ski specific top loading pack meant for longer days or even overnight hut trips. I had a chance to test this pack this winter during our prolonged dry spell in February, when avalanche danger dropped to low and I felt more comfortable using a non-airbag pack, just as I do every spring when conditions become more manageable.
Ski packs are a tough product to design, because everyone's version of the perfect pack varies to a large degree. It's all about how you use your pack. Do you use a helmet? Prefer A-frame or diagonal? Use a water bladder? Value weight above all else or prefer a few functional bells and whistles? Top-loader or clamshell design? When looking for a new pack, these are the questions you should consider.
For me, I prefer top loading packs during the spring ski mountaineering season that still have features that make the pack easier to use. The Snow Drifter 40 liter pack largely fits into that category, though in the end my preferences would require a few changes to the pack.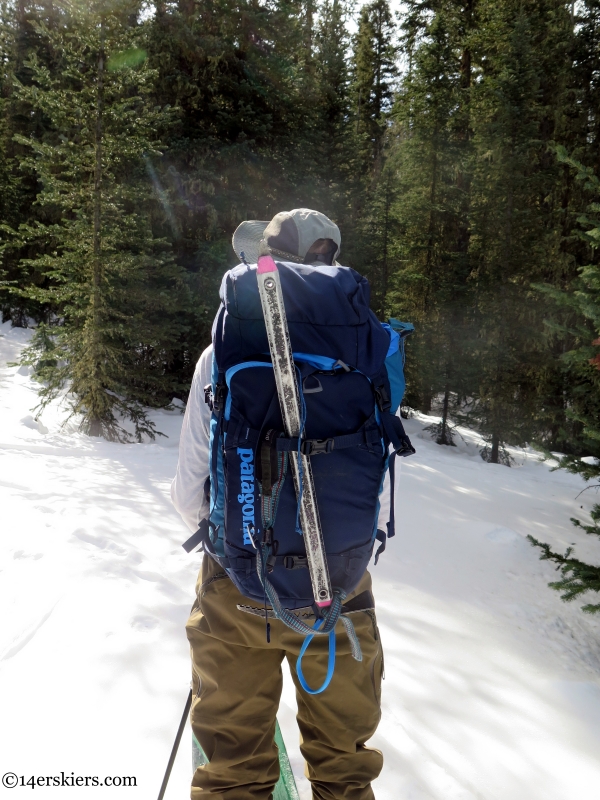 This backpack felt great as soon as I loaded it and put it on, thanks to the contoured back panel with removable frame and low-profile design. Coming straight off of an airbag pack, it felt particularly light and is reportedly in the 1600 gram range.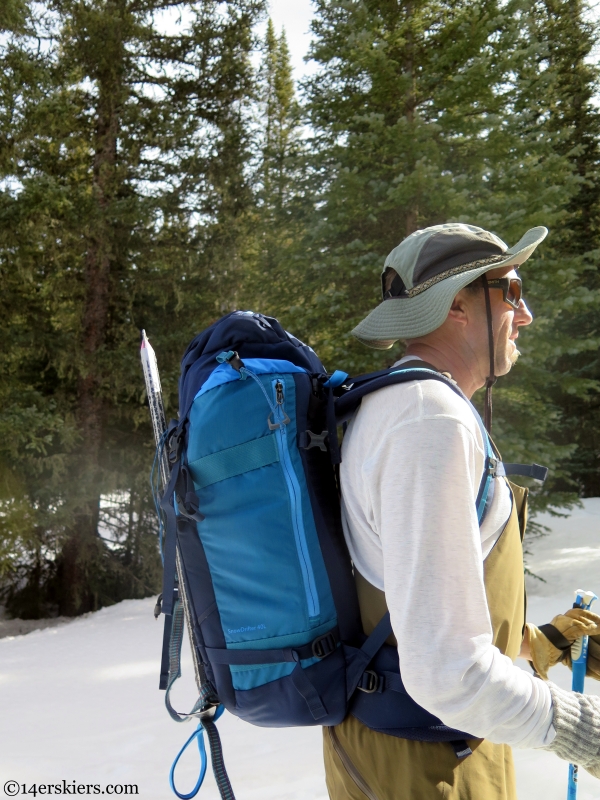 I don't use water bladders while skiing, as I've found them to leak or freeze to an extent that it simply isn't worth it for me to bring them. The Snow Drifter does have a sleeve for one, though it does not have an insulated sleeve for the hose in the pack strap, which seems to be the most effective way to keep the hose from freezing. I use water bottles, and the pack does have a small mesh pocket specifically for that near the side zipper (more on that later). I found the mesh pocket just made it harder to pack items, so I didn't really use it much.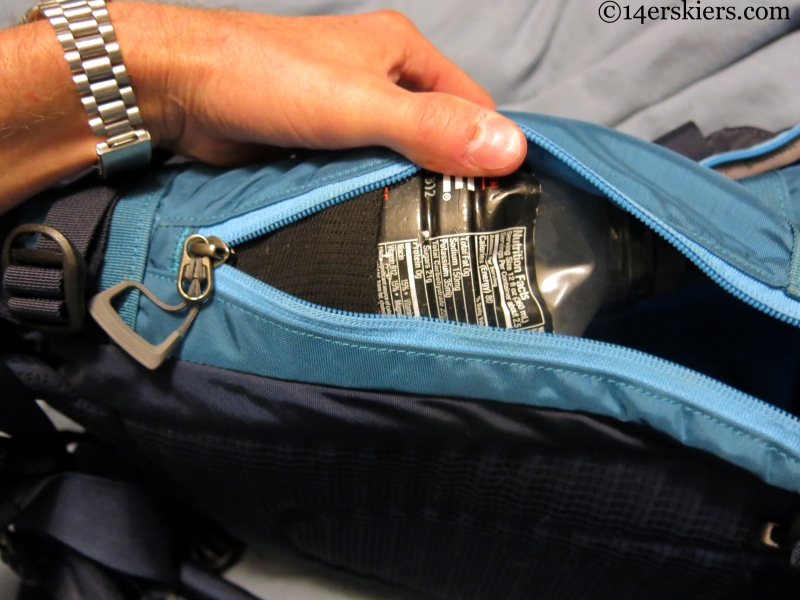 Other features include a dedicated avalanche tools pocket (including a smaller zipper pocket for pro tools such as a notebook, slope meter, or even the "ten essentials"). A fleece-lined goggle pocket is hidden in the upper reaches of the main top compartment, and a removable top lid with two pockets as well. I did find myself missing a few features that I've grown accustomed to, however. I love having big hip pockets on my packs, for my camera as well as snacks, but the Snow Drifter had none. Also, I ski with a helmet and this pack lacks a helmet carry system- leaving me to either try to fit it in the top or leave it dangling and bouncing around on the outside.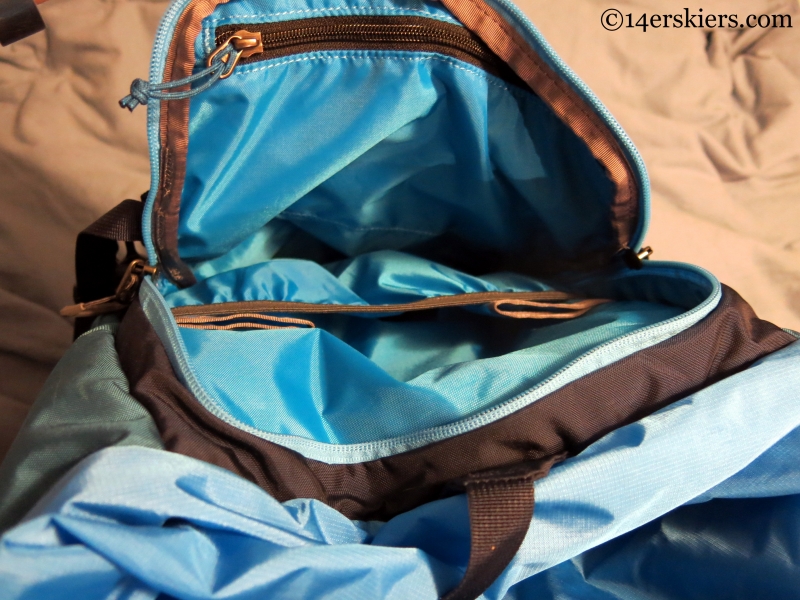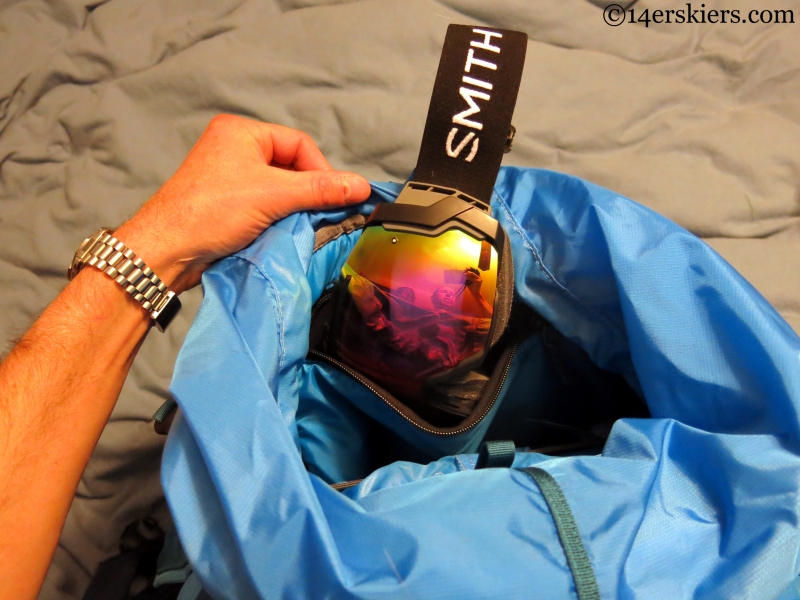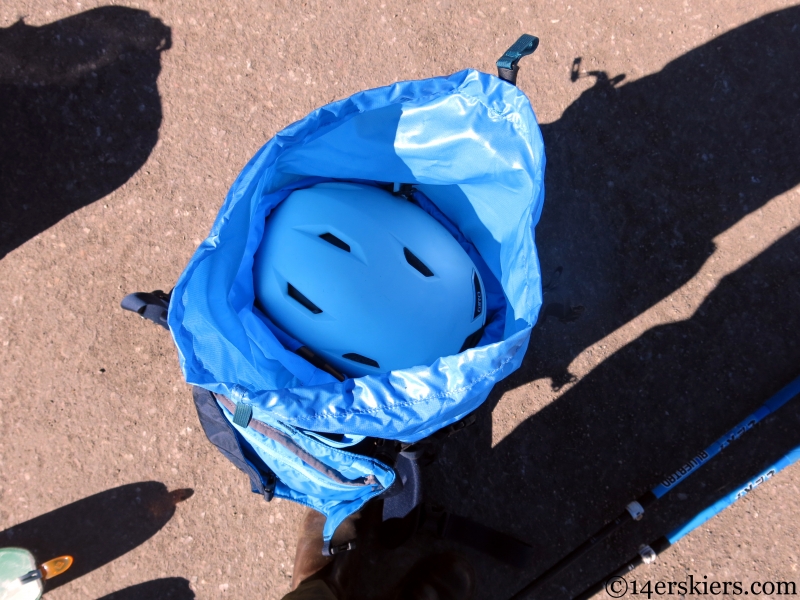 I prefer carrying my skis in diagonal mode versus A frame. The snow drifter is designed to do either, with a large tail loop for diagonal. In my opinion, the pack could also use a fastex loop on the upper corner for diagonal carry. As it is, you just use the cross strap that also works for vertical snowboard carry, as well as for ice axes, as seen in one of the photos above. This system leaves the skis free to bounce around, and has never been my favorite. So I opted for A frame and was reminded of all the reasons I dislike that style.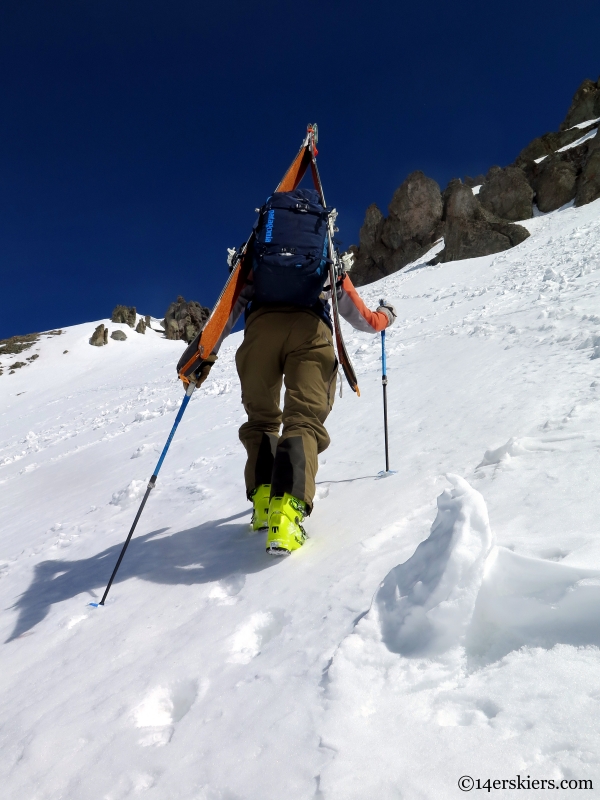 As with the diagonal carry, I think the pack could also use a dedicated strap for the top of the ice axe, for the same reasons as above. On top of that, there is really only room for one axe, so carrying two would require some work.
What I really noticed about this pack the more I used it was how difficult it was to get items in or out of the pack. The low profile and slim design was great for comfort and make the pack seem to go away when you're skiing. But every opening on the pack, even on the top lid, was noticeably small. The side access, for instance, is designed to make it easier to access the pack. But between the short zipper size, my shovel blade, and the back panel, it was hard to get much of anything in or out that way. And the buckle on the side needed to be undone as well.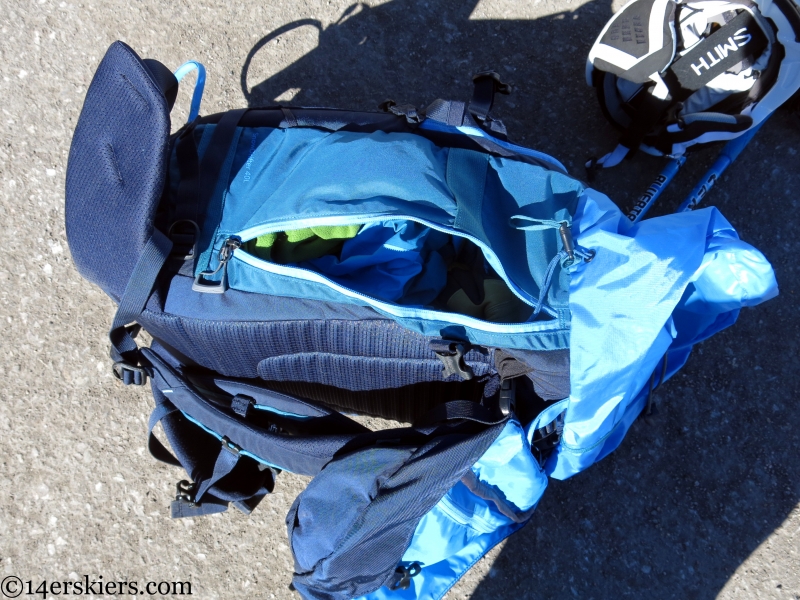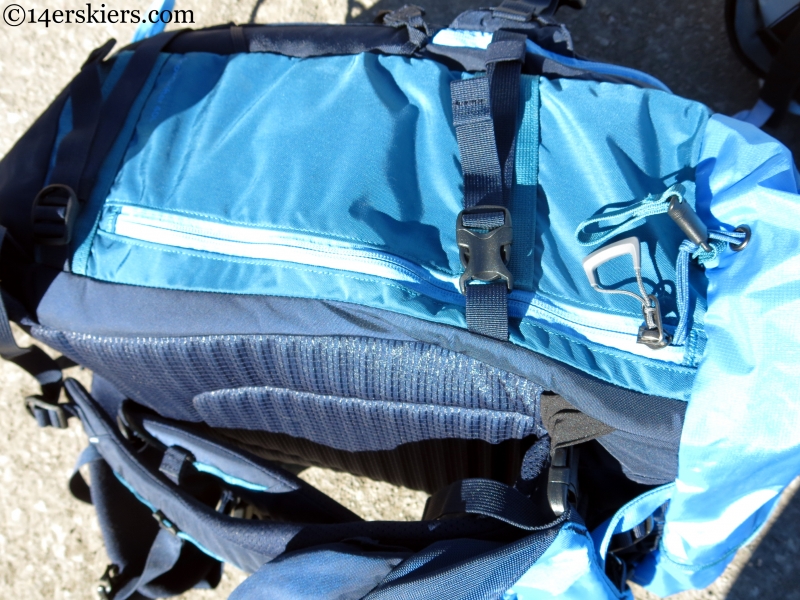 As I began this review, back packs are all about personal style. The Patagonia Snow Drifter 40L just didn't match mine- I wanted hip pockets, I wanted a better way to carry skis diagonally as well as two ice axes, I wanted a helmet carry, and I wanted easier access to my gear inside. On the other hand, everyone who saw me with this pack on remarked at how well it fit me, which is entirely true. That part of the pack I could definitely get used to. And if I didn't care about some of the features that I personally find important, this would actually be a great pack. It depends on what you're looking for.
The Patagonia Snow Drifter 40L pack is on sale now, so if it sounds perfect for you, check it out:

Frank
loves snow more than anything... except his wife.  He ensures his food is digested properly by chewing it 32 times before swallowing.He is a full-time real estate agent serving
Crested Butte and Gunnison
and would be honored to send you his
monthly newsletter.
Latest posts by Frank Konsella (see all)
Summary
Reviewer
Review Date
Reviewed Item
Patagonia Snow Drifter 40L Backpack
Author Rating