14er TBT: Capitol Peak Ski (9 May 2010)
(Last Updated On: April 13, 2016)
This is part of an ongoing series re-telling Brittany's fourteener-skiing story. Look for the reports every Thursday, as part of a Throwback Thursday theme.
I always knew that Capitol Peak would be one of the last fourteeners that I skied to complete my project. But, I also knew that it would not be my last one – I was saving Pikes Peak for last. But, I also had it in my head that I'd ski Pyramid Peak before Capitol. But, I couldn't have been more wrong.
People think of April as being spring. But, I've found that April is one of the snowiest months here in Colorado, at least in recent years. This year and last year have certainly fit that bill. So, back in 2010 as I was trying to wrap up my fourteener-skiing project, I was frustrated with snow storm after snow storm. Getting on big lines seemed nearly impossible. But, as soon as the calendar turned to May, the weather windows began to open up. It was time for something big…
Below is a slightly modified version of my report for skiing Capitol Peak, which would become my 50th fourteener skied.
---
Friday was a beautiful day. As I strolled down Elk Avenue, I ran into friend after friend. Everyone was out and about enjoying the sunshine. I passed by a group of friends hanging out on the patio at the Brick and inevitably got sucked in. I stayed there for hours, not realizing what the cosmos had planned for me this weekend. Suddenly, I had this feeling that I needed to check my email. Cell phones these days, of course, make this all too convenient. Jordan's email was the first one I checked, having the intuition that his email was going to relay something big. My gut-feeling proved correct, as he suggested that we attempt a one-day push for Capitol on Sunday.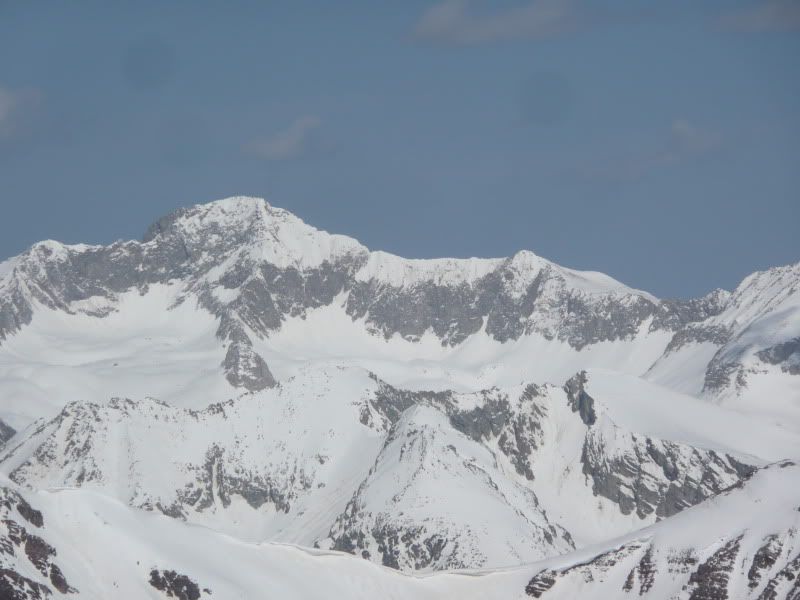 Photo of Capitol as seen from Pyramid on Sunday, courtesy of Chris Webster
We'd been planning to attempt Capitol for quite some time- Jordan, Jarrett, Caleb, and I. But, the spring weather wasn't cooperating. A relentlessly stormy spring has allowed little time for corn or a stable spring snowpack. Our window of opportunity seemed to be closing fast, and we knew we had to take advantage of this sunny weekend. So, the four of us, along with Matt, agreed to meet up for our Sunday attempt.
For the initial approach, Jarrett and I were leaning towards hiking in and setting up a base camp. But, Matt, Caleb, and Jordan could not join us for this due to other plans. So, we decided to split up for the initial approach. Around 6:30 pm on Saturday, Jarrett and I headed up the Snowmass Creek trailhead towards Moon Lake. We hiked for a few hours through some frustrating alternations of dry trail and post-holing deep snow before deciding to set up a bivy in a meadow.

Knowing that Jordan, Jarrett, and Matt would be leaving the trailhead around midnight, we set an alarm for a 1:30 am wake-up. Timing couldn't have been better as they strolled through our camp at 2 am, and we were ready to go.
The night involved hours of skinning through the dark and route finding. We were thankful for first light. Looking up toward the entrance to One-In-A-Million couloir.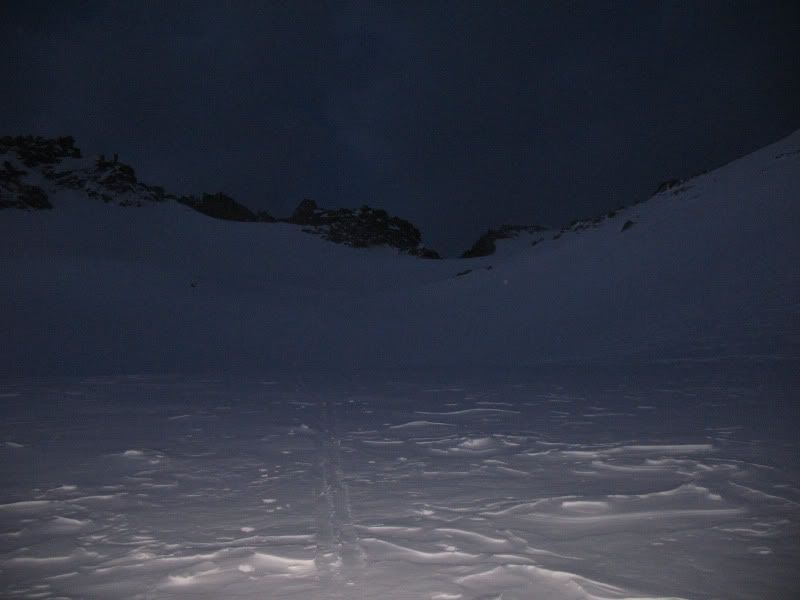 Looking back at the boys skinning up the basin, with Daly behind.

At the top of One-In-A-Million, Caleb came to terms with his lack of sleep and how tired he was feeling. We were all sad that he decided to turn around, but we understood that his decision was made in the interest of safety. Having been in a situation like that before, I knew just how Caleb felt- A couple of years ago I was attempting Pyramid with my friends Andy and Joe after a rough week of work and not much sleep. While we were booting up the lower pitches, I kept falling asleep. I, too, made the safer choice and decided to turn around. Choices like this are always so bittersweet- You know you've made the right decision safety-wise, but at the same time, you wish you could be there celebrating the success with your friends. Caleb, don't worry, you'll get this peak on a different day 🙂
View of Snowmass from the top of the couloir.

We skied down the couloir into Pierre Lakes Basin, heading toward the Secret Chute. Me skiing.

We switched over from skis to crampons for the boot up the Secret Chute. Suspecting some difficulties in the crux, we prepared in advance by also throwing on harnesses.

Jarrett

Matt

Jarrett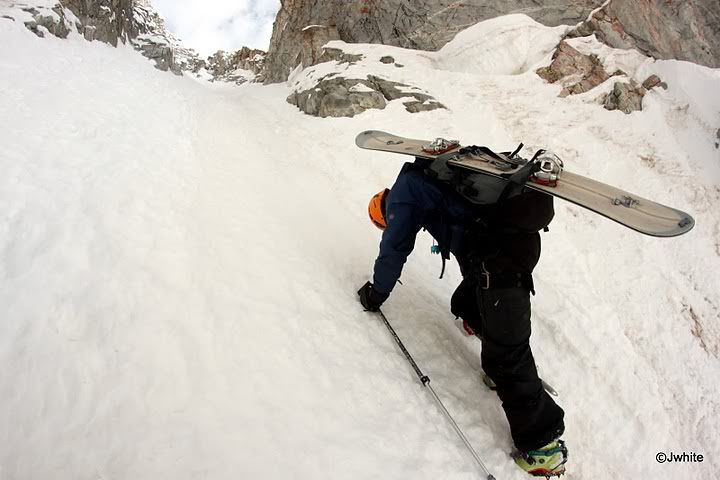 I've seen plenty of pictures of the Secret Chute and I can tell you this- This chute is a lot steeper than it looks in any photo I have ever seen. Combine this with May sunshine melting out the snow, making for shallow rotten snow mixed with rock, and you have a recipe for some difficult climbing. Luckily, Jordan took the lead through the crux and belayed the rest of us to the top. Jordan's fisheye lens doesn't do this chute any justice.

Jarrett at the top of the Secret Chute.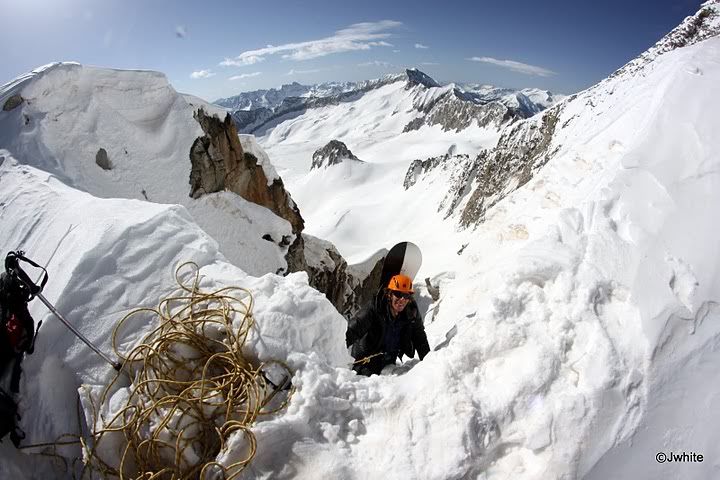 From there, I followed Jarrett's tracks up the ridge for a ways while Jordan continued to belay Matt.

Jarrett stopping for a quick break, with the face of Capital towering behind him.

Looking toward my the Bells and my "home-mountains", north of Crested Butte.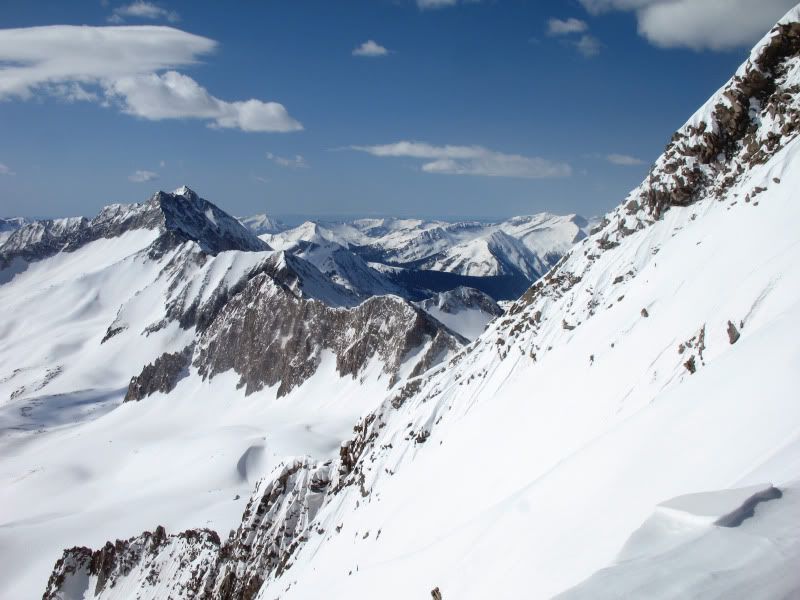 Pyramid.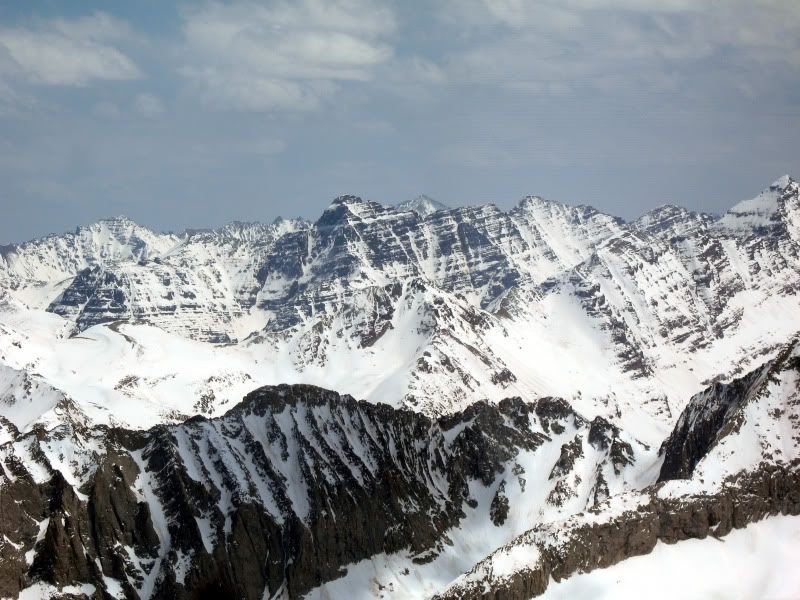 But, eventually the ridge gained difficulty.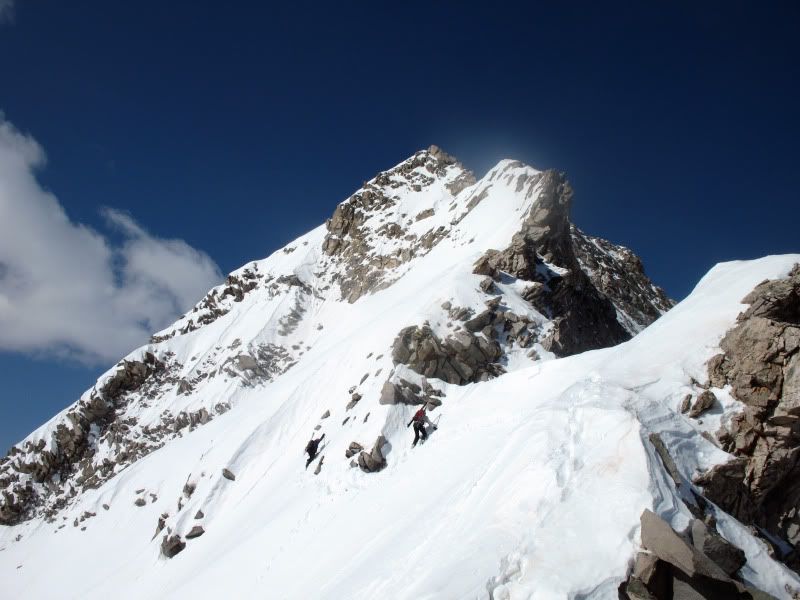 As I stared at the face of Capitol, I began to doubt myself, wondering if I could actually climb it. I'd spent years preparing myself for this ascent- rock climbing, ice climbing, climbing on exposed terrain, looking at picture after picture memorizing the route. But, when I got there and saw that face looming in front of me…. the mountain seemed to be talking to me, intimidating me, taunting me, bullying me. I wanted to turn around. So, I sat there, contemplating. My mind battled with my butterflies and the mind won. After all, climbing a mountain is as much a mental game as it is a physical one. When Jordan approached me on the ridge we discussed our plan. We had brought the rope for a reason, and I felt better off using it.
Jordan, my god-sent belay man!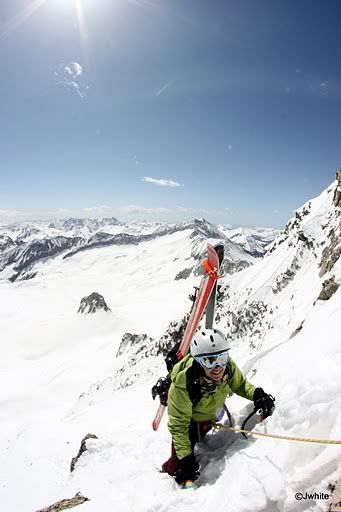 As Jordan and I reached the half-way mark on the ridge, Matt and Jarrett were approaching the summit.

Zoomed in, can you find Matt?

After the rock-climbing crux, the route requires some traversing over a very exposed ridge to reach the summit. In the interest of saving time, as the sun was baking the snow making for a potentially dangerous ski descent, I agreed to do this without the rope.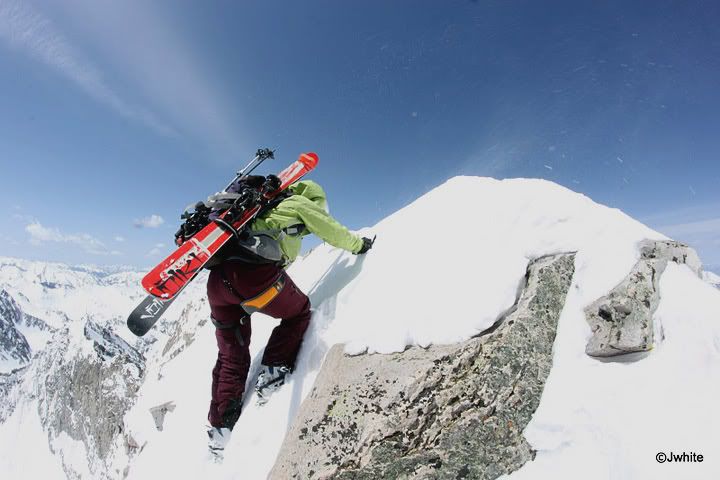 Ahh, the summit! Our time was minimal there. I signed the register, then quickly switched over to ski mode.

Skiing was…. exposed. Normally comfortable on my skis, this descent had me gripped.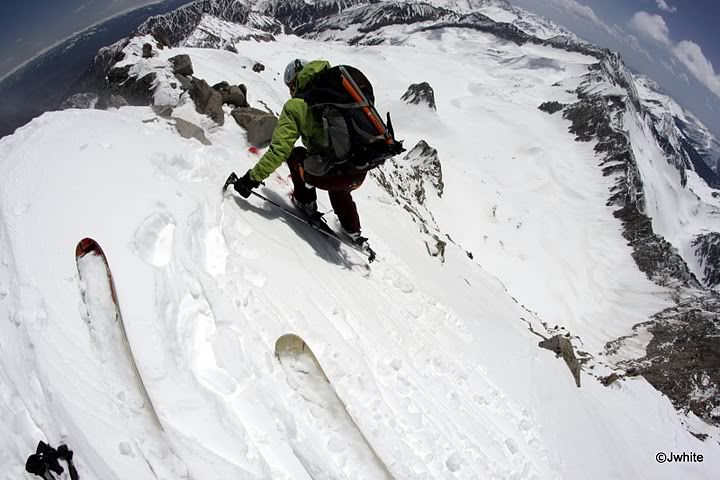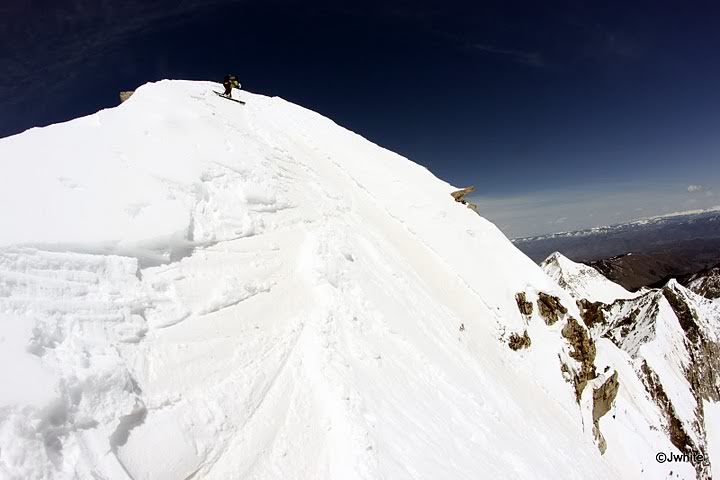 Matt.

We eventually found ourselves back at the top of the Secret Chute, ready to rappel down it.

Jarrett lead the way, rappelling first. But then every climber's worst nightmare happened – the rope was not long enough. Jarrett had to secure himself and then clip in to one side of the rope, so Jordan could lower him.
Jordan lowered Matt and I down the couloir and then ended up downclimbing where the rope fell short. The four of us reunited at the bottom. High-fives everywhere. We did it!
Matt heading up our last climb of the day, up One-In-A-Million.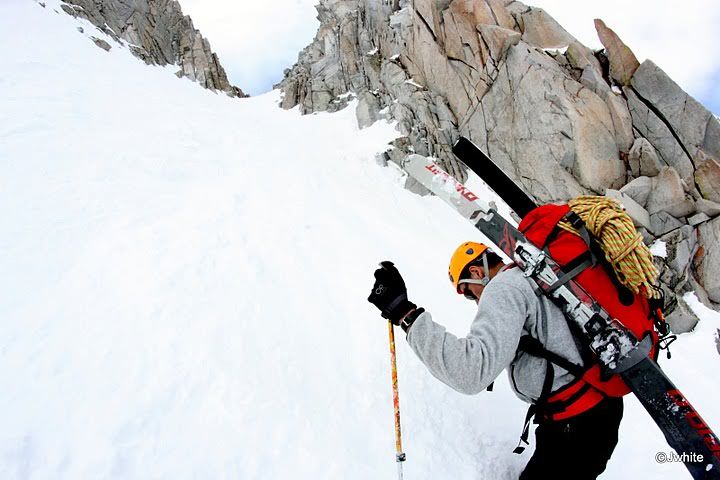 We descended past Moon Lake, and to the valley below. The dust-covered snow remaining after a series of dust-storms made for a difficult ski out, involving some interesting falls. We stopped in a meadow to get more water and relax. But, we still had a long ways to go!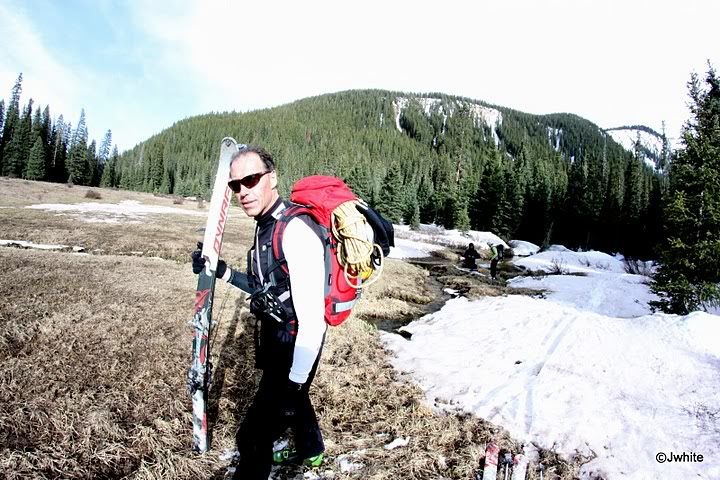 As we reached camp, Jordan and Matt ventured ahead, while Jarrett and I packed our remaining things. Exhausted, delirious, starving, and stumbling, Jarrett and I slowly made our way down the trial. Alternating patches of snow and dirt made skiing difficult, and eventually we found ourselves frustrated once again over the series of snow post-holing snow patches. We arrived back at the car around 10 pm, making it a 20-hour day.
Even now, two days later, I am still trying to comprehend everything that happened. I still feel like skiing Capitol happened in my dreams- like I wasn't really there. But, it really did happen. And I suppose it was appropriate that it happened to be my 50th 14er descent. Fifty is a big number, and deserved a big peak.
I've said it before, and I'll say it again. I could not have done this if it weren't for my partners, Jordan White, Jarrett Luttrell, and Matt Kamper. I can't think of a better team to ascend this peak with, and I owe each of them so much.. Extra thanks is extended to Jordan, who had the patience to put me on belay up the face, and for his fantastic lead through the Secret Chute (which was more difficult than usual due to a May ascent- the sun-baked rocks simply melt the snow through the crux).
A view of our line, courtesy of Frank Konsella.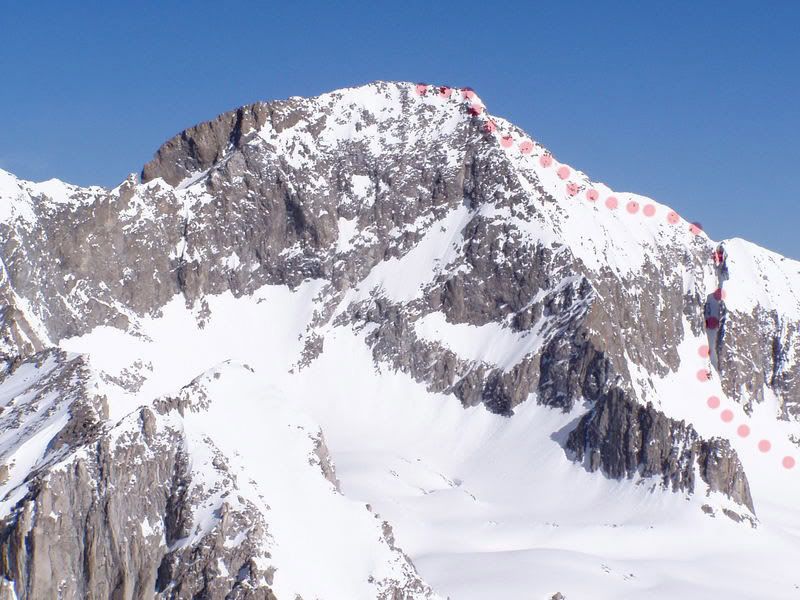 I have only 4 more fourteeners left to ski: Pyramid, Mt. Wilson, El Diente, and Pikes Peak. I can't say whether it's in the cards for me to finish this season, but I'm going to give it a good try. Thanks to everyone cheering me on! I can't begin to tell you how much I appreciate your support!

Only 4 more peaks left! Would the weather windows hold to finish my project in 2010? Next week…
Aside from skiing, biking, and all outdoorsy things,
Brittany Walker Konsella
also loves smiles and chocolate 🙂 Even though she excels at higher level math and chemistry, she still confuses left from right. Find out more about
Brittany
!
Latest posts by Brittany Walker Konsella (see all)
Summary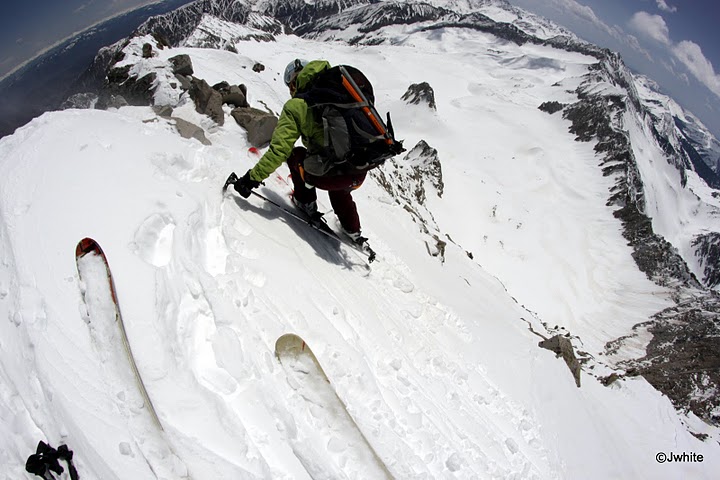 Article Name
Description
Capitol Peak is one of Colorado's most daunting fourteeners. Read Brittany's account of her ski down this treacherous line!