Off to the Desert | Arches Canyoneering 11.7.15
(Last Updated On: November 10, 2015)
One of the nice things about living in a Colorado ski town is that the desert is always a few hours away. Don't get me wrong; I love the white stuff and would be perfectly happy if winter somehow lasted all year long. I'm just saying it's nice to have warmer temps, a beautiful and very foreign landscape, and different recreational opportunities so close by. Speaking of recreational opportunities, I don't necessarily have a "bucket list", but if I did canyoneering would definitely be on it. Or should I say was?
I mean, what's not to like about canyoneering into slot canyons? You end up in crazy places where people probably "don't belong", venturing into desert oases are full of life and color. And as an added bonus, there are plenty of opportunities to spike the heart rate while scrambling and rappelling deeper into the canyons themselves. So when our friend Natalie and new friend Kate invited us along, we jumped at the chance even though the backcountry ski season was firing up in Crested Butte.
We awoke after a cold night and traveled to the start of MMI canyon, on the north side of Arches national park. After a short hike, we found ourselves at the top of the canyon.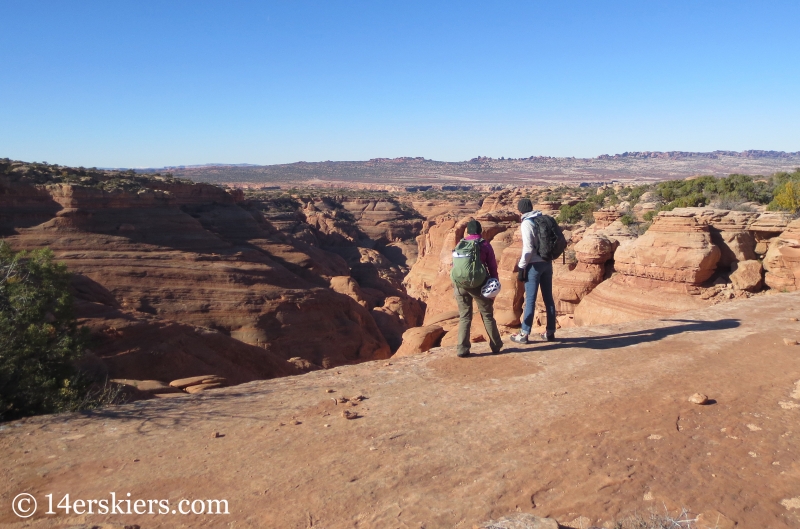 I can't imagine being a canyon explorer, not knowing what you might find in these canyons. Once you pull the ropes on on of these overhanging cliffs, you're pretty committed. In our case, of course, we knew what we had in front of us. Brittany dropping in to the known unknown…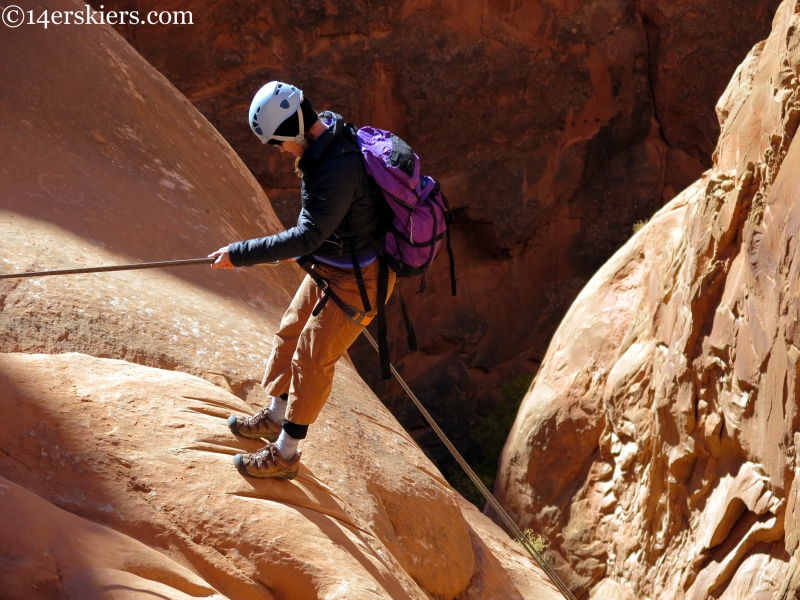 The first rap is actually a bit tricky, going under, over, and around some chockstones.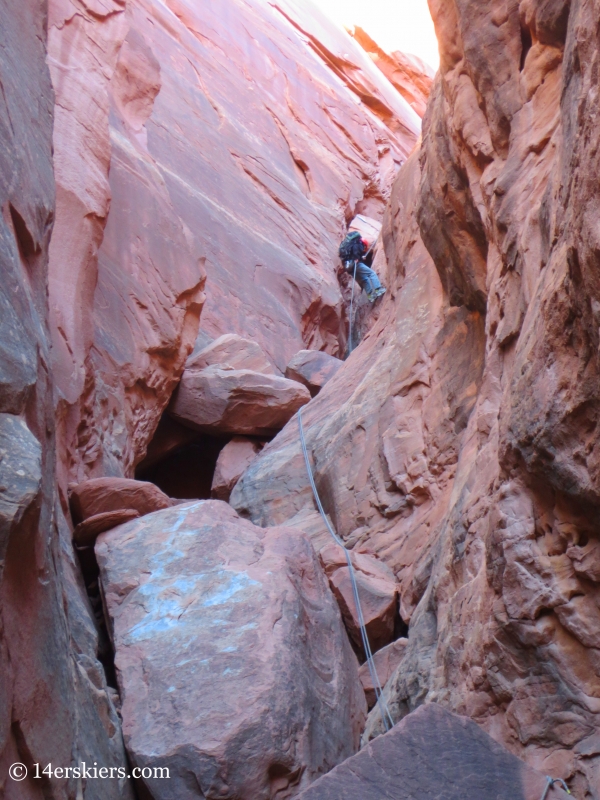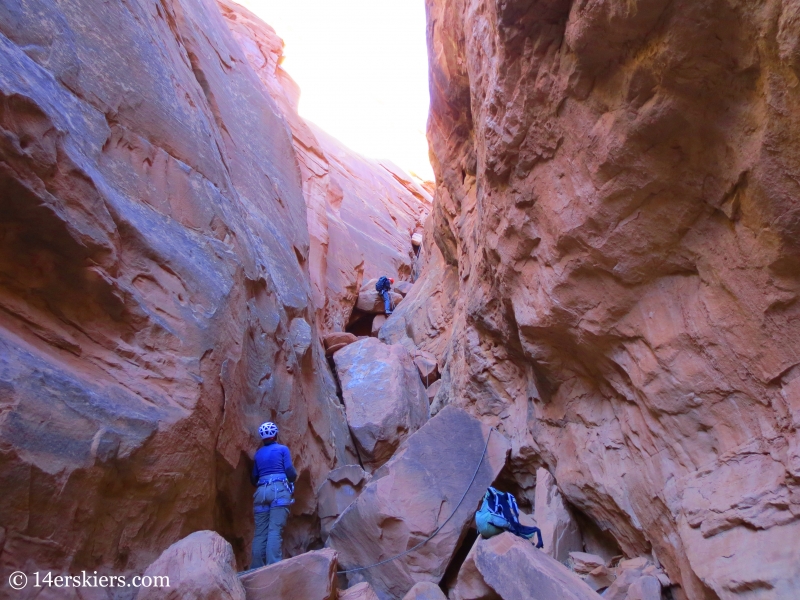 After the first rap, it was mostly a scenic hike for a while.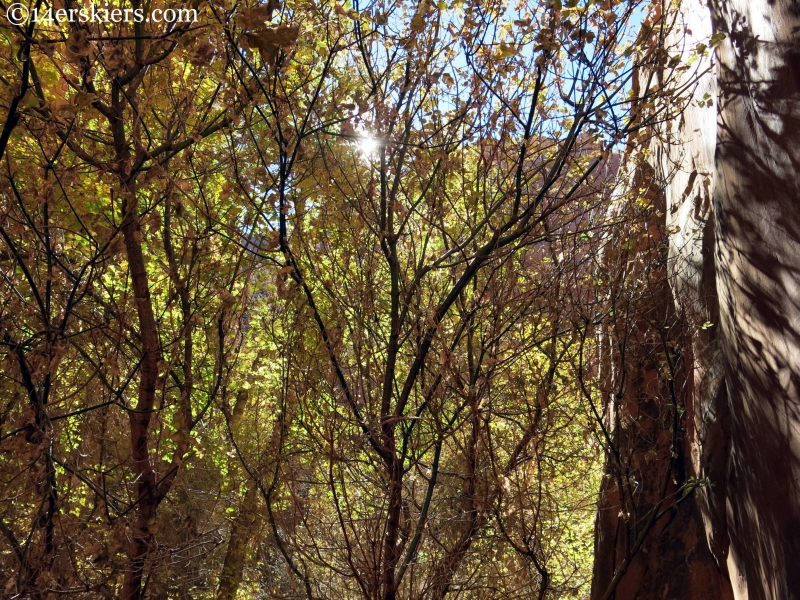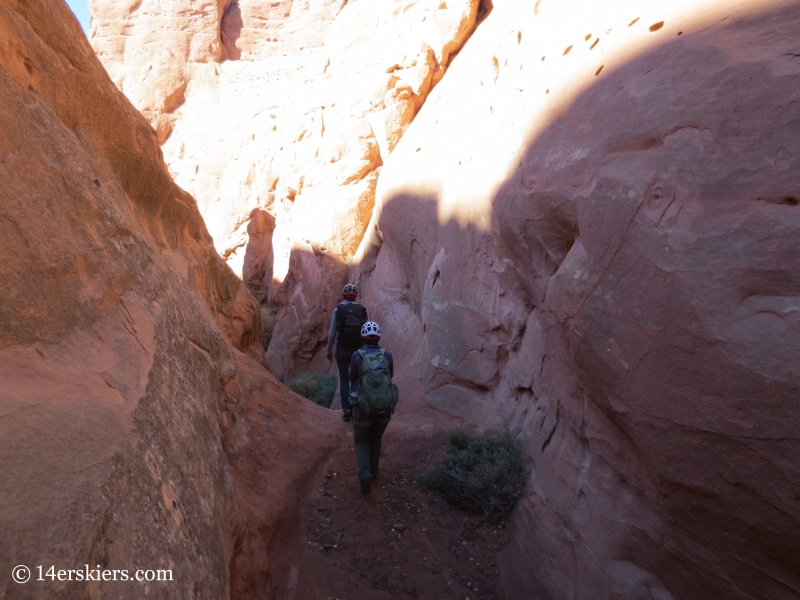 The second MMI rappel was short and quick.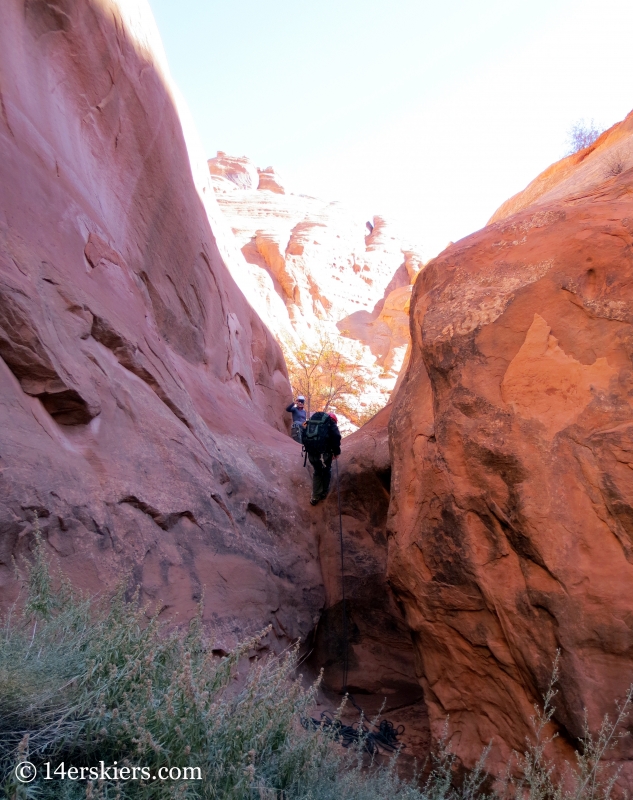 The third rap was the fun one: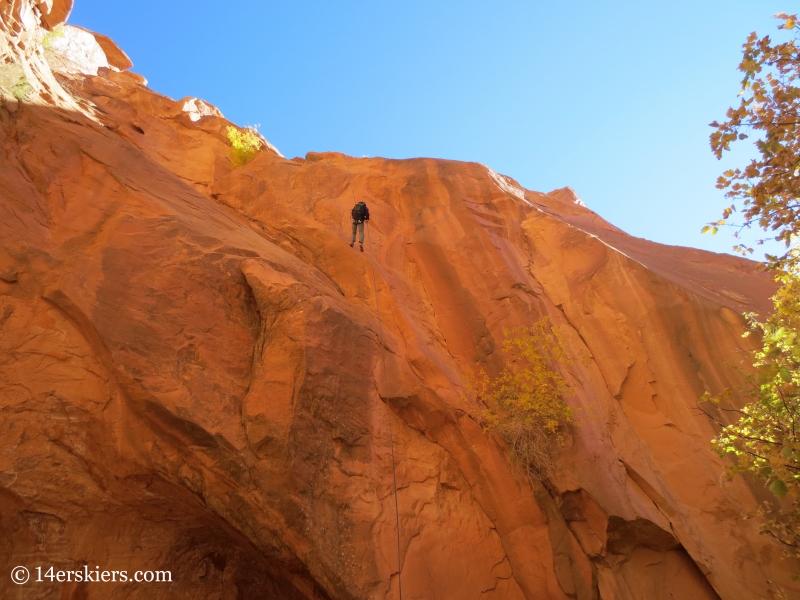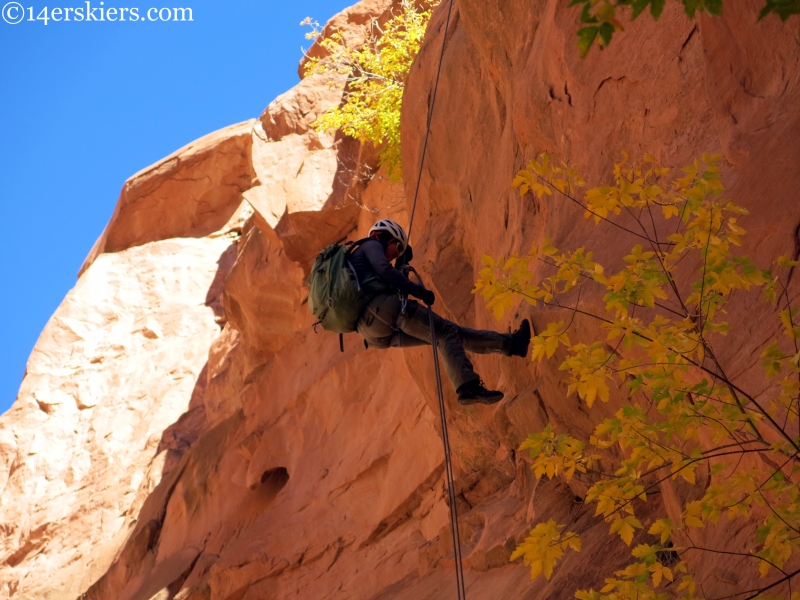 After the third and final rap, the MMI canyon is basically a nice scenic hike, especially since it's still fall in the bottom of the canyon.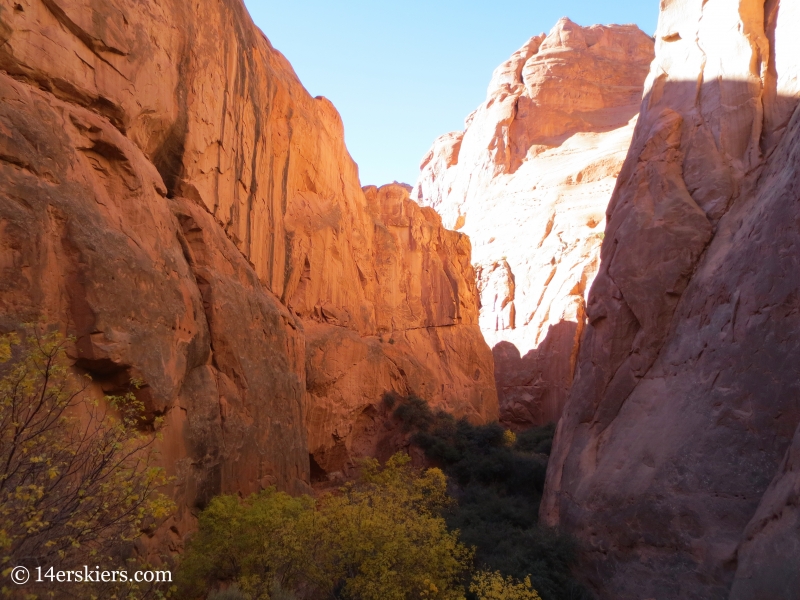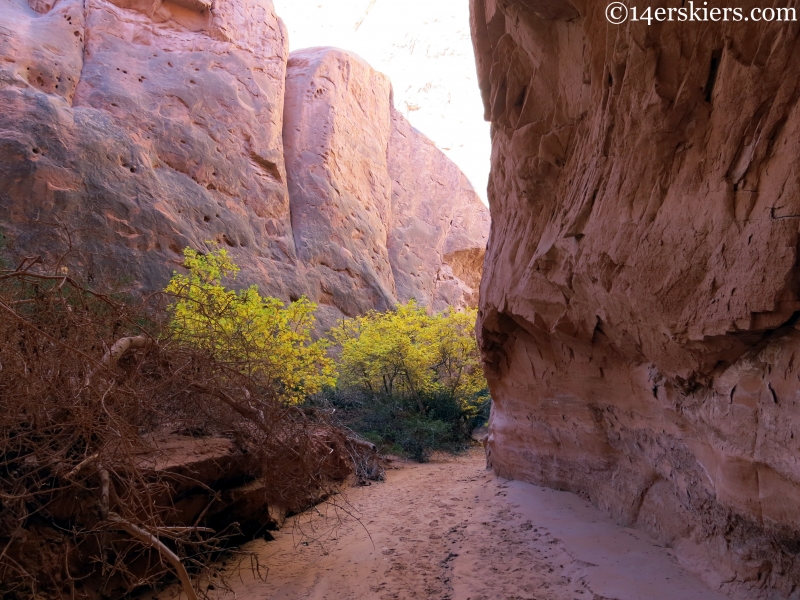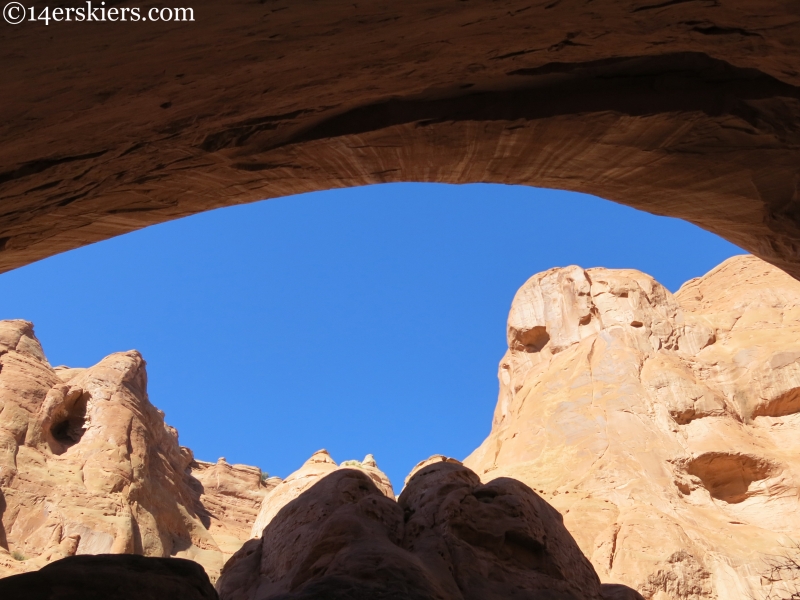 There was still plenty of evidence of the flooding which struck the Moab area a couple of times this summer.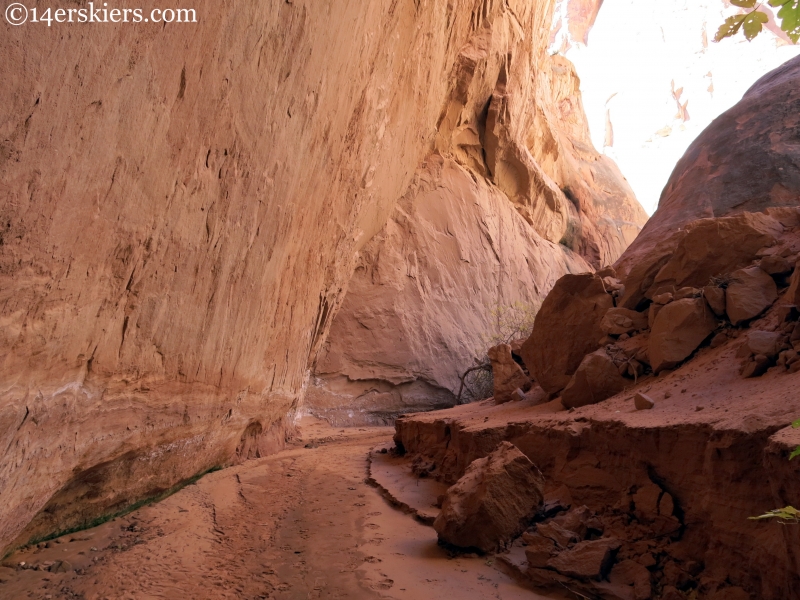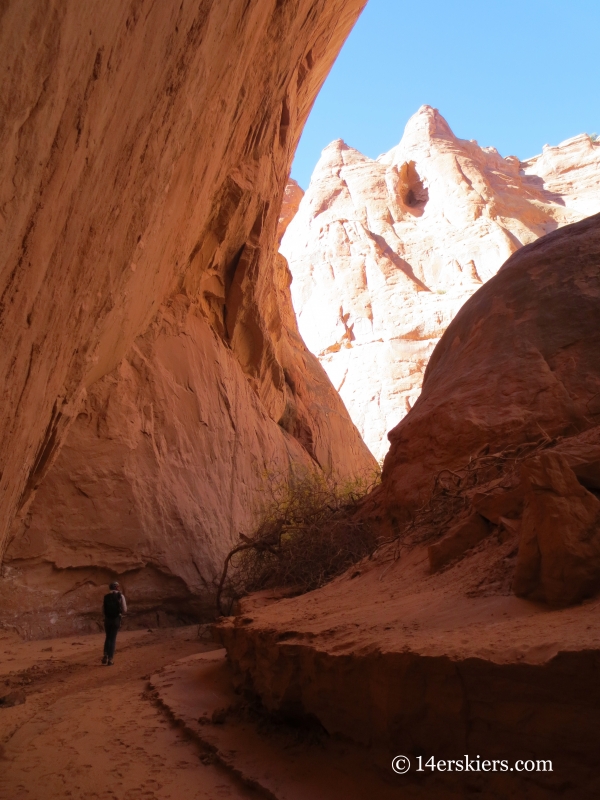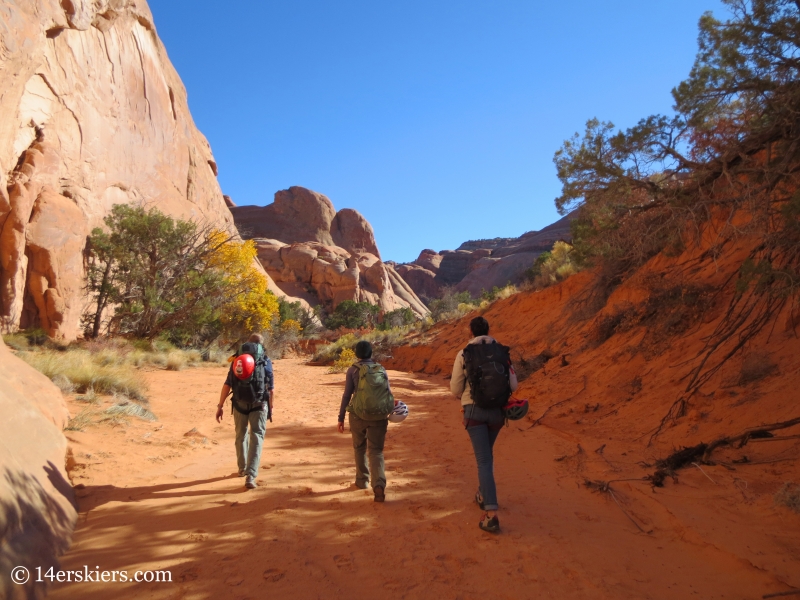 Don't step on the crypto!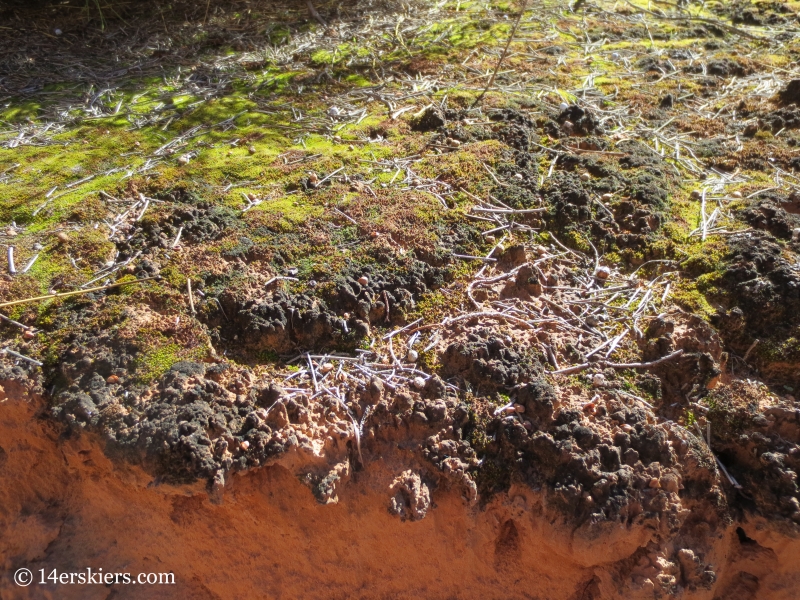 At the bottom of MMI, you can either do a tough to protect 5th class climb and loop back to the car, or run a shuttle. Even though we ran a shuttle, we ended up doing the climb out at the same time as a large group was using the same exit from another nearby canyon (which we would do the following day). I was really wishing I had some sticky rubber approach shoes, since every step I took would let me slip just a little bit on the climb out. I actually found it a bit terrifying at times.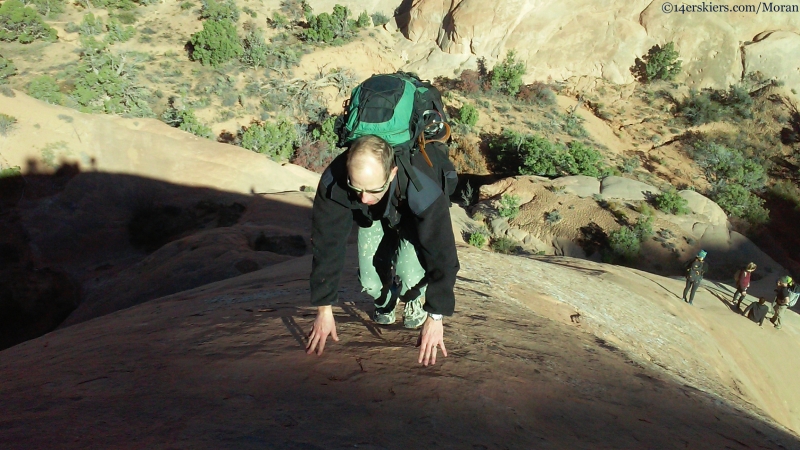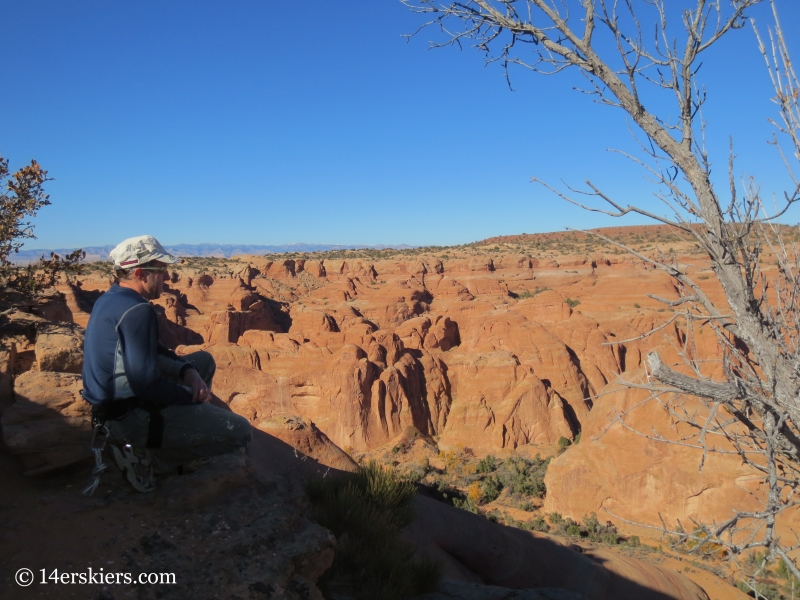 We still had some daylight, and there was another short canyon (Winter Camp Wash- Lost Spring) nearby, so we went back for more. This one had just one rappel at the start, and Brittany ended up pulling the rope while Kate, Natalie, and I did the route. Where are we going?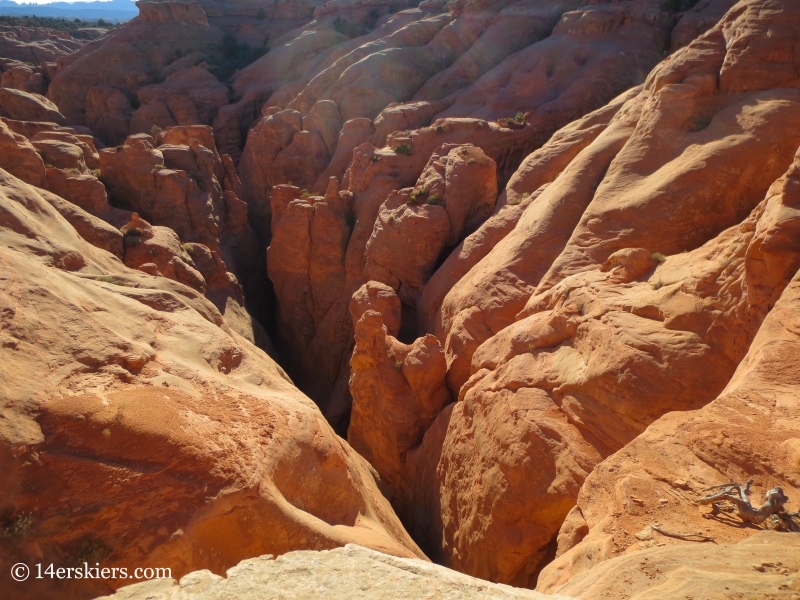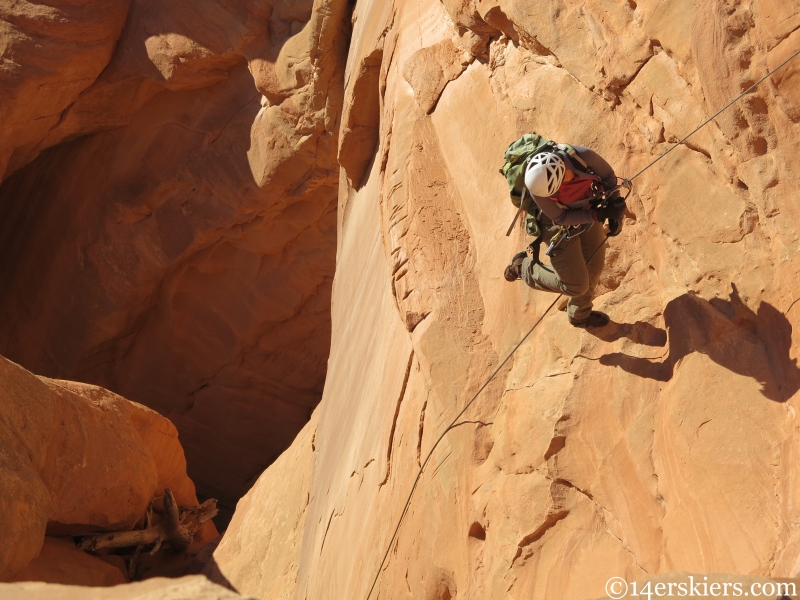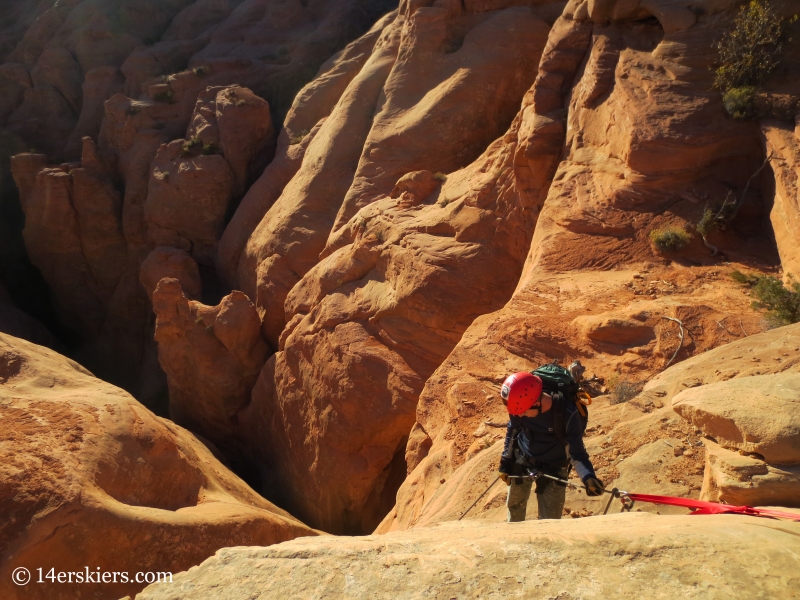 This rap was as fun as a rappel can be. Once you go off the jammed log, the canyon tightens and it gets very dark, very quickly, and the last 50′ or so are free hanging.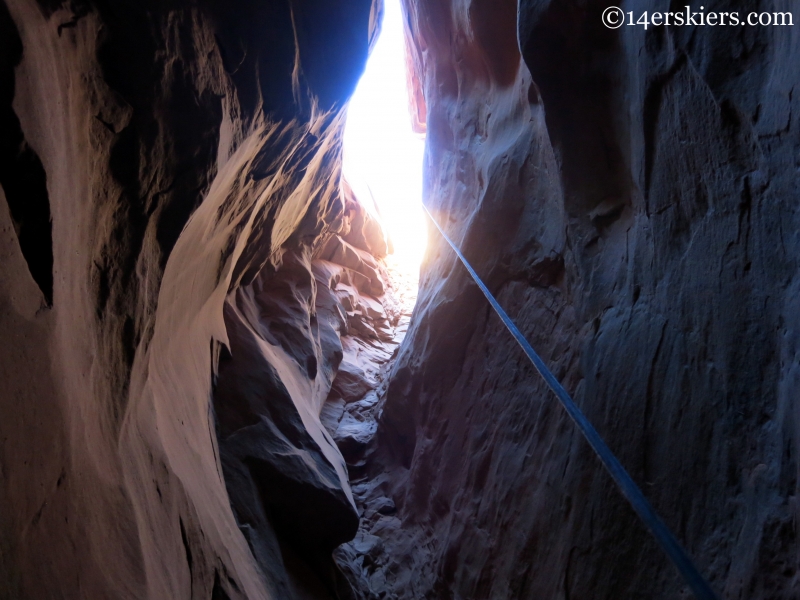 The canyon was quite a bit tighter than MMI, but was free of obstacles once we were in there. Very scenic.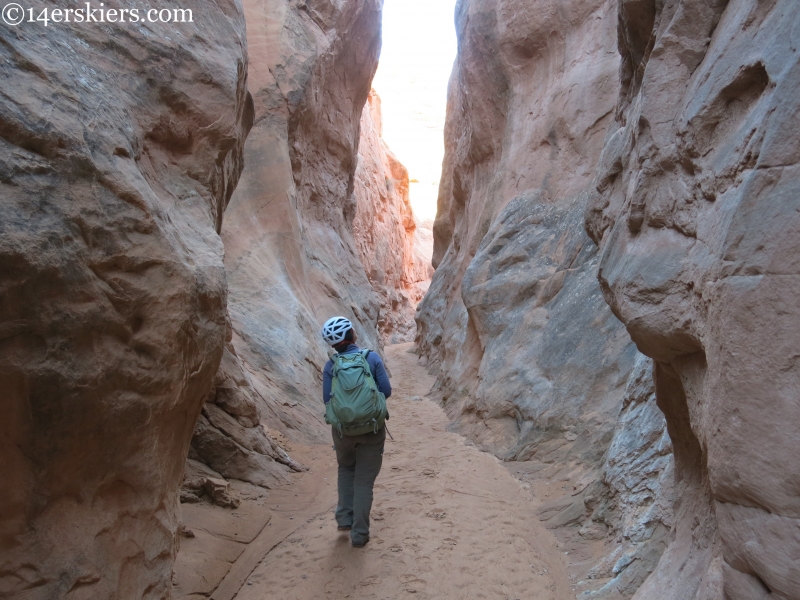 We looped back around to the car as the sun was setting.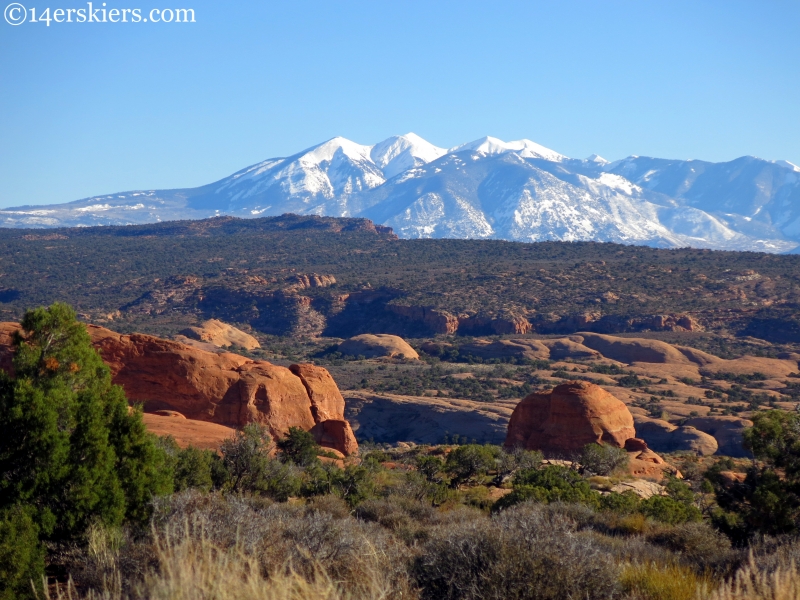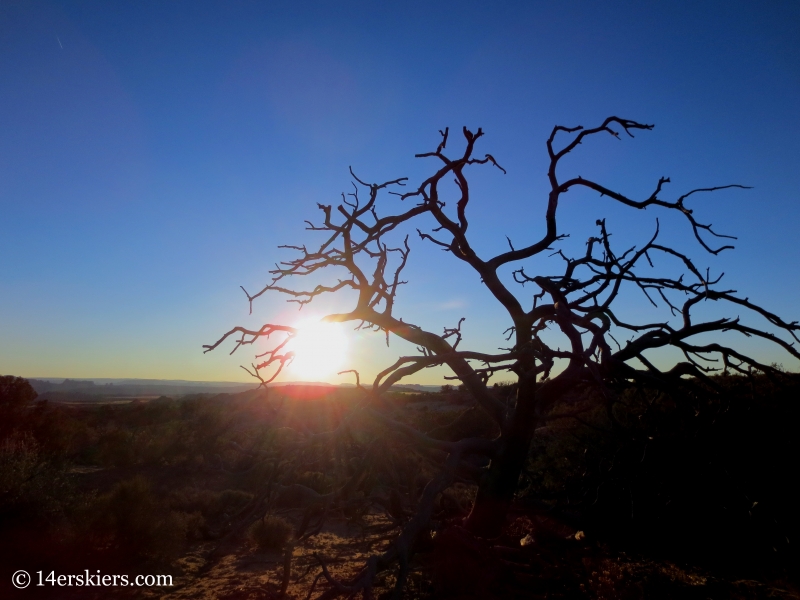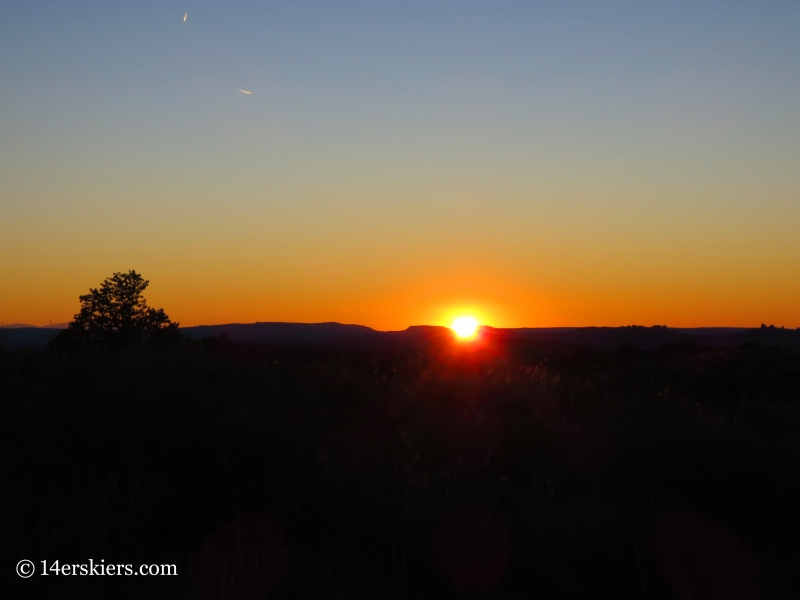 At the end of the day, I have to say that I was OK with our choice to head to the desert instead of getting my first backcountry day under my belt. It was a fun intro to canyoneering. Day 2 was even more fun, but more on that later…
Static rope is a good idea in canyons (and the Lake City ice park)

Frank
loves snow more than anything... except his wife.  He ensures his food is digested properly by chewing it 32 times before swallowing.He is a full-time real estate agent serving
Crested Butte and Gunnison
and would be honored to send you his
monthly newsletter.
Latest posts by Frank Konsella (see all)
Summary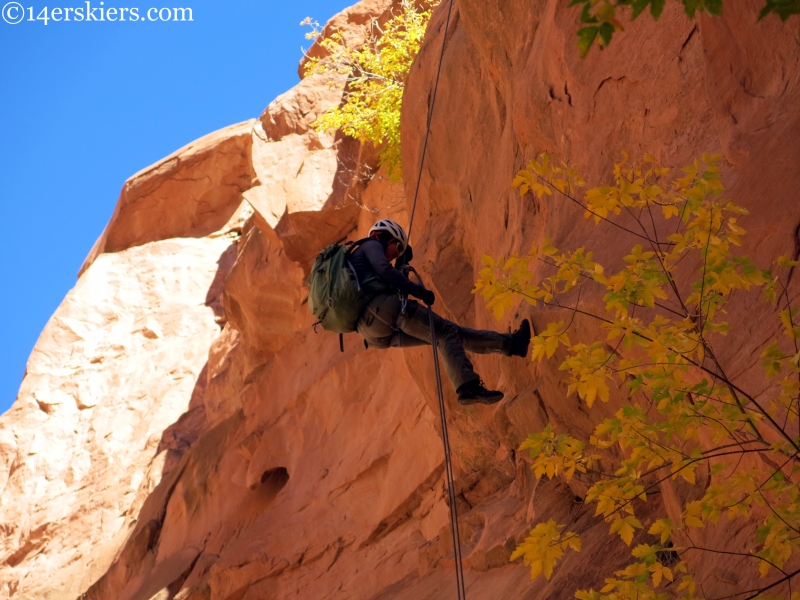 Article Name
Off to the Desert | Arches Canyoneering 11.7.15
Description
Canyoneering trip report from 2 canyons in Arches National Park: MMI and Winter Camp Wash
Author