Canyoneering in Arches National Park – Lost and Found
(Last Updated On: November 11, 2015)
After the first day of canyoneering, we returned to our camp near Lost Spring, saying good-bye to our new friend Kate. We enjoyed stories by a warm campfire, but the night was unusually cold – much colder than the night before.
We awoke to crispy frost on nearly every surface possible, even after resisting the need to emerge out of the sleeping bag like a tortoise out of its shell. Our tent made crunching noises from ice chunks that speckled its exterior as I unzipped the fly, despite the fact that it had been baking in the daylight for well over an hour. Frigid air clung around us, and the breeze seemed to be winning the battle for coolness over the warm sun.
But, such is life in November in the desert. Just to stay warm, we hurried to get ready. Movement was key. Without it we were cold. It was time to return to canyoneering in Arches National Park.
We then headed to the start of Lost and Found Canyon, which has the same start as the two canyons that we'd ventured into the day before. But, this time we knew we did not want to do the same climbing exit, and decided to leave a car at Lost Spring for a hiking exit instead.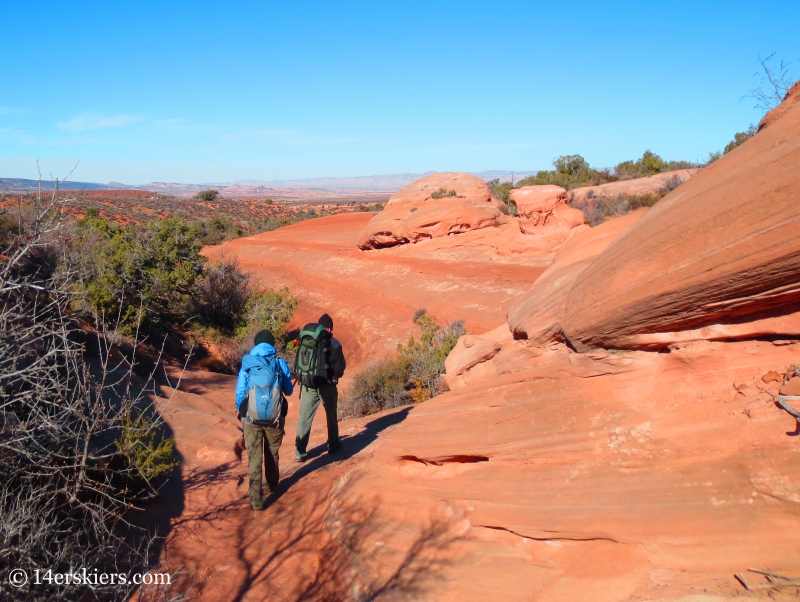 We walked a ways to get to the start of Lost and Found, eventually funneling into a wash requiring some canyoneering moves.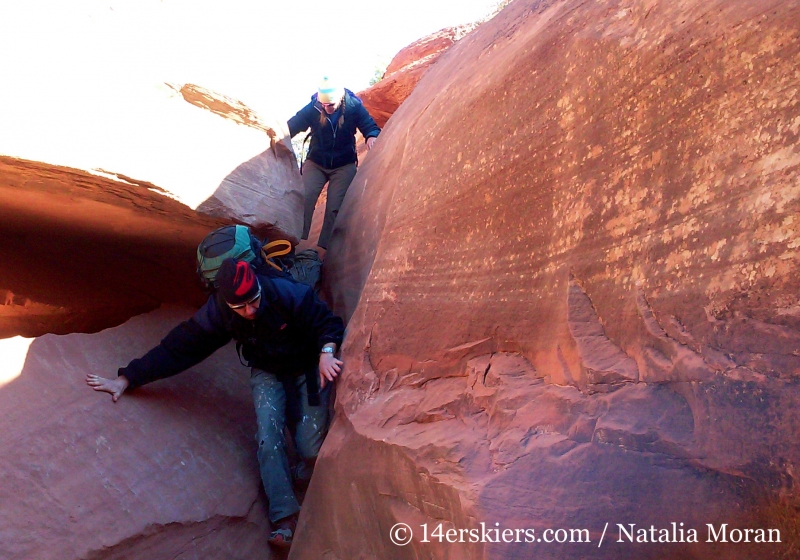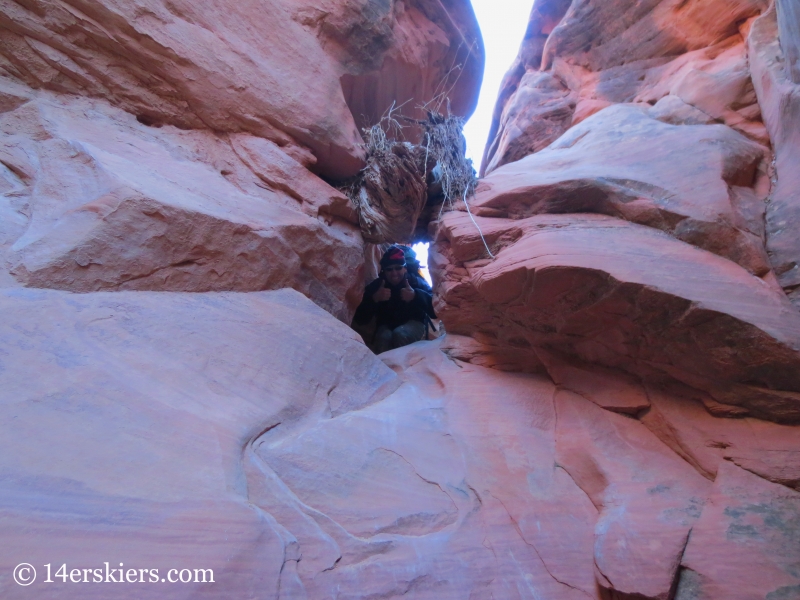 Unlike rock climbing, canyoneering moves seem less graceful – well, at least to us as novices.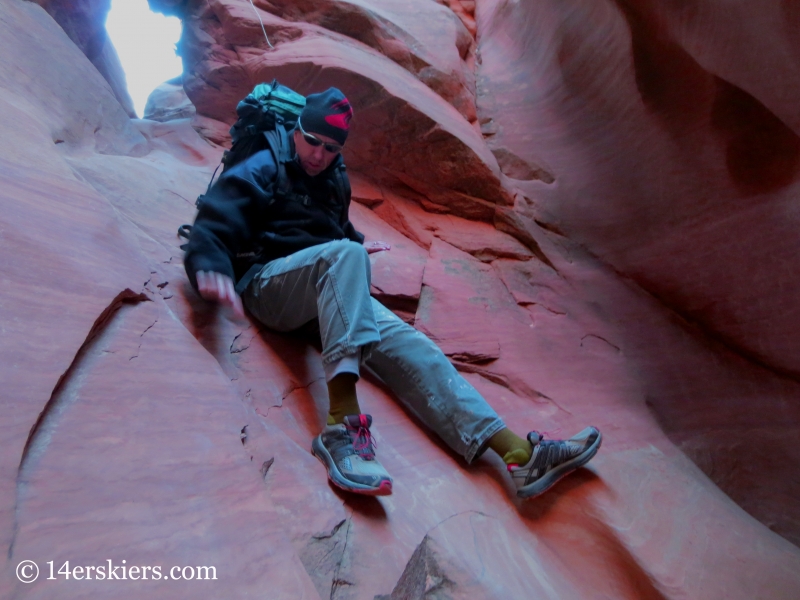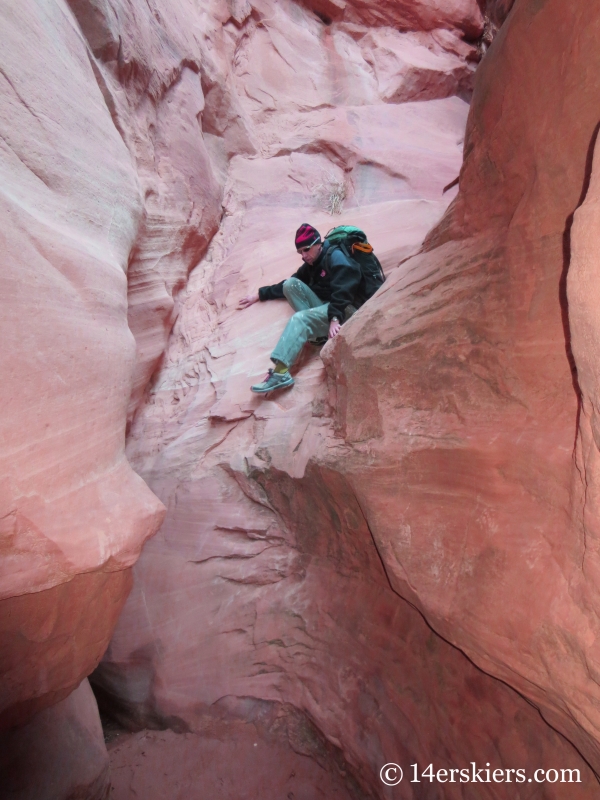 The canyon was very "slotty".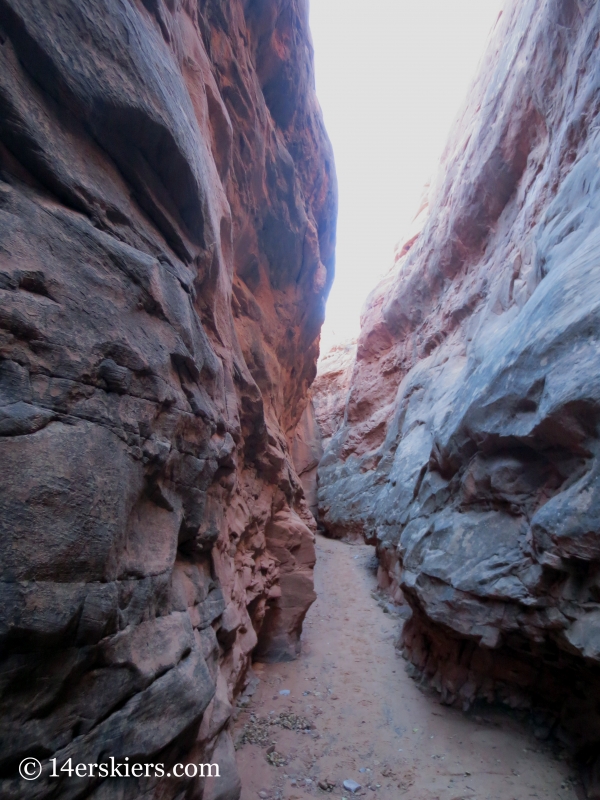 The first rappel was aesthetic, dropping down a donut hole in the rock into the chasm below.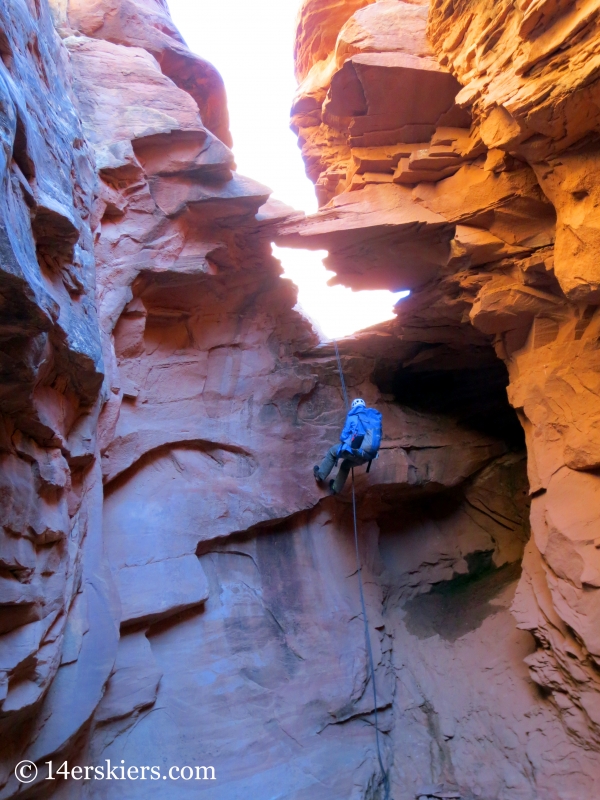 And then there were some more canyoneering moves.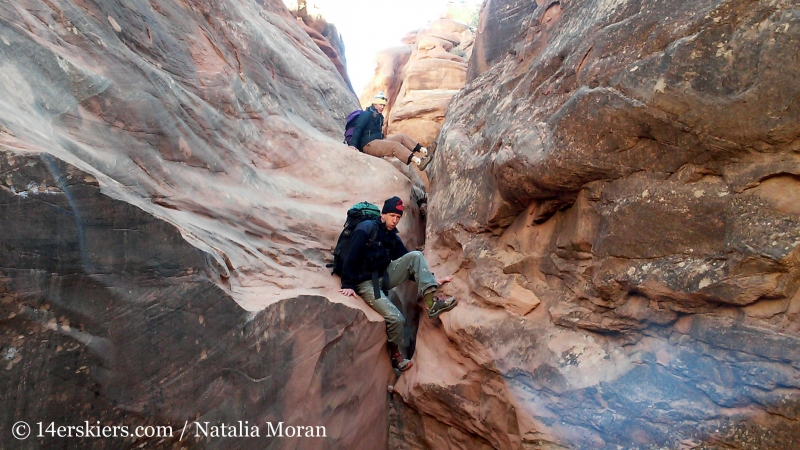 A few more slot moves got us to the 2nd rappel. Natalie getting ready to drop down.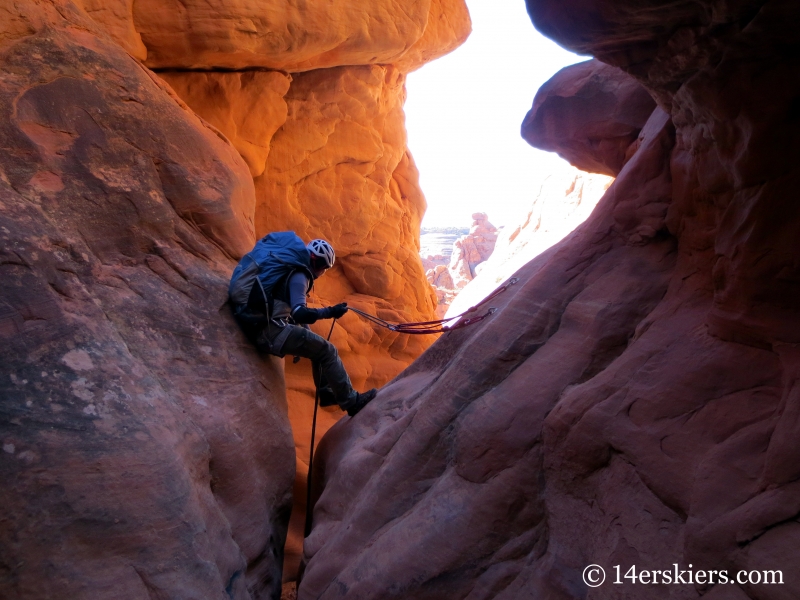 Me.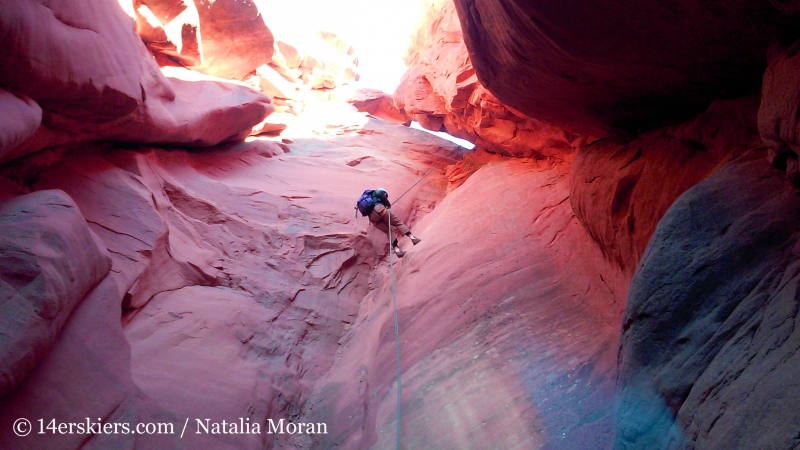 Frank on the 2nd rappel.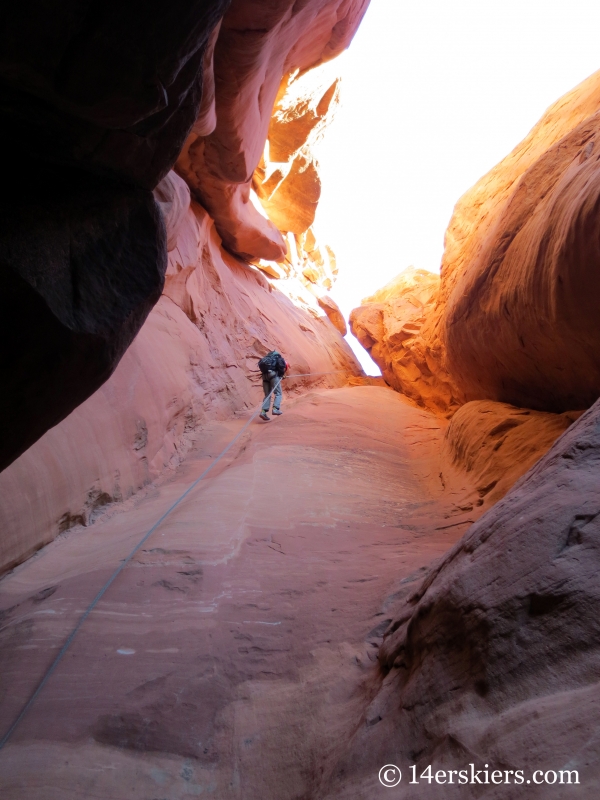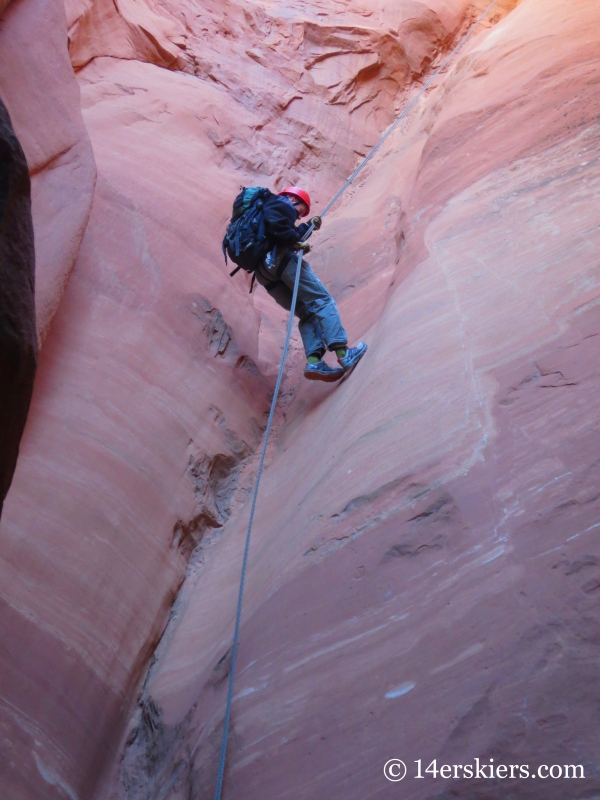 Natalie certainly made some of the canyoneering moves look a bit more natural.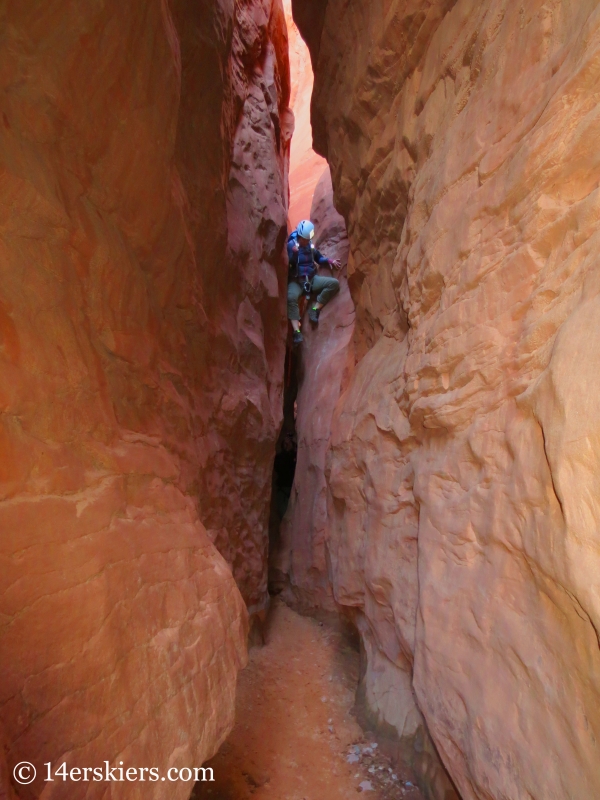 This tricky spot led us right to the top of the third rap.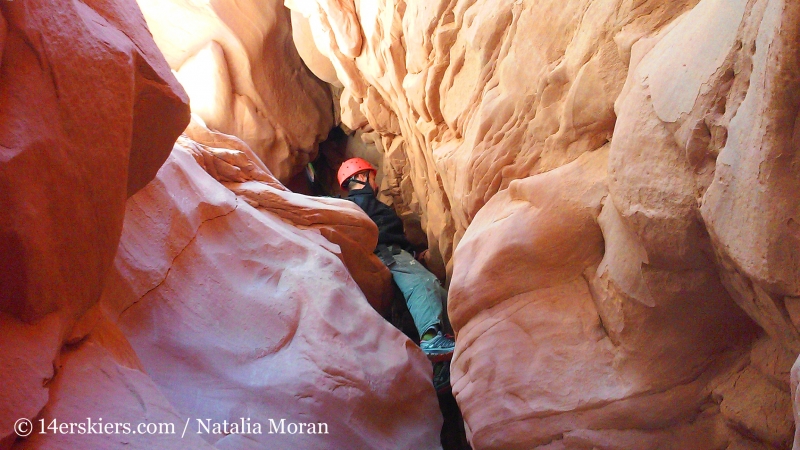 The third rappel.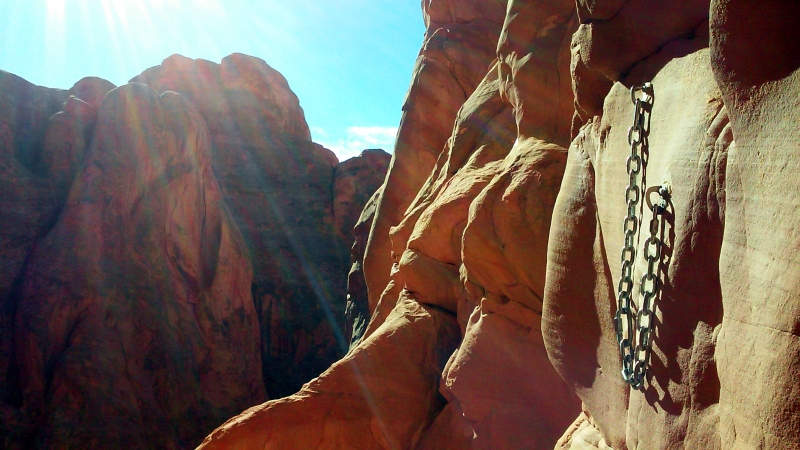 Natalie dropping down.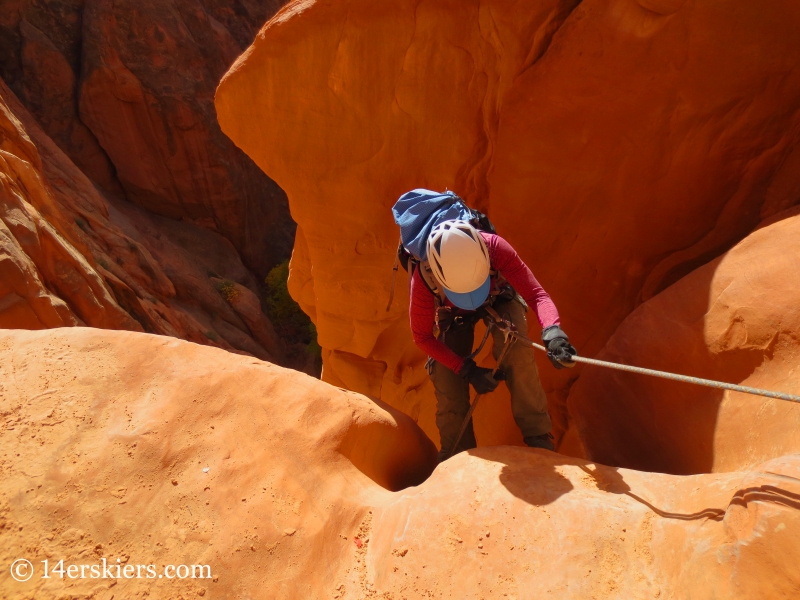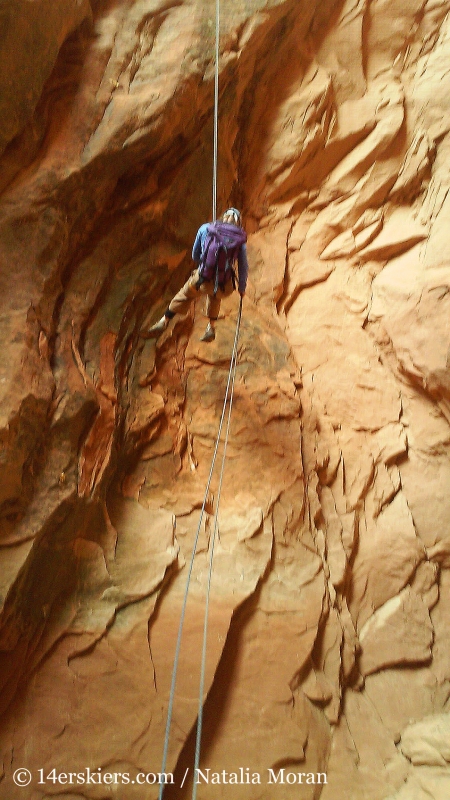 This last rappel was a good one, and required two ropes. Frank.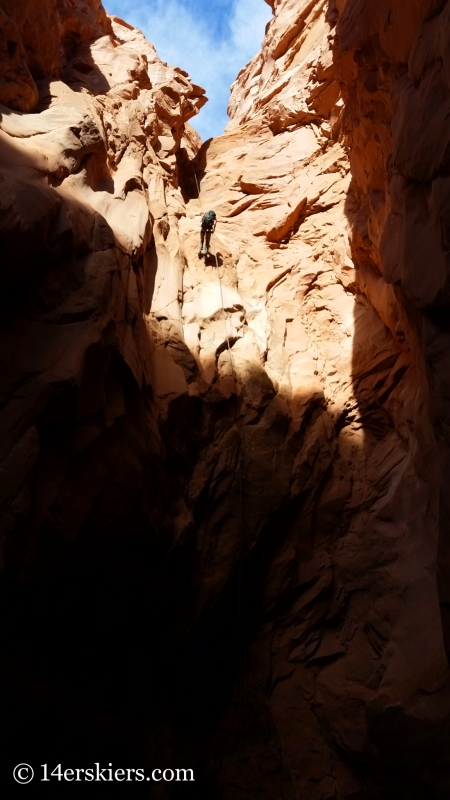 After packing up from the third and final rap, we headed down the narrow canyon.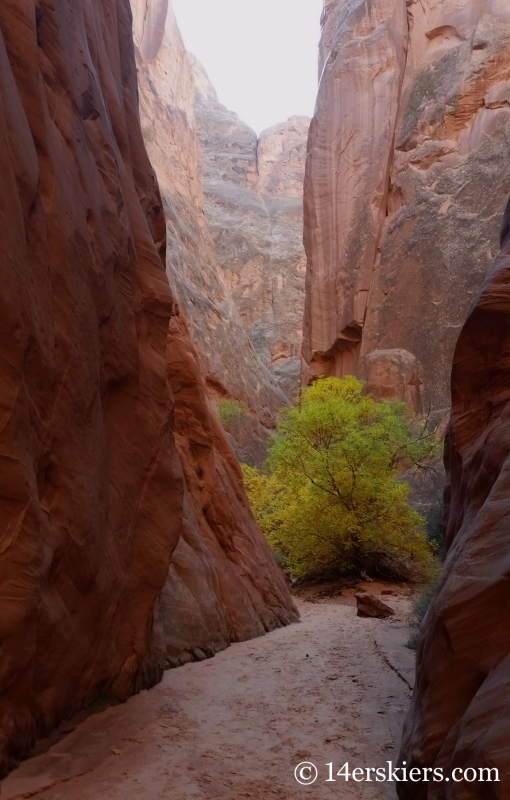 The canyon quickly emerged to a much wider canyon, which we also followed downstream.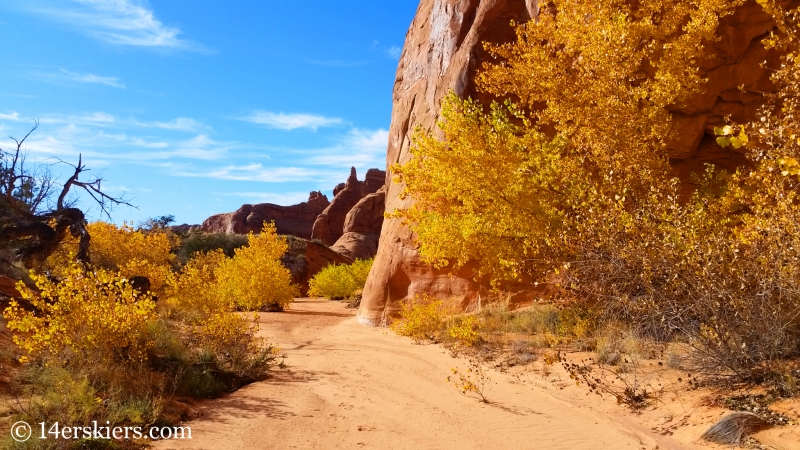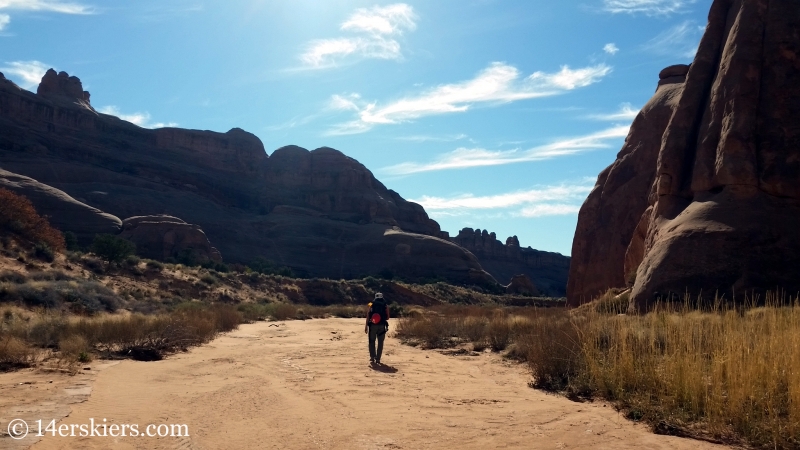 I guess it's only appropriate that we spied an arch. It IS Arches National Park afterall!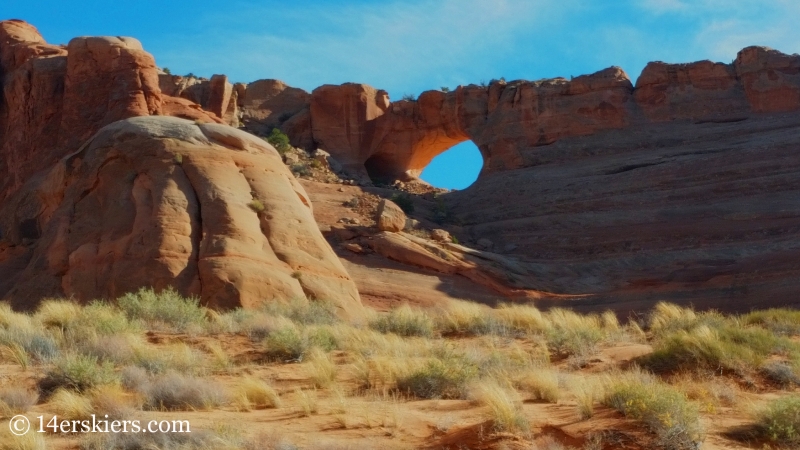 After awhile, we met up with another canyon that merged from our right and began following its wash upstream toward Lost Spring where we'd left our car.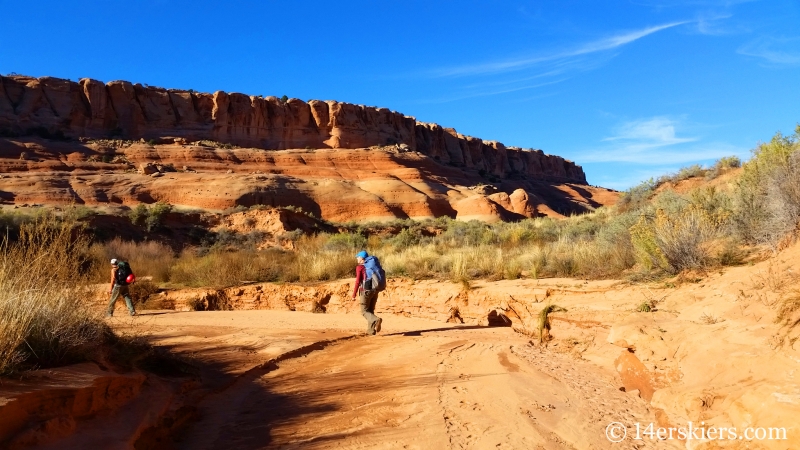 Eventually, we were "wash-whacking".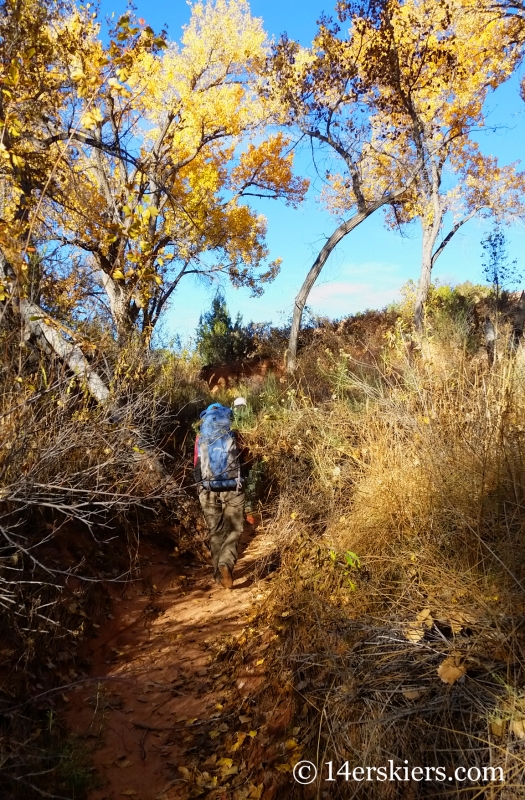 A split in the washes again brought us to a dry stream bed that was laden in quartz.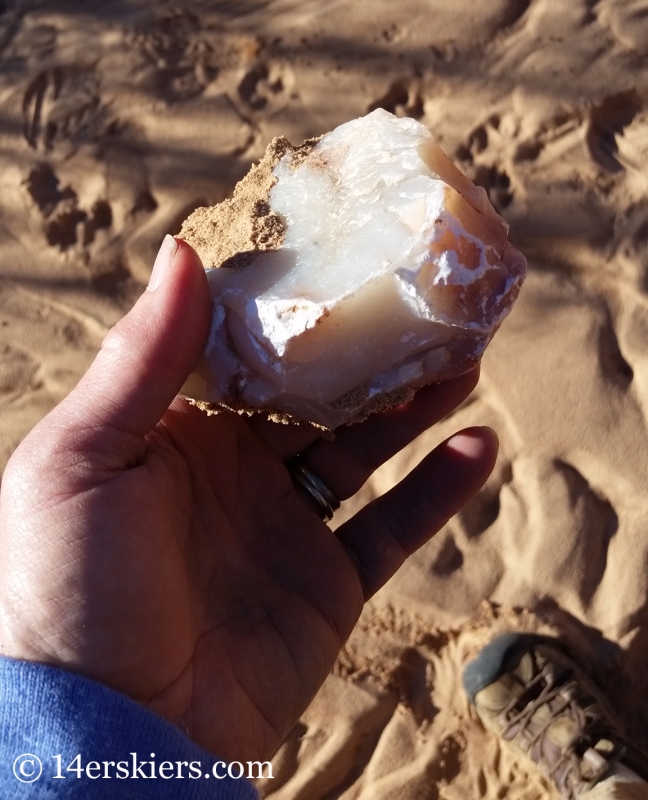 We still had to climb out of the canyon, but we found a fairly easy spot to do so.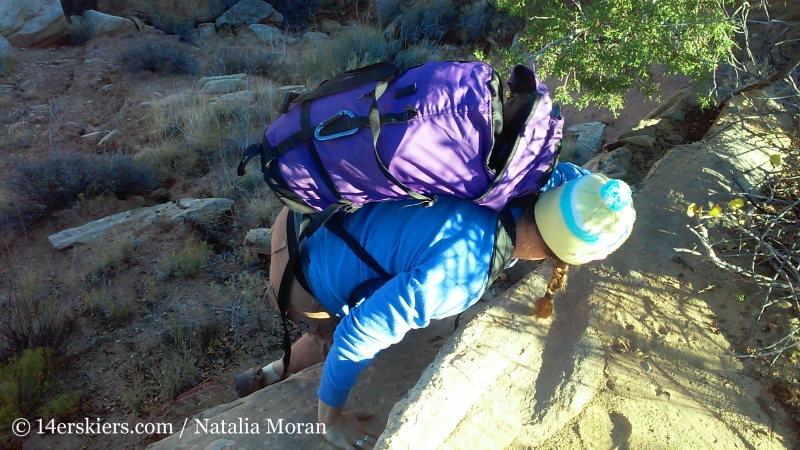 Alas, a view of the La Sals.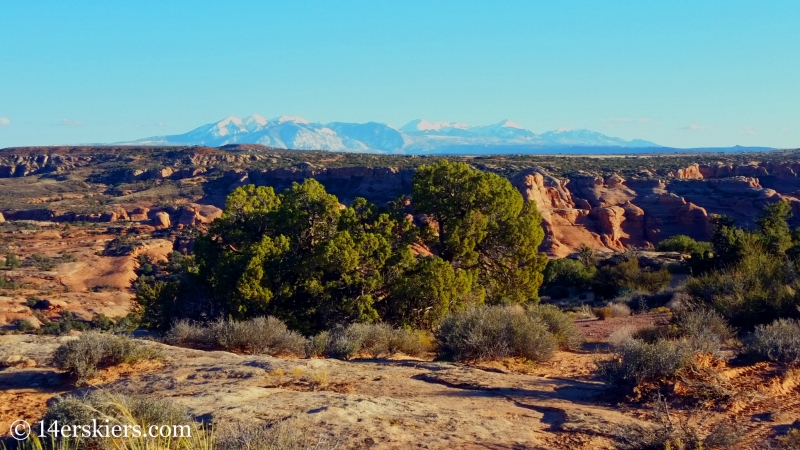 Though it was time to wrap up out weekend adventure, I wouldn't be surprised if we started making this an annual fall event! But, its on to the next season of us now. Plenty of white stuff in the high country to begin quenching our thirst!
---
Want to do these canyons yourself?
Knowledge of rappeling, anchor building, and rock climbing is a must. But, we found a lot of useful information on roadtripryan.com.
Aside from skiing, biking, and all outdoorsy things,
Brittany Walker Konsella
also loves smiles and chocolate 🙂 Even though she excels at higher level math and chemistry, she still confuses left from right. Find out more about
Brittany
!
Latest posts by Brittany Walker Konsella (see all)
Summary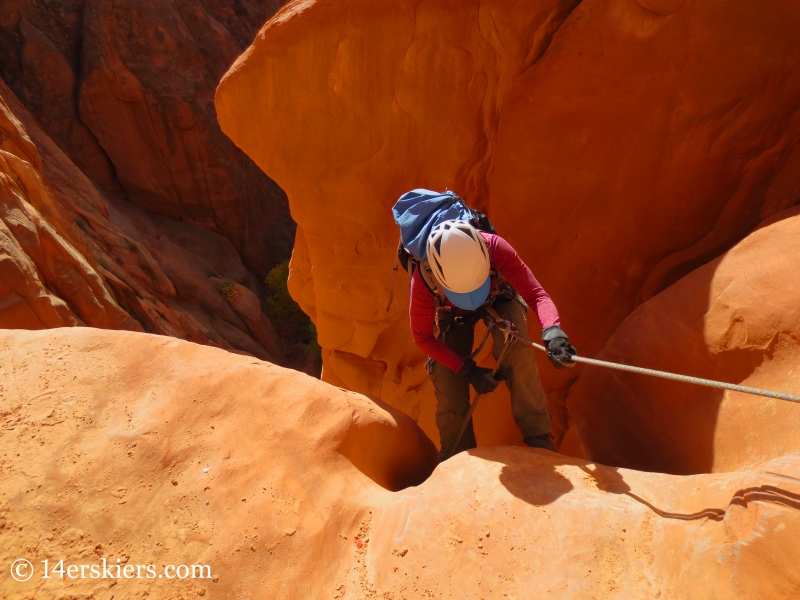 Article Name
Canyoneering in Arches National Park
Description
Lost and Found, a slot canyon requiring three rappels, is one of the treasures of canyoneering in Arches National Park. Read the reaport to find out why!
Author