High Pressure Rules: Richmond- Hancock- Richmond 12.10.14
(Last Updated On: December 14, 2014)
It's been a strange year in Crested Butte. Warm and no snow was followed by a bunch of snow, and that was followed once again by no snow. If it weren't for that big storm cycle around Thanksgiving, we would still be riding bikes and white ribbons of death at the ski area. The nice thing about the last 2 weeks of high pressure, however, is the steadily decreasing avalanche danger. It's a rare thing indeed to have relatively safe avalanche conditions in December, but that's what we had up until last night's storm. Which meant that we had the opportunity to ski big alpine faces in December powder.
Our first goal was to summit Richmond, a peak which I haven't summited as often as some of the other peaks in our area- in fact I'd never skied off the summit. Sadly, I forgot my camera, so I did what I could with my phone- the north face of Richmond: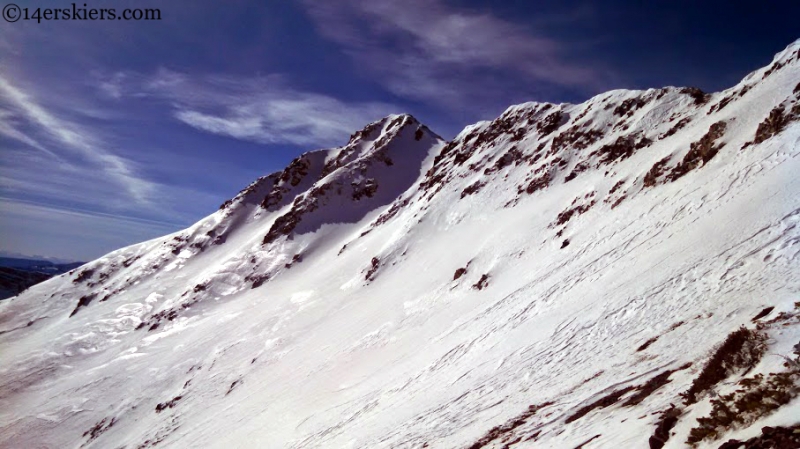 The summit of Richmond has a 2 or 3 sub-summits, which we had to traverse:


We had one rock step to negotiate along the way. Mike Nolan of the Elk Mountain Lodge tackles the ridge: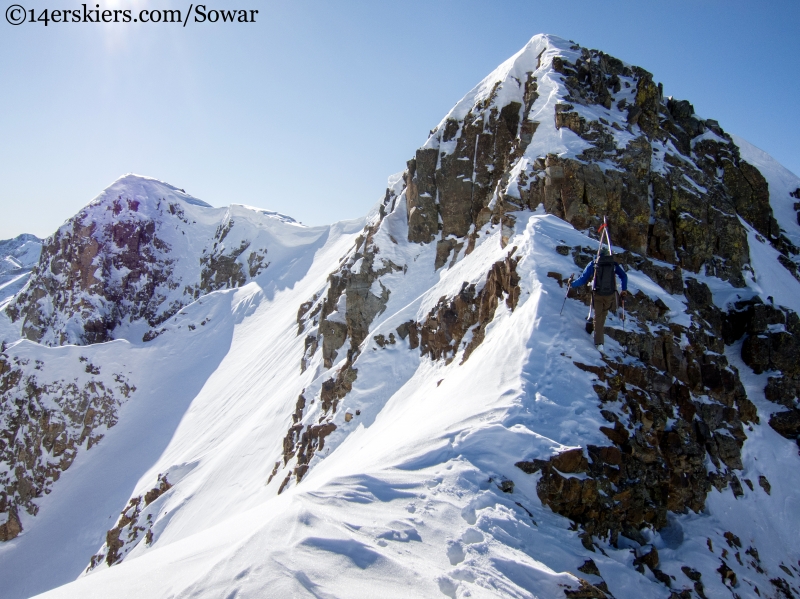 It was blocky, but also exposed: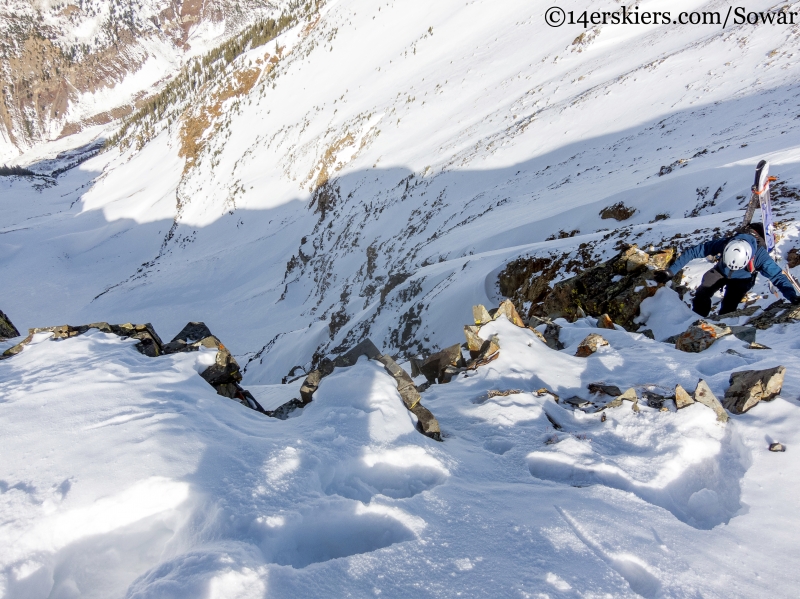 I love skiing of the west side of the spine of the Ruby range- and the west face of Richmond was one that I've looked at on many occasions, but had never skied. It always feels committing to go back there, since the only feasible route requires climbing back out. With the recent heat wave, we were expecting crusty conditions, but found powder instead.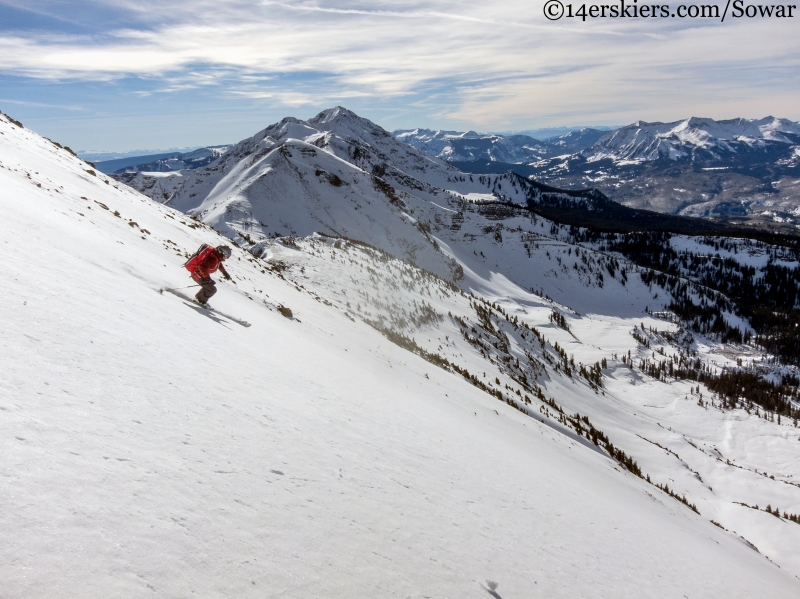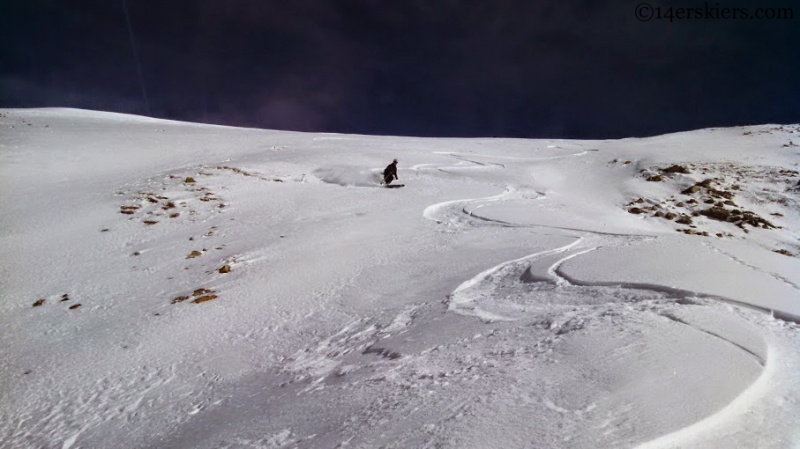 I'm way down there- it's a big face.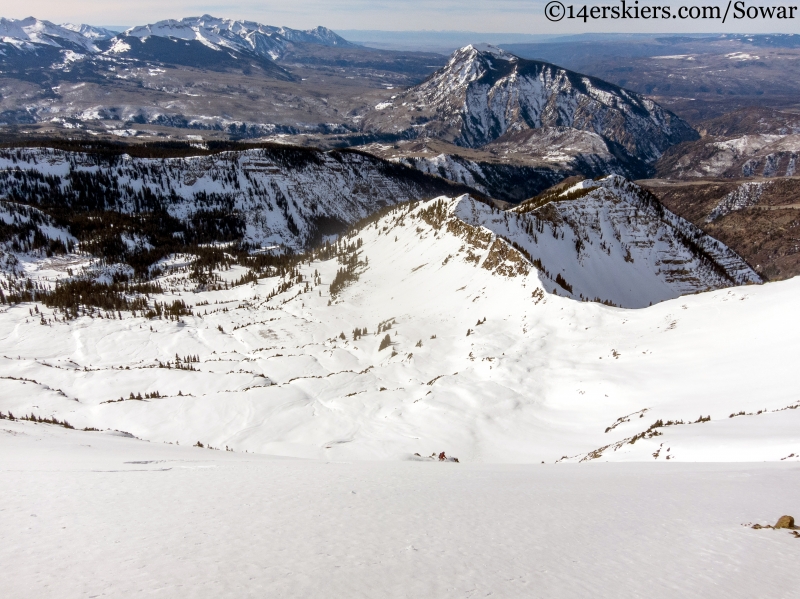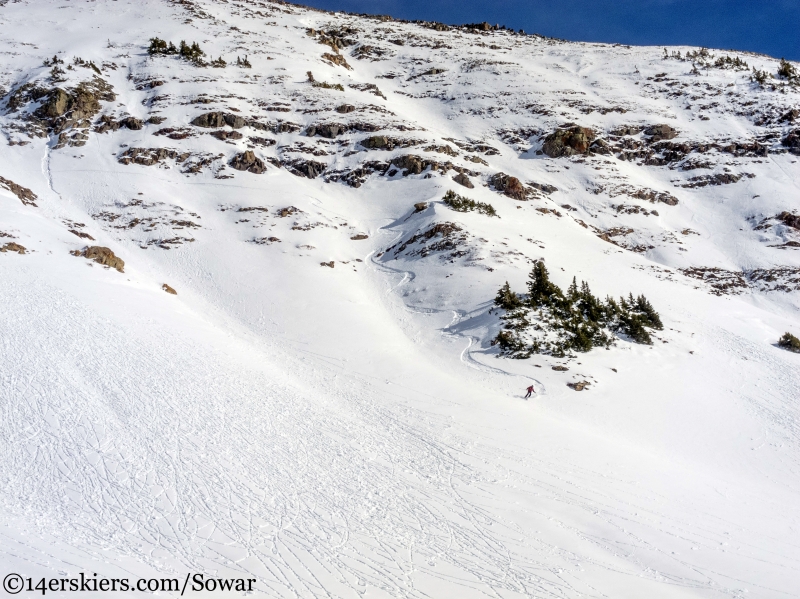 I'm including this picture to show the dead elk- see all those animal tracks and the dark spot on the right? That was a dead elk- it was hard to tell but I think it died in an avalanche during the Thanksgiving storm.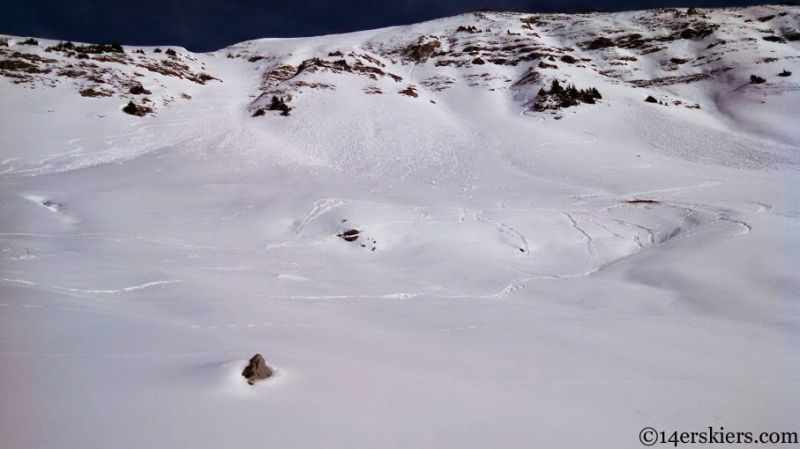 Our second objective of the day was Hancock peak, which really wasn't too far away.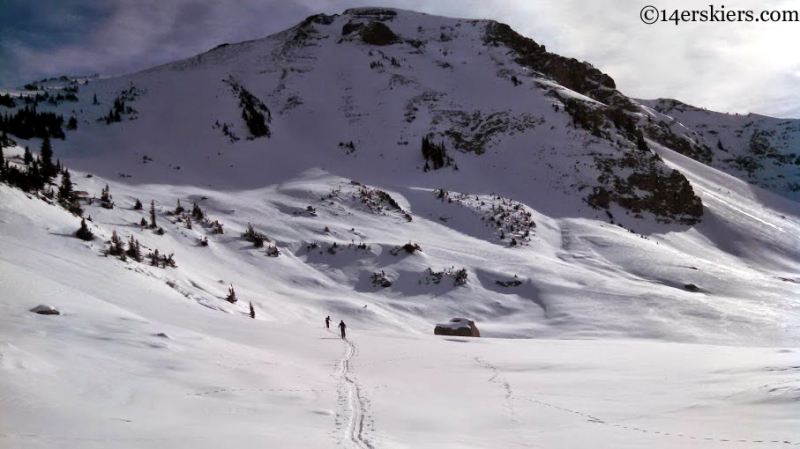 What a great location, with the dark canyon behind: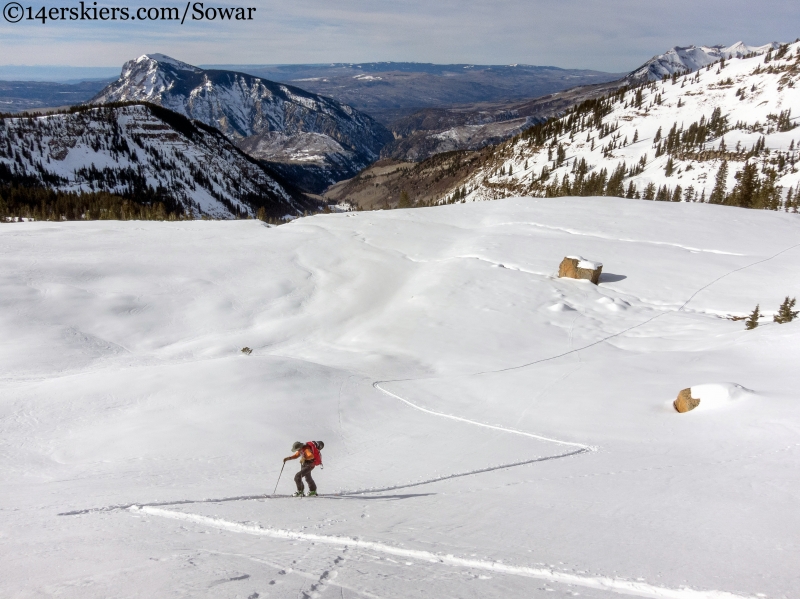 We caught a nice view of the face we had just skied: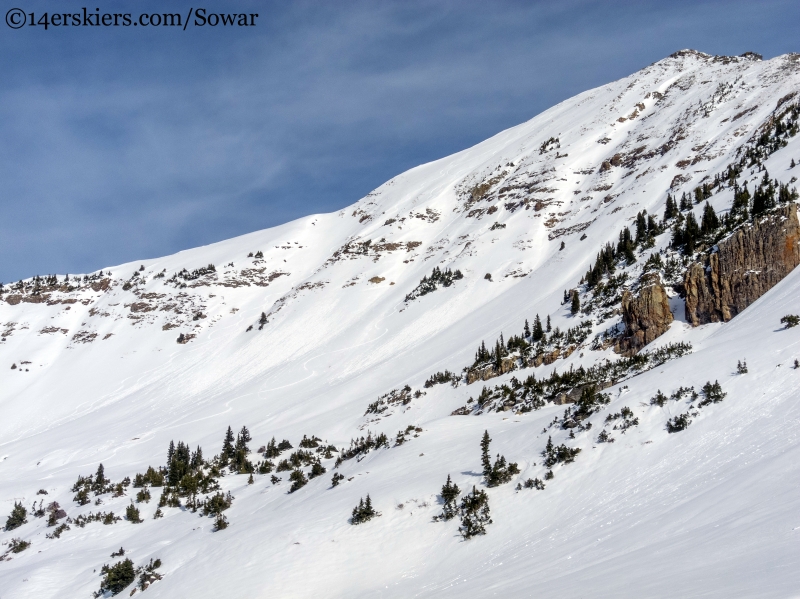 Conditions on the NE face of Hancock, one of my favorites, were a little bit variable but mostly good skiing. Pete Sowar: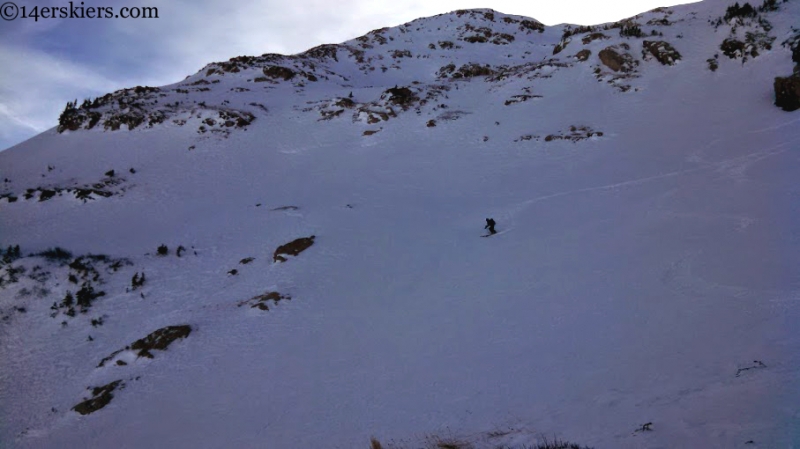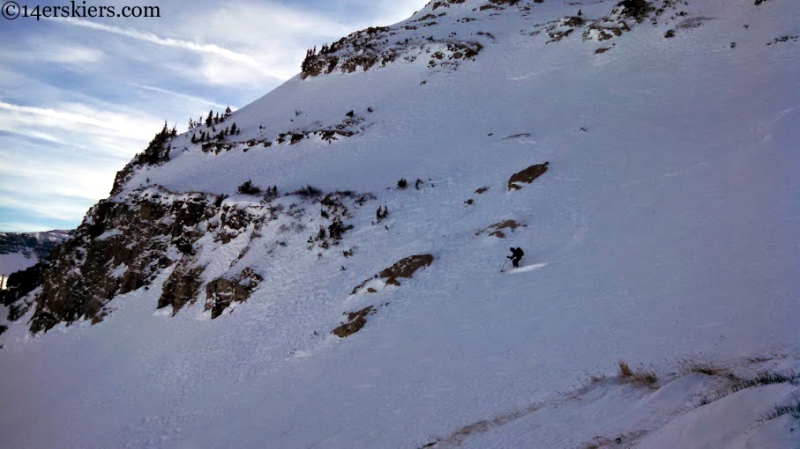 Skinning out Democrat basin, one of my favorite places in Crested Butte, with Hancock behind: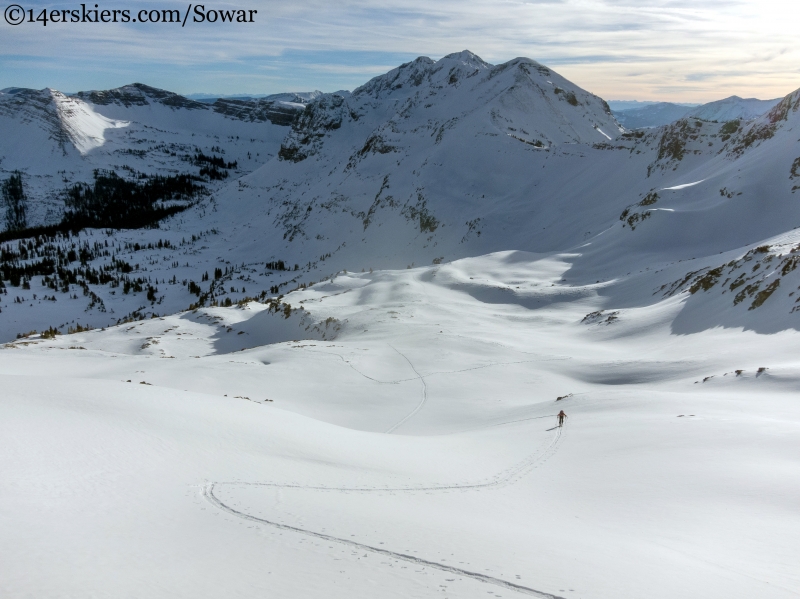 Getting near the top of our final skin. We were approaching 6,000 vertical feet for the day at this point.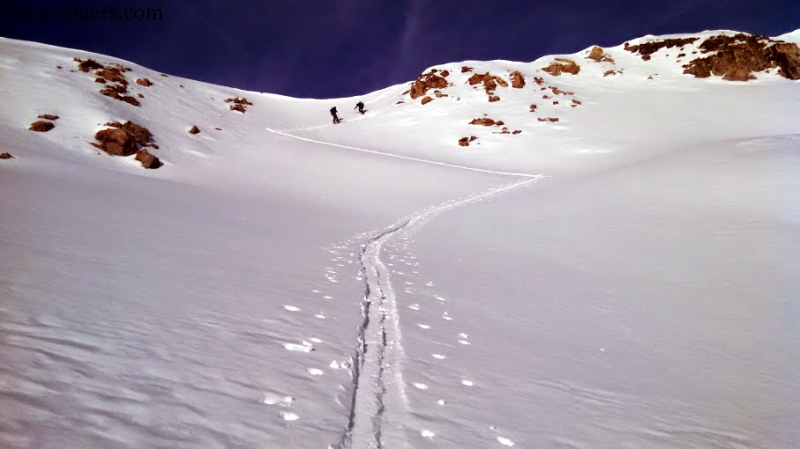 Back up Richmond. We skipped the final 100′ or so for a variety of reasons- one of them being that we were starting to run out of daylight during these short December days.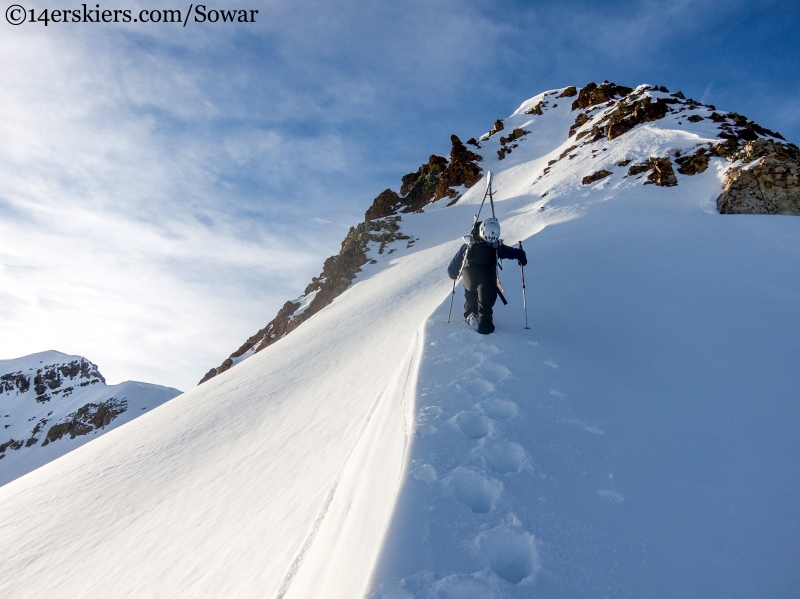 This was easily my favorite day of this season so far, and I doubt I'll top it until springtime. There will be powder days between now and then, but it might be a while before the big alpine faces are a "go" again. At least we had a window, and took the opportunity to step through it. Until next time…
Frank
loves snow more than anything... except his wife.  He ensures his food is digested properly by chewing it 32 times before swallowing.He is a full-time real estate agent serving
Crested Butte and Gunnison
and would be honored to send you his
monthly newsletter.
Latest posts by Frank Konsella (see all)