Mount Sneffel's Trilogy Couloir 5.18.14
(Last Updated On: May 29, 2014)
Earlier this month, we returned to Yankee Boy Basin and Mount Sneffels hoping to ski the Trilogy couloir. Even though we had just skied the Snake couloir two weeks beforehand, the easy access of Yankee Boy basin and another alluring line was just too much to pass up. The other part of our reasoning was that the freezes were pretty poor at the time, so we wanted the tighter confines of a couloir, rather than a big face, not to mention something with a late sunhit and some shade.
This time, the county had plowed the road even further, all the way to "the outhouse", making our approach even shorter. The drainage berms are huge, so expect to rub your rear bumper and/or trailer hitch on a few of them. Having just been there, we made quick work of the climb.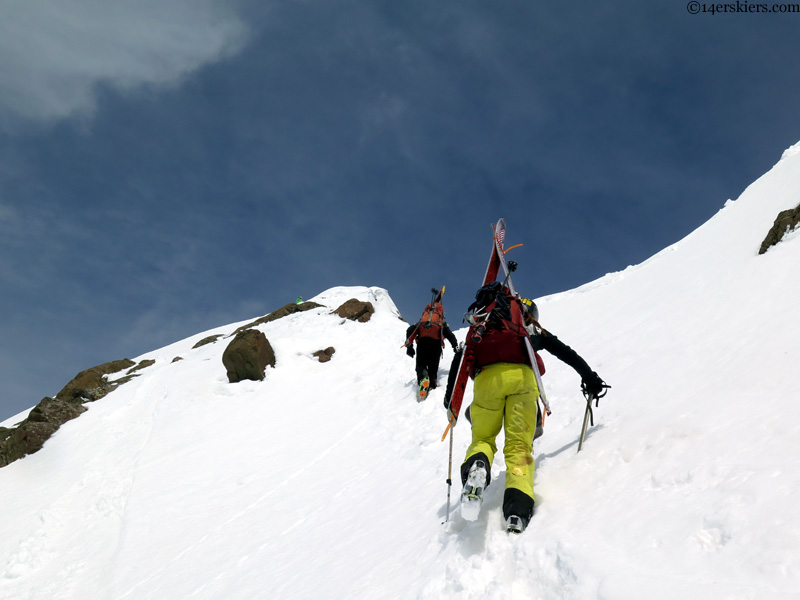 We passed a rappel station just below the summit, which turned out to be the same material we had used 2 weeks before off the summit. Someone had decided to move it lower, which made using a single 30m rando rope a possibility. Something to consider if you're heading to the Snake or the Trilogy.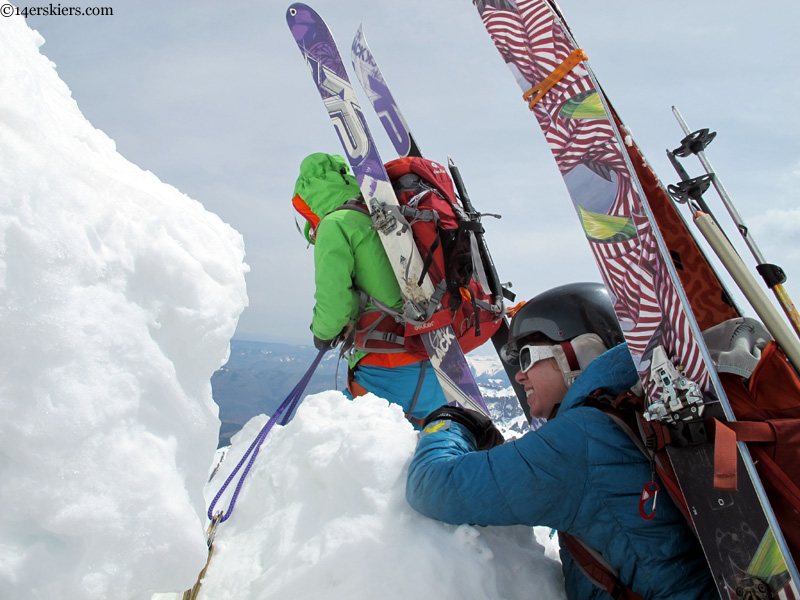 Conditions in the upper Snake were even better than the last time- windblown powder. Having skied north facing saturated snow on Purple peak on the 16th, I wasn't expecting powder. I guess it goes to show that elevation matters, at least some of the time. Ben McShan: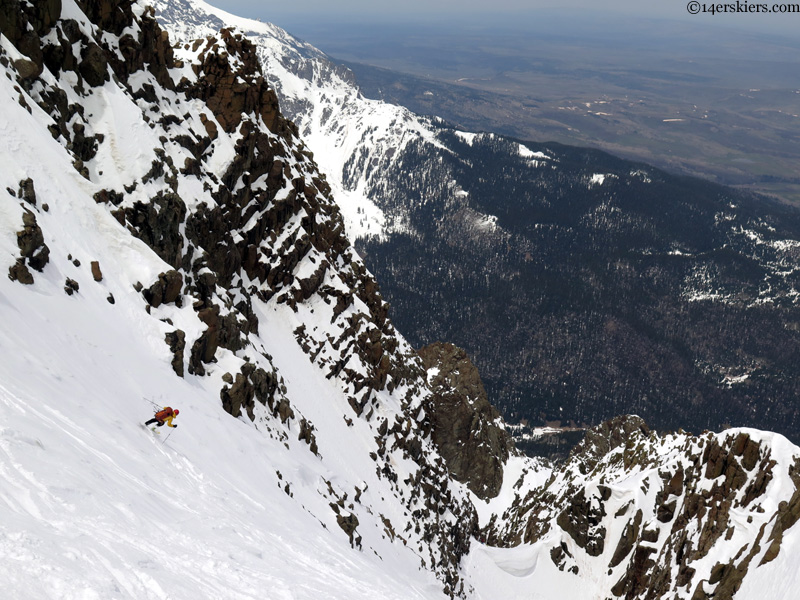 We left the Snake and entered the beautiful second part of the Trilogy. Frank: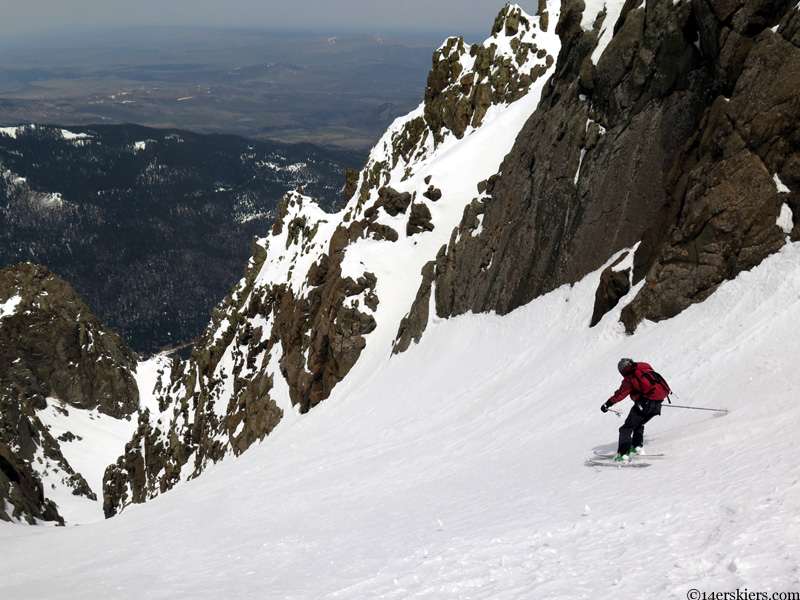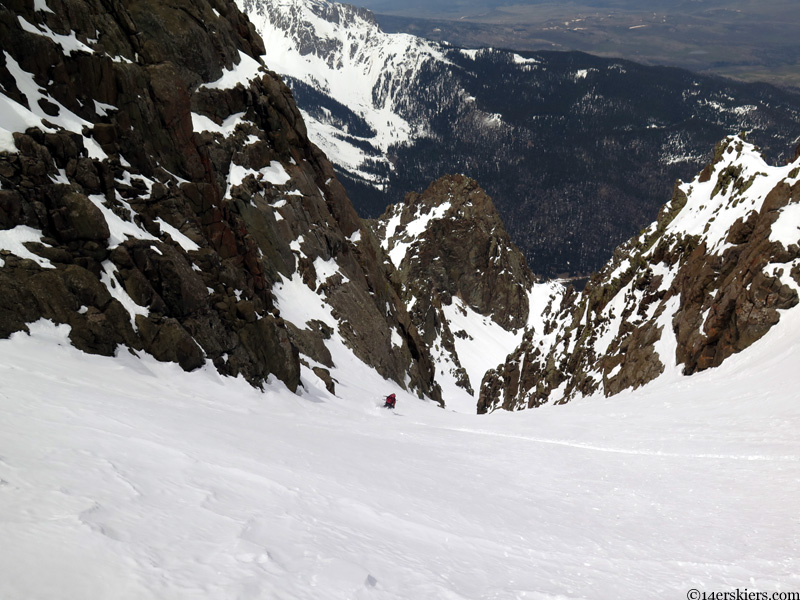 Starr: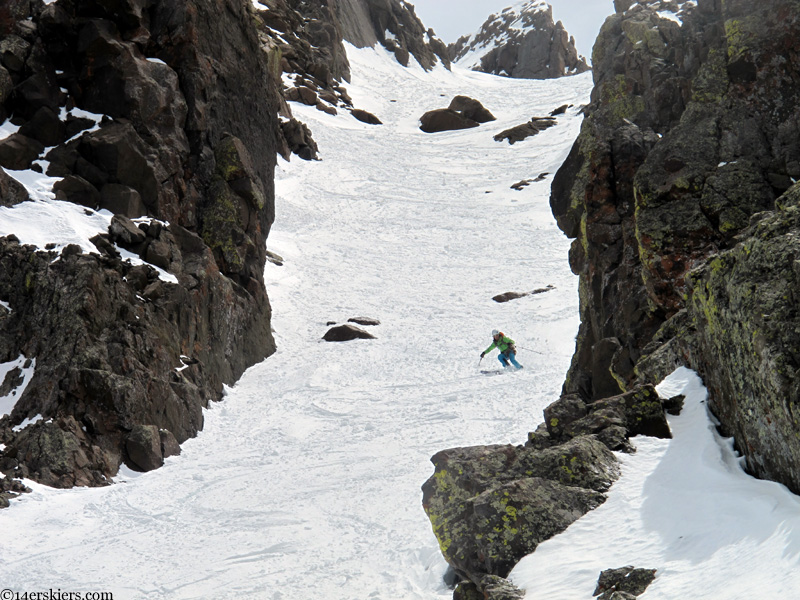 Jenny: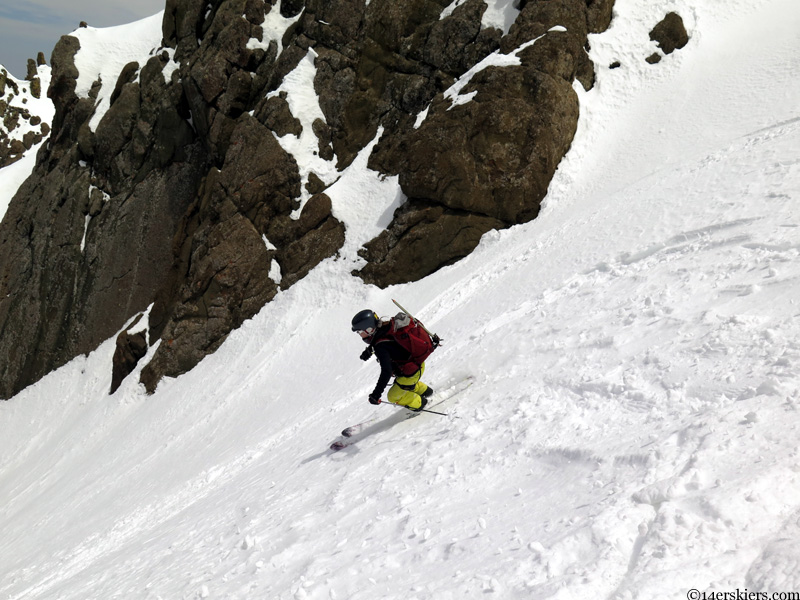 Like the first part of the Trilogy, we still had powder conditions on the shaded skier's left side of the couloir. Brittany: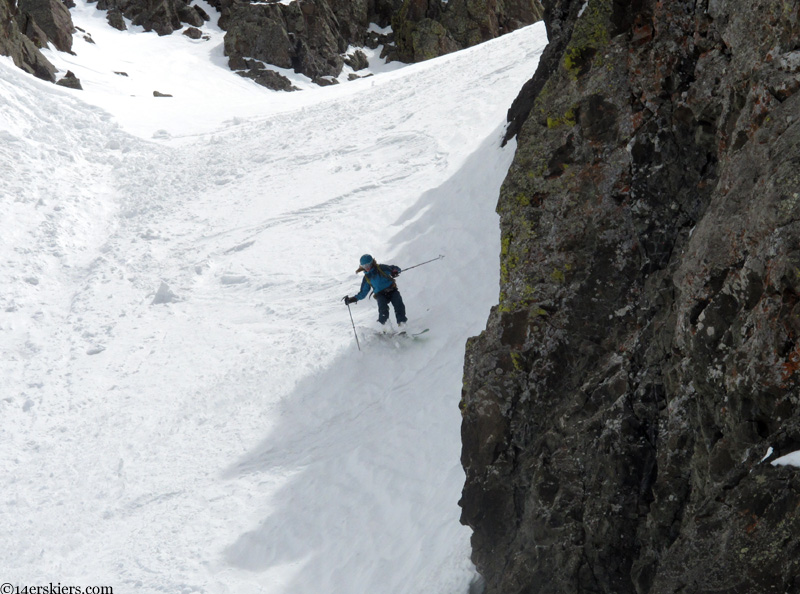 Starr:

Ben: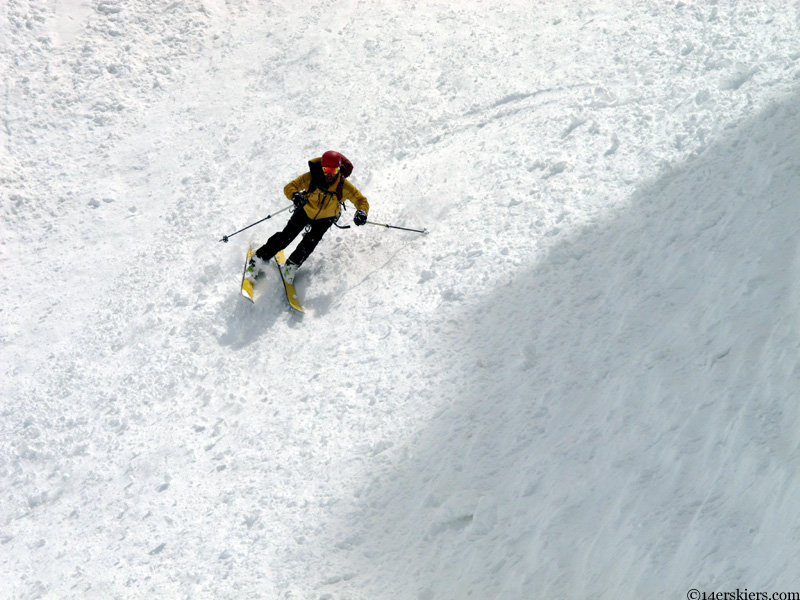 Brittany insisted that I use this photo. A small part of the route is above.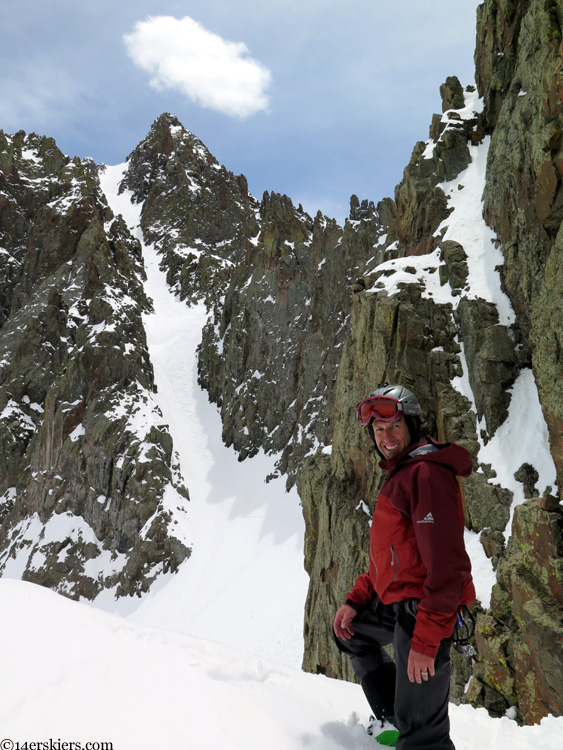 The third, and less obvious couloir, was next. Being both lower and less shaded, we found a mix of snow here, but some occasional corn. Brittany: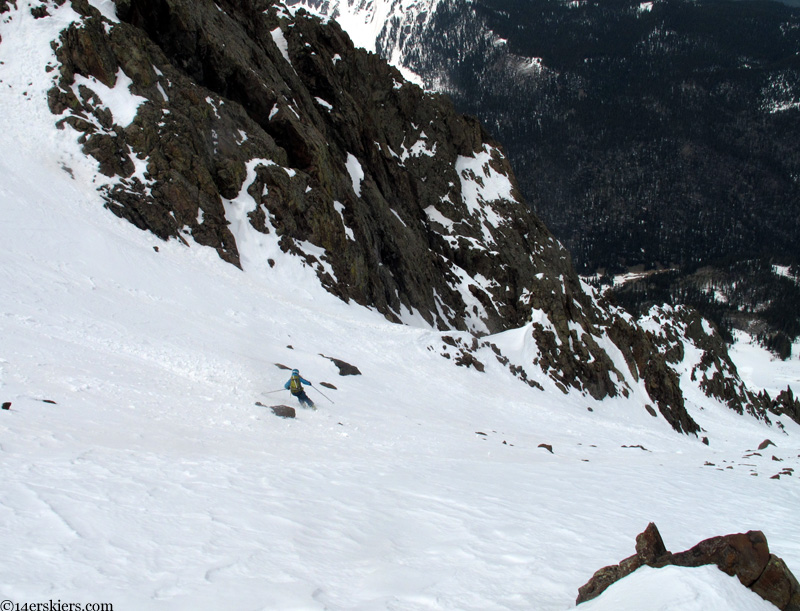 Starr: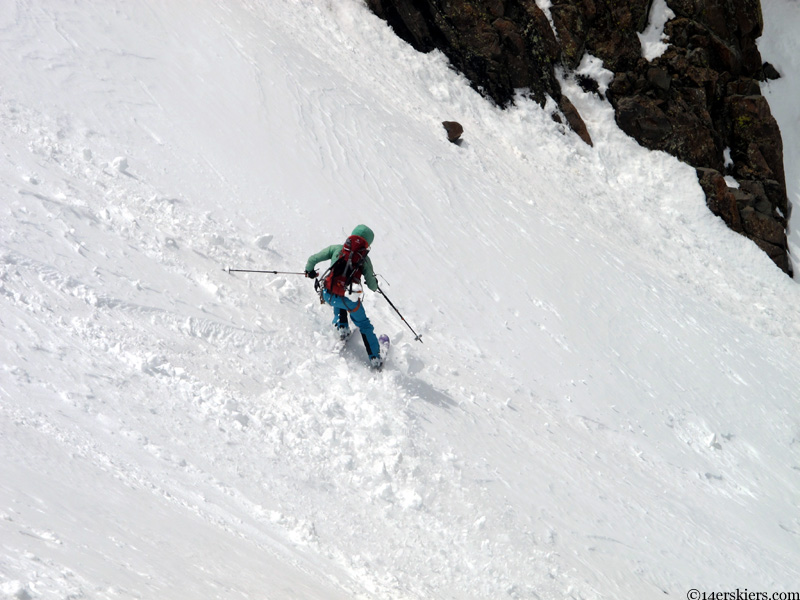 Brittany: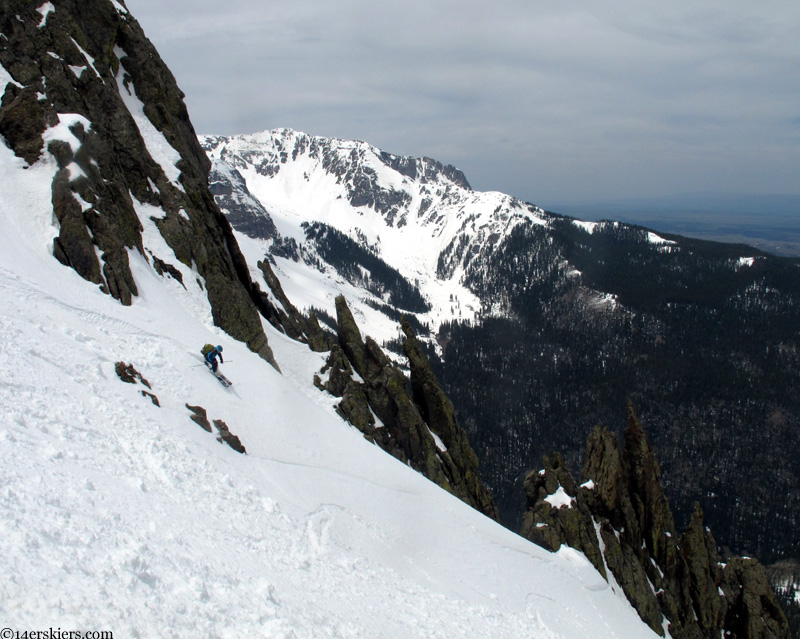 Frank: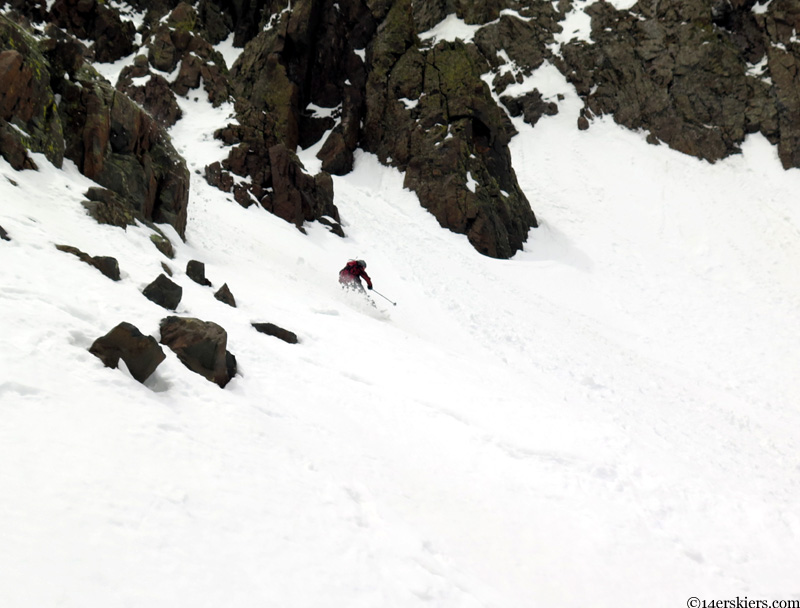 Ben: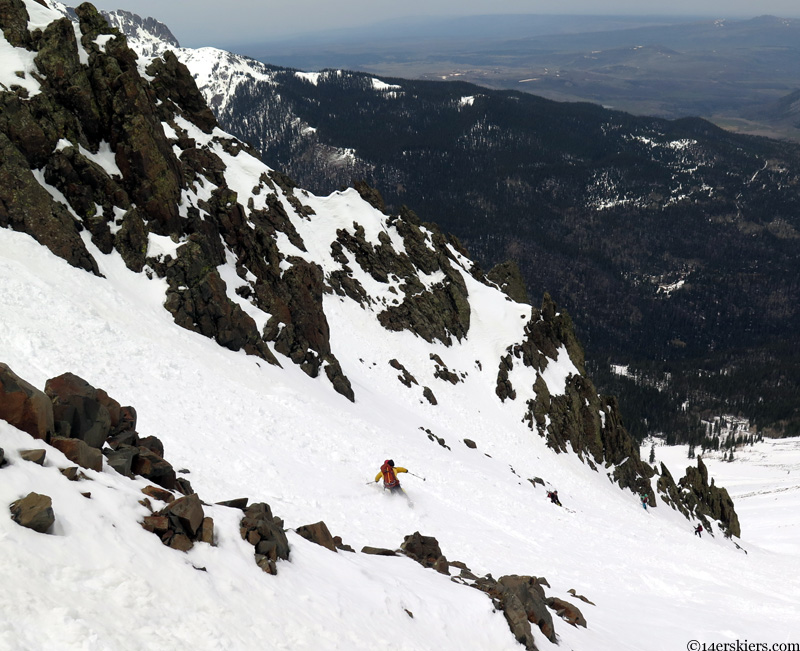 The apron kept going and going and going. I know people who have skied this entire route in winter conditions, I can only imagine how good this part would be if it were powder. Brittany: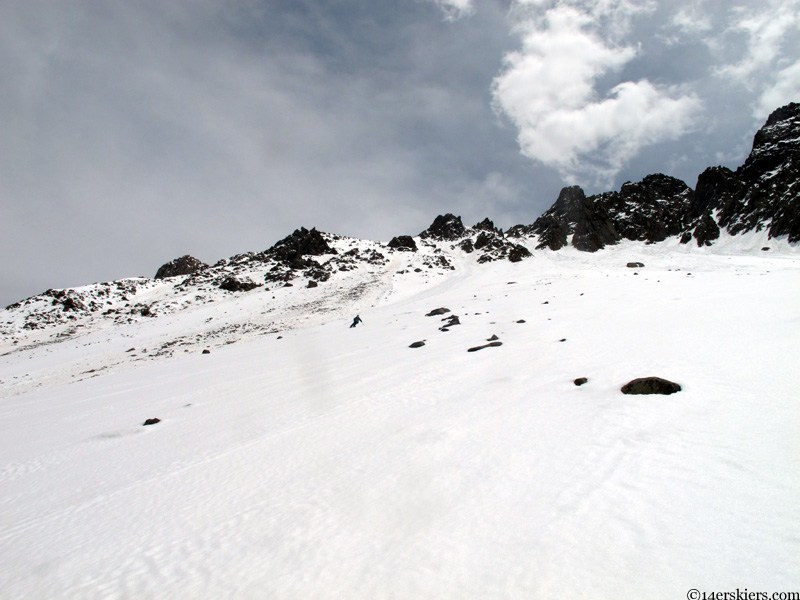 The exit after the apron was uneventful, but we definitely used our map and GPS to make it so. Our timing was good, and we had snow almost the entire way, taking off our skis for only 5-10 minutes. Ski this one too late in the season, and it might not be much fun at all. You can see parts of the route behind: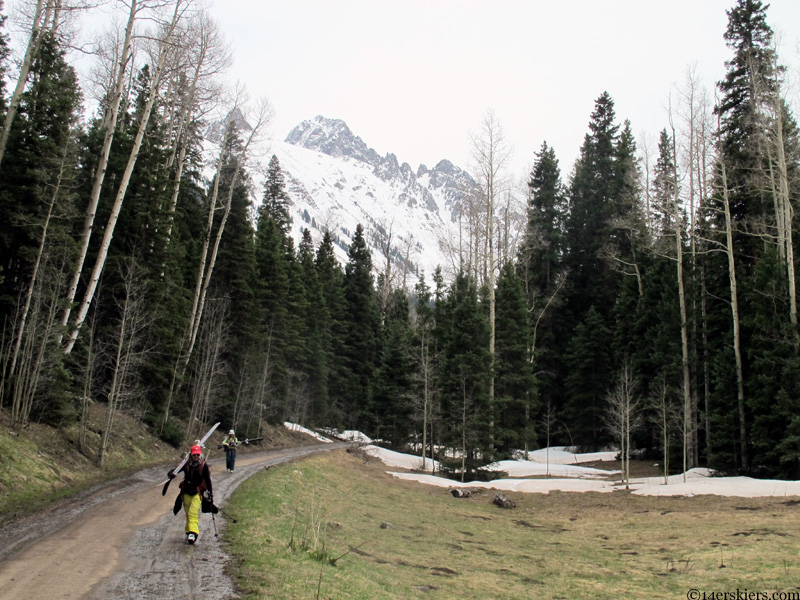 If you haven't already guessed, this route requires a good sized shuttle, which must be why it's less known than other routes on Sneffels. But having skied Lavender, the Snake, and the Birthday chutes, I can say that this one is by far my favorite. It's an intricate route in beautiful and wild terrain, and it's long. So many Colorado routes are 1,000- 2,000′ at most. The Trilogy is roughly 4,000′ of good skiing to the bottom of the apron, and another 1,000′ to the car from there, making it a giant among CO peaks. The shuttle may be a pain, but we'll be back for this one.
Frank
loves snow more than anything... except his wife.  He ensures his food is digested properly by chewing it 32 times before swallowing.He is a full-time real estate agent serving
Crested Butte and Gunnison
and would be honored to send you his
monthly newsletter.
Latest posts by Frank Konsella (see all)