Afley Peak 12,646′ SE Face 2.21.09
(Last Updated On: January 10, 2014)
Note: We didn't have anything to post today, so we're re-posting an oldie but a goodie. Hope we can get similar conditions on Afley this year.
The southeast face of Afley is one I've wanted to ski for a long time. From Scarp's ridge, Afley appears as an amazingly aesthetic pyramid, caked with snow and begging for a descent. Last Saturday, I finally got my chance and headed out with Pete, Sean, and John. Our first step was to snowmobile out to Scarp's ridge, but along the way we had to stop and take a photo of Ruby chute, off the side of Ruby Peak. For those of you looking for beta, it has rap anchors above the ice bulge and makes for a nice ski (of course, it can be skied in good snow conditions without a rappel)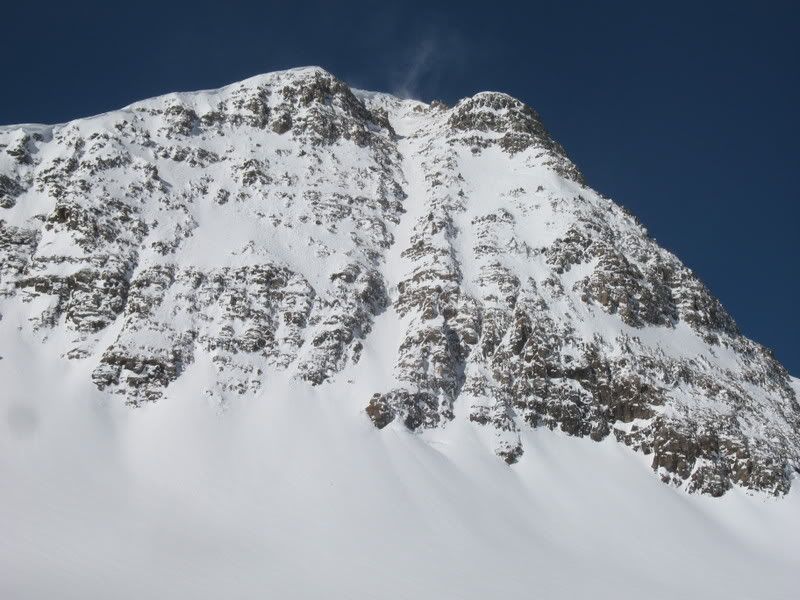 At the top of the ridge, we started checking out the face, which obviously looked amazing.

The S-chute on Purple peak is another local classic, one which I might have to repeat again soon. (Mt Owen back and to the left)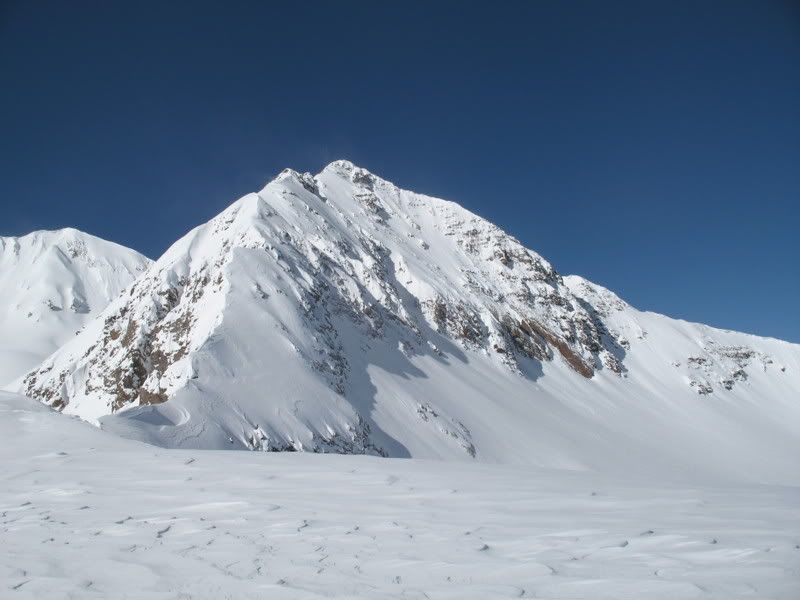 Our first step was to descend to Blue lakes off of Scarp's ridge, which we did in some incredible N-facing snow. John: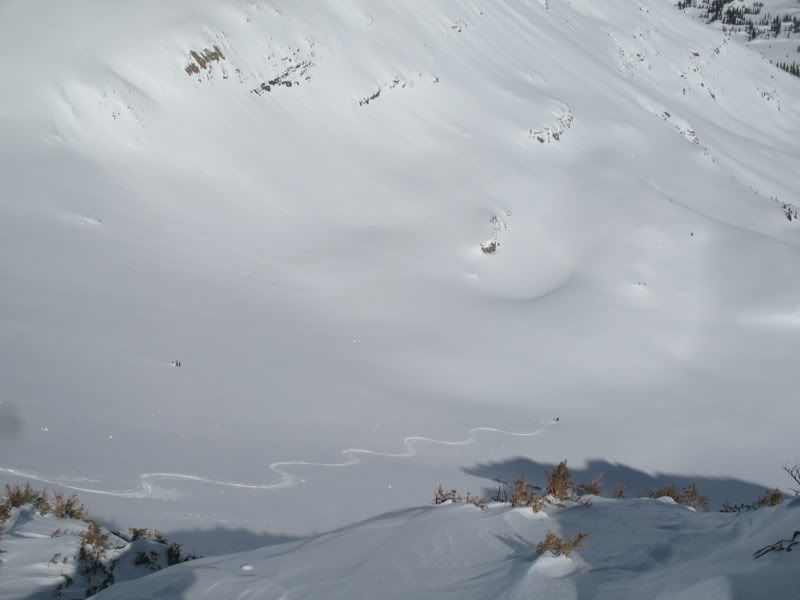 Pete:

Frank: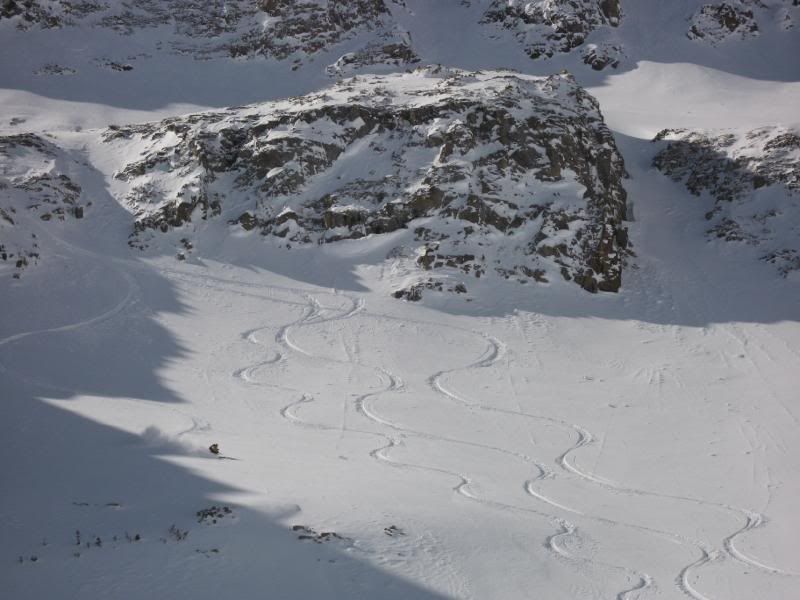 Next, it was time to put in a skintrack to the ridge. Sean starting up underneath Purple Peak: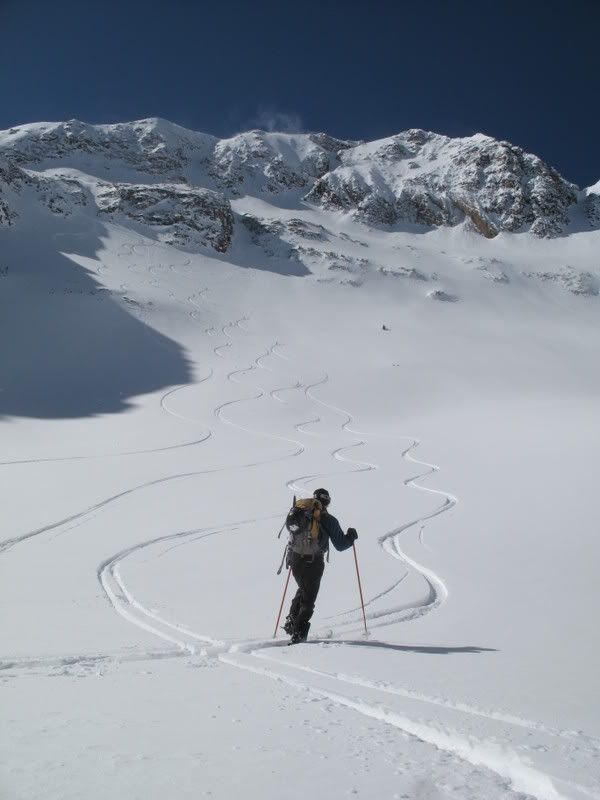 One of Pete's photos:

After gaining the ridge, it was time for the ridge climb. We generally stayed on the rocks, which made for a bit of a sporty climb.

From the top, the tiny (only 11,348′) Marcellina Mountain reminded us that size doesn't always matter: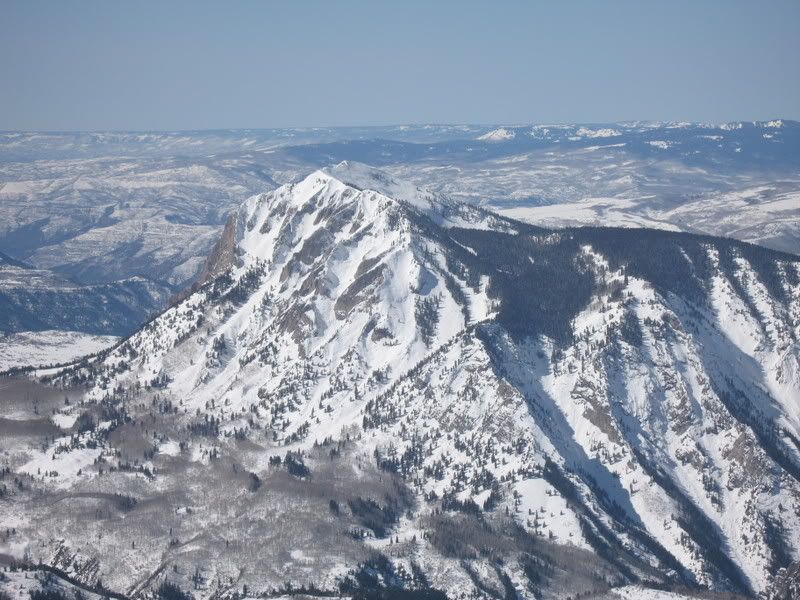 John drops in first, finding some quality snow right off the top:

Pete's turn: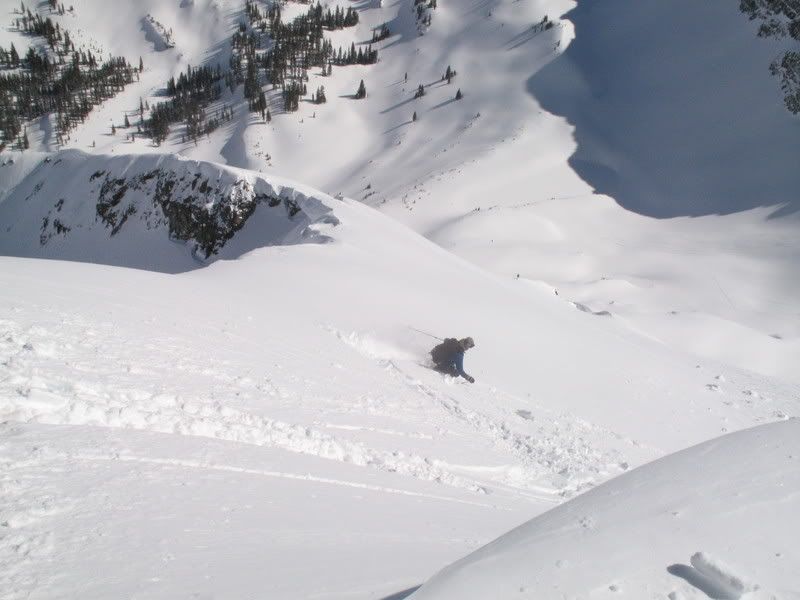 Followed by Sean:

I dropped in last, which wasn't a problem on this huge face:

Kind of blurry, unfortunately, but would have been a good photo of Pete: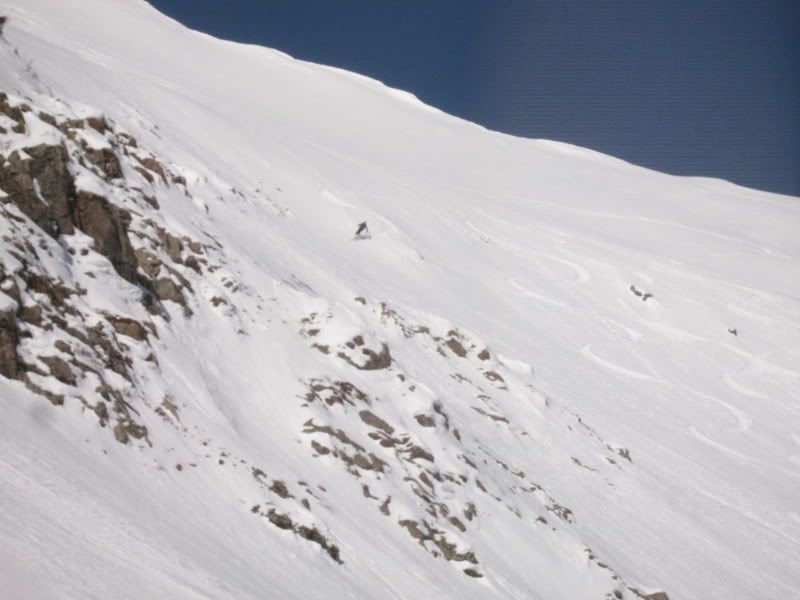 Lower down, we found some fun features to play with: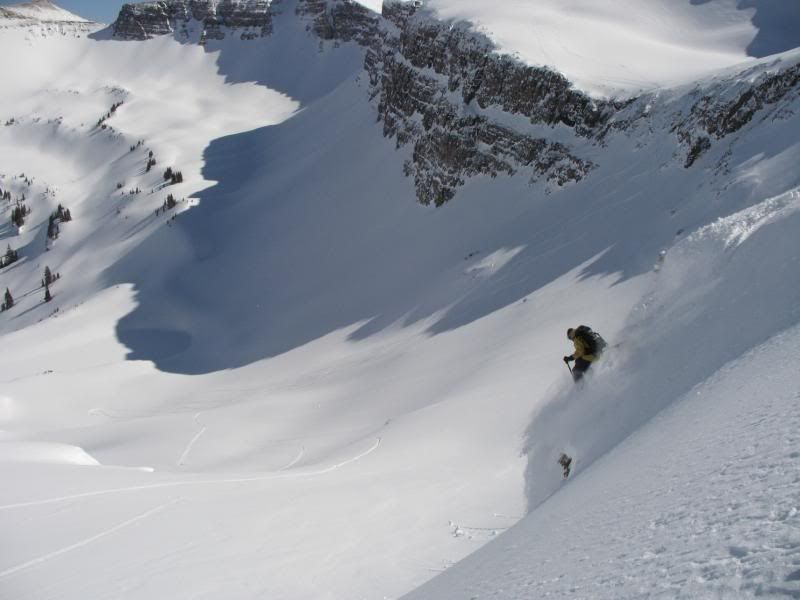 Pete:

We skinned back out to Scarp's and got one last photo of our tracks on the face. A bunch of snowmobilers kept coming by, asking us questions like "Which one of you skied that face?" Sadly, nobody took the bait and said, "I did, four times in a row, while these guys sat around and watched." That would have been the only way to top what was otherwise one of the best days of what has turned out to be a great season, and one that is only halfway through.
Frank
loves snow more than anything... except his wife.  He ensures his food is digested properly by chewing it 32 times before swallowing.He is a full-time real estate agent serving
Crested Butte and Gunnison
and would be honored to send you his
monthly newsletter.
Latest posts by Frank Konsella (see all)