Crested Butte Lift Ticket Deals
(Last Updated On: January 12, 2015)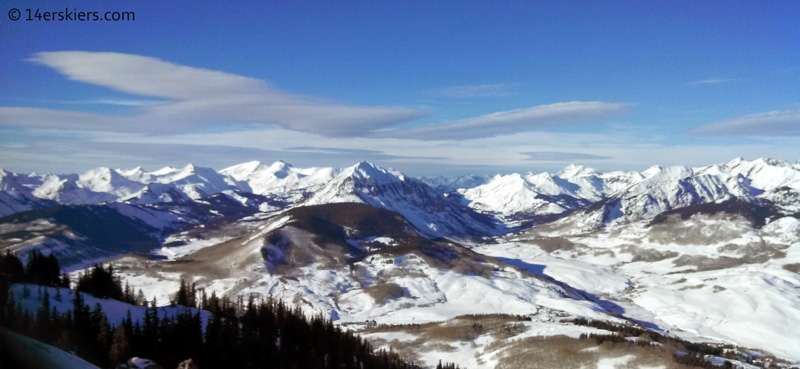 The article below features lift ticket deals for the 2013-14 season. To find out more about Crested Butte lift ticket deals for the 2014-15 season, please click here.
Crested Butte Mountain Resort is skiing better than it has in three seasons. With an already large selection of terrain open, patrol continues to work on getting the front side (Banana, Funnel, etc) open. Word has it patrol is also working on Third Bowl, and they are waiting for more snow to open the steeper terrain of Sock-It-To-Me-Ridge and Spellbound. Ullr is helping us along with these terrain openings by giving us frequent doses of snow – often more than forecasted.
That being said, it's time for you to come to Crested Butte. Enjoy our snow and steeper terrain – AND our lack of lift lines. Here's a few deals that will help you fund your fun, and stretch your wallet a little more.
1) Costco Lift Tickets
Front Range Costco stores are selling vouchers for two day tickets for Crested Butte for $90. This is less than half price for one ticket! The one catch is that this voucher is good for only one ticket that is good for two out of three days. So, splitting this with a friend is not an option. Black-out dates include March 1-13 and March 10-17 and it is good until the end of the season.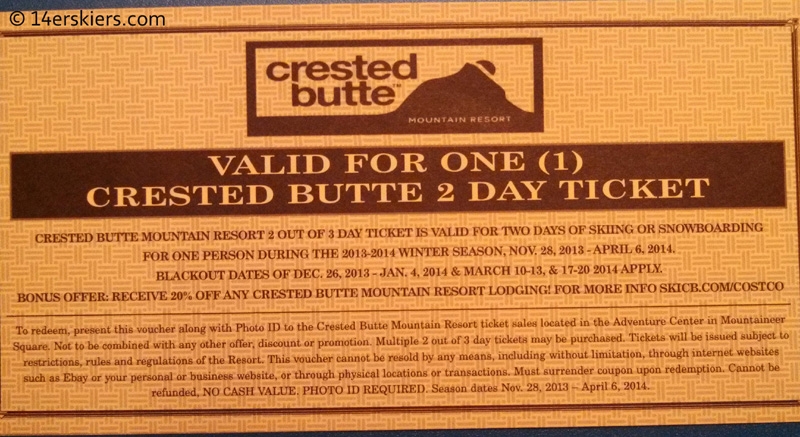 2) Two-for-One Voucher with Shell Gas

Participating Shell Gas stations have these vouchers available if you purchase 10-gallons or more of gas. Of course, you must go inside and ask a gas station attendant for the voucher. More details, including a list of participating Shell Gas stations, can be found on the Ski Free website. This voucher is for two tickets that must be used on the same day, making it ideal if you travel with a friend. Black-out dates include February 15–16, March 10-12, and March 17-19 and it is good until the end of the season.
3) Liftopia
Liftopia is always a great resource for discount lift tickets. You never know what you'll find. But, the deals tend to be better when you book early. Also, if you've purchased anything recently from Sierra Trading Post, you may have received a 10% of coupon for Liftopia. Check it out:

4) Multi-day lift tickets at SkiCB.com
If you plan on skiing Crested Butte for more than one day and the previous deals don't work, purchase multi-day tickets through CBMR's website. This will get you a few dollars off of your ticket!
Aside from skiing, biking, and all outdoorsy things,
Brittany Walker Konsella
also loves smiles and chocolate 🙂 Even though she excels at higher level math and chemistry, she still confuses left from right. Find out more about
Brittany
!
Latest posts by Brittany Walker Konsella (see all)