Book Review: The Mountain
(Last Updated On: December 2, 2013)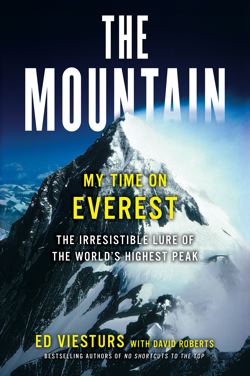 Title: The Mountain My Time On Everest
Author: Ed Viesturs with David Roberts
Year: 2013
Where can I get it? Your local book or mountaineering store.
I have long held a certain fascination with the highest mountain in the world, Mount Everest. I can still remember doing an oral book report in high school about the first ascent- we were encouraged to dress up, so I did the report wearing my Gore-tex jacket with the hood up and a pair of glacier glasses.
Since that time, I've read countless other books about Everest. Into Thin Air, of course, as well as The Climb and a number of books regarding the discovery of George Mallory's body in 1999. Despite my familiarity with Everest lore, The Mountain was filled with stories I was only vaguely aware of. Some of these included Viesturs' own experiences on the mountain, but also included some of the more extraordinary ascents of the highest peak on earth.
Ed Viesturs is the first American to climb all 14 of the 8,000 meter peaks on the planet, and did them all without using oxygen. While the entire book contains brief nuggets of wisdom, I think that the final paragraphs of the book stand out, when he shares his thoughts in a way that only a climber looking back at a long and successful career can.
The first winter ascent of Everest by a group of Poles is barely known among armchair mountaineers, which is a shame once you begin analyzing what that means. Short days, high winds, and frigid temperatures make this climb one that should be celebrated, and Viesturs gives the ascent the attention it deserves.
Another unsung ascent of the mountain involves one of the first alpine-style ascents of the mountain by Jean Troillet and Erhard Loretan. Rather than climb the mountain in the military-like expedition style which usually characterizes Himalayan climbs, these Swiss climbers finished their climb with little more than fanny packs on their bodies (Yes, I said fanny packs, which given the ridicule they sometimes receive is a story in and of itself).
Whether you are a mountaineering and Everest buff or are only vaguely interested in the subject, The Mountain is an interesting read and a great addition to any library. Christmas is coming, and I would certainly recommend this book for all you shoppers out there.
$19 Crested Butte Lift tickets on Liftopia right now:

Frank
loves snow more than anything... except his wife.  He ensures his food is digested properly by chewing it 32 times before swallowing.He is a full-time real estate agent serving
Crested Butte and Gunnison
and would be honored to send you his
monthly newsletter.
Latest posts by Frank Konsella (see all)