Tech Tip: Spotting Your Landing
(Last Updated On: March 31, 2013)
Three years ago today, we lost our good friend Jack Hannan. One of Jack's many attributes was that he was a great teacher. It was part of his personality to be patient, for sure, although I'm also sure that many years of ski instructing helped him as well. Jack and I discussed a lot of subjects, whether at work or at home when we were roommates, and of course skiing was a favorite topic. I can remember one of his pearls of wisdom quite distinctly, and it seems like a fitting tribute to his legacy to pass it on.
This tip might be most useful for those of you competing in IFSA Big Mountain events, since that's the context of the discussion that led to the tip, but honestly it makes a ton of sense in backcountry situations as well. So, let's say you're skiing towards a cliff (or a rollover in the backcountry). You want to see if the landing is in good shape, or make sure the line actually goes. What do you do? Well, you can ski straight to the obstacle, stop, and check it out, but at that point you've lost all your momentum (and killed your scores in a comp), and possibly put yourself in a bad situation in the backcountry.
Disclaimer: I am clearly not an artist. Brittany suggested I get some clipart off the internet, but I think my drawing is far more humorous. Hopefully it's making someone laugh right now. In any case, the dashed line represents your line of sight, and the squiggly line are the turns you're about to make.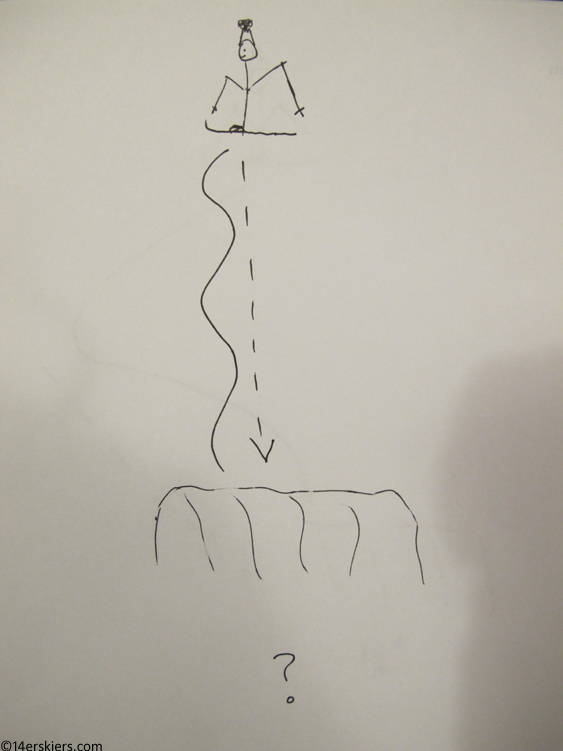 Rather than ski fall line, Jack pointed out that if you swing wide above the cliff, you can spot the landing, keep your momentum (and your fluidity and aggressiveness scores in a comp), and hit the cliff with style, like this: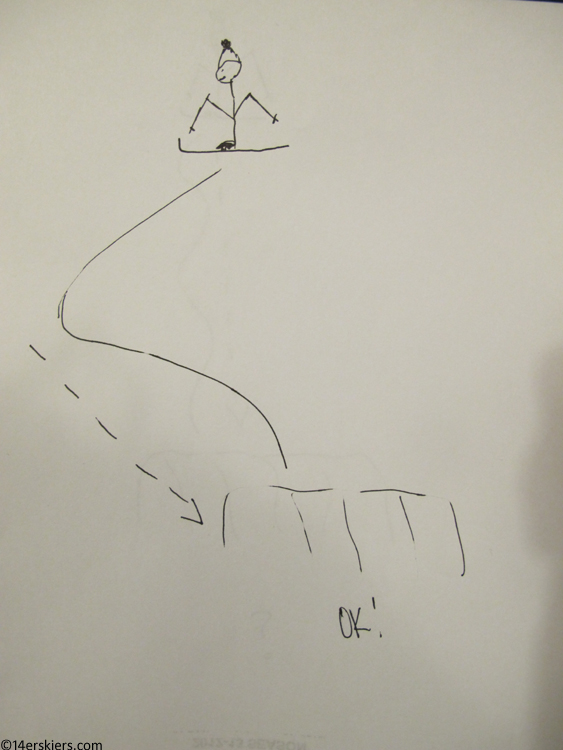 I hope that my crude drawings convey what Jack explained to me, and what I now tried to convey to our readers. Comments are always welcome, so if you have your own tip you'd like to share, please do so!
Frank
loves snow more than anything... except his wife.  He ensures his food is digested properly by chewing it 32 times before swallowing.He is a full-time real estate agent serving
Crested Butte and Gunnison
and would be honored to send you his
monthly newsletter.
Latest posts by Frank Konsella (see all)