SIA 2013: Tech Bindings (Dynafit Beast, Ski Trab TR2, Fritschi Zenith)
(Last Updated On: December 3, 2013)
Note: As of fall, 2013, the Fritschi Zenith has been renamed the Vipec)
It's a wonderful thing to watch ski gear improve and innovate, especially when it's gear that needs improvement. For me, the weak point of my AT gear is far and away the bindings. When I first started backcountry skiing, the AT boots weren't even worth looking at (the Scarpa Denali being the best of poor choices), but these days AT boots have made huge strides and there are all kinds of great choices out there. Skis?- If you can't find a ski you like, you might not be trying very hard. But bindings? The current crop of heavy track bindings like the Duke and Guardian actually do what they set out to do quite well- it's just that they aren't appropriate for the types of tours we like to do. For long tours, tech bindings like Dynafits and plums, or Fritschis, still leave a lot to be desired. I know that many people are satisfied with their Dynafits, but that doesn't mean they can't be improved, which I'll explain as this post moves along…
First up is the Ski Trab TR2 binding: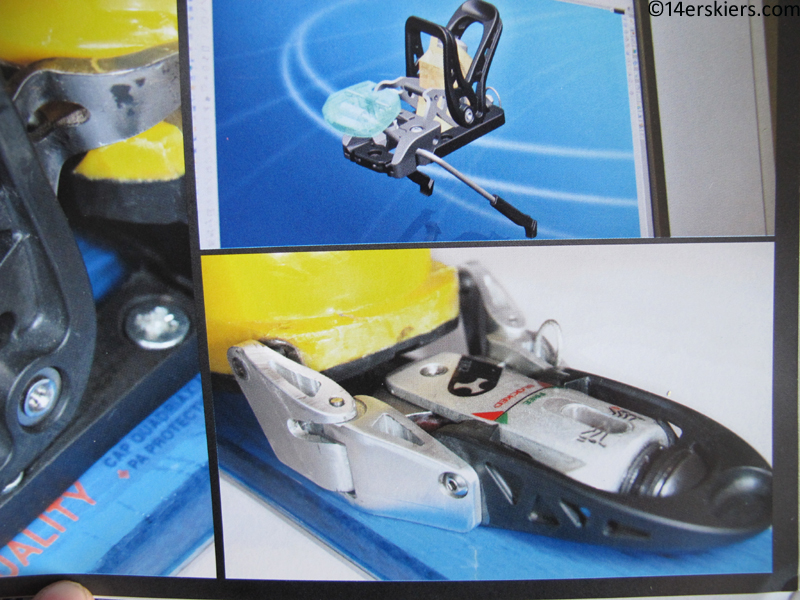 Honestly, that's about all I have- a photo from their catalog. Ski Trab is only releasing the binding in small numbers in Europe, so the North America people don't know a ton about it. The feeling seems to be that with so many new bindings out there, Ski Trab didn't want to fully commit to the binding without first seeing what the market does, especially since their binding requires a totally different heel attachment that currently only works with one Scarpa boot (Scarpa and Ski Trab are related). It's a shame, since many aspects of the TR2 look solid. Hopefully it's successful in Europe and we'll see them over here in the future.
Then there is the Dynafit Beast, complete with the number 16 to compete with the likes of the Duke and Guardian. Speaking of which, that's the competition for this boot- the Dukes, Adrenalins, and Guardians (a category I've taken to calling "DT", or Downhill Touring) of the world- not any current offering from Dynafit, Plum, etc. I guess that's why I wasn't that excited about this binding- I'm fairly satisfied with what DT bindings do. The best part about DT bindings is that they're compatible with both alpine and AT boots, which gives them a ton of flexibility, which will be lost with the Beast which obviously only uses boots with tech fittings- and modified ones at that: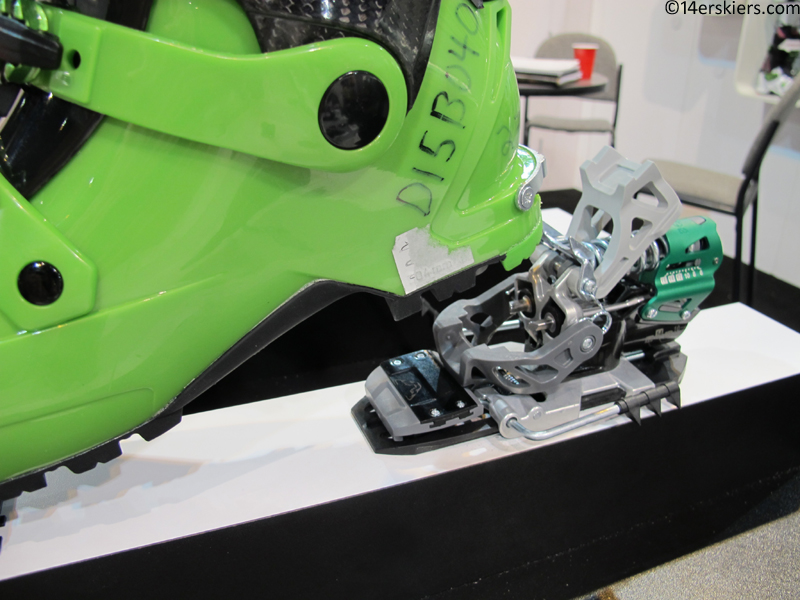 Maybe it's just the $1.000 price tag that turned me off to this binding. Still, I like the direction that Dynafit is heading- adding some much-needed features like elasticity to the binding. What I'll hope to see as time moves on is some of the features of the Beast trickling down into the more tour-friendly binding offerings from Dynafit.
The binding I was most excited about is the Fritschi Diamir Zenith 12, which addresses many of my qualms with my current Dynafits while staying true to touring capabilities. Sadly, the binding left SIA for the bigger ISPO show in Europe, so all I can go on is photos and my discussions with the fine folks at Black Diamond, distributors of Fritschi here in North America. I'll cut to the chase, show you what I have for the Zenith, and then discuss it (yes, I realize this is just what's available from the marketing department, and that the translations leave a little to be desired, but I'll delve deeper in a minute)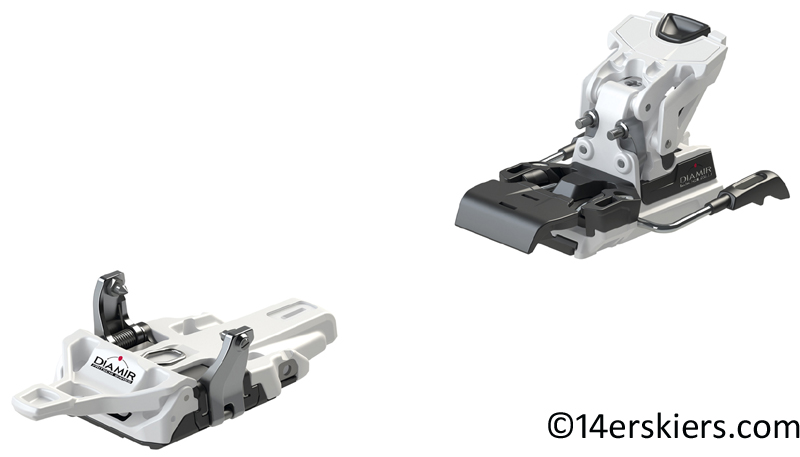 The reported weight of the Zenith, as noted above, is 1,140g/pr with the brakes, which would make it very competitive with Dynafit offerings in the same class, not to mention a bit cheaper.
Keen eyes will wonder what the stack height is. Well, it's 41mm at the toe (pins to top of ski- obviously less for the bottom of your boot, depending on your boot), and 51mm at the heel for a ramp angle of 10. Personally, I don't think it's very significant- it wasn't that long ago when everyone was stacking under the bindings for more "leverage", and now everyone is looking for the lowest heights for more "feel". I'm sure some ski will come with a concavity for even more feel. And I'm also sure we'll once again put lifters under our bindings in another 15 years. but those are the reported numbers for those of you wondering.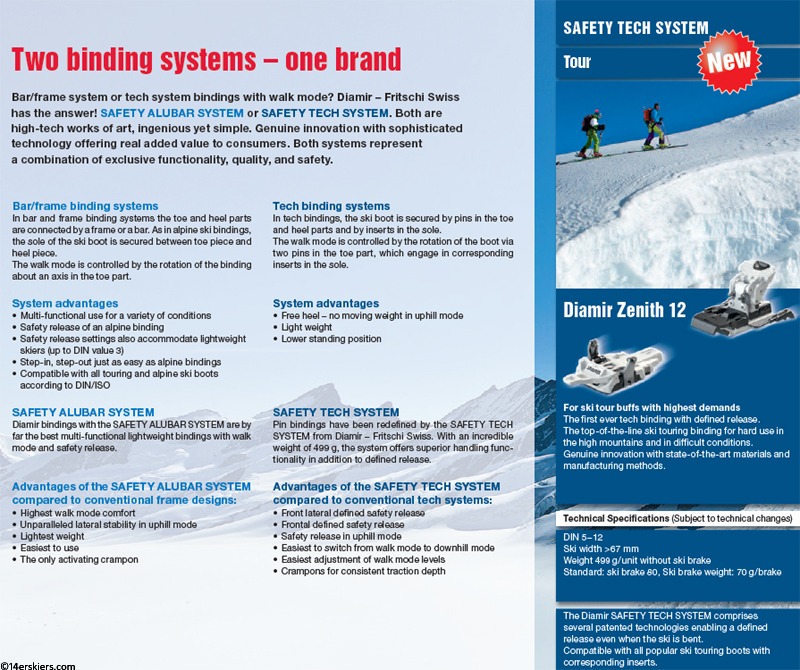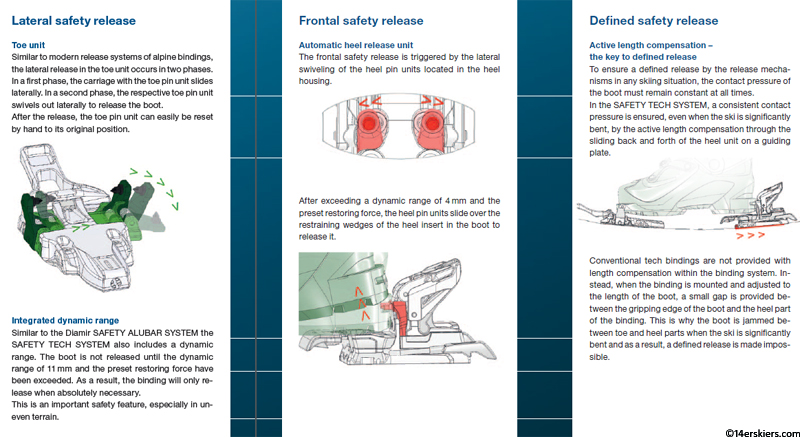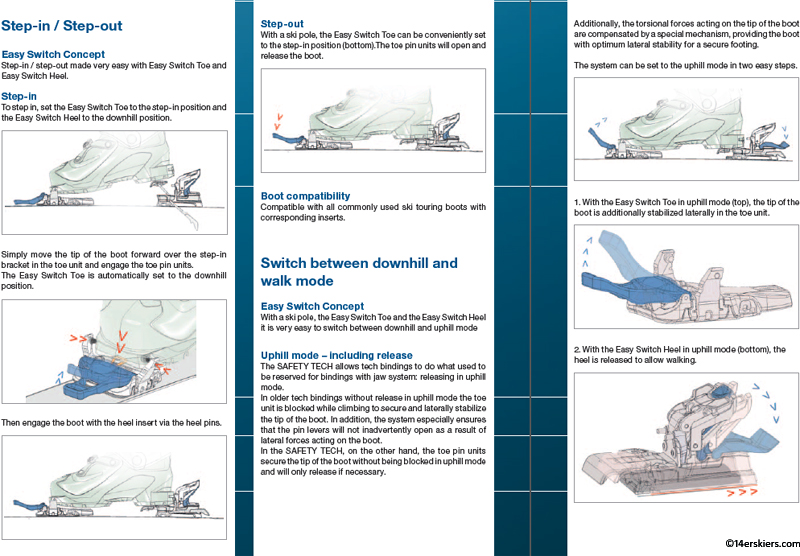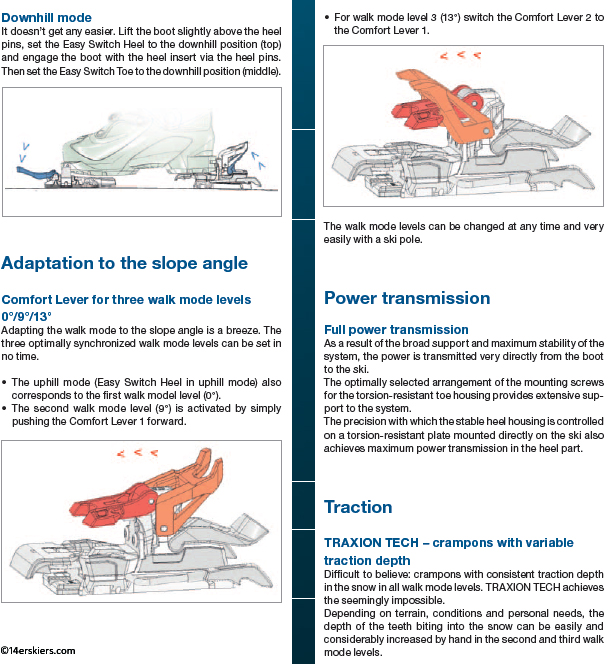 OK- what don't I like about my current Dynafits, and does the Zenith address it?
1) Dynafits do not release in tour mode. The Zenith does. I have thankfully had very few close encounters with avalanches, but on one occasion, it happened on the skintrack. At Thompson Pass, AK, we had a natural cornice fall create an avalanche above us, and one member of the party was caught. I can't imagine a worse feeling than being locked into an AT binding with your skins on and very little hope of the binding releasing.
2) Dynafits toes release how, exactly? The Zenith toe actually has a setting and releases laterally. I've always thought of the Dynafit toe as the Ronald Reagan of toe pieces- call it voodoo releasing instead of voodoo economics. Just trust it, or don't- and ski with the toes locked out as many people including myself do. This has been the main sticking point with Brittany changing over to tech bindings- after 2 knee surgeries she simply has no trust in them. The Zenith toe slides in much the same way a moving AFD does on a binding like a Duke, before either returning to center or releasing if the force is too high.
3) If you don't clear every last speck of snow and ice from under the Dynafit toe, you will prerelease. Yes, this constitutes operator error. I've watched in horror as a friend prereleased in a highly exposed position. It looks to me like the Zenith has no space for snow to collect under the toe, so why not have a binding that's less susceptible to user error?
4) On the fly mode changes. I've used regular Fritschis for far too long for this feature (or lack thereof) to not bug me. Many of the egresses that we ski locally are undulating valleys, where quickly going from ski-walk-ski is an advantage. Yes, I know you can do this if you practice yoga, have a low RV, and no brakes on Dynafits. But if you can do it in stride- so much the better.
5) Heel lifters. I was excited when Dynafit changed the heel lifters from the FT12's that I have to the current generation of Radicals. Still, the heel lifter on the Zenith looks better and goes higher, which can be nice on a steep skintrack (whether you choose to make it steep or you simply have no choice but a steep uptrack).
6) Dynafits have no elasticity. This is a big Dynafit complaint for me, and the one that most users will quickly notice, even if they don't currently notice their current Dynafit's lack of it. Dynafits are harsh- it's like driving a car with no suspension. Every last chatter and bump is transferred right to my knees, hips, back, and fillings. I'm sure my Orthopedic surgeon and dentist love the lack of elasticity in my Dynafits, but I don't. And when they chatter enough, eventually they chatter right off the boot for a prerelease. The Zenith heel pins will sit in the middle of the range, so the boot will have fore and aft range before actually releasing, and the toe piece has side to side movement so you can actually return to center.
Yes, I'm excited about the Zenith, and I don't consider myself a gear junkie by any means. But on paper, it simply seems like it will do a lot of things better than any current tech binding, which is why I'm excited. Of course, until I can see and ski this binding, it's just a lot of things to get excited about on paper. The Zenith is targeted for a late release (i.e December 2013).
We hope our readers are finding our reviews helpful. They take a ton of time, so keep that in mind if you're shopping on line and can help us by clicking on of our affiliate links. We take donations, too!
Ready to sell your old tech bindings in the hopes of getting your hands on something new? Check out gear trade:

Frank
loves snow more than anything... except his wife.  He ensures his food is digested properly by chewing it 32 times before swallowing.He is a full-time real estate agent serving
Crested Butte and Gunnison
and would be honored to send you his
monthly newsletter.
Latest posts by Frank Konsella (see all)