(Last Updated On: February 15, 2013)
Frank and I have been talking about a trip to Taos since the year I moved to Crested Butte, but it was not until this year that this long-anticipated trip came to fruition. Being a remote ski area offering top-notch steep terrain, Taos Ski Valley is a close sister to Crested Butte Mountain resort. Though Frank had skied in Taos before, I had not set my skis on their slopes. I was pleasantly surprised to find the ski area chock full of superb terrain, friendly locals, good snow, and lots of potential. The one thing Taos was devoid of was lift lines – even on a pow-day.
When tourists approach TSV, they can be deceived. As I walked toward the base area, I kept wondering, "where do we ski?". The heart of the skiing is hidden behind the initial ridge.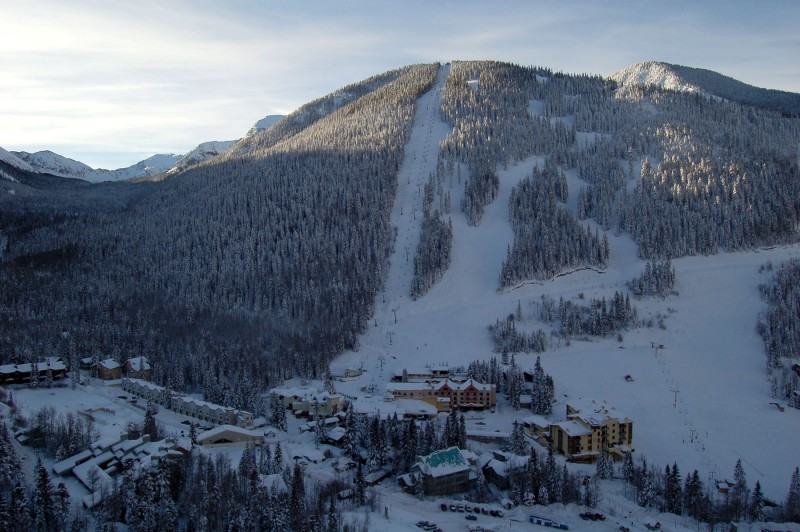 But the offerings are not hard to find. Just take Lift 5 to Lift 2, and turn right to hike the ridge. 1,300 acres of skiing are at your feet, including the steeps of the West Basin as well as off the Highline ridge, shown below.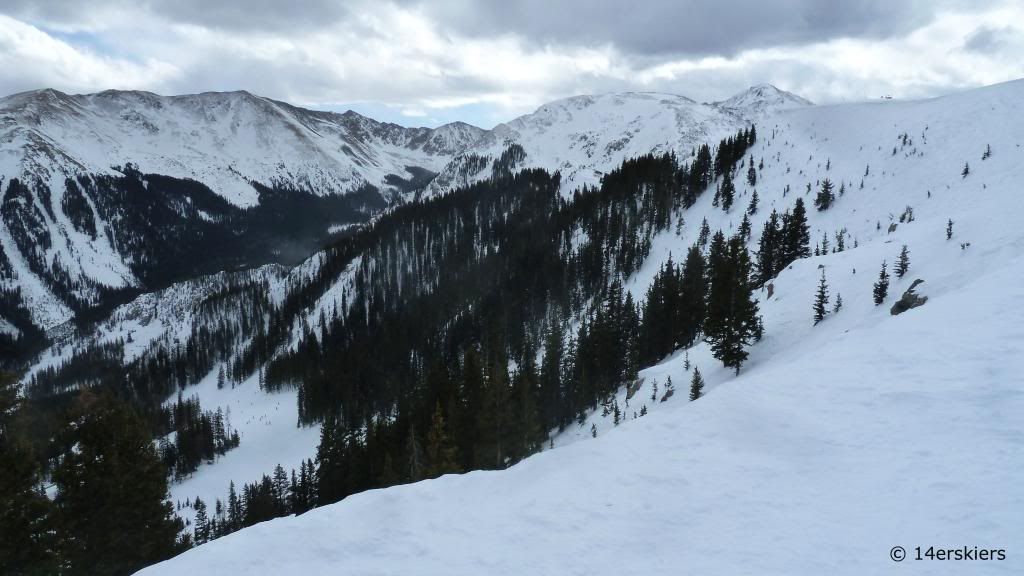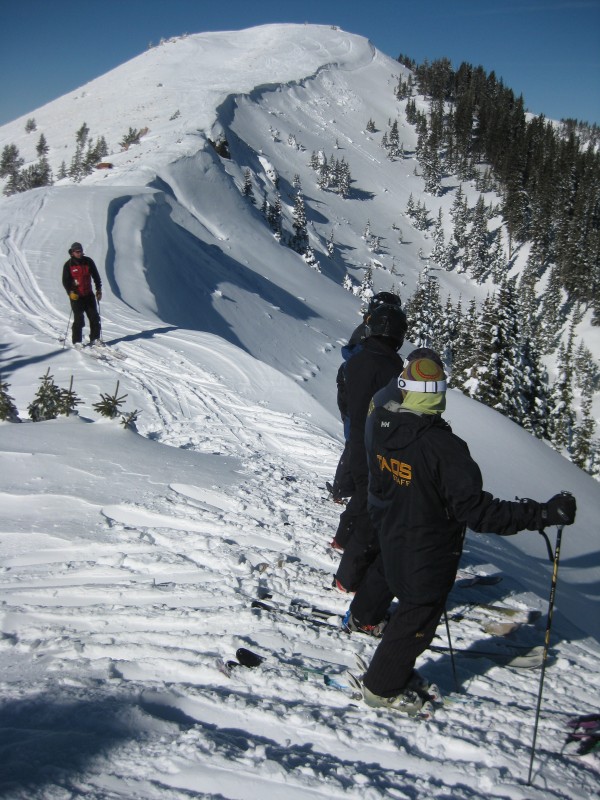 Frank dropping in to our first run of the day on Juarez.

The ridge hike is full of stunning views all the way down to the plains of New Mexico.

Riding up Chair 7A with some of Taos's famous terrain behind.

We did the ridge hike several times that day, enjoying some good snow days after the last storm.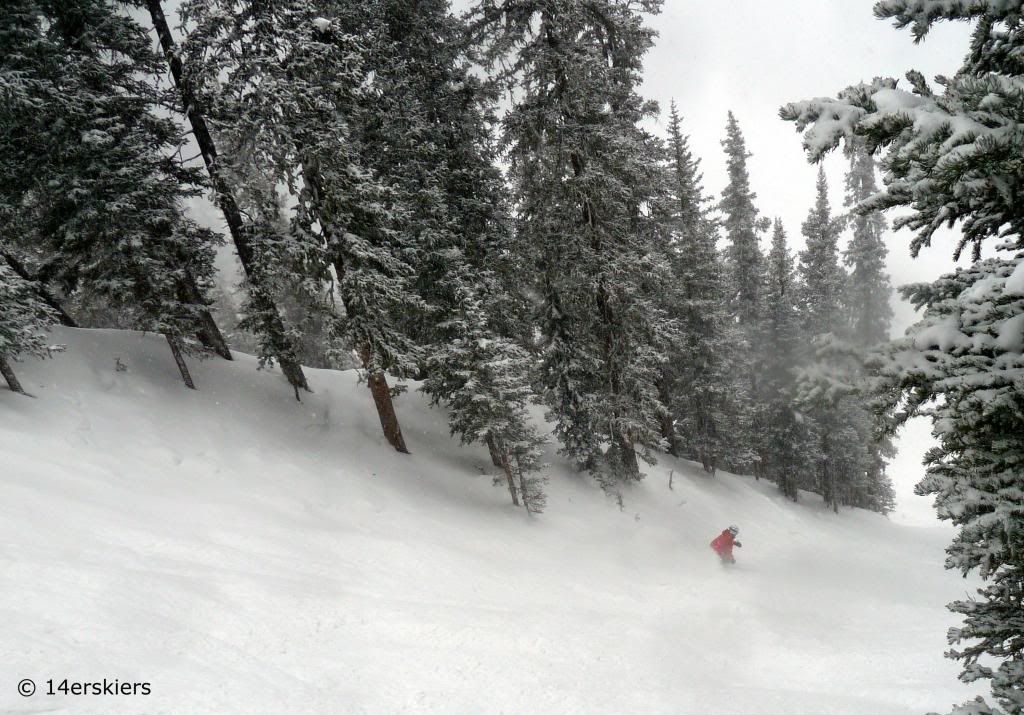 We skied until close, and when the day was done, we grabbed a beer at the famed St. Bernard.

Jean Mayer, a Frenchman, landed in Taos in 1958, a couple of years after the ski area opened. While he served as the technical director for the ski school, he also established the St. Bernard Hotel as a premier hotel for TSV's visitors. Jean continues to serve his guests on a regular basis. And the hotel remains as a living museum of Taos's history with its Euro-meets-west eclectic vibe.

First rocker skis 😉

While we sipped on our Bavarian beverages, we watched flakes fly on the other side of the windows. The storm was here. And as we left, the base area was blanketed in white: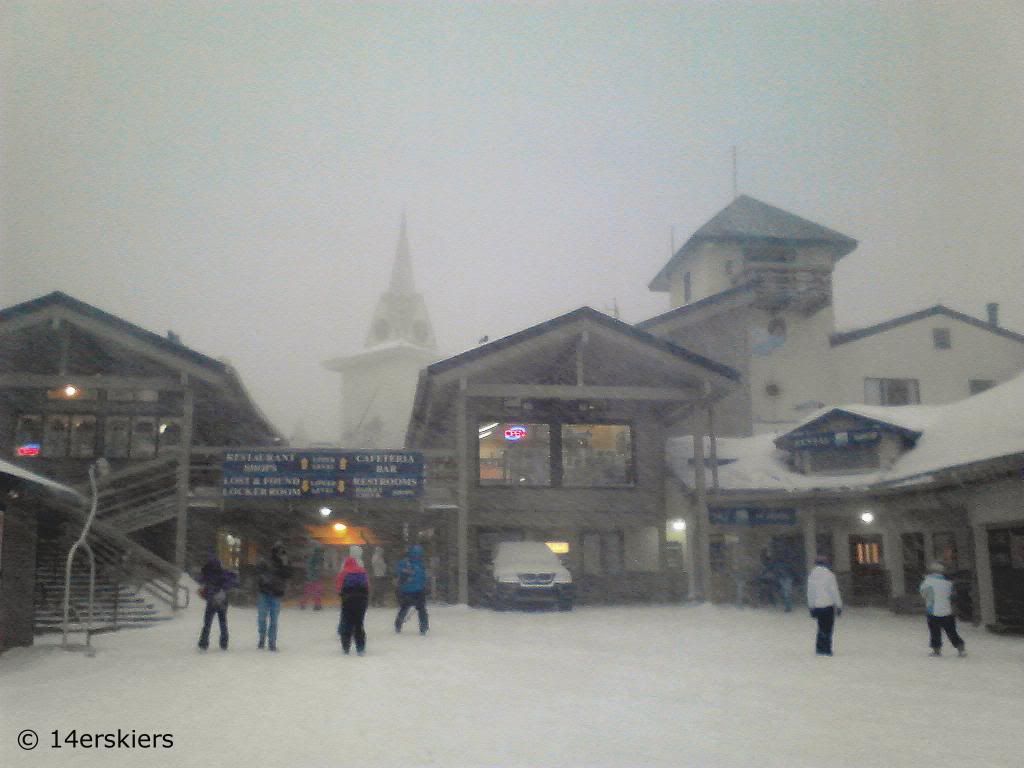 We knew the next day would be golden.
Ernie the Earnest
Taos Ski Valley was established by Ernie Blake in the late 1950's. Ernie Blake was actually a former German. His family, of Jewish heritage, defected to America in 1938 as the Nazis gained power. After marrying, he pursued jobs in the ski industry, eventually ending up in Santa Fe. It was during that time that Ernie discovered the region that would become the Taos Valley Ski area. Ernie had to make flights regularly on his self-piloted Cessna to commute between Sunlight Ski area (near Glenwood Springs, CO) and Santa Fe ski area, where he was a ski manager. He noticed the basin where TSV is presently located held a lot of snow, and also had an old mining road running straight up into it, providing relatively easy access. In 1955, Ernie chased his dream of owning his own ski area. He moved his wife, Rhoda, and their children, into a camper at the base of Taos Ski Valley in 1955. Even after the passing of Ernie Blake in 1989, the ski area is still family owned and operated.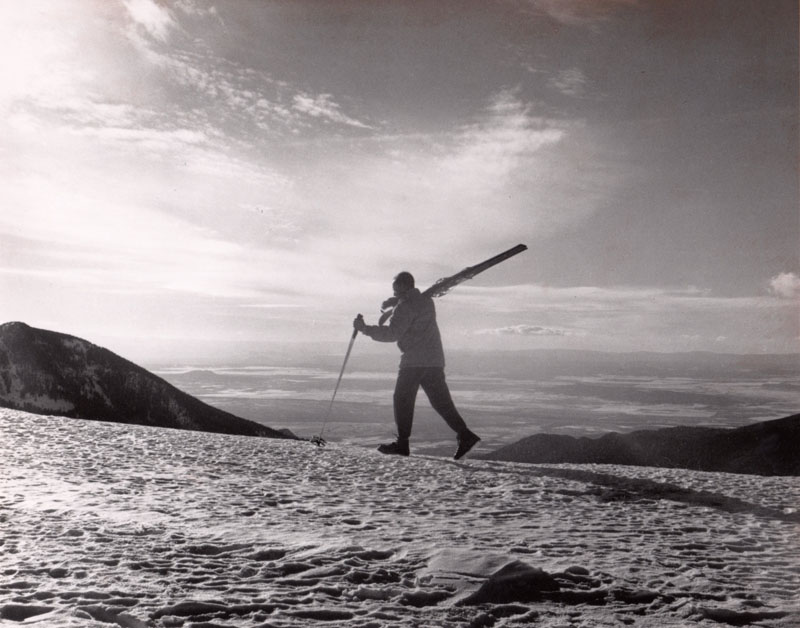 Taos Takes on the Times
Taos is a unique ski area. Take bit of Bavaria and merge it with the Hispanic heritage of the Sangre de Cristos and put it all in a remote village in a tightly packed valley in the mountains of New Mexico and you have Taos Ski Valley. The ski area is old-school, from its lodges to its slow-speed chairs. But, at TSV, there is never a need to be in a rush. Crowds don't exist here. Think old-school Alta or A-Basin before high-speed quads and the bombardment of city weekend warriors. Taos sits in its own place and time.
But, clearly, even with all its charm, TSV could use an update. So, the Development Plan came to birth.
The United States Forest Service recently approved a Master Development Plan for Taos Ski Valley, so there will be some big changes over the next 10 years. Some of the changes aren't overly exciting, such as a tubing hill and a reconfiguration of some of the parking lots at the base area. Others are pretty big.
-Mountain Biking: Taos has not yet joined the ranks of ski areas with mountain bike trails. That will change this summer, with a brand new lift accessed trail slated to open at the start of the summer. Combined with other trails already available in the area, Taos might become a mountain bike destination in the future.
-Upgraded Lifts: Taos' lifts are in need of some updating, so look for lifts 4 and 5 to become high-speed quads, and lift 7 will upgrade from a triple to a quad.
-Main mountain glading: If you've ever skied on the Rubezahl trail between the "upper" base area (lift 4/ Phoenix grill) and the main base area, you've probably noticed the large area above with no runs. This area is currently heavily treed, but selective glading will open this area up in the near future.
-A new West ridge lift: The farthest reaches of the West ridge require quite a bit of hiking. With a small new lift, this area will be easier to access, and even more glading on the backside will add additional terrain. The heart of the West basin (trails like Oster and Stauffenberg) will still require a short hike, as will Highline ridge, so snow quality shouldn't suffer.
-A lift up Kachina Peak. This, obviously, is the big news, though it was first proposed way back in 1965 by Ernie Blake himself. The terrain of Kachina Peak is amazing, but since a lap there currently takes around 45 minutes, it's tough to spin very many laps there. While a new lift will take away from the snow quality in Kachina, due to the increased traffic, it is hoped that a backcountry gate will also be part of the equation, so the terrain surrounding Kachina will be accessible. Currently, Taos Ski Valley has a closed boundary policy, so a new bc gate would add a lot of newly accessible terrain.
For more information, click HERE for a PDF map.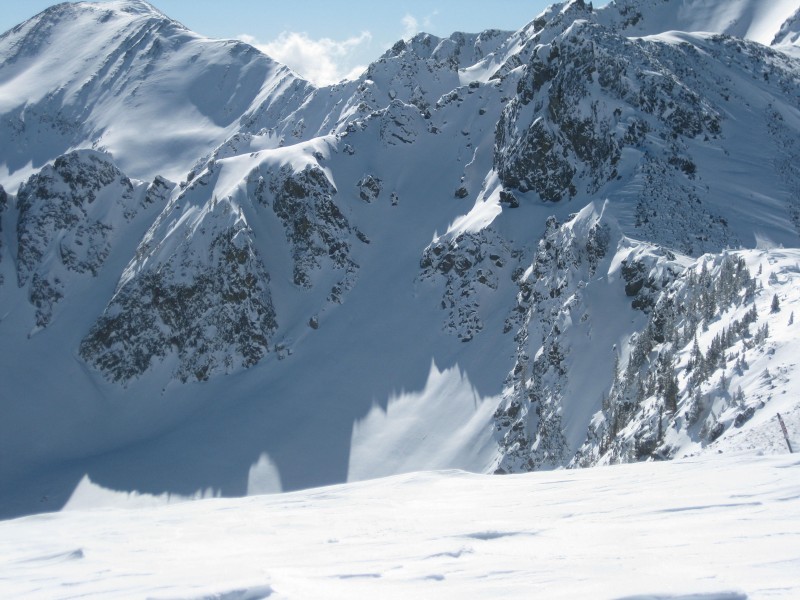 Taos Take Two
Day two at Taos was the best day we've had so far this season. With 8 inches of fresh snow, more falling throughout the day, and access to the fantastic steep terrain that TSV has to offer, this day brought smile after smile, alternating with only with face shots.
Frank.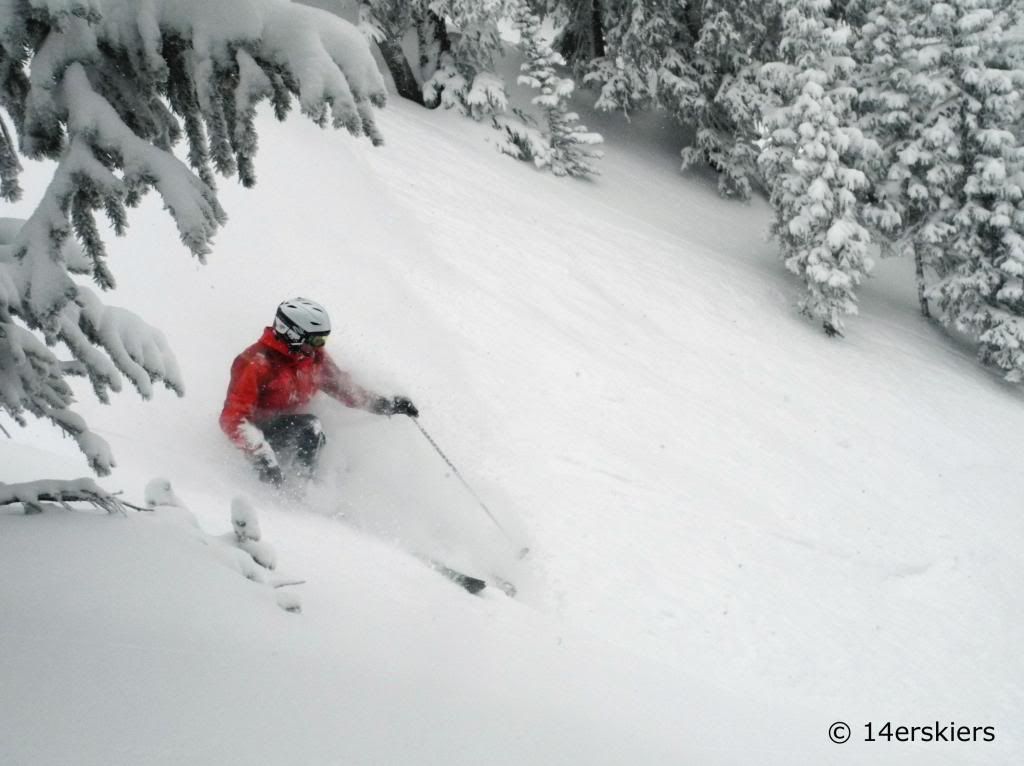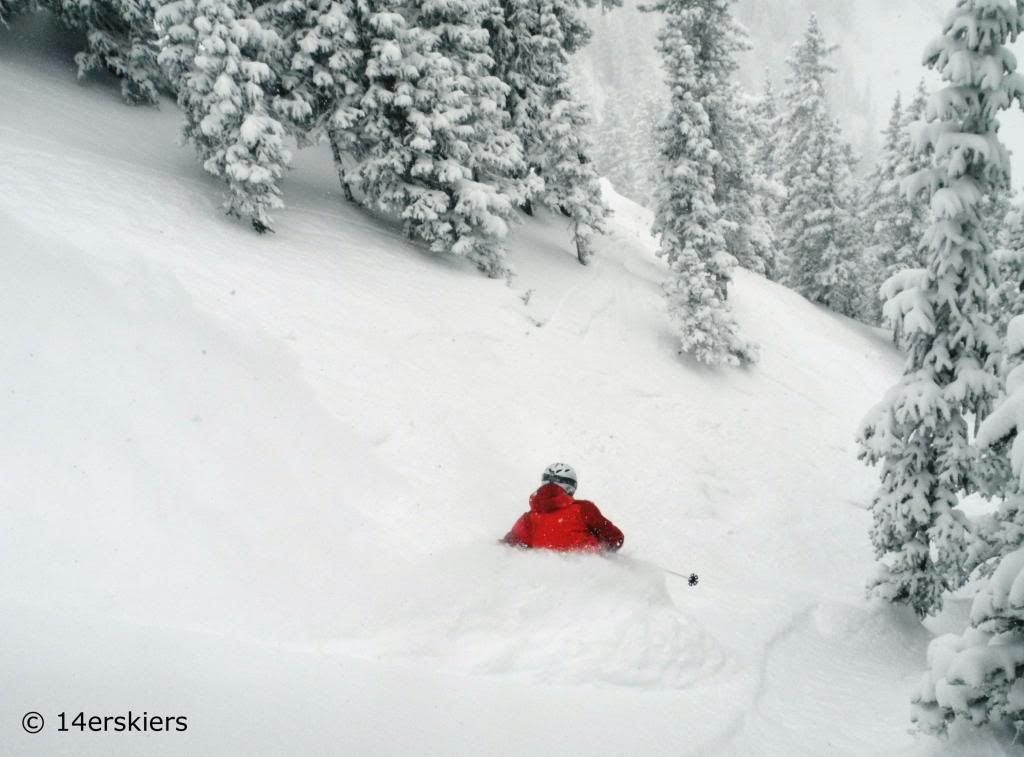 We met up with a few different locals that day, including Sarah and Andy.

We were having too much fun skiing to take very many pics, but here's a couple of me enjoying the West Basin.

As the day neared an end, the clouds began to lift, creating a soft and inspiring light.

On our way home we made a quick stop at the Rio Grande.

But our hearts remained among the snow-capped peaks above.

The Wrap
Taos is not as hard to get to as you might think. Colorado's Front Range skiers are often loathing the horrific I-70 traffic. To avoid it, they head to places like Wolf Creek or Silverton, or even Crested Butte. I know, because I was one of them once. But, here's some Google Maps stats for you. The drive time from Denver to Crested Butte is listed at 4 hours 23 minutes and 4 hours and 34 minutes to Wolf Creek. Shockingly, the drive time to Taos is only 3 minutes more, at 4 hours and 37 minutes. Just because Taos is in another state doesn't mean it's that far away. Compare that with a drive from Denver to Silverton or Telluride, both 2 hours longer and traveling over much more treacherous mountain terrain. So, Front Rangers, you should be getting your game on in Taos! I would if I were you.
To top it all, Taos is also very affordable to visit. Deals on tickets can be regularly found on Liftopia. But, even their most expensive tickets top out at $75, a good $20 to $30 less than the average Colorado ski area. The close proximity of the town of Taos allows for affordable lodging, and excellent southwestern cuisine.
There are the Vail's of the West and the Stowe's of the East, but some ski areas stand out on their own. Taos is one of them. Not many ski areas in the US can say that they appeal to all levels of skiers, from beginner to extreme. But, Taos can. It's a great family getaway, or a superb weekend warrior mission. Whatever your flavor, you'll find your niche in Taos.
Taos is a place that is hard to leave. Take it from the many long-time locals who still reside there. In riding chairlifts with strangers, we encountered an abnormal number of people who had spent their whole lives in Taos – a sign that Taos is indeed a hidden treasure.
Aside from skiing, biking, and all outdoorsy things,
Brittany Walker Konsella
also loves smiles and chocolate 🙂 Even though she excels at higher level math and chemistry, she still confuses left from right. Find out more about
Brittany
!
Latest posts by Brittany Walker Konsella (see all)