SIA 2013 Review: Ortovox ABS Packs and Beacons
(Last Updated On: February 8, 2013)
It's no secret that Ortovox combined forces with Deuter. Though they operate under two different names, they ultimately are now the same company. In my mind, this combination makes sense – a merger of Deuter's top-notch packs combined with the rising technology innovations of Ortovox. With this match-making in mind, we were curious to check out the new Ortovox ABS packs.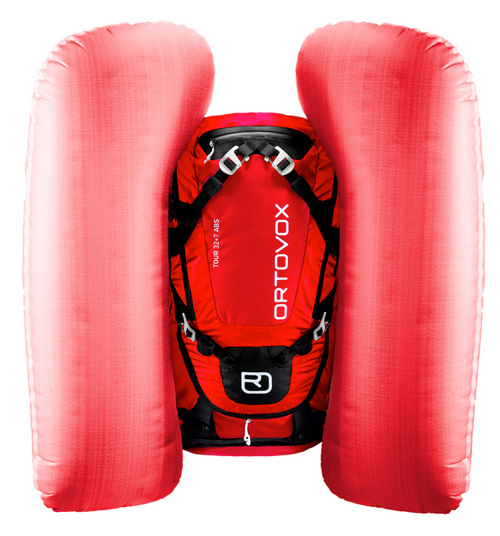 The Ortovox ABS packs come in two different lines – the smaller Free Rider and the larger Tour. The Free Rider comes in different sizes, 24 L or 26 L, depending on the torso length. The Tour is similar, coming in 30 L or 32 L. It is important to note that most airbag packs made by other companies are not available in different torso lengths, but Ortovox has filled this niche. Not only do they have a range of sizes, but they have catered to the women's market as well. Ortovox is the only company that currently makes a women's specific airbag pack with a torso-size meant to fit smaller women.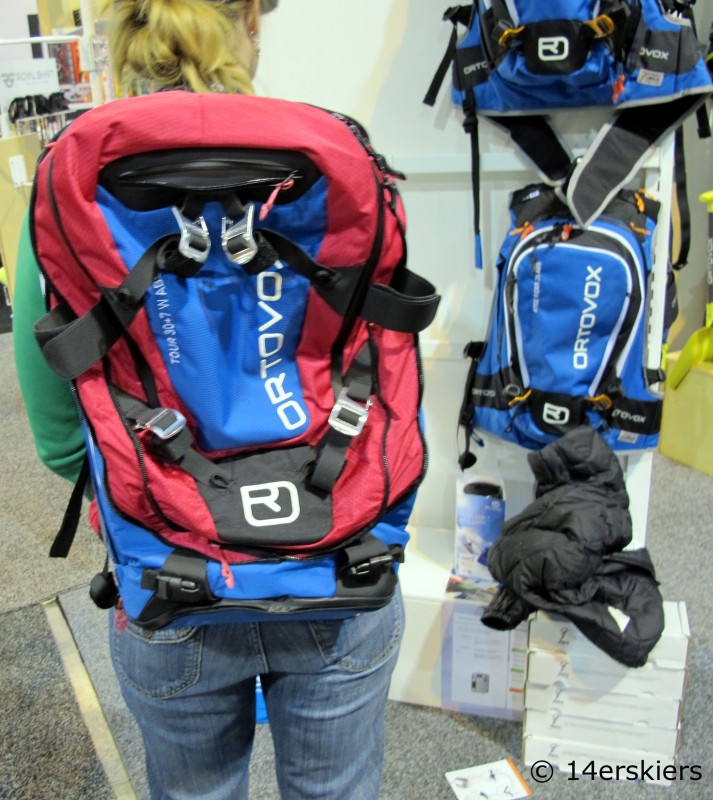 Ortovox is shooting for the skier who would like to use their packs both with and without the ABS. The ABS system is removable – referred to as the MASS which is an acronym for Modular Airbag Safety System. Unlike most ABS branded packs, the MASS unit is clipped into the pack rather than zipped in. It supposedly can be re-installed in 3 minutes, and removed even faster. This is especially beneficial to skiers who wish to use both a Free Rider pack and a Tour pack as one MASS system can be used for both. Since the MASS unit runs about $699, and the canister another $175, this can be a huge cost-saving measure. Without the MASS unit the Free Rider will retail at $319 and the Tour at $329. Add it up and you're looking at a pack that clocks in right around $1,200.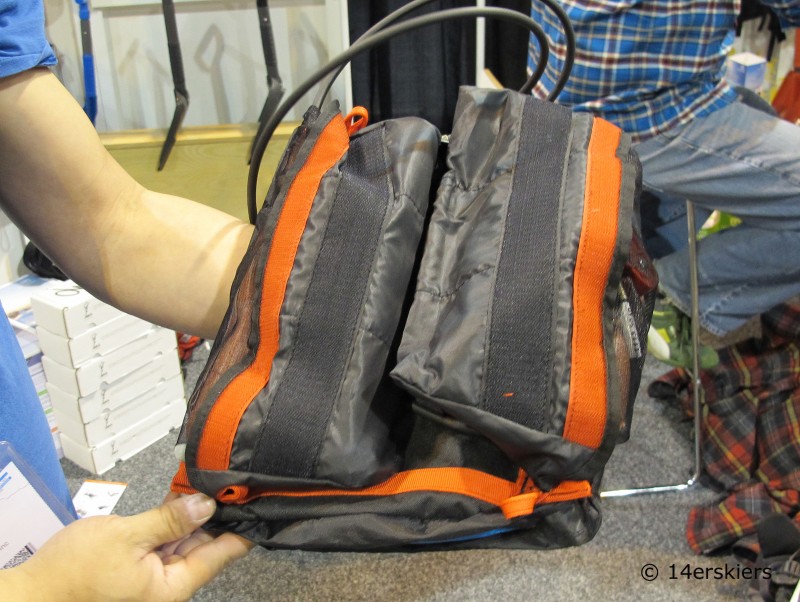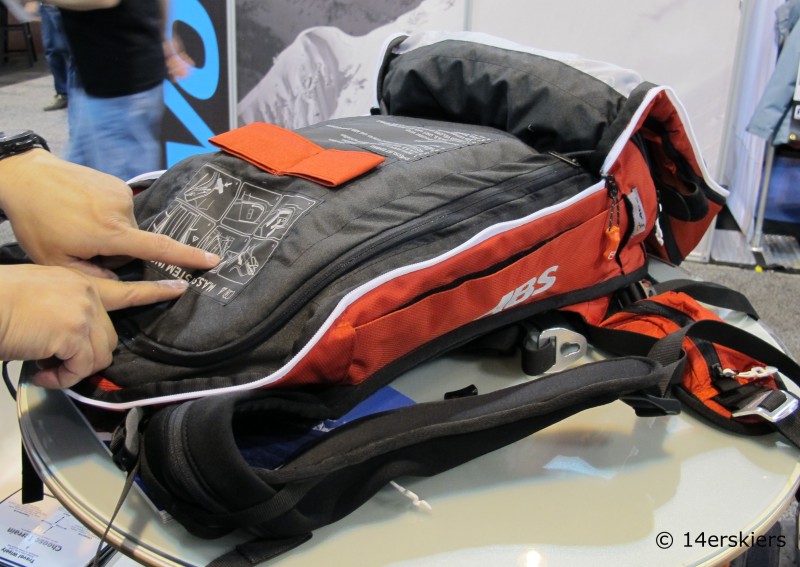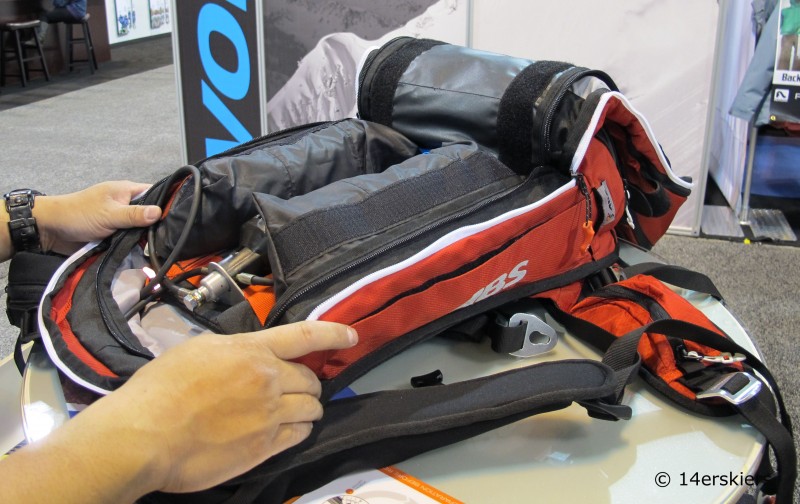 Both the Free Rider and the Tour are chock-full of features, including a helmet net, back access panel, removable goggle case, ice axe attachments, diagonal or cross ski carry system, and a hip pocket. Though the packs are also hydration compatible, using a hydration system is discouraged. The pull trigger for the ABS system can be moved to the left or the right side of the sleeve in the pack. In addition, the pull trigger has a locking system to prevent the trigger from accidentally being pulled.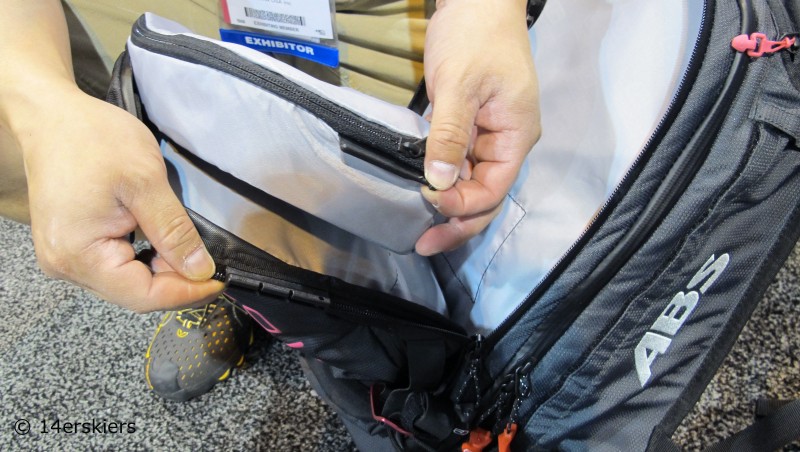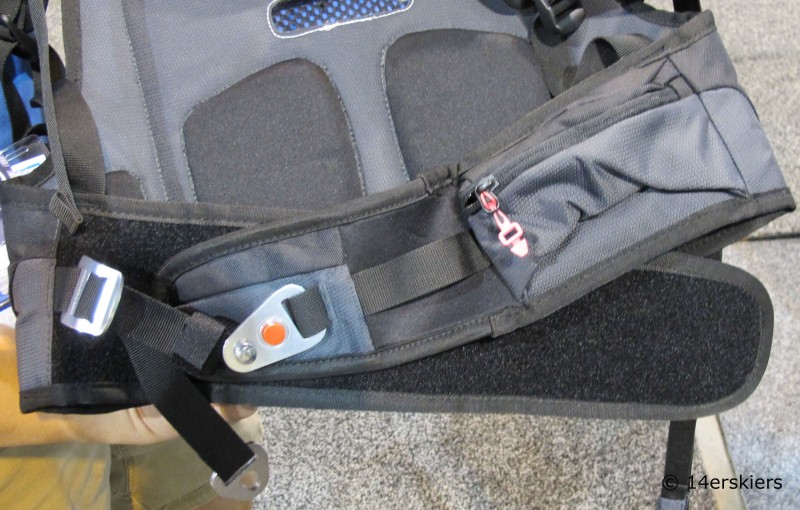 The Tour is capable of holding all of your gear. And in the rare case it doesn't, there is a zip-out expandable compartment that adds another 7 L of space to the pack. The expandable pocket was a nice feature, in that the pack could be kept nice and lean but still had the capability to carry a larger load. It also has a bottom zip pocket intended for your wet gear, like skins or crampons, shown below, which we liked.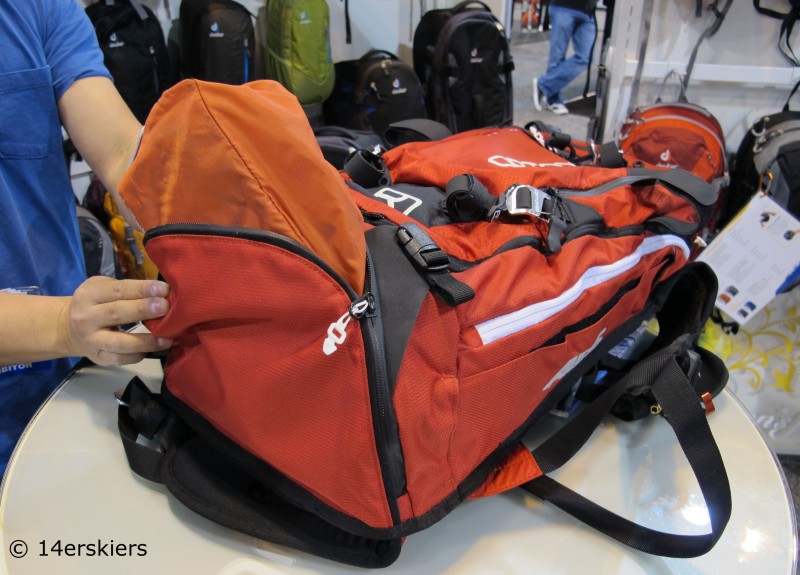 While Ortovox has some great features to their ABS packs, they are fairly heavy. The MASS unit alone weighs just under 3 pounds (2 lb 13 oz / 1300 g), while the canister weighs another 1 lb 5 oz/ 580 g. Add that into a Free Rider and you have a pack that weighs over 10 lbs, and the Tour just over 11 lbs. Furthermore, while the Ortovox ABS packs have a lot of really neat features, these same features somewhat clutter the pack in places. Simply stated, there's a lot going on in those Ortovox packs. In addition, traveling with an ABS pack can be expensive. In order to take the MASS unit onto a plane, the canister must be deflated. Then, the canister must be taken to an authorized ABS dealer to do an exchange – kind of like a propane exchange. This exchange costs $40 every time, compared to $5 to $10 for our BCA canister refills. Still, Ortovox has built a beautiful and useful ABS pack. And if you are one of those people where a standard one-size-fits-all pack doesn't work for you, Ortovox is a great option.
Beacons
Ortovox is sticking with their current beacon line up – the Zoom+, the 3+, and the S1+. All of the beacons have three antenna and boast the Smart-Antenna-Technology. This technology allows the beacon to detect the position of the victim and automatically switches to the antenna that will provide the best transmission. Ultimately, this allows the beacon to send signals in both horizontal and vertical positions (relative to the beacon). In theory, this allows Ortovox beacons to have an expanded range, but we'd need to take a beacon out for a test drive to confirm this. In addition, the beacons come with Recco reflectors inside. While the Recco devices are not meant for instant searching, they are useful in long-term searches, or in cases when the beacon batteries have drained (But let's be honest- at that point it's a body recovery operation). Aside from a few firmware updates and a color change in the 3+, the beacons remain the same as last year – a powerful line all in all.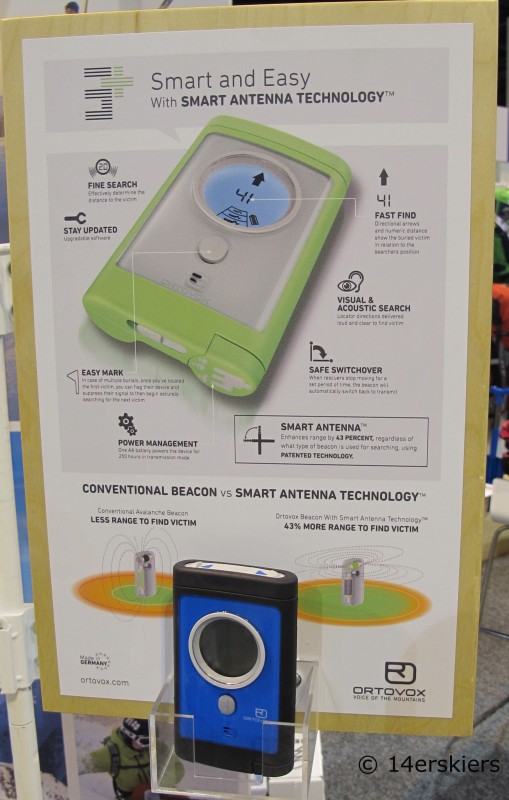 Aside from skiing, biking, and all outdoorsy things,
Brittany Walker Konsella
also loves smiles and chocolate 🙂 Even though she excels at higher level math and chemistry, she still confuses left from right. Find out more about
Brittany
!
Latest posts by Brittany Walker Konsella (see all)