Silverton Finale: UN 13,434′ and Mount Rhoda
(Last Updated On: June 1, 2012)
Brittany and I headed down to Silverton once again over Memorial Day weekend with high hopes of another stellar San Juan weekend. We've been called diehards, fanatics, and obsessed thanks to our efforts to continue skiing. But to be honest, the skiing up until now has been on perfect corn and even some powder, making this spring far superior to any of the skiing we were doing this winter in Colorado, and surprisingly better than many other spring seasons, including last year. This means we're just skiers, not fanatics. Springtime snowpacks eventually become summer snowpacks, unfortunately, and it's quite amazing how quickly the transition can come. The short approaches and smooth snow we had been enjoying all spring suddenly, in the space of one week, turned into long hikes with dirty, suncupped, and runneled snow. Colorado skiing has now entered the realm of diehards only- which means I'm done although Brittany still has a West coast volcano tour to look forward to. The good news is that we ended it on a high note, with a couple of great lines in a spectacular setting.
Brittany on the approach hike: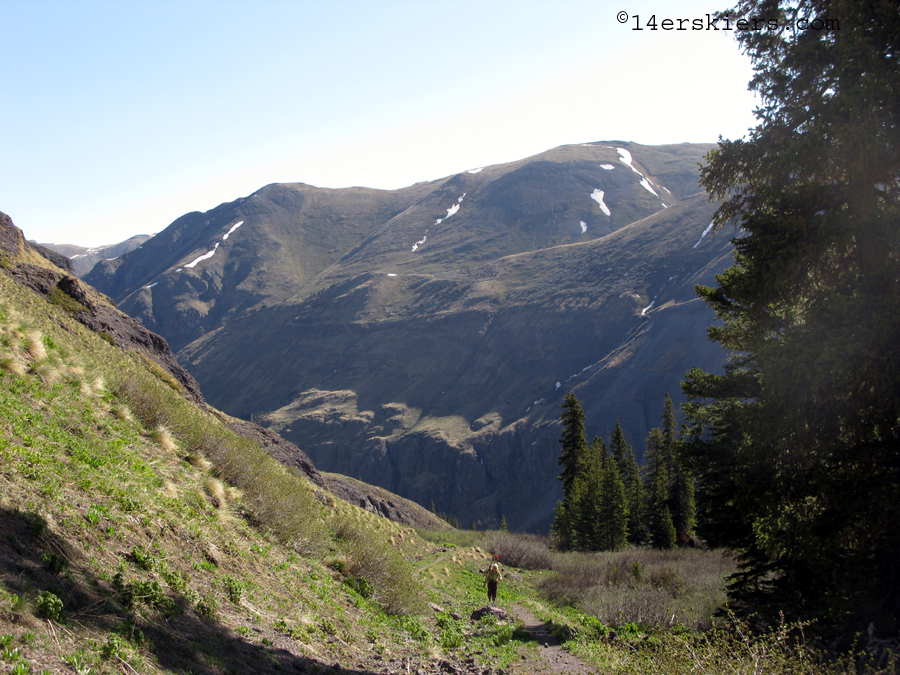 We switched to ski boots and crampons and ascended the aesthetic North face of UN 13,434′. Brittany again: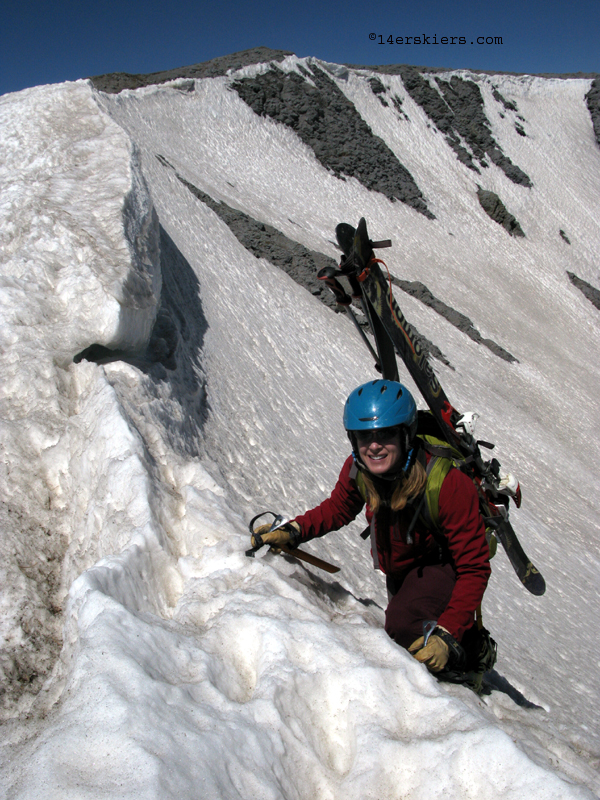 Our reward was Wham!, right in our face: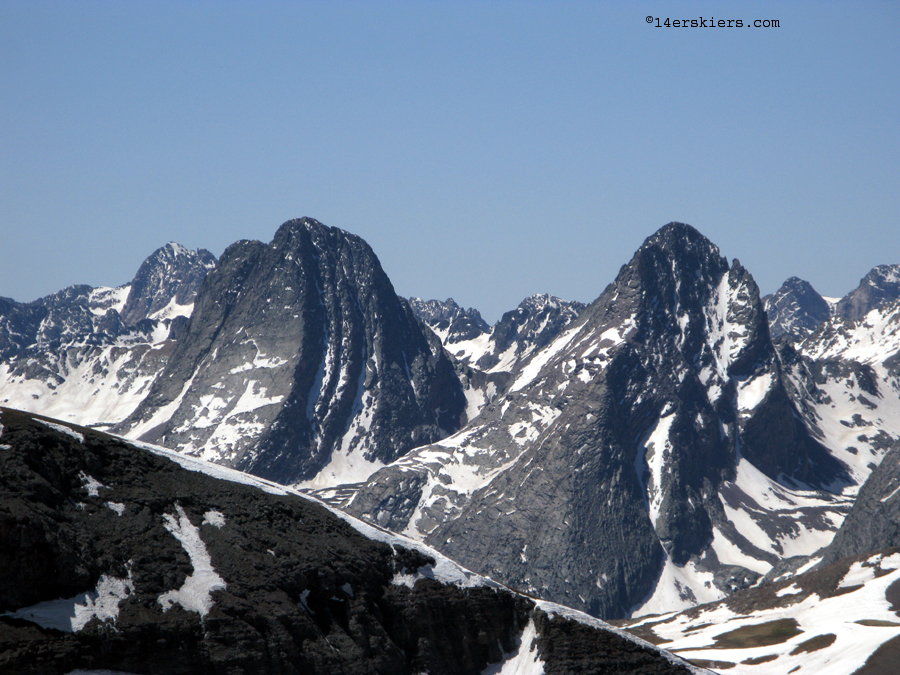 I had my eye on a steep NE couloir that dropped off near the summit, but easy access was blocked by a nasty looking cornice so I was forced to downclimb.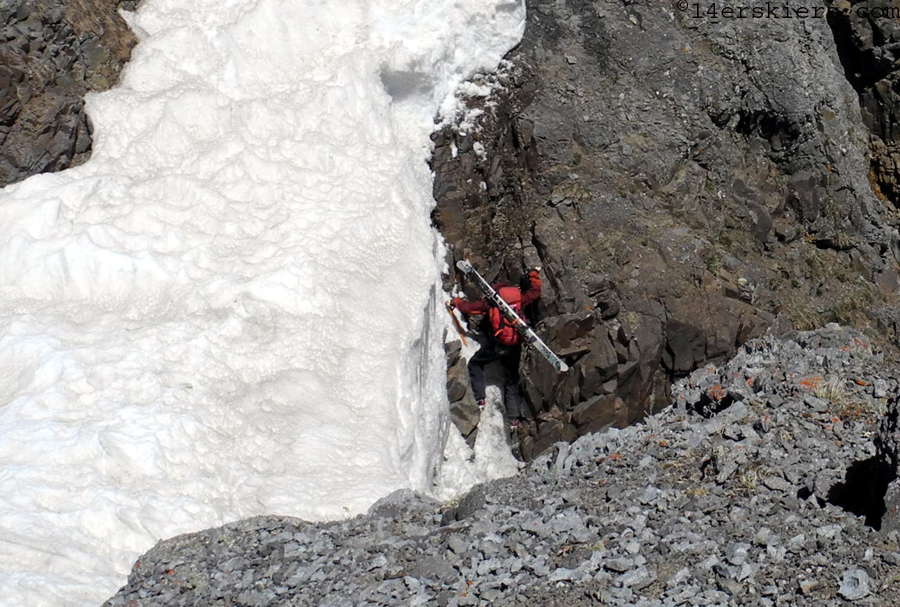 Looking up at Brittany after the downclimb. It was an interesting place to transition back to skis.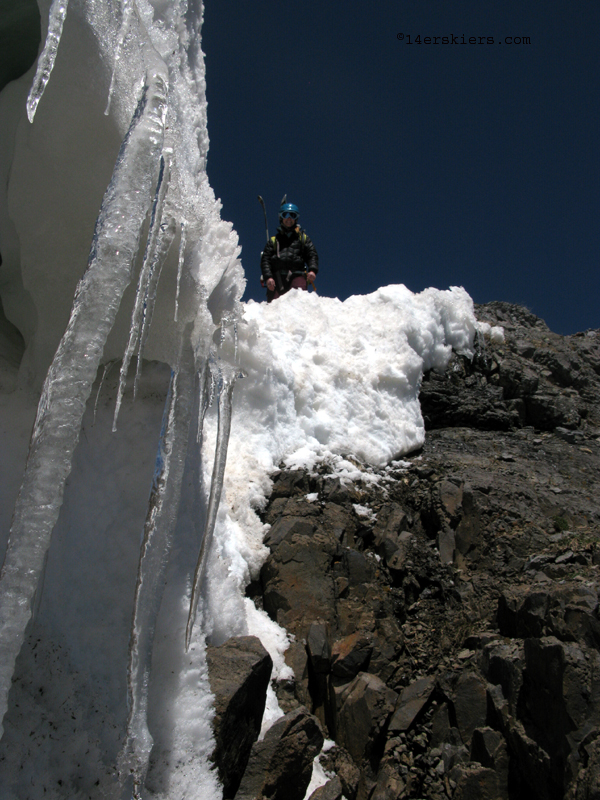 Steep! The best snow was skier's right, close to the couloir wall, which served to increase the angle of the couloir to the 50's and were without a doubt the steepest turns of the season.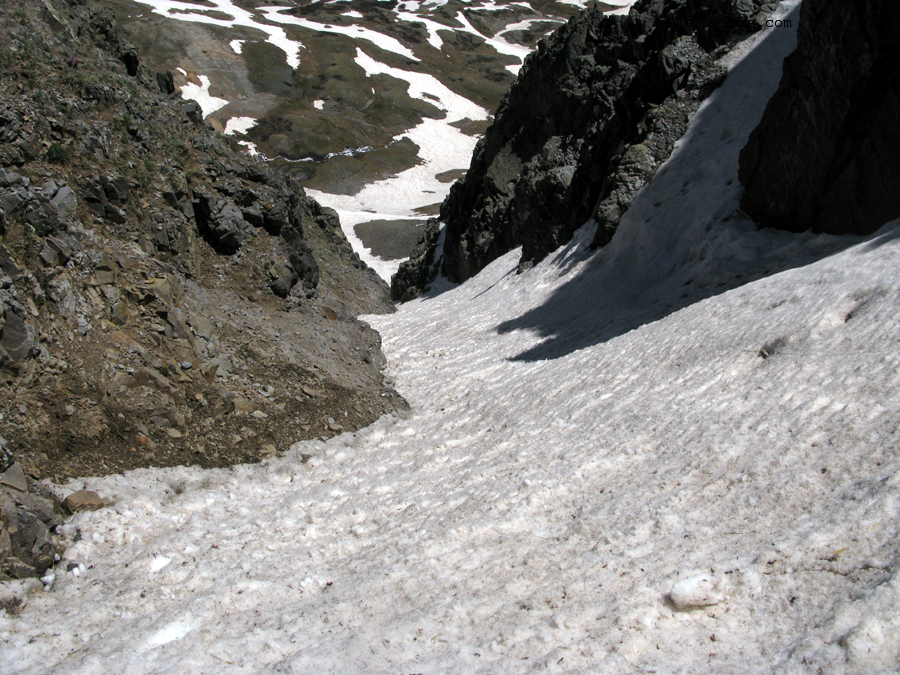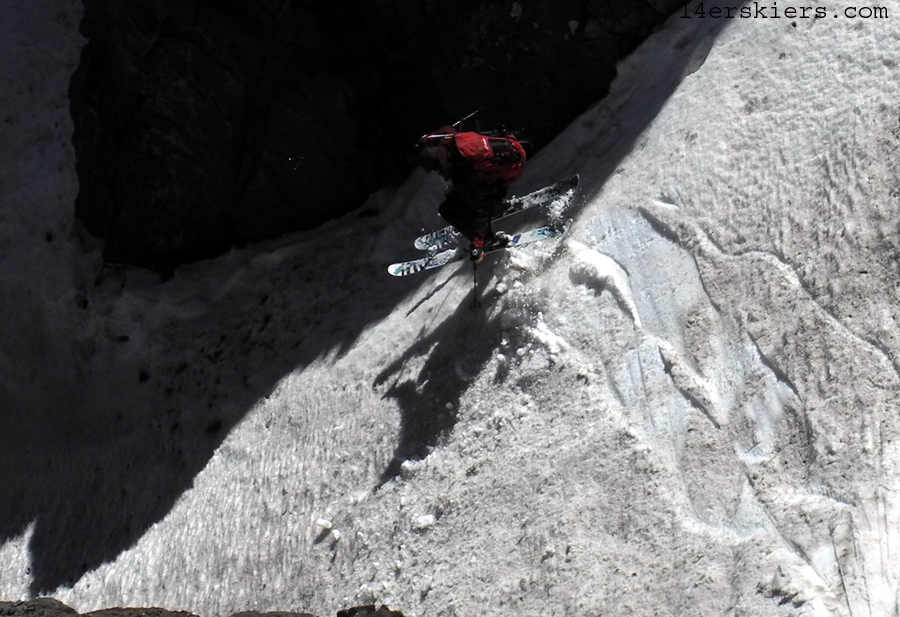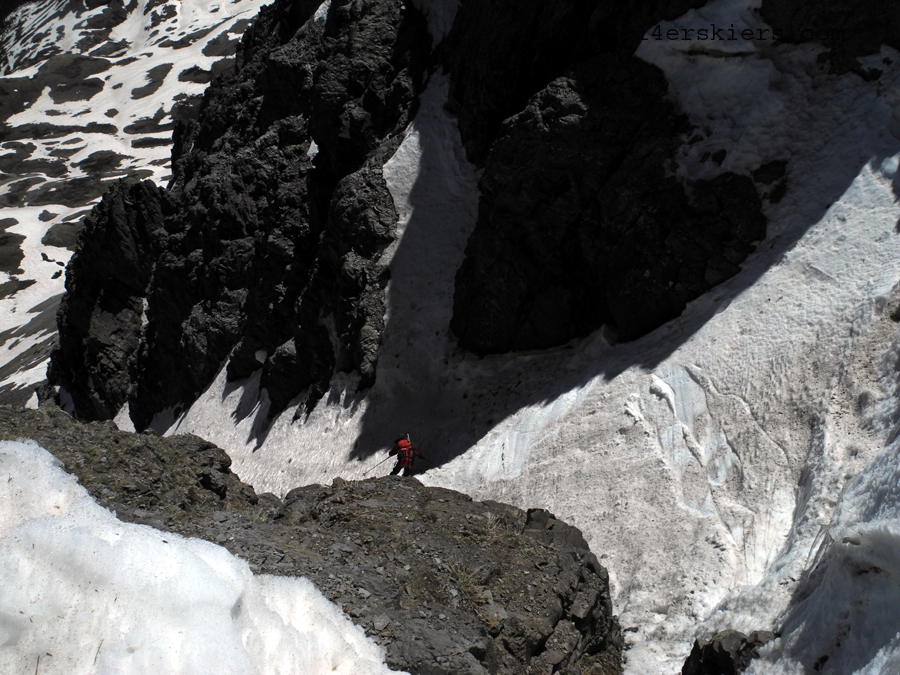 The route we climbed clearly had better snow than the couloir, so Brittany chose to ski that line instead. Looking down: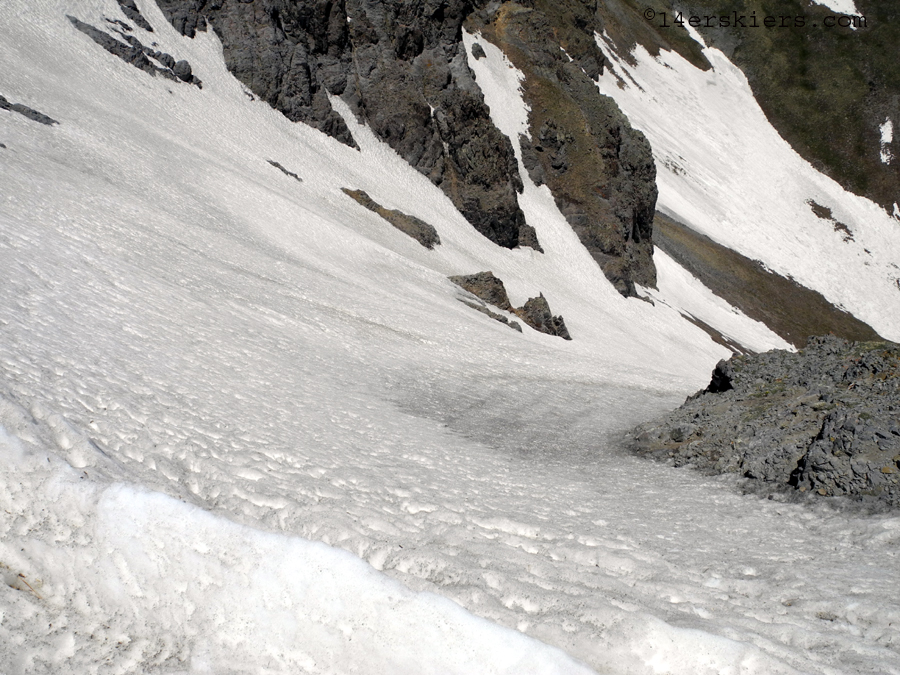 The bottom of Brittany's line: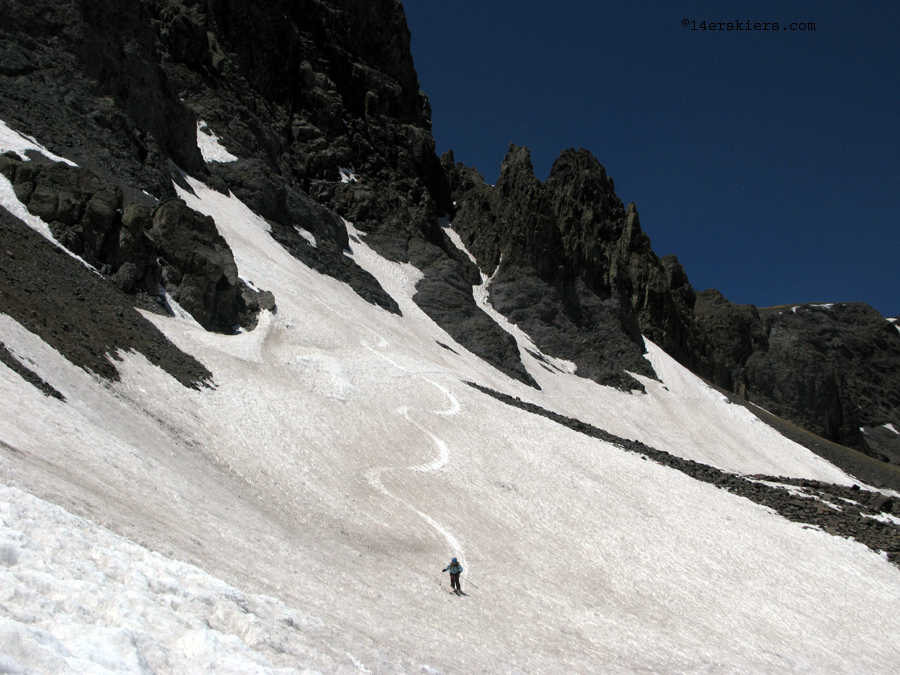 Our other goal of the day was Mount Rhoda, which still had a nice looking line on the North Face. We were a little concerned about finding a route through the summit cap, but it turned out the South side had an easy route.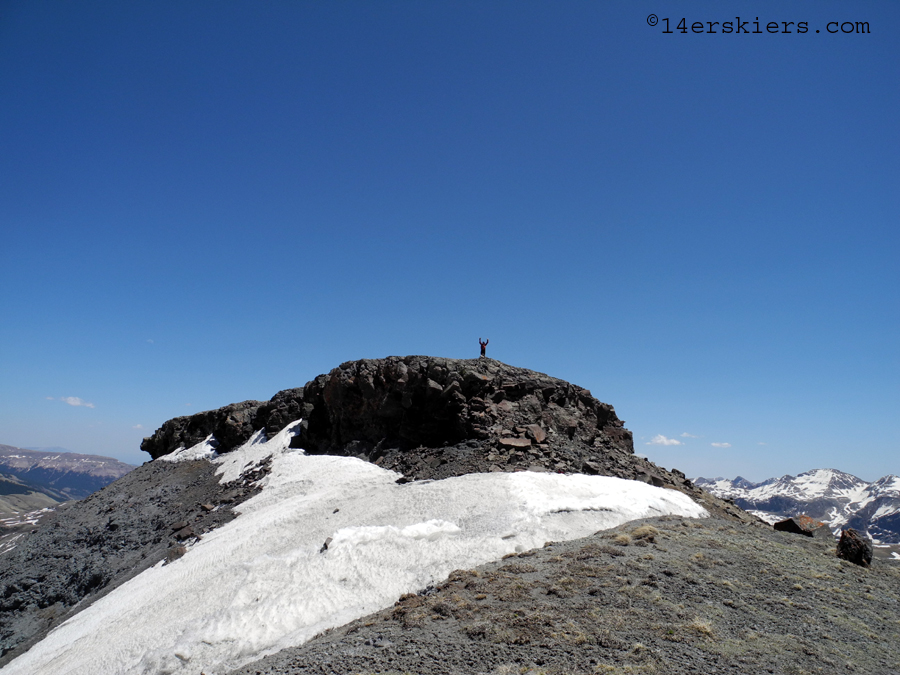 Mount Rhoda is named for Franklin Rhoda, one of the principal topographers of the Hayden survey who made a number of first ascents along with A.D. Wilson of Wilson Peak/ Mount Wilson fame. One of the Wilsons should have been named for Rhoda, in my opinion, but at least the views from Rhoda make it a worthwhile summit to attain: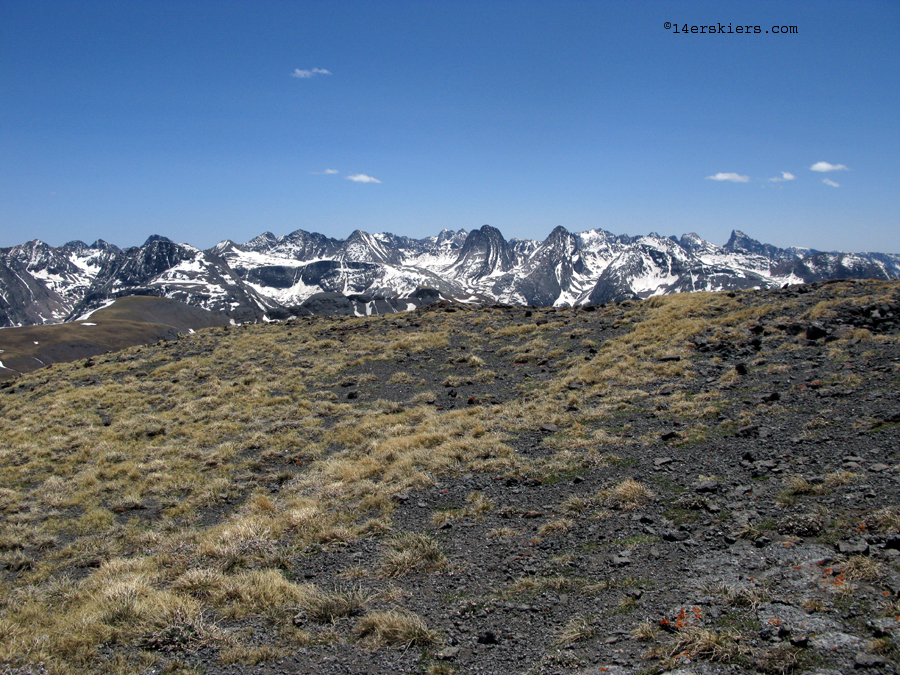 Brittany got first tracks. The snow was amazingly dirty from Saturday's windstorm of doom, but thankfully the dirt wasn't noticeable while skiing and the snow was actually pretty smooth.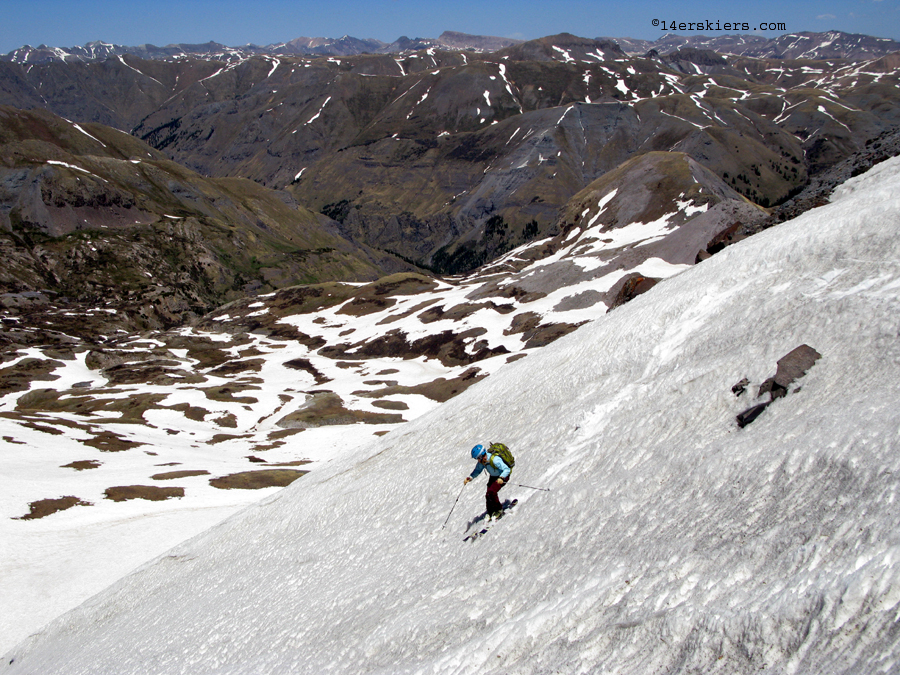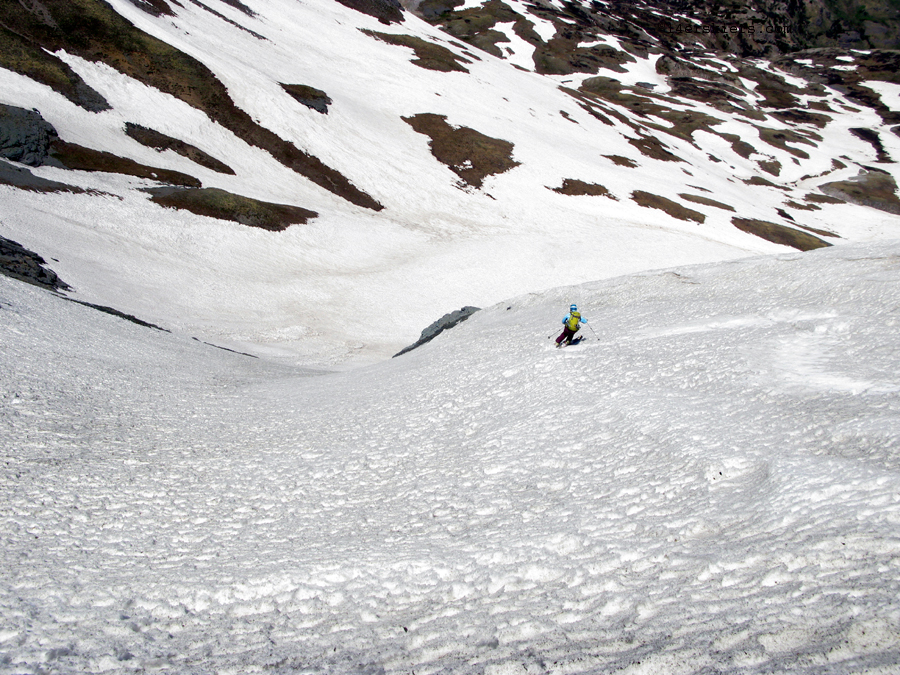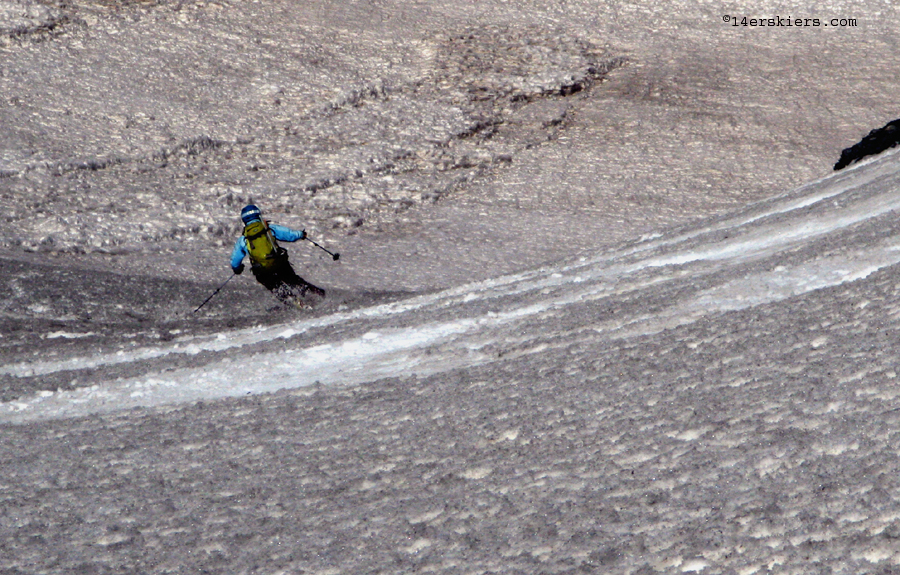 Frank: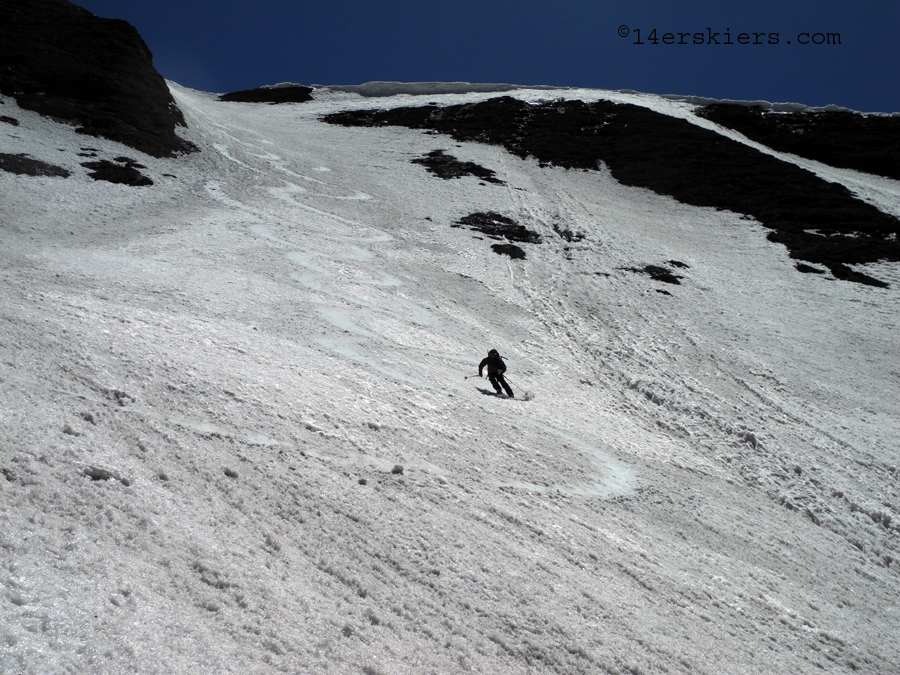 Brittany gazing back up at our tracks, highly visible thanks to the dirt: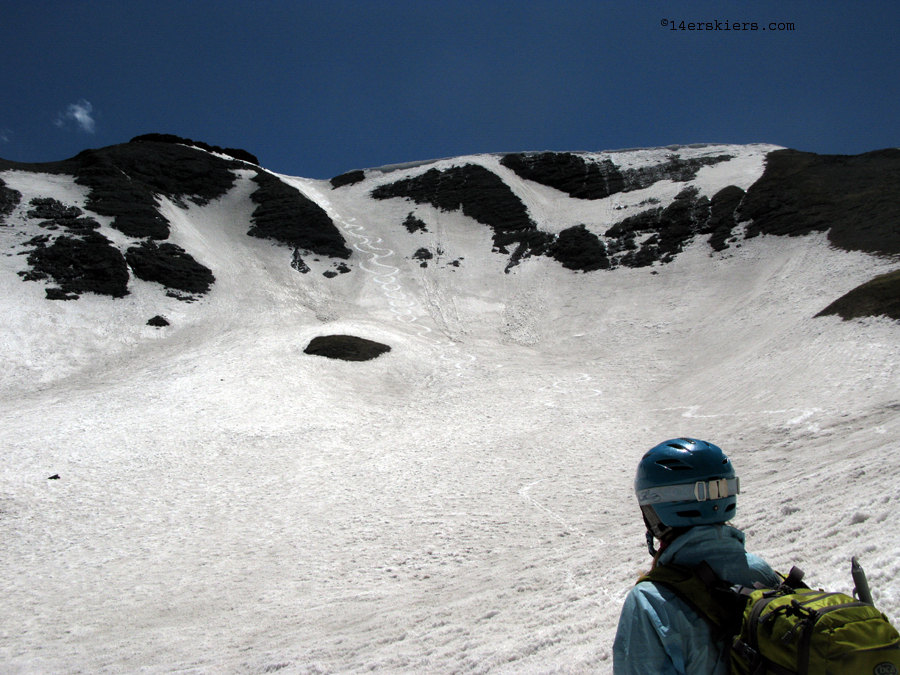 A look back at UN 13,434 and the NE couloir: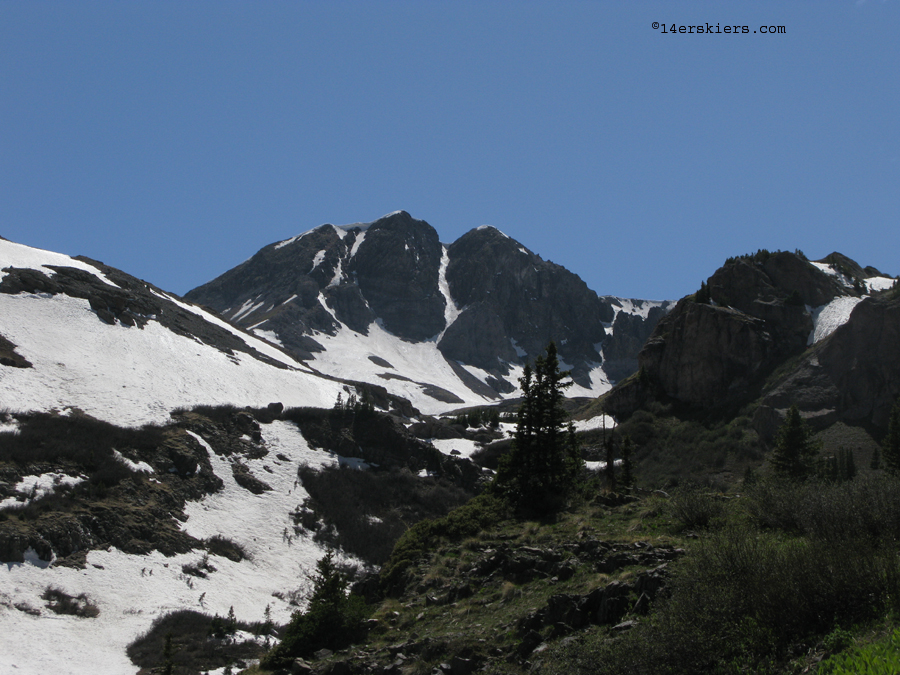 Well, as I said that's it for my ski season and I'll be posting bike reports soon enough and working on my Colorado Trail project. Brittany has another report from Silverton, and then she'll hopefully have some great reports from Shasta, Adams, and ??? (Hood, St Helens, Rainier, Baker, what do you guys think?)
______________________________________________________________________________________________________________________-
Hurry, this is the last day of the 50% off sale:

Frank
loves snow more than anything... except his wife.  He ensures his food is digested properly by chewing it 32 times before swallowing.He is a full-time real estate agent serving
Crested Butte and Gunnison
and would be honored to send you his
monthly newsletter.
Latest posts by Frank Konsella (see all)