TR: To The Heart of The Thunderdome
(Last Updated On: July 16, 2012)
Where and what is the Thunderdome, you ask? The local epicenter, as described by Smokey The Bear, is the Taylor Park area. It's a land of endless RV's, ATV's, side-by-sides, dirtbikes, and any other form of redneckery known to man. I would expand the definition to include the trails between Cement and Brush Creeks as well, considering the hammering they receive from the motorized crowd. It's anywhere the post-apocalyptic Mad Max would feel right at home in. Sometimes it's known as "concentrated use". Thunderdomes exist everywhere- Silverton locals call the area around Eureka Thunderdome as well.
While temperatures in the low 80's might not seem like much, for mountains dwellers like us it's downright stifling- so I wanted nothing more than to get out of the heat and up into the alpine. When I think of alpine rides in the Crested Butte area, one of my first thoughts is always Star Pass. The major downfall of Star Pass has always been the number of road miles to access Star, whether accessing it from Cement or Brush. So I came up with a new plan- ride 402 to take out a bunch or road miles on Brush Creek, then do Star as and out and back. Then a truly devious friend of mine suggested I up the ante and go up Block and Tackle to Doubletop (backwards) over to the Hunter Hill trail to access Star Pass. Hmmn- some new sections of trail (for me), less road miles, lots of alpine, and plenty of suffering- Why not?
Bottom of 402 looking up Brush Creek. Usually at this time of year this crossing is frightening in high water- obviously not this year.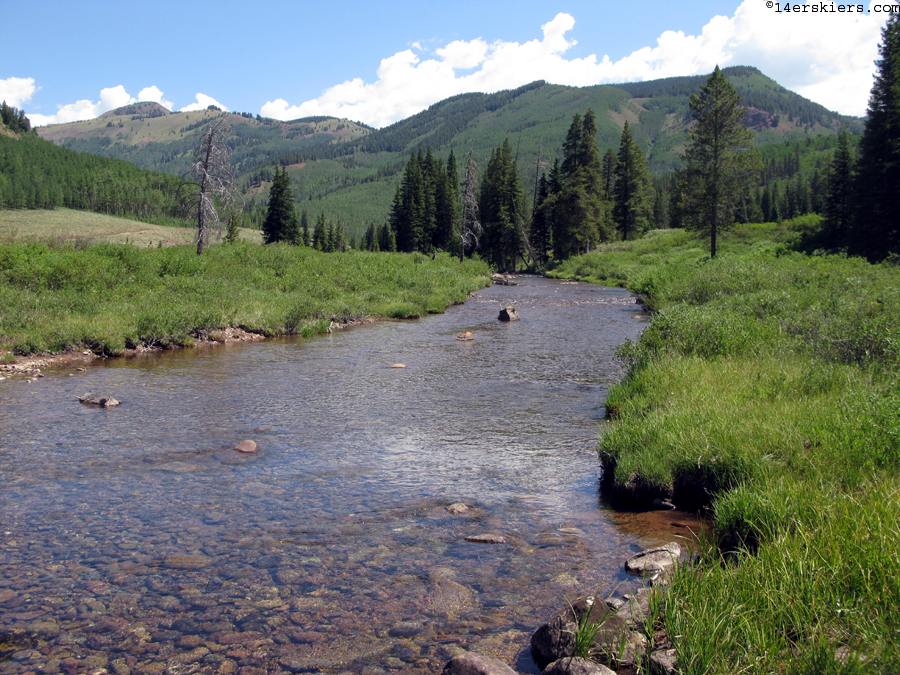 Next up was Block and Tackle. A steep trail that stays wet in the dark timber and gets tons of moto traffic deep in the thunderdome. It always blows me away how trashed the trails in the Thunderdome can get.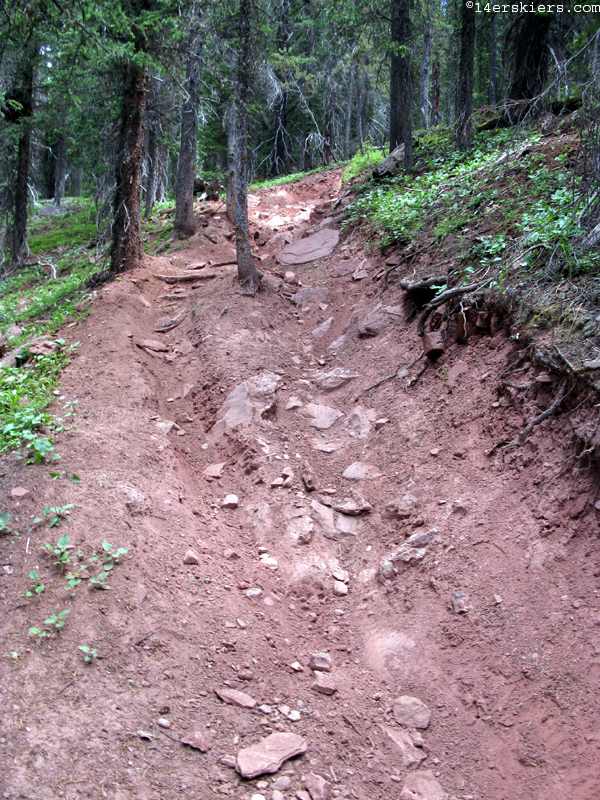 At least the Forest Service is starting to close down some of this ridiculous stuff up off Doubletop: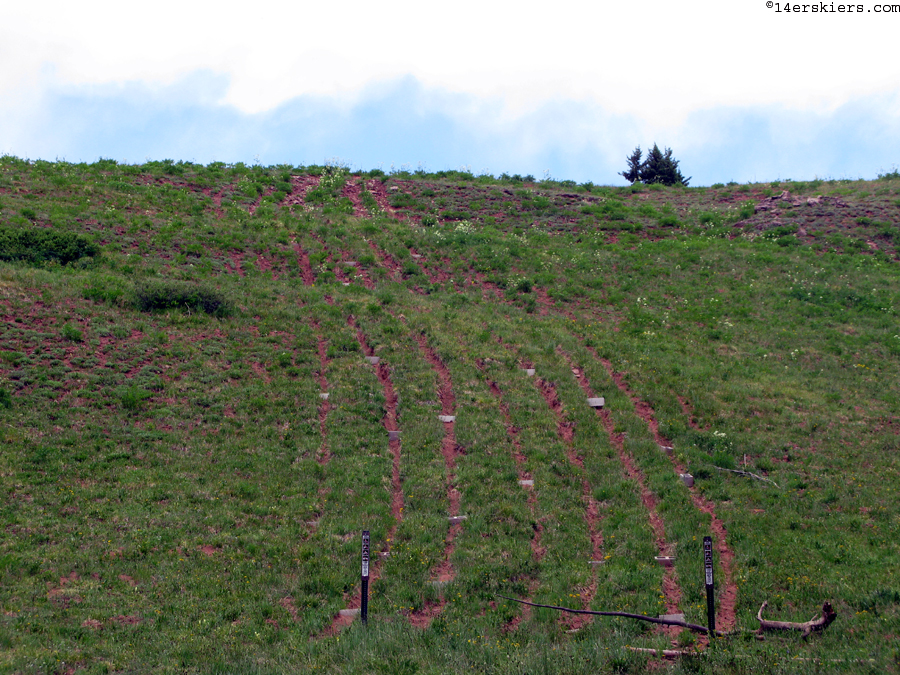 Even so, the parts of the trail that dry out and/or aren't steep are in great shape.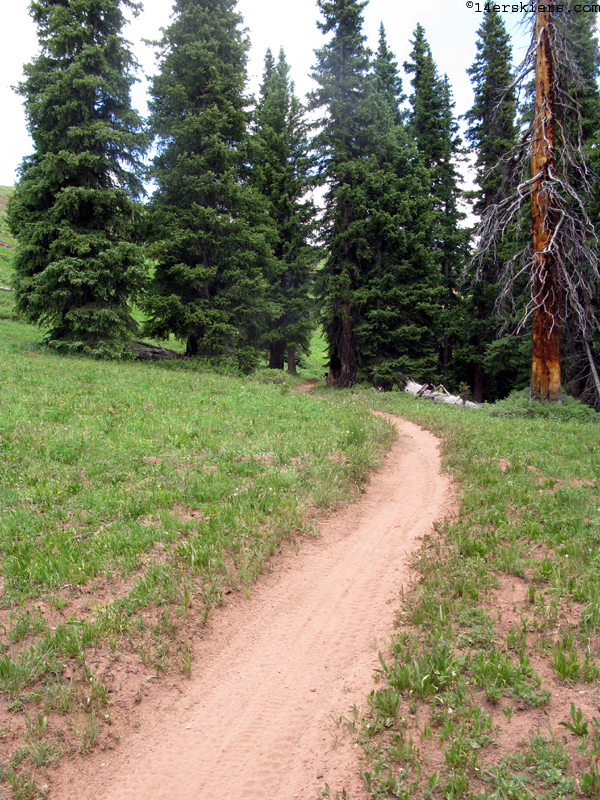 Ahh, the alpine riding I was seeking.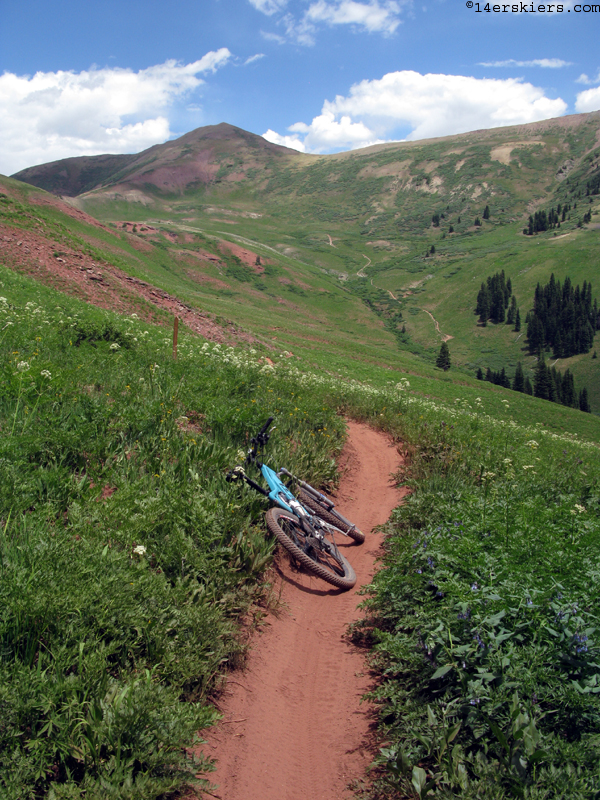 The view from the pass near Hunter Hill of Star Peak: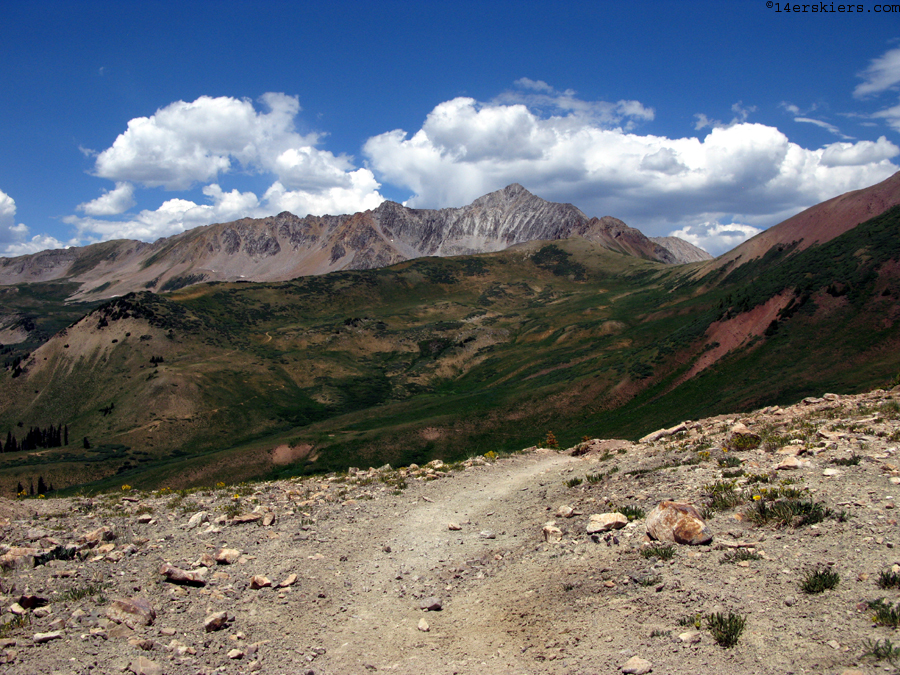 I decided to keep going up to Star Pass, and it was at this point that I truly experienced the Thunderdome effect, with a group of around twelve riders hootin' and hollerin' as they tore up and down Star Pass. Here's Mad max himself leading the charge: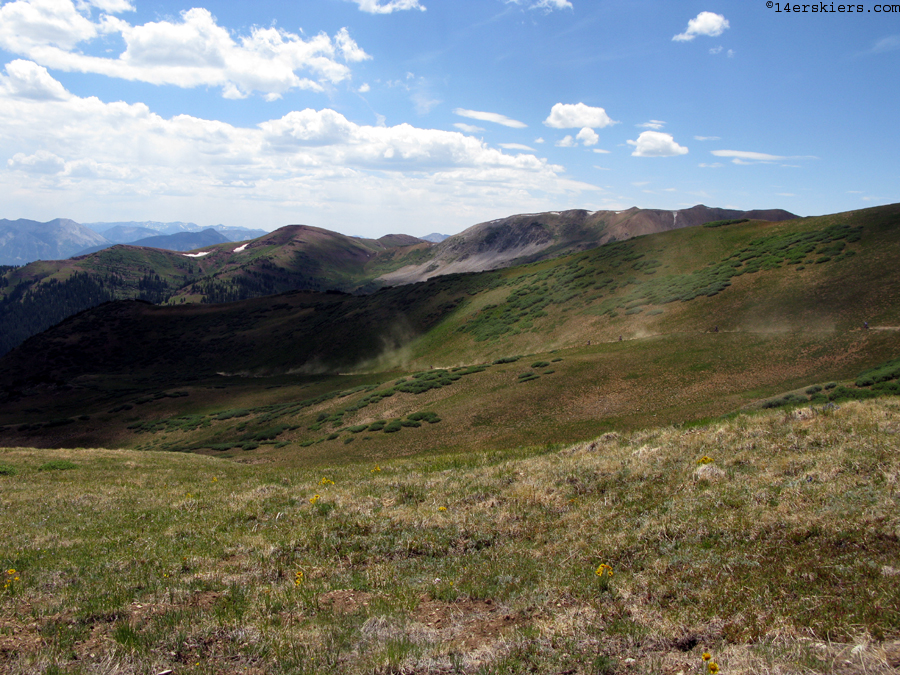 The stats on the ride: 5 hours 10 minutes, and 40.1 miles starting up here near the ski resort.
A couple of weeks after this ride, I was rained out on another route in the area. The Cement Creek trail has seen a ton of recent work and is quite amazing (and non-motorized)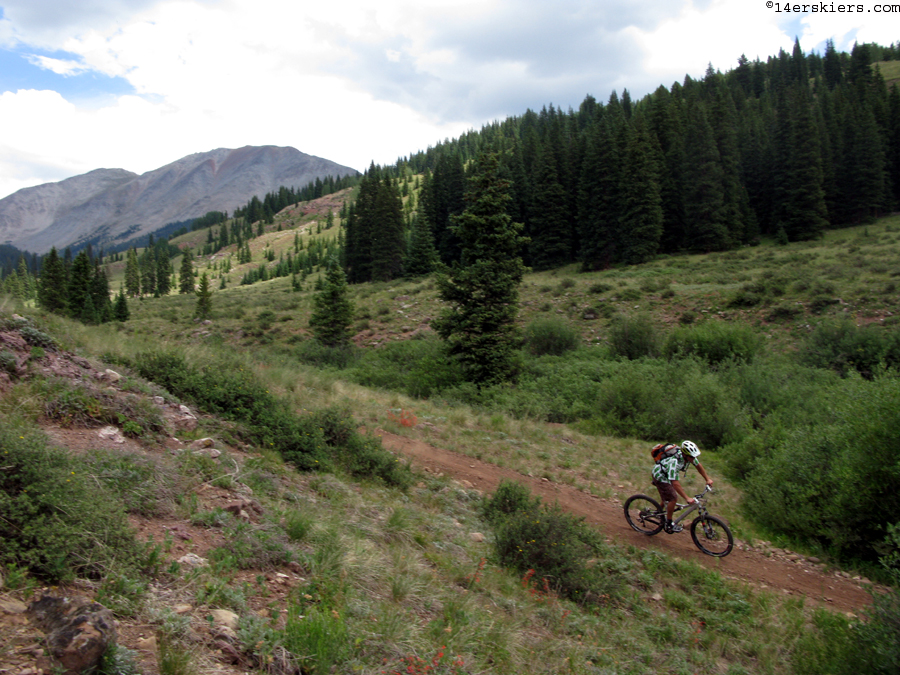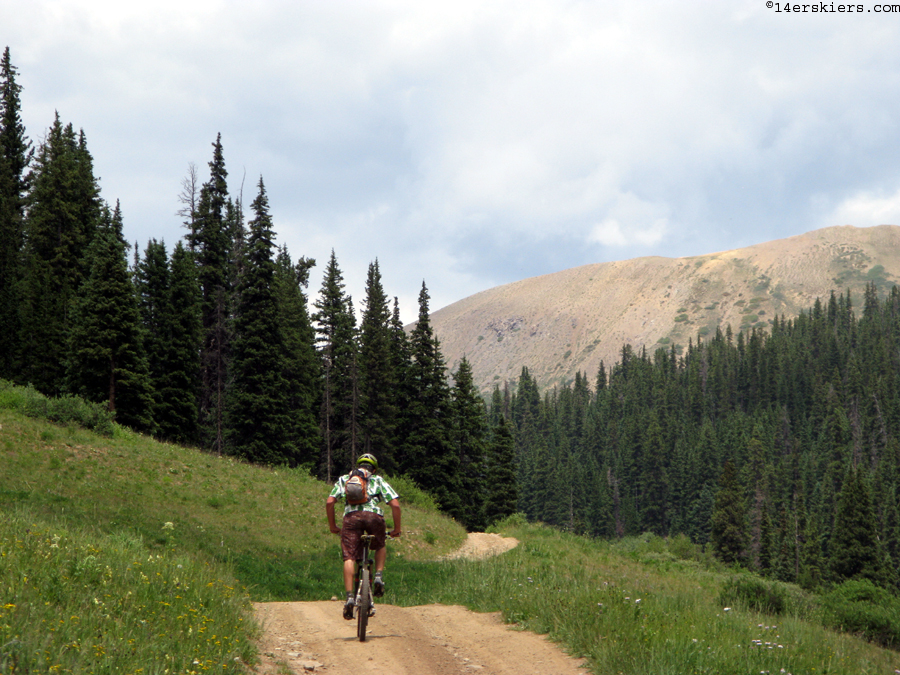 Topher walking a formerly rideable section of 583 (Crystal Peak trail). This trail is now closed to motorized users though it was obvious that wasn't stopping many of them. The good news was that the forest service was out there and hopefully after a few tickets, the word will be out and we won't see any more poaching.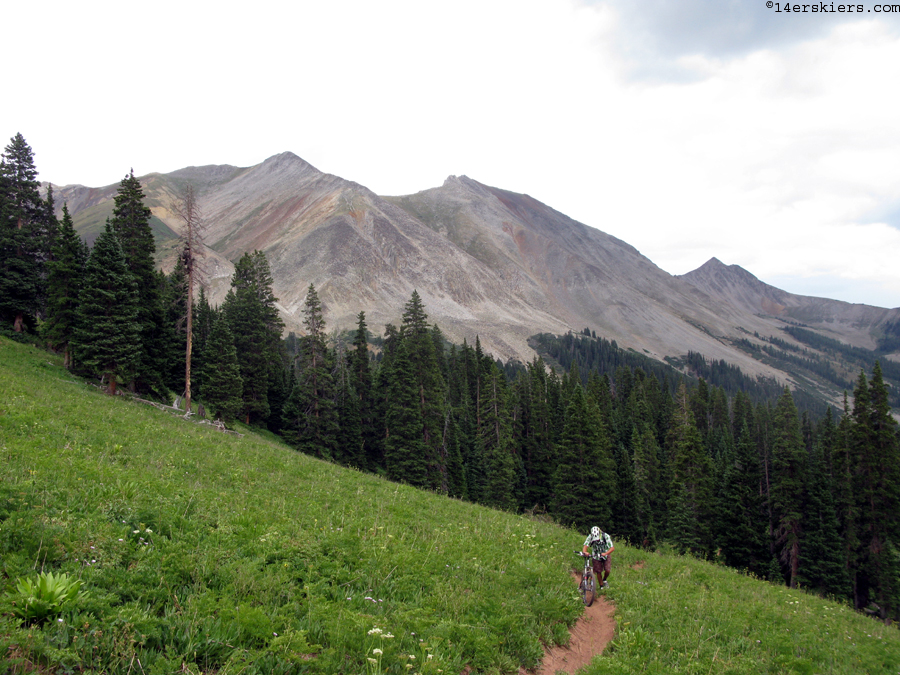 Time to turn around: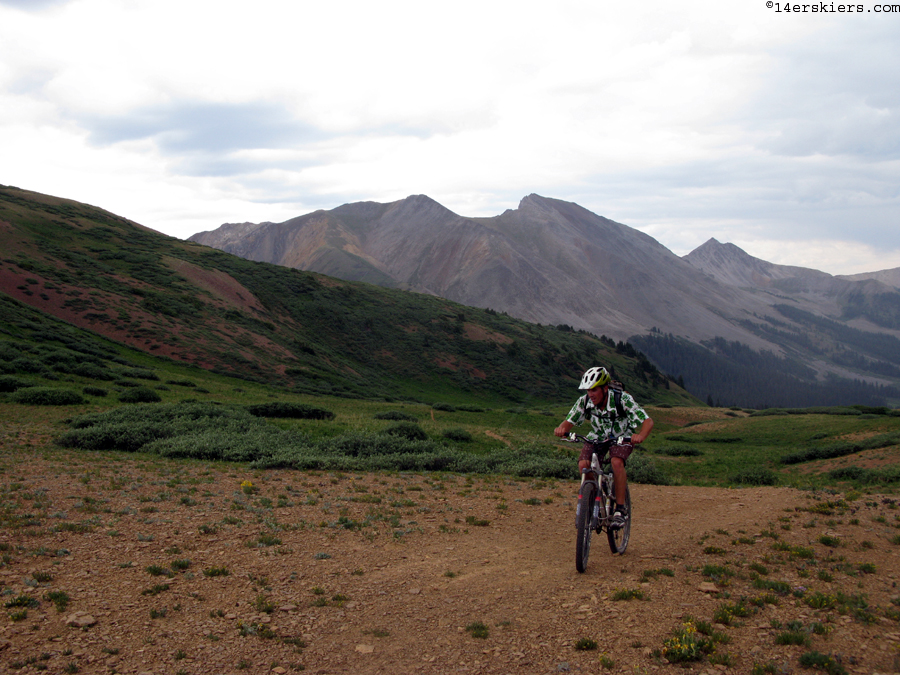 Til next time, reporting from the thunderdome, this is 14erskiers…
_______________________________________________________________________________________________________________________________
This has been my rear tire of choice this year. Excellent cornering and rolling resistance. OK braking and climbing. Poor mud clearance. Holding up nicely running ghetto tubeless.

Frank
loves snow more than anything... except his wife.  He ensures his food is digested properly by chewing it 32 times before swallowing.He is a full-time real estate agent serving
Crested Butte and Gunnison
and would be honored to send you his
monthly newsletter.
Latest posts by Frank Konsella (see all)